A nuclear reaction is a process that alters the structure of the nucleus of an atom. This can be caused by a number of different interactions, including the collision of two nuclei, the absorption or emission of a subatomic particle, or the decay of a radioactive isotope. These reactions can release a large amount of energy, either through the release of electromagnetic radiation or the kinetic energy of newly created particles.
There are mainly two types of nuclear reactions – fission and fusion. Currently, nuclear fission is the most widely-used nuclear reaction for the production of electricity. Nuclear power plants use the energy released by nuclear fission reactions to heat water, which generates steam that powers turbines to generate electricity.
However, nuclear fusion is not yet a practical form of energy generation. There are several technical challenges that must be overcome for it to be used to generate electricity on a large scale. The main issue is that nuclear fusion reactions require extremely high temperatures and pressures to overcome the electrostatic repulsion between positively-charged atomic nuclei. This can be achieved by heating a plasma of fusion fuels to temperatures of millions of degrees Celsius. Plasma refers to a gas that has been heated to such a high temperature that some or all of its electrons have been separated from its atom.
This also implies that the energy required to cause the reaction has been higher than what was generated making the process unviable as a source of energy. But that might be changed. Recently, US scientists announced a breakthrough in nuclear fusion reactions which could potentially deliver almost limitless supplies of energy.
Read more- Did You Know There Is Science Behind Forming A Habit?
Nuclear Fusion: How It Works
Nuclear fusion is the process of combining the nuclei of two or more atoms to form a heavier nucleus, releasing a large amount of energy in the process. This is the process that powers the sun and other stars and is considered a promising form of clean energy because it produces no greenhouse gas emissions and generates very little radioactive waste.
How It Works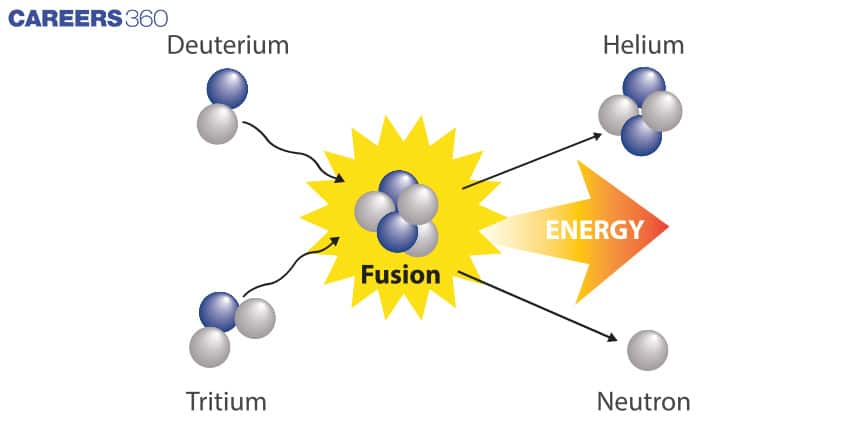 The most common nuclear fusion reaction is the fusion of hydrogen isotopes, specifically deuterium and tritium, to form helium and a neutron. This reaction releases a large amount of energy in the form of light and heat, and it occurs at temperatures and pressures that are similar to those found in the sun's core.
For fusion to occur, the positively-charged nuclei of the atoms must be brought close enough together for the strong nuclear force to overcome the electrostatic repulsion between them. This requires heating the atoms to extremely high temperatures, typically in the order of millions of degrees Celsius. This can be achieved by heating a plasma of the atoms and confining it using magnetic fields. The confinement keeps the plasma away from the walls of the reactor and allows the plasma to remain hot and dense enough for fusion reactions to take place.
Recent Advancements
The US Department of Energy recently announced that a national lab in California made a major scientific breakthrough in that it produced a nuclear fusion reaction that resulted in a net energy gain.
At the California-based Lawrence Livermore National Laboratory (LLNL), scientists found a way to produce nuclear power in a substantially shorter amount of time but with a significantly higher output of energy.
Let's look at the facts of what was achieved. The scientists fired 2.05 million Joules of energy into a tiny target holding fusion fuel using a powerful laser. 3.15 million Joules of energy were released as a result of the fuel's lighter atomic nuclei being compelled to join forces with each other to form heavier nuclei.
This results in a gain of approximately 1.5 (2.05 times 1.5 = 3.1). It was an explosive burst of energy that, for a short period of time, created 10,000 times more power than the total output of all the power plants on Earth.
Laser-driven fusion and magnetic confinement fusion are the two main areas of fusion research. A strong magnetic field is used to lift fusion fuel in the form of plasma (charged gas) through magnetic confinement.
Instead, laser-driven fusion requires compressing microscopic fusion fuel capsules to extremely high densities, at which time the burn will occur so quickly that a large amount of energy can be produced before the fuel has a chance to fly apart.
In both situations, the fuel needs to be heated to tens of millions of degrees Celsius before it can begin to burn. More than any other criteria, this one is what makes fusion so challenging to accomplish.
Future
Achieving a net energy gain from nuclear fusion, meaning that the energy produced is greater than the energy used to initiate the reaction, is a major goal in the field of fusion research. Achieving this, will represent a significant breakthrough and open up the possibility of developing a practical and cost-effective form of clean energy.
The future of nuclear fusion may be very promising. It would mean that fusion reactions could be sustained for long periods of time and could produce a large amount of energy. This would have a major impact on the world's energy supply, as it would provide a reliable and virtually limitless source of clean energy.
This would then lead to the commercialization of the technology and widespread adoption. The widespread adoption of nuclear fusion would help to meet the increasing energy demands of the world and reduce the world's dependence on fossil fuels.
Role In Global Warming
Nuclear fusion is considered a promising form of clean energy because it produces no greenhouse gas emissions and generates very little radioactive waste. In this sense, it could play a role in helping to reduce global warming and climate change.
Fusion power does not produce carbon dioxide (CO2) or other greenhouse gases that are associated with global warming and climate change, as it relies on hydrogen isotopes such as deuterium and tritium as fuels instead of fossil fuels, which when burned produce CO2. Also, fusion power plants do not produce any air pollutants or particulate matter that can contribute to smog, acid rain, and other forms of air pollution.
Additionally, nuclear fusion reactions don't produce long-lived radioactive waste, the main byproduct of nuclear fusion is helium, which is an inert gas and doesn't pose any harm to the environment. The radioactivity level of the waste generated by nuclear fusion is much lower than that of waste from fission reactors, and it decays quickly, becoming less radioactive over a period of only a few decades or centuries.
Advantages Of Nuclear Fusion Over Nuclear Fission
Nuclear fusion and nuclear fission are both nuclear reactions that release large amounts of energy. However, there are several advantages that nuclear fusion has over nuclear fission:
Fuel Abundance: Nuclear fusion reactions typically use light atoms such as hydrogen and helium as fuels, which are abundant and relatively inexpensive. Nuclear fission, on the other hand, typically uses heavy atoms such as uranium and plutonium, which are relatively rare and expensive.

Lower Waste Production: Nuclear fusion reactions produce much less radioactive waste than nuclear fission reactions, and the waste that is produced is less radioactive and decays much more quickly.

No Proliferation Risk: Nuclear fusion reactions do not produce fissile materials, such as weapons-grade plutonium, which can be used in nuclear weapons. Nuclear fission reactions do produce fissile materials, and this is one of the main concerns with the use of nuclear fission for power generation.

Lower Risk of Accidents: Nuclear fusion reactions take place at much lower temperatures and pressures than nuclear fission reactions, making them less likely to experience runaway reactions that can lead to accidents.

No CO2 Emissions: Nuclear fusion doesn't produce any CO2 emissions. This is an important point as a significant factor in climate change, and global warming is caused by burning fossil fuels that release CO2 into the atmosphere.

Higher Energy Density: Nuclear fusion reactions release about 1 million times more energy per unit mass than chemical reactions, such as burning fossil fuels. This means that a smaller amount of fuel is required to generate the same amount of energy as a nuclear fission reactor.
Read more - Speed Up Your Calculations: Mental Maths