The topic on drug abuse has been covered in the chapter Human Health and Disease from Class 12 Biology. It is necessary that young students understand the effect substance abuse has on the human mind and body. There are numerous statistics and surveys that show how our youth is being consumed by drugs and substance overuse. Let us look at some of the terrible effects drugs can have on you.
When substances or drugs are overconsumed or abused in a way that deteriorates health and causes multiple ill effects, it is known as drug or substance abuse. Numerous issues are associated with drug abuse, as they disturb not only the abuser but also his surroundings, family, societal image, and financial status as well. People with addiction are prone to various health issues because they are least concerned about their health. Physical and psychological conditions deteriorate gradually as the individual only focuses on his regular doses of drugs.
Drugs can alter brain chemistry because they act as potential neurotransmitters. Gradually, when drug consumption rises above the tolerance limit due to long-term use, its damaging effects alter the brain, behaviour, and other aspects of the addict. The health risks resulting from drug abuse are many and can even lead to fatal diseases like cancer and AIDS. This article will shed light on how drug abuse destroys the body and invites severe disorders.
Drugs And Mental Health
How do drugs affect mental health? Addiction to drugs can become so severe that an individual loses control over themselves. It can trigger certain mental illnesses and worsen them if they already exist. Anxiety, depression, and anger are common in people when they are deprived of drugs. Sometimes, higher doses can also produce these symptoms. Many times, people are aware of the ill effects and want to quit the addiction; however, their inability to do so can also lead to frustration, depression, and even suicidal thoughts.
Individuals, especially youth, may start drug addiction in order to relieve the adulting problems or other psychological problems that come with age. However, little do they know that substance abuse can breed mental disorders in the long run.
Also Read| How To Deal With Addiction: Learn From Rats
Can Drug Abuse Lead To Fatal Conditions?
Yes, long-term addiction can produce fatal effects on the body. Let's discuss the long-term effects of drug addiction. The chemicals used in the drugs can initiate harmful processes in the body, like the activation of oncogenes that can lead to cancer.
Usually, drugs taken via smoking, like nicotine, cannabis, and more, increase the chances of lung diseases and cancer.
Almost every drug can act on the nerve cell, which damages it in the long run. Destruction of the nerve cells will gradually lead to problems in the nervous system, spinal cord, and more.
Continuous oral consumption of the drugs increases the chances of mouth and throat cancer. The oral health of the person is also compromised, thus giving rise to many infections and dental problems.
The immune system weakens, thus making it susceptible to many diseases. It loses the ability to fight back the disorders and infections, and thus even smaller problems cannot be cured and manifest as fatal conditions.
Other than the damage to various systems like respiratory, cardiovascular, neurological, and gastrointestinal, drug abuse affects organs like the kidneys and lungs to a major extent, thus leading to multiple organ failures.
Drug abuse saps money from the addict. In poor conditions, the addict may be bound to steal, sell properties, and even kill family or others who refrain from giving them money for drugs. The inability to get money for drugs, debts due to drugs, and related financial problems can motivate suicidal thoughts in the addict.
Overall, the body of the addict becomes weak and susceptible to various infections and disorders. Mental health is already compromised, and weaker physical health can cause severe health problems in the addict.
Also read | How To Lose Fat And Gain Muscle At The Same Time
Are Infectious Diseases Like Aids And Drug Addiction Intertwined?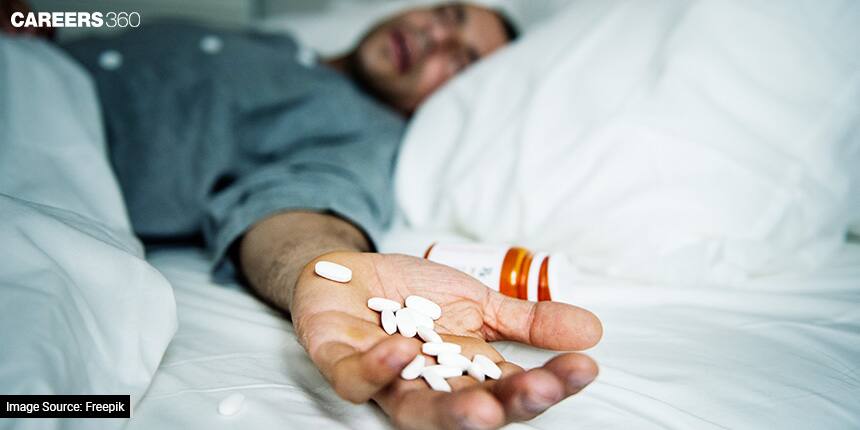 When a person is completely dependent on drugs, they start to lose control of themselves and their surroundings. The craving or need for drugs can go so far that the addict can even harm others or himself. Once the drug has been consumed, consciousness is reduced, which can lead to desperate attempts or crime.
All of these can lead to the spreading of infections from one addict to another or from any normal person to another. Sharing drug equipment, smoking the same cigarette, injecting drugs using the same needles, or having unprotected intercourse can all lead to infections like AIDS. Certain other infections of the heart or skin can also occur due to exposure to microbes from similar contaminated drug equipment.
Drug Abuse Poses Equal Fatal Threats To Non-Addicts.
There are many ways in which innocent non-addicts can suffer because of drug or substance abuse. As we discussed earlier, addicts are not aware of their surroundings and themselves, due to which the following may suffer:
From Addicted Mother to Baby: Drug abuse during pregnancy or breastfeeding imposes potential threats on newborns. The harmful chemicals can easily transfer to the baby via fluids and the placenta, which creates developmental problems, feeding and sleeping issues, seizures, and a few more.
Second-hand or Passive Smoking: People around a smoker are exposed to around 100–200 harmful chemicals taken in via smoke. People who have never smoked or are vulnerable have higher chances of getting lung or heart diseases just by being bystanders.
Motor Vehicle Accidents: Drug abuse can lead to an increased risk of accidents, just like driving after consuming alcohol. People under the influence of drugs like marijuana and cocaine can do rash or careless driving that leads to killing or harmful effects on innocent people. Such drivers have poor reaction times and pay less attention to the road, due to which road accidents can arise.
Illegal Actions: Not all the drugs or substances that are abused are legal. Consumption of illegal drugs carries too many risks for the consumer. Addiction can make the addict go to extremes to get the drugs. They may try some illegal ways to get the drugs. Killing and harming one another in the import and export business of illegal drugs has also been noted.
In a nutshell, addiction to any drug or substance is harmful in the long term. The chemicals reach almost every cell of the body, and thus damaging effects gradually manifest in the body. The addict can have extreme addiction, which leads to a loss of senses. They may act in a way that harms them, their finances, and other people as well. The demand for drugs within peer groups is growing, which is spreading many infections and fatal health conditions.
Please consult the concerned doctor or rehabilitation centres, as addiction is bad for you and for others as well!
Also, Read | Infertility And Social Stigma - How Does It Affect Males And Females