Everyone is aware of the deafening sound produced during monsoon, when light flashes across the sky and after a few moments there is a loud rumbling sound. This is a thunderstorm. It can not be produced without lightning. A thunderstorm is defined as a lightning storm or an electrical storm that has an acoustic effect on the Earth's atmosphere, which is known as thunder or thunderstorm. There are multiple types of thunderstorms: Single-Cell, Multi-Cell Squalls, Supercells, etc.
Thunderstorms are discussed in NCERT class 7 and class 8 respectively in chapters "Wind, Storms and Cyclones" and " Natural Phenomenon." Interested students can visit these chapters to broaden their knowledge base.
Thunderstorm Science
Let's deep dive into meteorological explanations behind thunderstorms. It has three main ingredients:
Moisture

Rising, unstable air

Lifting mechanism
Thunderstorm Development
Generally, thunderstorms have stages of growth, development, electrification, and dissipation and they develop early in the day. Sun heats the earth's ground and due to this near ground air heats up. The hot air becomes lightweight and rises in the atmosphere. When these pockets of air reach a certain level formed as cumulus clouds.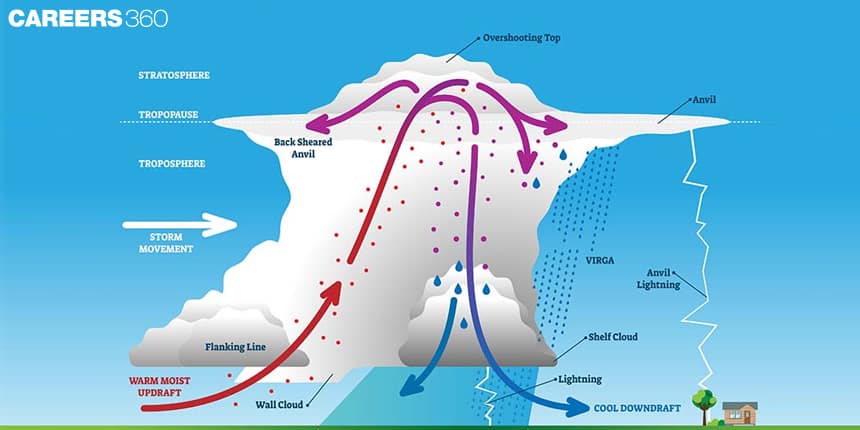 As the air continues to heat up, the clouds rise upward into the atmosphere until they become anvil-shaped. When the cloud grows, the temperature of the air decreases, and precipitation forms within the cloud. If the temperature drastically decreases then it forms ice, hail, and rain. As these particles slip into each other due to friction they become electrically charged.
The Ice crystal, which is lightweight, becomes positively charged and is pushed upward by rising air. The heavy ice crystal becomes negatively charged and stays suspended or moves toward the bottom of the storm clouds. Then lightning forms.
Lightning is the spark of electricity in the atmosphere or between the atmosphere and the ground. We know that air is an insulator between the negative and positive charges and lies between the ground and clouds. When the difference between the charges becomes too high, the potential difference becomes too high and the air is no longer an ac isolator then rapid discharge of electricity, we know as lightning.
Also Read| What Is The Science Behind Lightning?
Effects Of Thunderstorms
Now we scientifically know what happens during a thunderstorm. Following are some conditions that influence thunderstorms.
Lightning
Lightning is a natural event in which electrical charge rapidly flows for a very short duration due to high voltage differences between the ground and clouds. This violent, sudden, and rapid electrostatic discharge is accompanied by a bright flash and thunder.
As thunder is the sound that lightning makes it is clear that thunderstorms can not occur without lightning.
Hail
Another common effect is Hail. It is a form of raindrops that updrafts into extremely cold areas and converts into spherical ice particles known as hail.
Thunderstorms have strong updraft movement and can uplift supercooled ice crystals where they encounter more supercooled water and continue to grow heavier. When weight becomes so heavy that thunderstorms no longer uplift them then hail falls down
Rain And Flooding
Rain is another phenomenon that accompanies a thunderstorm. This seems obvious, but rain is actually one of the most dangerous aspects of a thunderstorm because rain can cause flooding that becomes deadly.
Wind
A common thunderstorm effect is wind. Rather than tornadoes, we are specifically talking about straight-line winds. There are a number of different processes from which strong thunderstorm winds can come, but most thunderstorm winds that cause damage on the ground are a result of outflow developed by a downdraft.
Tornadoes
It is a rapidly rotating column of air or a funnel-shaped cloud, extending down from a thunderstorm to the surface of the Earth. tornadoes are one of the scariest effects of thunderstorms.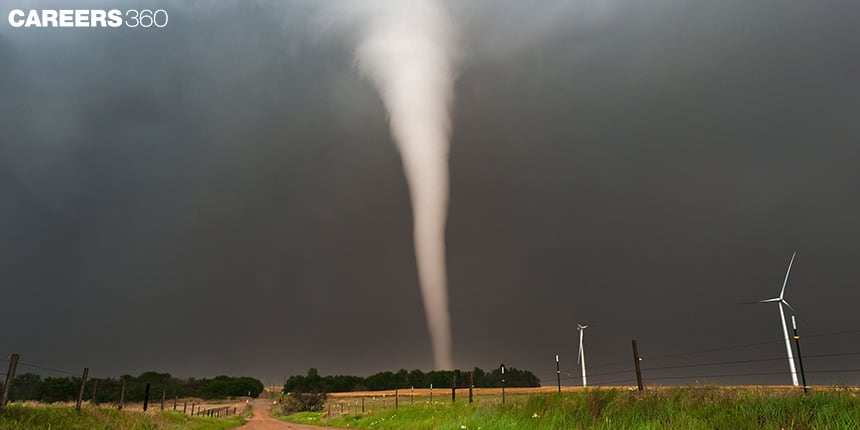 Thunderstorm Safety
Do you know what are safety measures for thunderstorms? Following are some safety measures about which you should be aware.
Before Thunderstorm
Preparation is the key to safety.

Be updated with weather forecasts regularly.

Should be aware of your community and/or organisation's severe weather warnings.

Have a plan for shelter and how you'll communicate during a thunderstorm.

Try to keep windows and doors closed , plants and trees trimmed, and move valuable objects inside.
During Thunderstorms
Once thunderstorms are underway, you must be in contact with NOAA Weather Radio, professional meteorologists, or local authorities throughout the thunderstorm.
If you are at home or work, find a safe shelter to avoid the dangers of lightning, wind, tornadoes, hail, and rain.
If you are outdoors then find a safe shelter. Taking shelter under a tree can be deadly as lightning often strikes trees and wind can uproot the trees.
If you don't find any way to get indoors then stay away from trees, dugouts, telephone and electrical poles, and other tall objects.
If you are inside a vehicle, then it is safer than outside.
Also Read| What Is The Science Behind An Earthquake?
After The Thunderstorm
The first thing you should do is make sure the thunderstorm is actually over. You can use local news stations, NOAA Weather Radio, etc to know about the status of storms. Then you can inform your family and friends that you are Okay. stay away from dangerous places like power lines down damaged buildings.
Now we have a scientific understanding of thunderstorms. They are random and dangerous therefore stay aware of safety measures and stay protected. Hope you enjoyed the article.