It is common for children to go through anxiety and depression during their pre-teenage and teenage years. Adolescence is a transitional phase and a time of emotional, physical, and social change wherein teenagers are seeking new experiences and more independence. It is, therefore, natural for them to feel anxious about these changes, opportunities, and challenges. Usually, some of the concerns that to lead to teenagers feeling anxious relate to starting higher education, making subject or career decisions, body image, fitting in with friends, performing in different extra curricular activities at school, or even attending farewell parties.
Anxiety Ain't Always Bad
Although it is most commonly felt so, feeling anxious is not always a bad thing. Slight anxiety in teens may facilitate them to think deeper about the situation they are in, motivate them to do their best, and thereby be better prepared for expected situations and deal with them effectively. For instance, if there is slight anxiety in teens about their college admissions, chances are they will do better research, consult more people, talk to counsellors, be more prepared, and take the right decision. However, if parents observe symptoms of depression in teens or anxiety in teens persistently, it is suggested to get your child to see a qualified and experienced psychologist.
Symptoms of depression in teens could be sudden changes in eating and sleeping patterns, loss of interest in previously-pleasurable activities, social withdrawal, visibly deteriorating academic performance, and frequent emotional outbursts. Anxiety in teens may also reflect in a similar way to some extent, while there would certainly be some distinguishing features.
Also Read | Why You Need To Draw Boundaries With Your Teenage Child
Helping Your Teen With Anxiety
What should you as parents do if you notice symptoms of depression in teens or anxiety in teens?
Talk | Encourage your child to talk about anxieties and/or depressive feelings. Talking will help your child unburden themselves of the unhelpful thoughts and feelings which might be contributing to this unpleasant state. This is likely to help positively in overcoming teen depression. Also, it may give parents ideas as to how they can practically help their child solve any problems they might be facing at school, college, among friends, etc. However, at the same time as you try talking to your child, ensure that you do not end up making them feel intruded. Be gentle and make conversation only when they feel ready to talk.
Encourage Brave Behaviours | Gently encourage your child to set small goals for things they feel anxious/depressed about. This is one thing parents can do to lessen symptoms of depression in teens. However, avoid pushing them to face situations they don't feel ready to face. Praise them for trying and making small or big accomplishments. Teach them the importance of self-belief, self-compassion, and most importantly, model these in your own behaviours.
Also Read | Why Communication Is Key To Understanding The Needs Of Your Growing Child
Spend Family Time | To help reduce symptoms of depression in teens and anxiety in teens, try to spend some quality time with your teenager. It could be through having meals together, or other small rituals, like playing board games, watching movies, talking before bedtime, and so on. The idea is to make your child feel secure and assured about your presence, and also accepted by you, regardless of circumstances or situation., thereby reducing teen depression.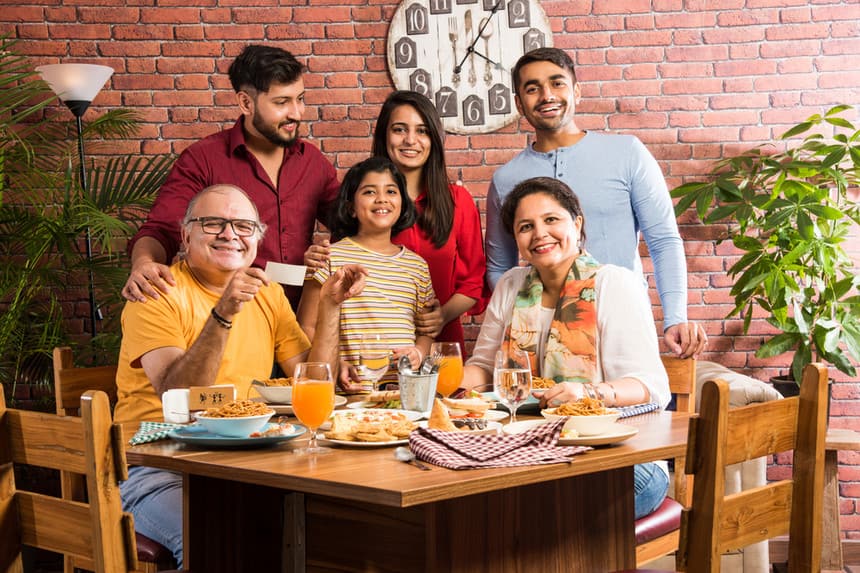 Spending Quality Time With Family Can Help A Teen Overcome Anxiety And Depression
Encourage Healthy Choices | The foods a person consumes can aggravate their mental state, if vulnerable. Hence, if your teenage child is going through anxiety or depressive feelings, encourage them to sleep well, eat a well-balanced diet, avoid caffeine, and engage in some form of mild to moderate physical exercise of their liking. Taking care of one's physical health certainly reduces teen depression.
Also Read | 3 Most Common Mental Health Problems In Children And How To Address Them
When Is Anxiety Alarming?
When symptoms of depression in teens or anxiety in teens are severe and long-lasting and start interfering with day-to-day living and activities, you should consider seeking professional help for your child to deal with it since there might be chances that the issue has become clinically diagnosable. Symptoms of depression in teens and anxiety in teens can be easily addressed by professional intervention. The earlier one seeks intervention, there are lesser chances of the issue affecting the person's mental health in the long term. Hence, you may look for a psycholgist who is qualified, experienced, and credible, and approach them for help. Alternatively, in case someone cannot afford help, there are several NGOs that provide free and quality mental health aid.
Also Read | 8 Mistakes You Should Avoid Making With Your Teenage Child