The word 'exam' often gives rise to anxiety among children and their parents alike. With huge investments of time, energy, money, and hardwork going into exams, expectations from children to do well, both from parents and children themselves, automatically go up. While children passing exams with good scores calls for moments of rejoicing for families, those who are unable to get good grades or pass their exams go through a lot of social and emotional turmoil, which is often added to by people around them, whether knowingly or unknowingly. So how to deal with exam failure? What are the things parents need to do in case their child fails exams? Here are a few tips.
Evaluate The Reason
One of the most important things to do for parents is to help the child learn from failure by evaluating where one went wrong. Help your child understand where they lacked and accordingly take up ways to remedify it. Children may fail exams owing to different reasons, some of them possibly being:-
Not being thorough with the exam syllabus
Inability to make sense of a particular subject
Faulty studying patterns, for instance, only mugging up lessons instead of understanding conceptually
Lack of proper time management during preparation or attempting the exam
Anxiety resulting in going 'blank' in the exam hall
Consider Re-Evaluation
Another thing to do for parents, if they or their child genuinely feel that there may be a discrepancy in the way the papers have been evaluated, is to consider getting them re-evaluated and apply for it timely.
Consider Alternatives
Find out if your child can re-take the exam or appear for compartment. If so, encourage them to prepare well and take another chance. If your child has failed a college entrance, search for other colleges where they may seek admission. If options seem exhausted, handhold them to prepare well for the next attempt.
Do Not Reprimand
Another thing to do for parents, if their child fails in an exam, is not to immediately react by scolding, threatening, blaming, or reprimanding them. A heated reaction will not help in changing the scores, but will only add negatively to the low feeling which your child may already be experiencing having seen their scores.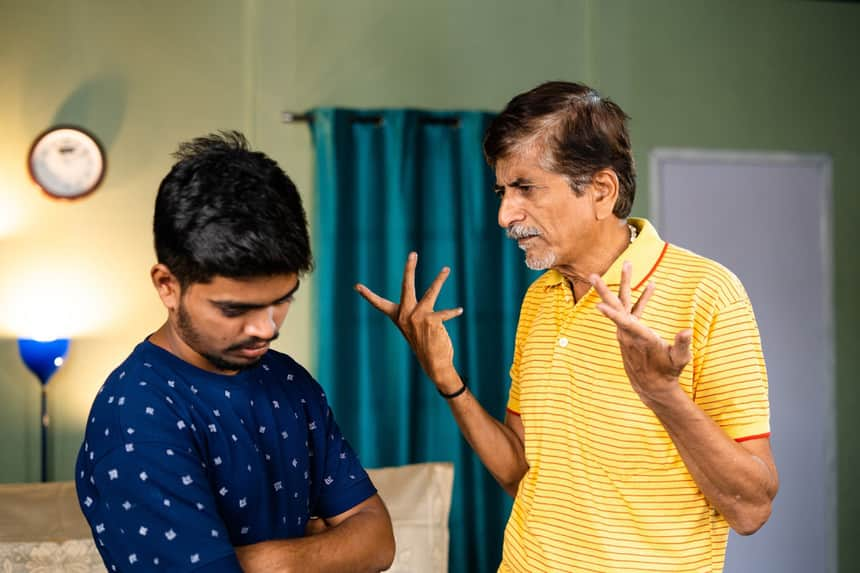 Refrain From Reprimanding Your Children If They Fail In Exams
Listen Without Judgement
Listen to your child without interrupting or judging. There may be a lot of emotions pent up inside them which they want to vent. Be a safe and cathartic space, rather than an authoritarian figure that adds to the trouble your child is feeling already.
Do Not Compare
One thing you as parents need not do is compare your child with that of your neighbors', relatives', or their own peers. Understand that every child has their own potential, aptitude, and interests, and failure is most often a result of a lack of alignment of choices with these intrinsic factors rather than anything else.
Exams Ain't The End
Since you are the parent and what you think and do has a direct impact on your children, a parent's support is very important for a child. Know that exams are not the end of the world and tell your child the same. In context of exams, there is almost always a next chance. Accept this failure, patiently encourage your child to do so, and help them prepare well for the next time.
Also Read | Why And How To Not Make Exams Larger-Than-Life Events
Focus On Other Aspects
It is well-established that exam scores are not predictors of success in life. Children who are emotionally intelligent, confident, and have high self-esteem tend to do better in the long-term. Focus on nurturing these and not just exam scores.
Seek Professional Help
If you sense that the child needs additional support than just parents' support to pass a particular subject, try and arrange for the right tuitions and other relevant support. In some cases, children may not be able to accept failing which may lead to visible signs of issues like anxiety or depression, such as not taking interest in previously pleasurable activities, social withdrawal, major disruption in eating and sleeping patterns, and the likes of these. Be responsive to any such signs and do not hesitate to consult a psychologist if they persist for more than a fortnight.
Also Read | Do You Need To See A Psychologist? Signs To Help You Evaluate
Always remember that your child's health and happiness hold way more importance than exam scores. While the latter are important, parents' support is also needed for them to work through getting better , without having to compromise on simple, everyday pleasures, and most importantly, their self-esteem and confidence.
Ritu Johari is a Delhi-based Counselling Psychologist with more than two decades of experience in counselling students - both children and adolescents, their parents, and teachers. She has a specialisation in Developmental Psychology from North Campus, Delhi University, and did her professional training at AIIMS, New Delhi.