As a student, exams are a part and parcel of your academic life. They start early at the age of four or so with oral tests, and soon within a couple of years students have to take two sets of exams in a year, which is the case in most schools. Usually, these are in the months of March or April, and August or September. You must have noticed how there is a drop in the excitement and energy levels of students and parents alike, during these exams. Many families have rules like not watching television, not gaming, not going to play, etc., apparently to help children focus and learn. Enter the house of a parent who has a teenager taking a board or an entrance exam, and you can cut through the tension with a knife! This article highlights why you need to view exams in perspective, and shares a few tips on how this can be done.
The Pressure Starts Early
There are no limits to the number of tests and exams that students take throughout the year. There are unit tests and project submissions that are graded throughout the year. In addition to these, are the much-dreaded half-yearlies, and annual exams. Even hobbies and talent classes have exams to certify your level of proficiency in art, singing, dance, etc. Then there are olympiads that often start right from class 1, to test the student's competence and award them international rankings on particular subjects.
To prepare and do well in all the exams, a student attends school for about six to eight hours a day. This is usually followed by after-school tuition and hobby classes. Most primary school students attend three to six hours of additional classes per week, and the number of hours increases to three to four hours per day in the board classes. Life becomes a series of tests, exams, tuitions, mock tests, marks, and intense competition. Students often complain of headaches, stress, but parents also go through a gruelling time trying to support their children in studying for exams.
Board And Competitive Exams- Societal Pressure
Allow me to be a little sarcastic here, our society can be funny sometimes. People you hardly know, or even those strangers whom you meet in elevators and parties, will ask you your marks, scores, ranks, and percentiles in entrance exams. The teens' and the parents' self-esteem is rooted to the 90% and above marks, and students feel disheartened at the loss of that one mark which they feel was essential to making their life. It also immediately impacts their relationship status, the number of followers they get on their Instagram handles, and the number of likes and shares the parent gets on their Facebook posts. Often, parents reward their teens for good marks with expensive gadgets, vacations, and other indulgent gifts. So, you see the happiness of life gets intricately intertwined with the marks that you get in an exam, and life becomes a series of tests and exams, especially after class 8.
After all this social pressure and drama, students often find themselves at a loss, pressured and wondering about their future. They are often nervous, develop physiological symptoms, have sleepless nights, and may even engage in destructive habits to escape the pressure of exams. The news often carries articles on student suicides after results are declared for competitive exams. Although during such times, the news does compel people to reflect on how we as a society are failing to nurture talent and instead running mindlessly in a rat race, in a few days all is forgotten and the exam bells start ringing again, with the same intensity with no change or long-term learnings.
Research On Relationship Between Stress And Performance
There is a psychological theory called the Yerkey-Dodson Law, that states that the relationship between stress and performance is a bell-shaped curve. A certain amount of stress is required to motivate and push you into action and perform well. However, when this stress becomes too much, it is detrimental and does not allow you to perform well.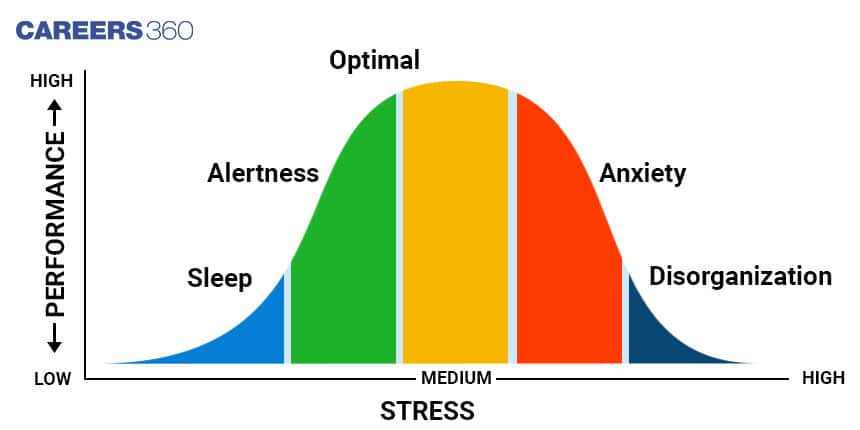 Are You Stressing Too Much Over Exams?

So, it is imperative that you look at exams in perspective and not allow them to become larger-than-life events. The questions most teens and parents ask are, "How to avoid making an exam a stressful event?", "How to ensure exams are seen in perspective?", etc.
There are two aspects to this answer. One, you need to enhance your productivity, and two, you need to recondition your mindset, so you think positively. Listed below are some overall guidelines to help you cope better with exams and live a more fulfilling life.
Figure out which time(s) of the day are your most productive: Some of you are nocturnal and study better at night, some of you focus more in the mornings. Try and see when you concentrate better, and schedule your study hours mostly around your productive times.
Keep away distractions: With online schooling, most notes are taken on the tablet or the laptop, and most students need a device to study. So, there is always the temptation of a YouTube video, a Netflix show, a chat on Discord, that will compete for your attention when you are studying. Observe and measure the number of times you get distracted in an hour, and you will know why you don't remember what you have learnt! Reduce, and eliminate distractions during your productive hours.
Schedule time for recreation, sports, and physical activity: All work and no play makes life very dull! Balance your study and rest time for maximum benefits. Take out time for your hobbies and creative pursuits, and pace your study schedule.
Use the POMODORO technique: Teens these days often have short attention spans, given the cultural influence of media and technology. If that is true for you, try to study in spans of 20-25 minutes each and then take a break of 2-3 minutes. For those 20 minutes, concentrate completely and do not allow yourself to deviate from what you are studying.
Fail forward: Do you have a toddler or a younger cousin learning how to walk? Notice how many times they fall before they learn to walk and run? Often, they cry for just a few seconds and then try to walk again. Become that toddler when it comes to dealing with failures. See what you did wrong, learn from it, and move forward. That way each failure will take you forward rather than backward.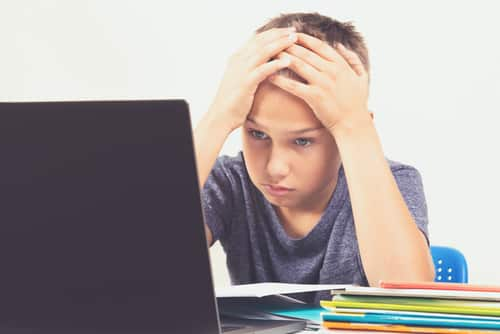 Your Best Teacher Is Often Your Last Mistake
Focus on the positive: You will have adults, friends, family who will keep complaining and telling you how your whole life is perched on that single mark. Listen to them if you need to, but don't turn that into your own negative self-talk. The truth is that success is derived from a positive attitude, a willingness to learn, humility to accept mistakes, and the grit to keep going. These are all aspects of a positive attitude towards life, and grades play a relatively smaller role in the larger journey of life.
Practice deep breathing and calming exercises: Just like you brush everyday, make it a practice to take deep breaths and engage in gentle stretches, and learn to calm your mind before you start studying or attempt an exam. A calm mind focuses well and performs better.
So, go on and make that shift in your perspective. Exams are a part of life, and the grades are only indicative of how you performed in that specific test on that specific day, at that specific time. If your grades are good, keep working consistently. If they are not, remember you just need to get up and try to do better next time. Sometimes, poor grades may mean you have chosen subjects that are not your strength, especially at the higher levels of education. So, consider if there is a need to revisit your subjects. Grades are not an indicator of your true worth. Strive to do better, however, never let your life and its meaning be defined by exams and results.
-Dr. Srividya is an organisational psychologist, career, and personal growth coach. She works with teens, parents, adults, and returning professionals, to help them align their personal and professional needs, desires, and overcome personal and professional challenges. She can be reached at www.lifevidya.in.