What images does the word 'feminist' invoke? Images of slogan-shouting women? Argumentative activists with their pushy agendas? Well, you could not be more mistaken because feminism is much more than this. Feminism expresses equality for the genders in their personal, social, as well as professional sphere. It emphasises dignity and parity for all, and the same concepts form the foundation of feminist parenting too. Read on to know more about feminism's interesting parenting approach.
Breaking The Common Stereotypes
Females need to be feminine (of a certain body type); do restrictive work (glass ceiling in the professional world); undertake endless chores (in a household). Roles are kind of pre-ordained for a woman. Feminism is often mistakenly seen as solely tied to women and their rights.
The unquestioned freedom given to a man in work and play clearly shows the biases. But where does it all begin? Apparently, right from the time a child is born, and it worsens over the growing period. Who is the culprit here? The parents who are conditioned to follow certain parenting norms or the society which reinforces these norms? How can change be brought in people's attitudes? Well, advocacy and focused literacy can go a long way in ironing out the differences to ensure equality and dignity for all. The easiest starting point is with the parents as they are the primary caregivers as well as role models of their children.
Also Read | Getting Over The Pink And Blue Divide: Revising Gender Roles
Core Values Of Feminism
Let us now understand the term 'feminism' and its core values.
'Feminism' is a concept which believes in equality of the sexes. It gives importance to social, political, and economic equality irrespective of the gender of the person. Some core values of feminism are the following:-
Equity | Equity implies equal rights and opportunities for all. For example, the right to education, equal pay at the workplace, or owning property.
Justice | Justice includes acknowledgement of the wrongdoings and a speedy, unbiased resolution of the issue being faced by a person. For example, sexual harassment, rape, incest, or domestic violence.
Sensitivity | Sensitivity towards a person's needs whether physical, social, or professional. For example, maternity/paternity leave, breastfeeding room or crèche at the workplace.
Respect | Respect irrespective of a person's social or economic status. Whether a homemaker, house-husband, or sales personnel, unconditional respect is to be extended.
Cooperation | Cooperation in all spheres irrespective of gender or rank. For example, car-pooling, ensuring safety, granting leave, or sharing household responsibilities.
Inclusion | Inclusion means barrier-free accessibility and participation. For example, employment, education for children with special needs, ramps and railings at public places as well as in means of transport, regardless of gender.
Also Read | Why You Need To Draw Boundaries With Your Teenage Child
Where Does Parenting Come In Here?
The joy of child-rearing has no bounds. However, it definitely comes with a certain responsibility. An infant today is growing to be an adult tomorrow with one's own likes and dislikes. The parents lay the foundation for these very preferences of their children. Hence, parenting attitude is a powerful source of endowing core values to a child.
Being A Feminist Parent
Parenting is collective in nature wherein both the partners have an equal stake and say. Informed parenting, henceforth called 'feminist parenting', involves compassion, communication, and care towards their child as well as the parents' own selves. It is a parenting skill which focuses on raising children who learn to value equality, justice, and fairness for all. These beliefs are reflected in the children's personality as well as in behaviours. Some of the tenets of feminist parenting you must follow are the following.
Keep An Unbiased Outlook | Keep an unbiased outlook, as in, give equal opportunities to the child, irrespective of the gender. This can start at the basic level from choosing toys for children, without basing these decisions on gender norms.
Encourage Autonomy | Foster independence in your child's thinking, creating, and decision making. The simplest example is of decorating the house for festivals – normally assigned to the female child; it is an activity that can easily be done by all children, regardless of gender.
Foster Confidence | Help your child become confident of their abilities and talents, for example, musical ability or a knack to repair things.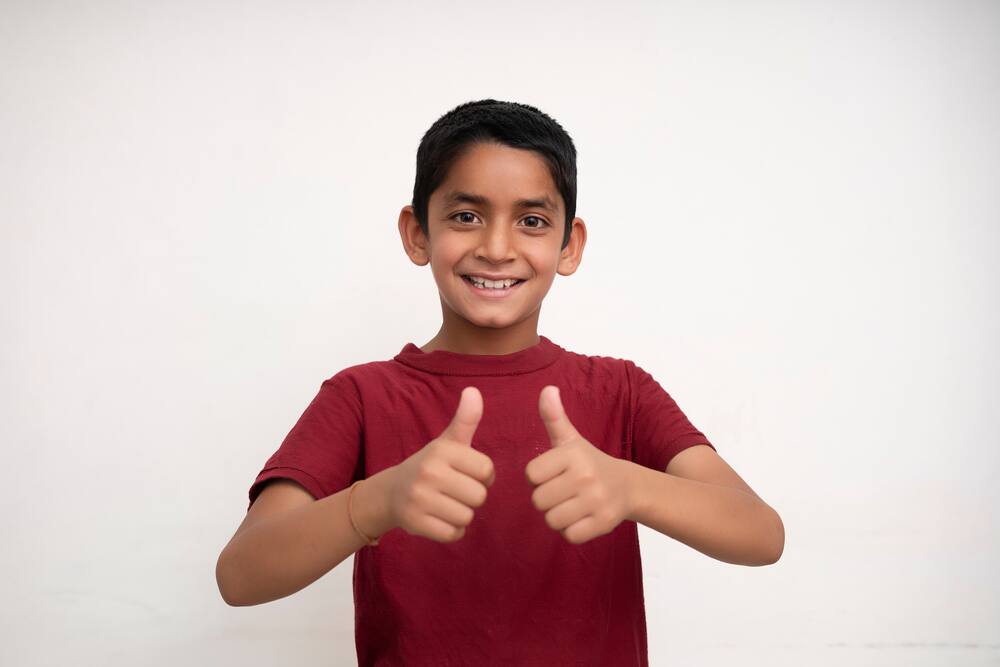 Feminist Parenting Helps To Build Confidence In The Child
Teach Them To Dream | Infuse passion in your child to follow their dreams irrespective of their gender. For example, joining the armed forces, or mountaineering, or pursuing performing arts.
Do Not Compare | Feminist parenting should essentially follow non-comparative child-rearing, so as to inculcate an understanding of the uniqueness of each individual's attributes and pace of growth maturation. For example, a book-loving child with a quiet demeanour versus a boisterous outdoors-loving sibling.
Teach Them Acceptance | Teaching acceptance of others irrespective of their gender, caste, colour, or sexuality. Body positivity is important to be followed by the parents as well as explained to children.
Teach Them Defenses | Sensitise your children to inappropriate touch, gender violence and the rule of 'no' or 'stop' for personal safety. You may communicate this to your children verbally or pictorially from reliable sources available online or at the school library.
Help Them Draw Boundaries | Explain the importance of respect and boundaries to your child, how they are important in personal, social, and professional spheres. For example, knocking at the door before entering; not forcing or bullying a person into meeting your personal demand.
Standing Up For Oneself | Teach your child to stand up for themselves and others as part of actions and consequences. Value of justice and righteous behaviour gives a sense of morality to the child. For example, helping a child who is getting bullied or a person being framed for an act not done by him or her.
Work On 'Emotions | Emotional regulation is an important aspect and it begins with helping your child in identifying their feelings. Expressing feelings appropriately helps the children in managing their frustrations, joys, and disappointments constructively. It also helps in breaking the taboos like 'boys don't cry' or 'girls are sissy'.
Teach Them To Share | Sharing teaches a child to be generous and caring. An understanding of altruism and selflessness is formed in children once they start giving. It also sensitises them towards the ones who are less fortunate than them or not so privileged. For example, giving the unused/outgrown toys, books, or clothes to the house help, sharing food, or giving a tip for services rendered.
Also Read | How Does Parental Discord Impact A Teenager?
Feminism is not about superiority of one gender over others. It is about empathy, dignity, respect, and equality for all. All of these concepts discussed are best picked up by children when they see their parents do the same whether amongst themselves or towards others. Does the father come home from work and expect hot-cooked food on their table even when the mother has spent all day at work as well? Is the father seen as the babysitter, only to step in if the mother is otherwise occupied? If the answer to these questions is yes, then children will likely internalise these biases and replicate them in their adulthood. Hence, responsible parenting asks for a feminist approach and earlier it is started, better it is for children so as to have a healthier world to live in.