The world is changing and shifting every moment. The economy is going through major shifts with many startups closing, organisations announcing mass layoffs, and some on a "go slow" phase since December last year. Even in terms of modes of work, people are constantly switching from remote to hybrid to onsite and back, based on project and team deliverables.
In this uncertain and ever-changing world, can you be sure that a rigid career plan would be in place? Or is it better to take one step at a time when everything is changing? This article highlights some of the major shifts in the environment as well as life stages that causes people to shift gears in their careers. The career transitions are highlighted through real-life anecdotes and experiences.
Exploring Career Transition
Let us look at some possible reasons and motivations behind a career change.
Changes In Industry Trends
Career changes due to the dynamic shifts in the environment have been prevalent for over two decades now.
Placements Amidst Recession
Sandhya and her batch of 120 computer science students are sitting for placements since December 2022. Some have got offers, while some are still trying. There is a deep apprehension in the placements cell due to the recession and possibility of the offer being deferred. Both students and parents are worried about the uncertain future that awaits them.
Each student is trying to work out a plan B or C in case the placement offer does not come through due to changes in the macroeconomic environment. A few students are planning to pursue a master's degree in the hope that in a couple of years the economy will recover, and they will have a higher degree and hopefully a better earning potential. A few students are thinking of taking an entrepreneurial route. Some are looking for jobs beyond their placement cell or joining family businesses.
Medical Transcription To Teaching
Saloni, a 45-year-old educator, had started her career as a medical transcriptionist. A graduate in health sciences, she wanted to start working early. Medical transcription careers were popular in the early 2000s and she continued with the same for a few years. In a few years, the demand for medical transcription professionals declined. Saloni switched jobs to pursue a career in teaching and enrolled for a degree in education. It has been 10 years now and she has been teaching sciences to the primary wing of a reputed school for the past seven years. As schools and education systems are changing a lot, she is thinking of exploring careers in the edtech sector for the future.
Key Learnings
Career and life transitions have been a constant, change is an ongoing process. As a student or parent, try to accept this rather than seek absolute certainty in careers.
Focus on continuous learning and evaluation of your experience and skills vis-à-vis market demands, become a life-long learner.
Evaluate if you need to switch from one profile/sector/role to another if you find suitable opportunities and to grow your profile.
Look at your life and career as interrelated as the contextual changes in relationships, life stages, milestones may require you to shift gears in your career too.
Also Read | What Is The Right Time To Begin Career Planning For Students
Changes Due To Life Circumstances
Manan, an MBA, who worked as an area sales manager in a consumer goods company, travelling frequently and experiencing high stress due to tough targets. Despite initially planning to stay with the company for a long time, he became unhappy after two years, especially after his father's stroke. He pursued courses in product management and coding, but his employer was unable to transfer him. With the help of a placement consultant, he found a new job profile -- as an account manager in his preferred city, with comparable pay and better work-life balance. Manan is more content and able to balance his personal and work demands in his new role.
Corporate Life To Rural Entrepreneurship
Suneet was a corporate honcho in the financial services sector. After more than a decade of corporate life, he got tired of the constant stress and politics. On the verge of burnout, he decided to visit his hometown for a sabbatical and found life very peaceful there. His father owned a farm and was having trouble maintaining it. Suneet decided to take the plunge and help his father with the farm. Two years later, he had switched base back to his hometown, was using technology to upgrade the farm operations and set up a profitable supply chain for the fruits and other produce for the village farmers. Five years later, Suneet had permanently shifted to the village and made a few trips to the city in a quarter to smoothen the operations of the family farm.
Key Learnings
In the examples above of Manan and Suneet, you will notice how they both shifted to re-integrate their life and work through challenges and opportunities to make suitable career shifts.
The key here is an "openness and receptivity to experience" as you do not have access to all details regarding your future work and personal life when you make a career plan in your teens or early twenties. In such situations, it is better to take one step at a time and re-pivot rather than stick to an outdated career plan.
Also Read | What Will Be A Good Career Option For You? Understanding Yourself And The Industry
Changes In Interests And Aspirations
Apart from changes in the environment and life transitions, as you grow from being a student to a professional, your own interests and aspirations may undergo a change.
Manasvita, a postgraduate in Economics, worked at a bank helping customers with their investments. After a few years, she felt she could do more with her financial acumen and, with two friends, started a technology-based training organisation focused on personal finance. She found that many professionals were financially illiterate and she loved educating people on finance options.
Her experience and passion helped her create a profitable and fulfilling career she never planned for in college. It took a few years for her organisation to gain credibility, and thereafter her business was profitable and far more satisfying. To put it simply, Manasvita found her purpose and took steps to craft a new career.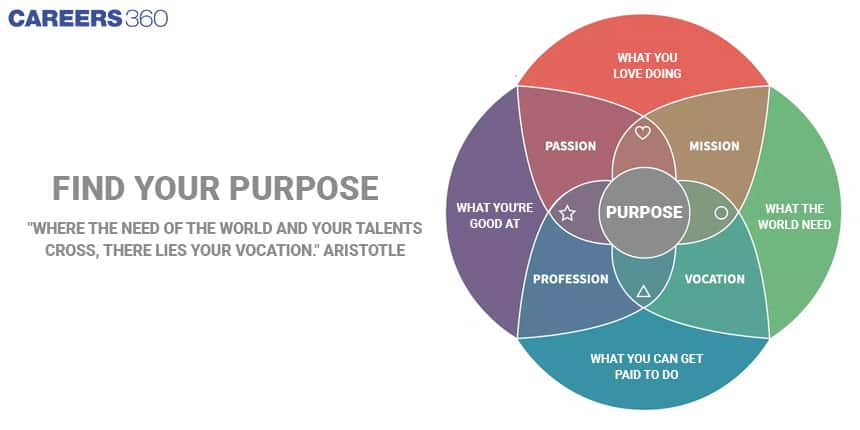 If you refer to the graphic, you will observe how Mansvita worked gradually to align her work with a higher purpose. This was never in her career plan when she finished college.
Gone are the days when a placement from your college meant you will have to carry on in the same profile all your life. In today's world, you may have multiple careers across your life-span based on the needs of the environment and your skill sets.
The advent of globalisation, liberalisation, large scale technological changes, artificial intelligence etc., have increased the unpredictability of careers, jobs and organisations. Many jobs have turned redundant with technological advancements.
What seems to work is to have a good understanding of your professional skills, values, lifestyle needs and make a broad plan. As you navigate your way through the market requirements, you will find doors opening and avenues closing. Be mindful, keep learning and change direction when you need to.
Also Read | 5 Steps To Choosing A Counsellor For Yourself
Dr. Srividya is a career and life coach who works with teens, adults and returning professionals to help them find joy and alignment in their careers and lives. After working for over two decades, she founded LifeVidya in 2019 and has worked with hundreds of students, professionals, and women.