Have you ever felt a distance between the way you connect with your child? In other words, do you ever feel that your child was closer to you when they were younglings, and with teenage setting in, they haven't remained as close to you? If yes, then you are not alone. It is common for parents of teenagers to feel this way, and setting some boundaries may just help smoothen the parenting journey.
Also Read | 8 Mistakes You Should Avoid Making With Your Teenage Child
Why Should You Set Boundaries
Knowing that there are boundaries in place helps both the child and their parents to feel assured that they have defined social and emotional roles to play. Boundaries ensure that neither the child nor the parent over-step into each other's personal territories, which in a way, helps both the child and the parents to trust each other more. With the presence of boundaries, children learn to become more responsible decision-makers, since no one else but they would be accountable for the decisions they make. At the same time, boundaries ensure that both the child and the parent are there for each other whenever needed, and thus, boundaries function a great deal to enhance the parent-child relationship.
How To Set Boundaries: Things To Keep In Mind
As a family, you must discuss and reach a consensus about boundaries. Some areas of discussion could be the areas where boundaries apply, negotiability of boundaries, consequences of breaches, or changes in boundaries, etc. Here are a few tips that will help you understand how exactly you can go about setting boundaries.
Ensure that it is a conversation and not a commandment. Keep it straightforward and meticulous.
Emphasise 'responding' to what your child says, rather than 'reacting'.
The exchange of words must be clear and precise to avoid any miscommunication.
Remember the importance of boundaries and the perils of not setting them.
Be willing to negotiate where either of you is contradicting. The expectations must be reasonable, consistent, and developmentally appropriate.
In clear terms, affirm the consequences of breaching the boundaries. Encourage the teen to reflect on his/her behaviour wherever it fails to meet the agreement. The repercussions must be clear and predetermined. Ensure that they target the undesirable behaviour and not the child.
Another way to establish boundaries is by modelling them in your own life. Let the child observe how these boundaries aid in preserving one's self-esteem and the integrity of relationships.
Leave space for open dialogue and prioritise flexibility of these boundaries, to accommodate both your child's independence and well-being.
The boundaries along with the consequences must be gender-neutral to avoid any feelings of partiality.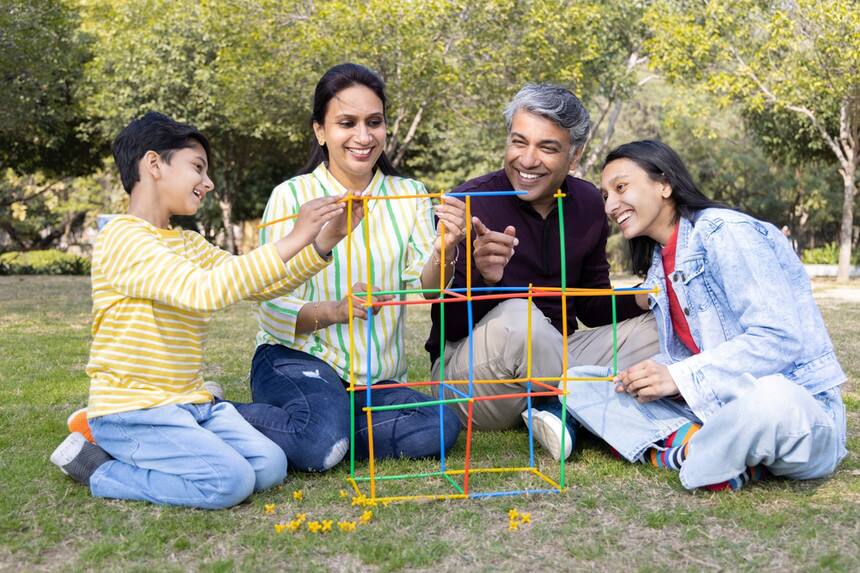 Ensure That Boundaries Are Gender-Neutral
Areas Where Boundary-Setting Is Essential
Now, what are the areas where boundary-setting is essential? Let's take a look.
Friendships And Romantic Relationships | Accept your children's feelings, instead of trivialising or minimising them. Help them understand the meaning of terms like consent, dignity, diversity, and equality in relationships. Have a discussion about peer pressure and encourage your children to be assertive.
Also Read | Talking To Your Teen About Love And Relationships
Personal Space And Privacy | Establish a balance between knowing and trusting your child. Do not check their personal belongings like phones, diaries, or computers. Everyone has the right to their personal space, and this will also help them trust you more. However, do hold conversations with your teen about the need to ensure safety, both physically and digitally, and ways to do so.
Household Chores | As parents, we sometimes expect our grown-up children to help us with the household chores. This will also help them to feel more responsible about the place they live in. Here, you ask for them to extend their support, instead of instructing or demanding.
Career | Instead of viewing your children as an extension or a mini version of yourselves, perceive them as individuals with their own dreams and aspirations, and motivate them to achieve them. Do not impose your expectations on your children.
Also Read | What Will Be A Good Carer Option For You? Understanding Yourself And The Industry
It would be best to consider our teenagers as trapeze artists, swinging between childhood and adulthood, experiencing a paradox where there is rebellion towards adult control versus the need for direction, and a desire for closeness versus fear of intimacy. This constant push and pull can be well regulated with healthy boundaries, thus enabling our teenagers to become independent and intrinsically fulfilled adults.
Also Read | How Does Parental Discord Impact A Teenager
Nilisha Aggarwal is a Child and Adolescent Psychologist, registered with the Rehabilitation Council of India. She holds extensive, hands-on experience in administering psychological assessments and treating mental health issues among children and adolescents, and is a certified Career Analyst and Psychotherapist. She is Founder, Inside Out Mental Health Clinic.