Recent years have seen a lot of talk around the importance of mental health. Enough evidence has shown how physical and mental health are intertwined, and how the optimum of one cannot be achieved without taking care of the other. "We still do not value the concept of mental health as much as we should. In the social media age, a decline in the self-esteem levels of children has been witnessed. Thus, it is critical to understand the importance of talking about mental health concerns.", said counsellor and popular columnist, Nandini Raman, in her quote on World Mental Health Day, in an interaction with Careers360.
This World Mental Health Day 2022, let us enumerate four helpful mental health practices that all of us should engage in.
Read on to know more about World Mental Health Day, tips for better mental health, quote on World Mental Health Day, and more.
Also Read | 5 Tips To Look For The Right Therapist
Go To Therapy
The idea of going to therapy is often misconstrued. On World Mental Health Day, let us understand what the idea of therapy is actually about.
Going for therapy does not mean something is wrong with you or that there necessarily has to be an issue you're going through. Therapy is fundamentally to help you do consistent, reflective work, and think through the seemingly 'big' to the most 'trivial' things in your life. It is a space to verbalise, be in silence, debate, emote and be oneself.
So, this mental health day, begin going to therapy. However, therapists vary in their training and orientation so be sure to ask them about their approaches and philosophies to see if they align with your requirements.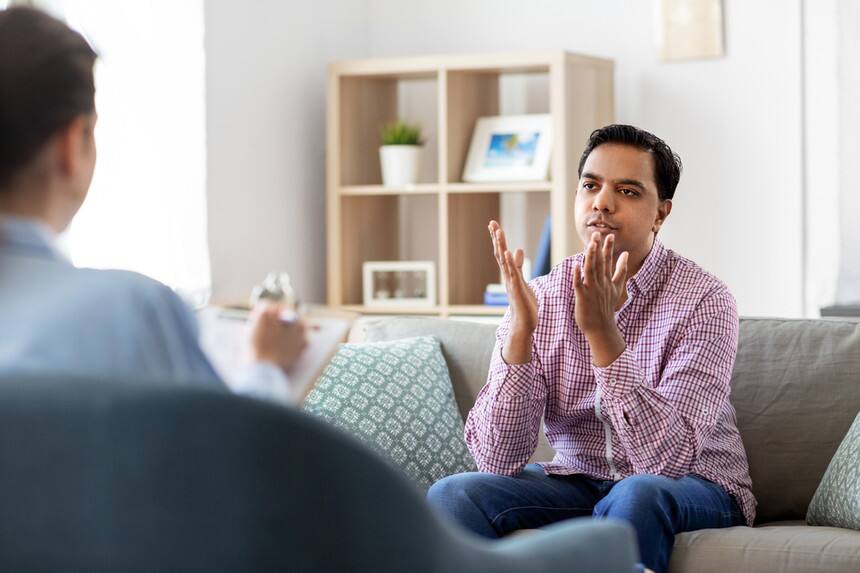 Therapy Is Fundamentally To Help You Do Consistent And Reflective Work On The Most 'Trivial' Things In Your Life
Art Of Self-Regulation
The ability to regulate one's emotions, thoughts, responses, and triggers is indeed an art. There's nothing more helpful to us, especially in today's fast-paced world, than being able to regulate oneself. Clarifying what self-regulation means on this World Mental Health Day, it is nothing but having a certain control over onself. Control over our thoughts, emotions, impulses, appetites, or task performance.
Let us break down self-regulation for a better understanding of the concept on this mental health day. Some examples of good self-regulation could be as follows:-
Choosing not to eat junk when we're on a diet
Choosing to shift our thoughts to being grateful for having a mother despite of an ongoing misunderstanding with her
Choosing to stick to a study schedule despite an important event in the family
Examples of self-regulation could be numerous. So, this Mental Health Day, begin working on learning the art of self-regulation.
Also Read | How A Wrong Career Choice May Impact Your Mental Health
Focus On Overall Health
On Mental Health Day, it is important to understand that our brains, bodies, minds, and souls are deeply intertwined and just focusing on one aspect might not be sustainable in the long run. "Good physical health cannot work without good mental health, and vice-versa is also true. Good mental health enables us to reach our fullest potential. Not addressing mental health problems at the right time may cause them to turn into disorders. Majority of mental illnesses begin before the age of 15.", said Dr. Deepak Gupta, Child and Adolescent Psychiatrist to Careers360, in his quote on World Mental Health Day.
This World Mental Health Day, incorporate these lifestyle tips to better your overall health:-
Create a workout routine and stick to it
Eat a well-balanced diet
Practice gratitude
Practice meditation or mindfulness, such that it helps you stay grounded
Write a journal, make it your space to cherish all positive thoughts and feelings and get rid of all negative ones
Choose a circle of people who push you towards growth and are genuinely positive influences in your life
Also Read | 5 Resolutions You Should Make This Mental Health Awareness Month
Practise Positive Self-Talk
Self-talk is how you speak to yourself about yourself, and this is crucial to your self-esteem, confidence, and self-worth. On this World Mental Health Day, we must understand that if we can build a positive self-talk, it can revolutionise how we perceive ourselves, respond to ourselves and others, and generally feel about Life. Our self-talk is our internal dialogue, which, on Mental Health Day, we must learn to own in our favour.
Along with these advantages, positive self-talk can also promote vitality, life satisfaction, immunological function, reduce pain, improve cardiovascular health, and reduce stress and distress. According to research, people who talk positively to themselves have mental skills that help them solve issues, think creatively, and handle difficulties and obstacles more effectively. The negative consequences of stress and anxiety may be lessened as a result. This World Mental Health Day, a few tips to develop positive self-talk that we all can imbibe are:-
Identify your negative thinking
Regularly check-in with yourself as to how you are feeling
Give yourself positive affirmations, for e.g. "I'm doing my best"
Respond to yourself like you would do to a child or a friend
On this World Mental Health Day, pledge to adopt these four practices and see yourself becoming a better version of you.
Also Read |
Nilanjana Parijat is a depth-oriented, and holistic wellness psychologist, with extensive hands on experience in working with children, adolescents and familes. She currently works with Reboot Wellness, Gurugram.