Career after Polytechnic: Polytechnic is a professional course focused on practical skills more than theoretical ones. This course is a twelfth-level course, students pursue this job-oriented stream after the successful completion of the board examination. Students can also pursue this course after the class 10th examination. Quite often students ask what is polytechnic. Polytechnic is a technical education of engineering or a Diploma in Engineering course that is focused on practical and skill-oriented training. If we talk about career after polytechnic, students have a variety of options to choose from.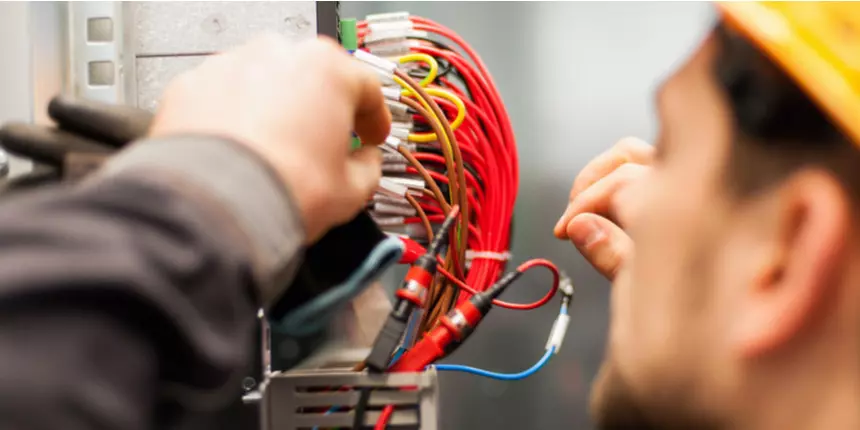 Career after Polytechnic, Courses, Job Opportunities, Salary
List of State-wise Entrance Examination
Polytechnic is a two to three years long course after which students get the chance to join the Bachelor of Technology directly in the second year. Admissions to polytechnic courses in India are directed and managed by the concerned government authorities of different states. There are several entrance examinations according to the states and some of them are listed below.
| | |
| --- | --- |
| States | Entrance Examinations |
| Delhi (State) | |
| Karnataka | |
| West Bengal | |
| Bihar | |
| Chhattisgarh | |
| Gujarat | |
| Haryana | |
| Himachal Pradesh | |
| Kerala | |
| Meghalaya | Meghalaya Polytechnic |
| Odisha | |
| Punjab | Punjab JET |
| Telangana | |
| Uttar Pradesh | |
| Uttarakhand | |
| Tamil Nadu | |
| Jharkhand | |
| Jammu and Kashmir | |
Also read: Top 10 Polytechnic Exams
Courses in Polytechnic
There are several courses at Polytechnic and every course provides a good number of job opportunities in various fields. Some of the best polytechnic courses in India are in engineering or its related field.
These courses also enable students to pursue a good career after polytechnic. For those students who have done their diploma, it becomes easier for them to find a relevant career after polytechnic. Diploma engineers can join a company as trainee engineers and grow up to be department managers. Some of the popular career options after polytechnic are mentioned below along with the courses. We have also mentioned a few jobs after polytechnic.
Some of the popular courses in Polytechnic are:
Diploma in Automobile Engineering
Diploma in Computer Engineering
Diploma in Electronics and Communication
Diploma in Interior Decoration
Diploma in Civil Engineering: In this polytechnic course, students learn about surveying, planning, construction, designing, and drafting. Diploma holders in this discipline can apply for clerical posts, apprentices, and technicians in various government departments. Some of the popular careers after polytechnic are mentioned below:
Assistant Manager: Assistant Managers employ, hire, and give training to sales agents and they also examine customer requirements for future work.
Field Inspectors: These people investigate through photographs of a particular area, and write reports for various organizations.
Quality Control Engineer: Engineers look after the projects closely and examine the work process and they work in assembling plants.
Diploma in Automobile Engineering: In this branch, students learn rigorously about manufacturing, designing, mechanical mechanisms of automobiles. It is an integral part of vehicle engineering which deals with various types of vehicles. Automobile Engineers can uncover new ways of mechanisms to make a mark in the world. Some of the popular careers after polytechnic are mentioned below:
Automobile Engineer: Automobile Engineers develop, design, and manufacture vehicles. These people are responsible for testing and manufacturing the parts of vehicles. They work on every component of vehicles and are also responsible for the final product and sales.
Production Engineer: Production Engineers supervise the production coordinator and assistant directors. They are responsible for the completion of the production on time with safety and regulations.
Design Engineer: Design Engineers work with computers to draw sketches of the vehicles and their components of it. They draw sketches with the help of computer-aided design (CAD) software.
Diploma in Computer Engineering: It is the study of the hypothetical foundation of data and calculation and of useful methods for their execution and application in computer systems. This course gives the knowledge of computer science that includes database, networking, and operating system. Some of the popular careers after polytechnic are mentioned below:
Web Developer: Web developer designs and builds new websites for businesses and organizations.
System Analyst: System Analysts find and fix the bugs in hardware or in software. They also help to protect the shared online and the security of network systems.
Cloud Architect: Cloud Architects are responsible for building a cloud setup for several organizations.
Diploma in Electronics and Communication: Students of this discipline are focused on the study, design, and application of equipment, devices, and systems that use electricity, and electronics. The very course is based on the concepts of electronic devices, networks, computer fundamentals, and communication. Some of the popular careers after polytechnic are mentioned below:
Electrical Engineer: Electrical Engineers are responsible to create, test, and assemble hardware, for electric engines, and communications systems, navigation systems.
Network Planning Engineer: These people create, plan, and configure the network system.
Professor: Professor teaches the subjects related to this field and they enjoy reading and researching the topics.
Diploma in Interior Decoration: Interior decoration is a versatile profession that includes space planning, inspections of the particular site, researching, programming, communicating with the clients to understand what they actually need, and also construct managing, and last but not least executing the design. Some of the popular careers after polytechnic are mentioned below:
Assistant Designer: Assistant Designers support and assist the senior designer in making plans for their projects.
Draftsman: These people illustrate the technical drawings or plan their projects that include decorating setup.
Set-Up Designer: Designers make the setups for the performance or exhibitions, like theatres, and auditoriums.
Other Career Options after Polytechnic
The courses are to train the students in practical or application-oriented aspects. These courses help the students in finalizing a career after polytechnic. This prepares students to learn the basic skills of a particular course and this eventually helps them to start their own businesses. Students can also get a good opportunity to pursue their higher studies by getting direct entry in the second year of engineering. There are several career opportunities in the government or private sector for students, holding a diploma in polytechnic. Students can get into the government's sectors like Bharat Heavy Electricals Limited (BHEL), Indian Railway, Oil & Natural Gas Corporation (ONGC), Indian Army, National Thermal Power Corporation (NTPC), Bharat Sanchar Nigam Limited (BSNL), Indian Petro Chemicals Limited (IPCL) and several other sectors.
There are various polytechnic job opportunities for students to start a career after polytechnic. Students get hired at the junior level in the above-mentioned Public Sector Units and government sectors. Indigo, Spicejet, DLF, TCS, HCL, TATA Motors, Siemens, L&T, and Hindustan Unilever are some of the private companies where students get hired at junior-level positions. It should also be noted that degree holders have more value than diploma holders, some companies hire these people for their practical knowledge.