Dr Gaur Hari Singhania Institute of Management and Research, Kanpur
Quick Facts
Estd. Year: 1995
Campus Size: 25 Acres
Total Faculty: 12
Total Students Enrollment: 163
Interested in this College?
Questions related to Dr Gaur Hari Singhania Institute of Management and Research, Kanpur
News and Articles
GHS-IMR Kanpur announces PGDM admission 2018-2020
Dr. Gaur Hari Singhania Institute of Management and Research (GHS-IMR), Kan....
General Information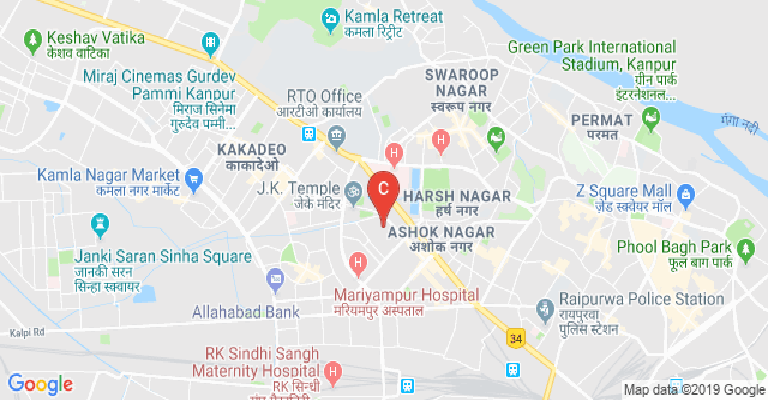 Address:
Dr. Gaur Hari Singhania Institute of Management and Research, Kamla Nagar, Kanpur-208 005, Uttar Pradesh, India
About College:
The Dr. Gaur Hari Singhania Institute of Management and Research (GHSIMR) is located in the city of Kanpur. The city located in Uttar Pradesh, has been nicknamed as the "Manchester of North India" thanks to its vibrant textile industry. It WAS established back in 1995. Its flagship course has been ratified by the AICTE (All India Council for Technical Education). The college is also a member of the AIU (Association of Indian Universities). The total college campus occupies an area of twenty- five acres of land. The GHSIMR has been named after Dr. Gaur Hari Singhania, who has been a leading educationist and philanthropist. Several educational, social, religious and sporting institutions have been named after him.
The JK Organization is the main funding agency for this college. That group is diversified into manufacturing of multiple product lines such as synthetic fibres, steel, drugs & pharmaceuticals, petrochemicals, electronics, rubber hoses, power generation and food & dairy products. Several products are also exported by the group. The GHSIMR has a single- minded focus, when it comes to education, as it only dabbles in the field of management. It provides a two- year Post Graduate Diploma in Management (PGDM), which is considered equivalent to an MBA as per the AICTE norms. The PGDM can only be taken in the field of General Management, as the GHSIMR strongly believes in developing all- round managerial skills. Under this scheme, students go through all major subject areas, before deciding on there are of choice in the second year during their summer internship.
The students enrolled, may opt for specialising from the areas of- Finance, Marketing, Information Technology (IT), Human Resource Management (HRM), International Business (IB), Operations Management and in Entrepreneurship & Family Managed Business. The last one mentioned is a specialized course, open only to students either belonging to business families, or those who have started their own ventures. Admissions to any branch of the PGDM is via any of the nationally or internationally recognized entrance exams such as CAT (Common Admission Test), MAT (Management Aptitude Test), CMAT (Common Management Aptitude Test) or ATMA (AIMS Test for Management Admissions). Post the results of the CAT being declared, shortlisted students need to appear for the PI (Personal Interview)- WAT (Written Ability Test) round.
The Dr. Gaur Hari Singhania Institute of Management and Research has been extremely proactive when it comes to forging collaborative deals with educational institutions abroad. This helps in research collaboration, facilitating exchange programmes and generating consulting assignments. Such partners of the GHSIMR are located all over the world, in the countries of USA, China, UAE and in neighbouring Nepal as well. These institutions respectively are- the College of Business Administration in the University of Nebraska, the University of Science & Technology (USTC) in Hefei, Westford Education Group and the Novel Academy in Pokhra. A part of the PGDM programme may also be taken up in the UAE and the UK. An international study tour is part of the programme anyway.
Research plays a key role in the development of the GHSIMR. For this purpose, the college publishes an inhouse journal, to consolidate all key research learnings. It is known as the GHS- IMR Journal. There is also a newsletter published which is the GHS- IMR Communique. Unlike the former, which is more of a faculty- driven initiative, the latter is primarily anchored by the students themselves. The college also works on several CSR (Corporate Social Responsibility) initiatives. Several external events are also held on campus, where experts are invited to address the students.
The campus has much to offer. There are hostel facilities for both boys and girls. Banking facilities with ATM, convenience stores and public transport may all be access, just outside the campus. There is a sports field where cricket and football may be played. Facilities are also there for indoor sports. The gymnasium may also be used by all. A large auditorium is there to facilitate major events, at both intra and inter college level. The campus is Wi- Fi enabled. Science laboratories have the latest of equipment. A health centre is also there to cater to medical emergencies. Hygienic food is prepared at the college cafeteria. The library here is one of the best stocked within the region. Besides the physical books on display, it also provides digital access to en number of international academic journals for research and academic purposes.
There is a well- managed industry outreach by GHS- IMR. This has led to healthy campus placement figures here over the years. Some of the key recruiters in recent seasons have been the likes of- ITC, ICICI Securities, TCI, Aditya Birla Madura, Raymond, Prism Cement, SBI General Insurance, XL Dynamics, Axis Bank, Havells, India Bulls, Ansal API, RSPL, RBS, HDFC Bank, Super house Group, Red FM, Berger Paints, Bajaj Finserv, Vodafone, Gati, DCM Shriram, Fever FM, SBI Mutual Fund and the HDFC Mutual Fund besides a several others.
Other Popular Colleges in Uttar Pradesh