English is the lingua franca of the world, and the ability to speak, read, and write in English is one of the most crucial skills that one can develop. It is also an important requirement for jobs and careers today. Those who major in English have a variety of career options available to them. Let's take a look at the most popular careers in English.
Teaching
Teaching is one of the most popular and accepted career options for students who opt for English at the college level. Depending on your level of interest and expertise in the subject, you may choose teaching at the school level or the college level.
For teaching at the school level, you need a postgraduate degree in English, followed by a bachelor's in education (B.Ed).
For teaching at the college level, you need a doctorate in English. You also need to clear eligibility tests like the NET (National Eligibility Test) for teaching at government and established universities.
Teaching English at the kindergarten and pre-primary level requires a certification or training in Early Childhood Education/Montessori Methodology or Nursery Teacher Training. Also at the pre-primary level, a teacher usually takes all subjects, while you also need to be comfortable working with young children.
The number of permanent openings in government universities is limited, and it is usually a challenge to get a government job as an English teacher or lecturer. Many temporary and guest positions are made available for periods of three to six months, and often renewed for years. It is common to see a university lecturer who has been teaching in a college for over a decade to be on temporary payroll.
Private schools have been hiring qualified and energetic teachers for many years. These recruitments are usually permanent after the initial probation period. However, there is a slow down in recruitment in the education/teaching sector due to the impact of Covid on educational institutions. This is likely to improve in the months to come.
Salary scale (approx.) - The schools and institutions that adhere to the seventh pay commission pay salaries of Rs. 60,000/- and above to full-time teachers. The same is applicable for ad-hoc lecturers, except they are not remunerated for the holiday months when they are not teaching. The professional fee for guest or temporary lecturers typically varies from Rs. 500 to Rs. 3000 per lecture.
Corporate Training Jobs
Many corporate roles require employees to be well versed in English. Given the diverse cultural and regional backgrounds of employees, many professionals struggle to communicate with colleagues and clients in English.
Helping employees communicate more effectively and confidently is a critical business need. For these roles, trainers who are well-versed in English are in demand, and hence, there are a number of corporate training jobs. Some of the typical training areas include business writing etiquette, voice and accent trainers, soft skills training, speaking fluently, etc.
Most corporate training job roles are on contract or retainership basis, with competitive professional fees and rates that vary based on expertise and years of experience. Organisations that employ call-centre operators frequently roll out corporate training jobs and usually have a pool or panel of people to train their employees. Some organisations, where the need and demand for training is high, may also have in-house, full-time professionals to train. Trainers may also associate themselves with consulting organisations that specialise in communication, and English language-related training programs.
Salary scale (approx.)- The typical retainership or consulting fee for a corporate trainer can range from Rs. 5000/- to Rs. 25000/- per day.
Writing, Editing, And Publishing
A host of different types of roles are available in the publishing industry. Some of the in-demand roles and jobs are listed below: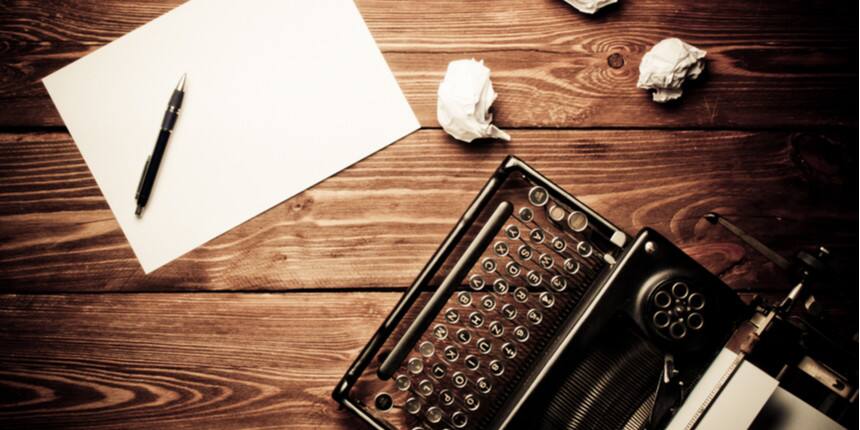 You Can Always Consider Writing As A Career If You Are Fond of English
Content Writing
We are not unaware of the popularity of content writing jobs in today's times. The need of the hour is to have updated and quality content on websites and social media platforms. As a result, content writing jobs are rolled out by almost all organisations these days. These content writing jobs may be contractual or full-time. A good content writer needs to have excellent command over English for generic content. For specialised content, subject matter expertise in the area of work is also needed. For example, a person creating a course in physics needs a good knowledge of physics, as well as good writing skills. Often, a team of writers and subject matter experts work together to provide technically sound content.
The ed-tech industry keeps opening up a lot of content writing jobs, and there are many freelance content writers too. After gaining adequate experience, you may also choose to freelance as a content writer.
Editing
All publishing and media houses need full-time editors to go through manuscripts of books, stories, articles, research papers, and other types of content. Editors are usually postgraduates in English, with a keen eye for detail. They have a knack for structuring content in a systematic and user-friendly style. All leading newspapers need editors for their printed and online versions of media. The starting salaries of editors vary a lot, however, many established editors can earn thousands over a single manuscript they edit. Editors may also start taking up freelance assignments after gaining adequate experience.
Creative Writing
Advertising agencies need creative writers to write captions, limericks, and ad campaigns for the clients they serve. An undergraduate course in English, followed by a postgraduate degree or diploma in mass communication usually proves beneficial for this role. Creative writing aspirants need to build a portfolio of their writing, so agencies and other clients can connect with them. Writing catchy content for social media posts is a popular role in these times. You may choose to freelance after gaining adequate experience, and the fee can be very competitive for well-established and networked professionals.
Author
Some English graduates write passionately and creatively. These include storybooks for children, novels, fiction, non-fiction books, screenplays, scriptwriting etc. In the past, the number of authors was few, however, as the options for online publishing have increased, there has been an increase in the number of authors who are writing and publishing for a career. Some of these authors create YouTube channels and narrate their own stories. While this career does not guarantee stable remuneration in the beginning, it can be a profitable entrepreneurial venture over a couple of years when combined with services like creative writing workshops, storytelling for children, techniques of storytelling, etc.
Technology-Based Roles
We will now speak about a few technology-based roles that people looking at a career in English may consider.
Instructional Design
Most people are unaware that writing learning material in textbooks, creating question papers and assessments, etc. is a skill that requires training. Large multinational organisations hire instructional designers to write and design content for specific topics that may be taught through their e-learning modules. These roles are usually well-compensated and there is a growing need for instructional designers as ed-tech firms are gaining prominence and learning is becoming hybrid. Training can be gained through certifications and post-graduate degrees.
Technical Writing
Remember that small manual that you get along with your laptop, phone, microwave, DIY kit, etc? Very often, you don't even look at these kits because they are so difficult to read! Have you ever used the 'help' button of a software? You will see a list of help topics that branch out to specifics. Technical writers bridge the gap between technical complexity and user comprehension by writing simple instructions that are understood well by the target audience.
Technical writers are hired by corporates, and training is often provided by the employing organisations as a part of the induction. In some cases, when the products are absolutely technical, there may be a preference for graduates from a technical background.
Audio Recording/AI
If you have a good voice and pronounce words well, you may want to try audio recording your voice for courses, e-learning content, books, and stories. While a lot of audio conversions have been taken care of by artificial intelligence, these are useful in customised courses, created for specific topics and users. Artificial intelligence also relies on inputs in terms of how to pronounce words, pause, etc. This could be an emerging area, as AI will redefine the way we work, and the number of job options available in the future.
Coaching Centres And Workshops
Many English graduates have reached out to students, homemakers, and other segments of society who don't come from an English-speaking background. Customised tuition, classes and workshops are conducted by entrepreneurs in areas like spoken English, public speaking, presentation skills, etc. This helps build confidence amongst clients who feel sidelined as they are unable to converse fluently in English. It also helps improve academic performance in children, who come from homes where English is not spoken much. The remuneration for these sessions is usually a few thousand per student, and when done in groups or batches, it can be very profitable.
So, as you can see, there are many established and upcoming careers that emerge from having good English skills. A flexible mindset, a willingness to continuously upskill based on emerging market needs is essential for career success. Wish you the very best!
Dr. Srividya is an Organisational Psychologist, Career and Personal Growth Coach. She works with teens, parents, adults, and returning professionals, to help them align their personal and professional needs, desires, and overcome personal and professional challenges. She can be reached at www.lifevidya.in.