Our imagination of college and college life most often finds its source in movies- Student Of The Year, 3 Idiots, Rang De Basanti, and so on. The larger-than-life depictions of college in Bollywood are indeed mesmerising, but quite away from how things are in reality.
College is, needless to say, a major transitional phase, you are no more a kid but also not entirely an adult. You might have relatively more freedom but may still not be able to decide everything for yourself. This is exactly why college is a time for one to have a variety of new experiences and to grow.
However, simply 'going to college' may not fetch you these new experiences and opportunities for growth, until you get proactive and sustain a drive to cash in on opportunities, or maybe even create some for yourself. Let's discuss a few career tips for students which will help you make the most of your college experience.
It may not be as fancy as in the movies but can still be your masti ki paathshala.
Do Internships
Doing internships is one of the best career advice for students, they are a good way to get valuable, hands-on experience in your field. For the internship to be beneficial, it must align with your career aspirations. For example, if you want to become a journalist, it may be beneficial to intern with a media company or press. Internships are also very effective in helping students figure out where they would like to see themselves a few years down the line. So, do multiple internships while in college and you are likely to find a lot of your career dilemmas figured out.
Also Read | Nailing Your Internship Interview: FAQs And Tips To Answer
Join Student Organisations And Clubs
Getting involved in student organisations doesn't necessarily mean that you have to run for student council elections (though that's definitely an option), but is a good way to get to know more people in your college and learn from diversity. Most colleges have a variety of clubs, societies, and other student initiatives. Evaluate where you may fit best and get it rolling.
Do Skill-Based Courses
Look for additional courses that you can pursue along with your studies to enhance your knowledge and skill set. Such courses help you expand your horizons of awareness and also add great value to your resume.
Also Read | What Is The Right Time To Begin Career Planning For Students
Be Active On LinkedIn
LinkedIn is a wonderful platform to keep yourself abreast with what is happening in and around the industry, get in touch with prospective employers, and expand your professional network. It is great career advice for students, to create a LinkedIn profile for yourself while in college and be active with it. Put engaging posts, leave meaningful comments on those of others, and reach out to people you want to work with.
Also Read | 8 Reasons Why Students Should Use LinkedIn
Connect With The Career Cell
Before graduation, take advantage of your college's career counselling tips for students to help you jumpstart your career. This campus resource can provide you with a wealth of information, from crafting a resume to getting a job. Colleges' career advice for students can also put you in touch with alumni in fields that you are interested to know about.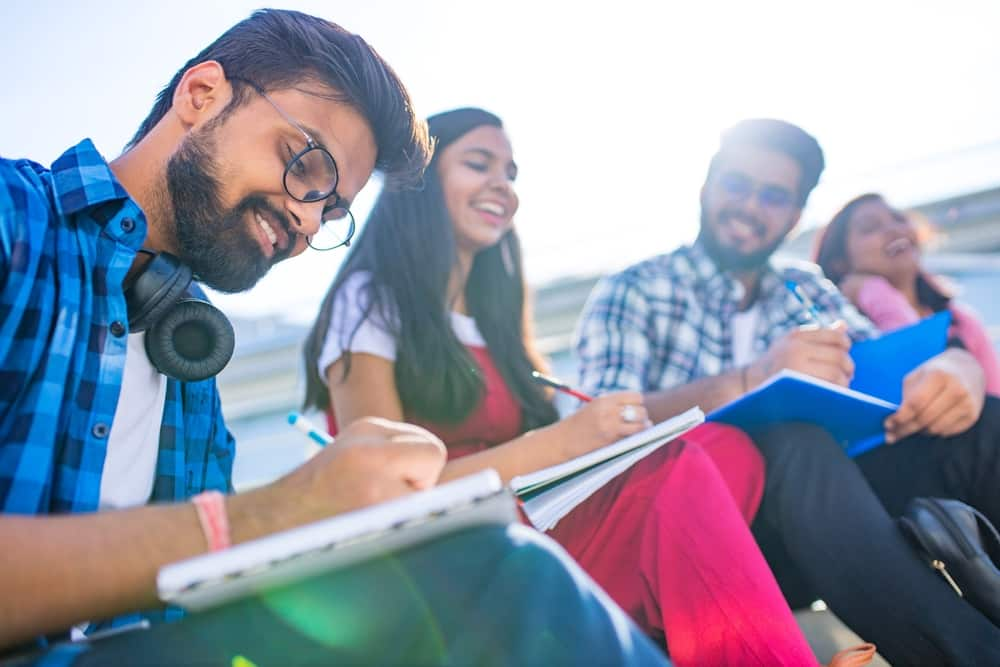 Having a good set of friends helps you sail through the highs and the lows of being in college.
Have A Side Hustle
College is a good time to experience some financial independence as well. Look for paid internships, write blogs, take tuitions, handle social media accounts for an individual or company, or do gig work. To earn for yourself and handle your own expenses from an early age is a perfect career counselling tip for students as it also teaches you the basics of budgeting and money management.
Also Read | Five Hobbies That Can Help You Earn
Strike A Balance
Extra curricular activities serve as a good way to take a break from long stretches of study making it the most important career tips for college students. You can't study all day, every day, so getting out of your dorm and getting actively involved in campus life will go a long way in helping you strike a nice balance between academics and recreation. Grades are important, but so is taking care of yourself and recognising when you need to unplug and have some fun.
Make Good Friends
Having a good support system during your college life is essential. Having a good set of friends helps you sail through the highs and the lows of being in college. Friendship teaches you ways to have meaningful relationships and how to navigate through conflicts. It not only facilitates personal growth but also aids your pursuit of your career goals - after all, last-minute assignment submissions and exam preparations are thrilling, aren't they? So, who are your Raju and Farhan?
Also Read | Why It Is Okay To Have Few Friends
Have A Routine
This is the easiest thing to get affected in your college life. All other career tips may go in vain if you are unable to stick to a routine. Yes, college is supposed to be fun, but with freedom also comes responsibility! Therefore, having a routine and a personal schedule helps you be accountable to yourself and stick to your goals.
Seek Therapy
With college being an exciting and challenging yet fulfilling journey, it can come along with hurdles that could impact your mental health. This is also a phase of personal growth. Seeking therapy, therefore, becomes a major career advice for students, it's not only for the times when you're in a crisis but you can also seek it to explore and understand yourself better. If affordability seems like a concern, which is understandable, do know that colleges these days offer counselling services on campus and a lot of trainee psychologists also take pro-bono sessions, which are worth giving it a try!
Also Read | How A Wrong Career Choice May Impact Your Mental Health
College is meant to be a wholesome and satisfying experience, and can be very much so if you take each step with a pinch of wisdom.
Sanskriti Khera is a Counselling Psychologist, with five years of extensive hands-on experience in helping young adults navigate through social and emotional concerns. Her approach to counselling is person-centered, trauma-informed, and insight-oriented. She was formerly Counsellor at the Ashoka Centre For Well-Being, Ashoka University, Sonepat. Currently, she is Consultant with Daffodils Therapy Studio, New Delhi.