All India Institute of Medical Sciences Raipur
Quick Facts
Type of Institute
Institute of National Importance
Estd. Year: 2012
Total Faculty: 58
Total Students Enrollment: 782
Interested in this University?
Medical
Rank
Score

63rd

113.36
Disclaimer: Careers360 Ranking/Rating is done separately for government and private colleges but NIRF ranks both together. To refer the ranking methodology
click here
Exams and Cutoffs
All India Institute of Medical Sciences Nursing Entrance Examination
No exam date Available
Excellent Education, Budding institute.
The Institute is budding basically. There is good faculty, some are among top doctors, but a downside is there is the shortage in some departments. Infrastructure is excellent. The college building is good with world-class lecture theatres and well-equipped labs. There is a 3 floor AC library with many books and journals, with an attached e-Library having many touch screen PCs and WiFi. Hostels are good and are maintained well with good cleaning and all. There are elevators, reading rooms, TV (Cricket) in a hostel. There is a nice gym. The hospital building is developing currently. The equipment, machines are excellent. Student life is good. Positive environment in college. Students come from all different corners of the country. There is a lot of heterogeneity but a good bonding between students. Along with studies, most of the different cultures, have diverse hobbies and talents in which they are excellent. Everybody gets to learn a lot. There are cultural programs held every year at different occasions and students are really encouraged to participate, and they do. Food in a mess is OK. There is Mentorship Program in which every student gets a faculty as a mentor. Teachers are very helpful and enthusiastic in teaching. There are sports facilities too with a Sports budget. Cricket and Football are played majorly. There is a badminton court, a T.T. room. A large Gymkhana is proposed and is being worked on. Every year CMEs in different departments are held in which students get to participate as well as learn from well-renowned doctors coming from all over a country. Raipur City is good with good and helpful people. Hindi is the prime language spoken. Pollution is a big problem. There are 4-5 malls. Not many places to go but nice overall. College Fee is none. You just have to pay ₹5000 as admission fee. However, a mess is chargeable.
Placements
Infrastructure
College Life
Industry Exposure
Affordability
Student Crowd
Faculty
Hostel
Questions related to AIIMS Raipur
General Information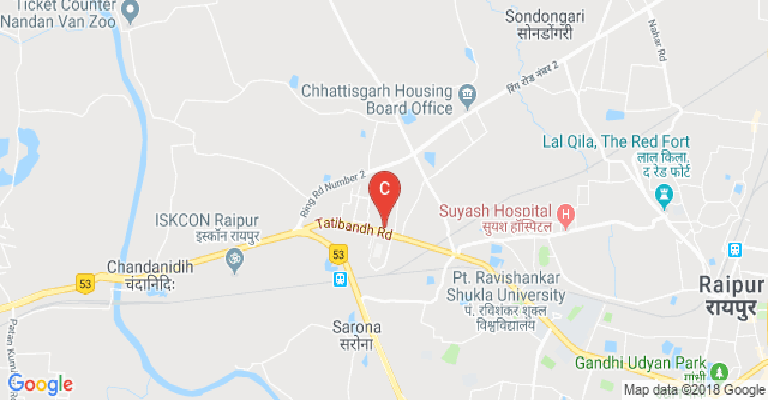 Address:
All India Institute of Medical SciencesTatibandh, G E Road, Raipur, Chhattisgarh - Pin No: 492099, India
About College:
The All India Institute for Medical Sciences (AIIMS) was first established in New Delhi in the year 1956. It is attached to a government hospital by the same name. Over time, the name AIIMS came to be associated with excellence in the field of medical education. Cracking the entrance test for AIIMS became a hallmark for millions of young aspirants to crack in India. A multitude of coaching centres sprang up to cater to this enormous need. Those graduating from this institution were almost guaranteed professional success. However, by the time of the Tenth Five- year plan (2002-07), it was realized by the central government that the number of quality institutions dedicated to medical education was not sufficient. There was a need to scale up the numbers. So, it was decided to open new AIIMS campuses. Six new were inaugurated in the year 2012 in – Bhopal, Jodhpur, Rishikesh, Raipur, Patna and Bhubaneshwar. Two more were further established in 2018 at – Nagpur and Mangalgiri (Andhra Pradesh). Plans are already afoot to have another thirteen all over the country, spread across the states.
The AIIMS Raipur in Chhattisgarh was established in 2012. It is an autonomous institute like the other AIIMS. And like the other AIIMS, a full-fledged hospital is attached right with it. This helps students get practical exposure to real-world matters. It also helps them procure internship opportunities. The campus is spread over more than a hundred acres of land encompassing the hospital, medical college and residential hostels. Academic courses are available here from the UG till doctoral levels. The UG course MBBS takes up the duration of a minimum five and a half years. At the PG level, there are multiple options for MD or MS. Besides, there are also colleges for nursing and dental each. A four- year BSc. the degree is on hand for those enrolling at the College of Nursing.
The hospital too has multiple departments. These departments may be divided into clinical, preclinical, post- clinical and special. Within para- Clinical lie the departments of – Pharmacology, Pathology, Microbiology and FMT (Forensic Medicine and Technology). Under the Preclinical category, there are the departments as- Anatomy, Biochemistry and Physiology. There are some special clinics as well which cater to specific needs. The Clinical departments are of course the most numerous. Examples include- Cardiology, Dermatology, Dentistry, CFM (Community and Family Medicine), CTVS (Cardio- Thoracic and Vascular Surgery), Pediatrics, Transfusion Medicine in Blood Bank and a few others.
Research is another key area at the AIIMS Raipur. There is an internal Institutional Review Board (IRB) that keeps a tab on the activities. The MD and MS students in particular need to work it out here. A whole new Department of Biostatistics, Clinical Epidemiology and Clinical Research Secretariat is being established here for the purpose of research into specific areas. It will work with the faculty and research scholars on research project design, proformas, data analysis and in the framing of the research hypothesis. Assistance will also be provided to clinical and field experiments.
There are also several committees within the institute which look after all student and administrative affairs. One of the important ones among the is the Academic Committee. It oversees the entire academic curriculum across the levels. There are academicians and industry practitioners here from different departments. The views of different stakeholders are collated to get the bigger picture. The Governing Body similarly has people from different walks of life, so that a more holistic picture may emerge during the meetings. The Institute Body is likewise diversely represented. Another key committee here is the Standing Finance Committee. As the name suggests, this looks after all financial matters within the institute. This includes legal compliance measures as well. The running funds, as well as funds for overall developmental projects, are secured by this committee.
There is a thriving student life here at the AIIMS Raipur. An AIIMS Premier League was started in 2012. It is a cricket league for all the students, staff and faculty at the institute. The inter-college cultural fest here is known as the Oriana. Festivals are also celebrated on campus year- round. All this and much more has led to extremely high ranks being secured by the institute across platforms. The AIIMS Raipur finds itself on rank 58th among medical colleges by the Careers 360 magazine. This corresponds to a AAA rating on the same platform. It has also been recognized as an Institute of National Importance (INI) by the Government of India.
Other Popular Universities in Chhattisgarh