How to prepare for JEE Main and NEET: Expert tips from Prof Uma Shamkar and Prof Ravindra, Sri Chaitanya Group
JEE Main and NEET exams are two of the biggest examinations for engineering and medical aspirants after their class 12 and the importance of these examinations can be known from the large numbers of students that appear for them annually. This year with the spread of COVID-19 pandemic, both the exams have been put on hold till the situation gets normal and this has given students some extra time to study and prepare. Careers360 conducted a live session on Youtube with two senior faculty members of Sri Chaitanya Group of Institutions to know how well this time could be utilised for better JEE Main and NEET preparation. The two experienced and renowned teachers had a lot of insights to share. Some great study tips, preparation strategies and important aspects of preparation that were discussed in the session have been summarised below. Read the excerpts ..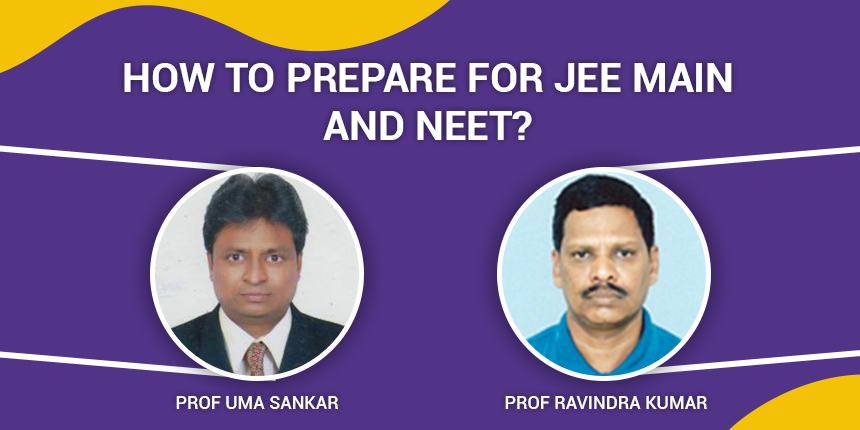 Students can check the full live session with Prof Uma Shamkar and Prof Ravindra, Sri Chaitanya Group below
Q. Many of the students have completed their NEET syllabus but do not have a clear preparation strategy. What would be your advice to such candidates?
Prof. Ravindra: Whatever may be the strategy followed by your friends and other aspirants makes no difference to your preparation. At present, students have enough time to prepare for the exam. The lockdown has changed a lot of perspectives in terms of NEET and most of the strategies prepared by the students may not work. However, you need a clear strategy to write the exam. For example on the day of exam the way a student is able to manage his time properly, the time spent on each subject, order of answering subjects will be deciding factors of the candidate's performance.
Talking in detail about the strategy, let's take an example, a student has 3 hours to complete his NEET exam, first he is supposed to attempt the Biology paper which contributes 90 questions out of the total 180 questions in the exam. However, the time given to each section must not be dependent on this which means he/she should try to finish the Biology section in 1 hour. . Similarly, he/she can give 30-35 minutes to Chemistry and 1 hour to Physics. As per this strategy, the student will have nearly 30 minutes as buffer time. Candidates must try to finish all the questions in the exam in the first 2.5 hours and use the remaining half hour for solving the doubtful questions. In my opinion, this is the best strategy to write the NEET exam.
Q. How do the students make sure they have the optimum speed and achieve their highest efficiency while attempting the NEET exam?
Prof Ravindra: Speaking out of experience, time management is very crucial for acing the NEET exam. My advice to the aspirants is to solve as many mock tests as possible. In every test they should check and monitor time taken for each subject i.e Biology, Physics and Chemistry. Furthermore, they must also assess the particular concepts and topics where they are losing out marks and identify their weak areas. Naturally these candidates will be able to improve their speed and accuracy. While attempting the next mock test candidates must make sure that they are improving on the weak areas that they identified earlier.
Q. Can you please give a similar strategy for candidates appearing for the JEE Examinations?
Prof. Uma Shankar: I would basically divide them into two - preparation strategy and then exam strategy depending on the caliber of the students. The extremely good students must attempt as many mock tests as possible so that they do not need to go through the topics and subjects again and again. For slow learners or medium level students, the 60 days in hand before JEE Main can be divided as - first 30 days, the focus should be on revision of important topics and subjects. The remaining 30 days can be devoted to attempting mock tests. To improve on their weak areas, students need to consider the topics with more weightage in the JEE Main syllabus.
Additionally, students must practise all JEE 2019 question papers. It is a fact that a single question can be asked in many different ways. By going through the previous year question papers, they can understand the type of questions asked in the exam, understand tricky patterns. JEE Main has numerical type questions as well as questions with more than one answer.
Q. How to score more than 90 percentile in JEE Main?
Prof. Uma Shankar: Scoring 90 percentile is easy. If you observe all the 4 slots of JEE Main January session, candidates who scored 90 percentile were the ones who got more than 75 marks out of 300. To get 75 marks, one needs just 25 marks from each subject. This means that a candidate needs to get 7-8 questions right. Honestly speaking, if there is self motivation and you have prepared well you can easily find 7-8 questions in each subject that can be solved without much strain. After securing these 75 marks, students can then move on to the difficult sections of the paper. This will simplify a lot of things.
If students want to target more than 100 marks or 95 percentile the strategy will be different. Now if the target is 100 percentile, they should maintain scoring more than 290 marks in all the mock test papers and previous year question papers irrespective of difficulty levels. If students have already prepared for the core topics and areas they can move on to the extra topics. In case candidates have not prepared enough for the core topics, they must first strengthen their preparations in the core areas before moving on to anything else.
Q. Is my class 11 and 12, is it enough for my NEET or JEE Main preparation?
Prof. Ravindra: Yes. The NCERT class 11 and 12 syllabus is enough for NEET preparation. The question papers are mainly based upon the NCERT text books only. If you observe the past papers, especially in Biology, only 1 or 2 questions come out of the syllabus, like a question in last year's paper came from Cornea. Coming to Chemistry, the NCERT syllabus is followed except in one or two questions. If a student is thorough with the NCERT syllabus for class 11 and 12 (PCB), they can easily score more than 600 marks in NEET. Students should ensure that they avoid negative marking.
Prof. Umashankar: I would say that getting a qualifying rank is different from getting the best rank. To get a qualifying rank candidates need nominal marks and for that the NCERT textbooks are enough. However, to understand the framing of questions and the tricky questions, candidates should solve previous year question papers. For JEE Main Mathematics, the NCERT textbooks are not sufficient and this is true for JEE Advanced too. In case of Physics and Chemistry, questions are asked from the NCERT textbooks only. Here I would like to clarify that going through the syllabus doesn't mean simply studying the topics but understanding in depth, the topics and concepts. There are a lot of unnecessary books available in the market which may give students unwanted stress and burden. So don't buy them.
Another important tip is - give attention to your CBSE Practical manuals for Physics and Chemistry as every year 2-3 questions are asked from the practical manual itself and most students ignore these textbooks.
Q. Since AIIMS and JIPMER are now included in NEET, will the exam be more difficult compared to last year and should there be some change in preparation strategy regarding this?
Prof. Ravindra: One clear difference is that AIIMS and JIPMER were conducted in online mode whereas NEET is conducted in offline mode. My personal opinion is that the JIPMER paper was easy and the AIIMS question paper pattern was not only different but comparatively difficult. In case of NEET, the syllabus and paper is set by NTA and the main focus is on NCERT syllabus which was not the case with the other two exams. As AIIMS and JIPMER don't have any role in the NEET paper, I think there will not be much change and therefore students needn't worry..
Common mistakes to avoid in NEET
Prof. Ravindra: One of the most common mistakes made is not reading the question properly. Before attempting any questions, students must read the question properly and note the key points of the question. This will give students a better clarity about the question.
Common mistakes to avoid in JEE Main
Prof. Umashankar: I agree that the question paper has to be properly read. I find that students have a big misconception that they think they know the type of questions that will be asked from that particular topic since they have studied it thoroughly. They should clearly read it and not assume the question by glancing at it. This lazy concept of solving questions can be detrimental in the exam as students may lose out on some important marks. Students must follow the question until they get a final answer. Another mistake that students commit is jumping to other questions while solving one question just because they find them very easy at first look. This way they end up ruining both the questions. So, focus on solving one question at a time.
Q. How to improve scores for JEE Main April if a student has scored more than 90 or 95 percentile in JEE Main January?
Prof. Umashankar: Questions in JEE Main can be segregated into known questions, known questions which need some solving and finally completely unknown questions. Any difficult question asked in the exam is not difficult for one person but all students who are appearing for the exam. Students should avoid unnecessary experimenting and getting negative marks with such efforts. JEE Main Physics - topics like Experimental Physics, Heat and Thermodynamics, Current Electricity, Static Electricity and second part of Mechanics are very important. If studied properly, students can score perfect marks in these topics. In Mathematics, Algebra, Contradictory equations with expressions, Binomial theorem, Sets and Relations, Mathematics Reasoning and statistics are some areas where students can score good marks.
Q. How to score well in NEET Physics?
Prof. Ravindra: Physics is a common topic for both NEET and JEE Main. When it comes to NEET, Physics seems tough as per the students mindset. The reason is, Biology can be mugged up easily and Chemistry is easy to answer as per their understanding. The first thing to hange is the mindset. Nobody is asking any student to get full marks in Physics. If you get enough marks and cover up in the other subjects, you still can get that medical or engineering seat.
Medical students have to prepare for small topics which have one question. These require 3-4 days and are very easy to solve without the need for mathematica brains. Most of the time students waste time on topics that hardly have one question asked in the exam. They should avoid such topics. To get a medical seat in a government college, if one is strong enough in Biology and Chemistry, they will get the best rank in NEET even if they get 30 out of 45 in Physics. The reason students go wrong is that they tend to decide that since NEET is out of 720 where Biology is for 360 marks and the others are for 180 each, they must score accordingly and in equal ratio. That's actually wrong.
They must find a balance between the preparations, If they are weak in Physics then they should prepare better in Biology such that they get 300 out of 360 instead of being dependent on Physics. Here I must point out that Biology is very easy and students scoring 300 in Biology will be large in number, while in Physics, the number of students scoring more than 40 will always be less. Maintain a balance between Physics and Biology to secure better marks.
Q. I know the concepts of gravitation well and I have solved all the problems but I am unable to answer the questions in the mock test. Is there some way to overcome this?
Prof. Ravindra: See, gravitation, electrostatics and magnetism, these three topics are important. Check similarities in these chapters. For eg. the force between charges, gravitational force between two masses can be studied together. Similarly, magnetism between two magnetics forces, charges, masses and magnetic forces can be studied together. Field - Electric field, gravitation field, magnetic field; then Potential - Electric Potential, Gravitational Potential and Magnetic Potential. Students can prepare a comparative table and see that they can manage all these subjects in a better way.
One other reason is that students also believe that Physics is involved with mechanics and they put more effort. Do not practice such topics in depth and continuously. Certain topics which have less weightage in the paper should be identified. Eg: Take surface junction, conduction, heat transfer, these are very small topics. So students must identify topics from which questions will be asked definitely and prepare instead of wasting time on all topics including the ones with less weightage.
Q. MHRD has announced that syllabus for 2021 will be reduced. How will this affect NEET and JEE Main 2021 as well as 2022?
Prof. Umashankar: For the time being, I would suggest to stop making assumptions till the exact picture comes in. Second suggestion will be to continue to study as per the actual syllabus as it won't matter. To score well, you have to be well versed in the subject.
Q. Should one answer doubtful questions and risk negative marking in NEET and JEE Main?
Prof. Umashankar: Students are advised to not apply any probability theory there. If negative marking is there and the question is unknown to you, you should leave it and move to the next one.
Q. : Which has maximum weightage in NEET - Class 11 or Class 12 syllabus?
Prof. Ravindra: In NEET, this weightage is 50-50. Sometimes, it may be 50:45. Study the syllabus in a smart manner and you are good to go.
Q. How to tackle exam fear?
Prof. Ravindra: Even the top ranker will have nervousness, it is natural. Everyone will have some sort of tension or nervousness. How they manage it makes all the difference. I would like to use a concept from Physics here - Tension. Now this is a force which is good if you use it properly and which is detrimental if it is more. My advice is to convert your tension into a positive force.
Some tips here
Try breathing exercises. Whenever there is tension, the brain does not get proper oxygen and people feel faint or flustered. One must do pranayama or meditation. And this can even be done in the exam hall to reduce the tension.

Do not discuss any subject with parents or anyone else. Parents should not also encourage this. Don't collect advice from parents and friends for a week prior to the exam. Nobody has seen the paper so it is foolish to make assumptions.

Don't bother about what you have not studied, concentrate on what you have.
Prof. Umashankar: Don't panic. Take a deep breath and then read the question paper well. Even if the first questions seem tough, don't panic. You cannot solve two to three questions, that's ok and common for most students.. Attempt selective questions in the first half an hour - the ones you are sure of; next move to the ones that you can solve after reading carefully.
Follow the COVID-19 guidelines. Exam centres will provide safety and security but you must also take care of these things.
Q. Give some last minute preparations tips on how to prepare for JEE Main?
Prof. Umashankar: In the last one week, please concentrate on formulas only for each and every subject. Prepare flash cards for every subject and go through them before the exam. Day before the exam, don't revise anything. Eat properly, sleep properly, drink plenty of water. Don't solve any unnecessary topics. Just stick with the topics you are confident of.
Q. Give some last minute preparations tips on how to prepare for NEET?
Prof Ravindra: For NEET, concentrate more on Biology, The ranking in NEET is given to those who score more in BIology then Chemistry and finally Physics. If weak in Physics, try to score good marks in Biology and Chemistry. Try to get maximum marks in Biology, next Chemistry and then Physics where you should aim to score as much as you can.
Short notes is a must for all students where they jot down important formulae, topics they need to refresh in a jiffy etc. These short notes can be a saviour in the last days of preparation where entire text books need not be searched to refresh.