What is Career Counselling
What is Career Counselling - The decision of one's career is one of the most crucial decisions of our lives. Sometimes, students end up making this decision on the basis of inadequate knowledge, and maybe societal pressure. Such decisions can direct them into careers which are unsuited for them, and thereby might lead to stress and dissatisfaction. Therefore, it's very important to make an informed decision about one's career choices. Getting proper guidance from trained career counsellors can help us set long term career goals, and also find the pathway to achieve them. This article discusses in detail about what is Career Counselling, importance of Career Counselling, types of Career Counselling, and much more. Stay on this page to read more.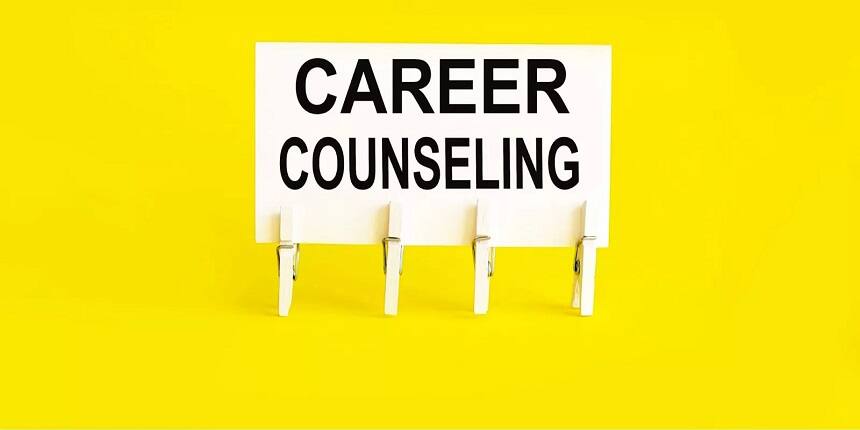 Read more - What is a Career
What is Career Counselling?- Understanding the definition
Career Counselling is a systematic process that helps an individual understand one's self, as well as the world of work, to choose the right career. It is the process of helping students and professionals to analyze their strengths, interests, abilities and skills. The right career choice is often an intersection of a student's interests and abilities, and industry trends.
Everyone requires career guidance at some point in their lives; whether you are a student who is confused about choosing the right stream in class 11, or a class 12 student looking to get admission into a college, or a professional who is looking for a career change. It provides you with the knowledge and skills that will help plan your subsequent career and life decisions.
Read more - Career as Counsellor
What is Career Counselling- Importance of Career Counselling
Now that we have got a little idea about what is Career Counselling, let us understand the importance of Career Counselling. With multiple career options available to students nowadays, the importance of Career Counselling has most definitely increased. When a student is at a crucial crossroad where he/she may have to choose a stream in class 11, or after class 12, a professional Career Counsellor might make the decision making easier for them.
The importance of Career Counselling is across all age groups. Along with helping to chart a future career path, Career Counselling may also help to manage several other related issues such as low motivation and lack of confidence. Career Counsellors offer unbiased advice, and may help tackle the impasse between parents and children on which career to choose. Career Counselling also helps make the transition from one chosen career field to another, easy and non-stressful.
Also read- Top 5 factors for career options in India
What is Career Counselling- Who are Career Counsellors?
Career counsellors are trained professionals who provide guidance and counselling. They have extensive knowledge about different career paths and occupations. Career Counsellors typically hold a Master's degree in Counselling Psychology/Applied psychology and are proficient in applying career development theories, counselling techniques, administration and interpretation of psychometric tests.
A good Career Counsellor is a keen observer, problem solver and has in-depth knowledge of various fields. They always keep themselves updated with the new trends and career information resources.
What is Career Counselling?- The process
Step 1- Developing self awareness
This is the first step where you gather information about yourself, understand yourself by knowing your abilities, interest, personality and skills.
Ability – It is something that you can do well and easily. For example - Numerical Ability where you can solve mathematical problems easily.
Interest – Something that you like and enjoy doing. For example - playing sports, playing an instrument or painting/drawing
Personality – Something that defines you, like your social traits, motivations and the kind of person you are. For example - Are you an introvert or extravert? How sociable are you?
Some questions to build Self-Awareness:
What am I good at?

In what subjects do I score well?

What are my strengths?
Step 2- Gain information about different career options
The next step is to research various career options. You can get relevant information about the work and job roles, personal attributes required, eligibility and selection process and start eliminating the career options that don't appeal to you.
You can get relevant information from:
Newspapers, books and magazines

Internet

Career Counsellors

People working in the industry
Step 3- Connect the information from the above two steps
Finally, it's time to match your understanding of yourself with the understanding of possible career options.
Let's take an example of a key and lock - Your potential is the key, and the requirements of the career is the lock. Each career has a unique set of requirements and each one of you has unique potential. If you insert the key in the right lock the door towards success will open in front of you.
Step 4- Take action
After you have selected the best possible career options for yourself, you prepare a plan of action. This step-by-step career action plan serves as a guide in achieving your ultimate career goals.
Example of an action plan:
What subjects should I choose?

What entrance exams must I take to get into the desired college?

What is the study path and duration for the course?

What colleges offer the course?
Read more - Top Colleges in India
What is Career Counselling? - Career Counselling techniques (Psychometric tests)
After having gained an understanding of what is Career Counselling, we also need to know what are the different Career Counselling techniques. One of the Career Counselling techniques is the administration of career assessments. These are a set of scientific tools used in career counselling to help students make realistic career choices. The assessment tools are validated and standardized, and assist students in discovering their interests, personality and aptitudes and match them to find a suitable career.
Some of the assessment tools that are widely used are:
MBTI (Myers – Briggs Type Indicator)

16PF (Cattell's 16 Personality Factors)

DBDA (David Battery of Differential Aptitudes)

DAT (Differential Aptitude Tests)
Read more - Top Universities in India
Career assessments are usually followed by a detailed one on one career counselling session. A detailed career profile or report is generated and handed over to the students. The Career Counsellors examine the report, and use their own understanding and experience to guide and facilitate the students. This means that the different techniques of Career Counselling, combined with the wisdom of the Counsellor, help students to discover their career pathway.
Please note: To get apt results from the aptitude tests, they are supposed to be administered under controlled conditions and should always be followed by a one on one counselling session so that you don't end up making the wrong career choice.
What is Career Counselling? - Types of Career Counselling
There can be different types of Career Counselling. Let us look at some of them.
School Counsellor/Counselling – Most schools these days have at least one School Counsellor. They guide students in their social and academic success, conduct various workshops on career planning and organize career fairs in schools. School counsellors also have in-depth knowledge of different board systems like – CBSE, IGCSE, ICSE and IB.

College Counsellors/Vocational Guidance Counsellors - This is another one of the types of Career Counselling. These counsellors help graduate and postgraduate students in choosing the right career path after their courses. They also connect the students and introduce them to the job industry.

Study Abroad Counsellors – This is one of those types of Career Counselling wherein trained and experienced Counsellors guide and connect students with the universities across the world. They have an in-depth knowledge of the admission processes of almost all the foreign universities in the world.
Read more about:
This article gives us a fair idea of what is Career Counselling, importance of Career Counselling, and Career Counselling techniques.It is estimated that an individual will spend approx. 90,000 hours at the workplace over a lifetime, so, it becomes extremely important to choose the right career option that is in line with your skills and career expectations.
Be smart in planning your career!
Author- The author of this article is Yashodhra Arora, who is a Counselling Psychologist with extensive experience in Career Counselling of high school students.
Frequently Asked Question (FAQs) - What is Career Counselling
Question: Why do you need Career Counselling?
Answer:
With the dynamic technological and social advancement every day, it isn't easy to identify the best career path to invest in. As you will be investing the majority of the time at the workplace, effective career guidance and professional counselling is necessary.
Career counsellors are experts at assessing your personality and evaluating your interest, and aptitudes and help you make the right career choice.
Question: What is the best time for Career Counselling?
Answer:
The best time to seek career counselling is during the ages from 13 – 17 years (Class 8 to Class 12). During this time many changes take place, and you are at the crossroads for making the toughest decisions of your life, such as choosing the right stream in class 11 or transitioning from school to college or "fit in" the world of work. In fact, career counselling can be appropriate for anyone who seeks guidance in the right career direction for the intended course of action.
Question: Career Counsellor vs Career Coach?
Answer:
Career Counsellors uses psychometric assessments to evaluate the skills, personality and strengths of clients in relation to career options and pathways. Whereas, Career Coach focuses on the present and future of their client's career in terms of advancement in the chosen career or transition to another.
Question: How does career counselling happen?
Answer:
Career Counselling is a process that yields you through a series of steps to make you understand yourself better and the career pathway forward. In a career counselling session psychometric tests are conducted, followed by a one on one counselling session with a career counsellor. The results of the tests are interpreted and a career action plan is created to make the right career decision.
Question: What is the role of a career counsellor?
Answer:
Career Counsellors are trained experts who have in-depth knowledge about all the different careers available. They help you choose the best career path on the basis of your interest, aptitudes and personality.
What is Career Counselling