What Is A Career? - A Complete Guide
What is a career- What is the meaning of 'Career'; this is often a question that lurks in the minds of students. A career is an individual's 'journey' of lifelong learning, working, extensive training and learning new skills. It can be described as an employment or a vocation that generally involves some specialized training or formal study. In simple terms, a career is what you do for a living. As you gain more experience in life and in work, you are building your career. There are numerous ways to define what is a career.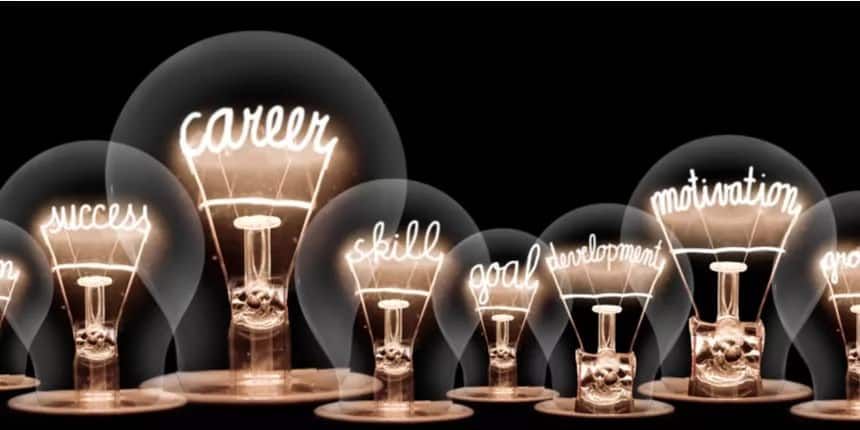 What Is A Career?- Defining The Term "Career"
"The Oxford English Dictionary defines the word "career" as a person's "course or progress through life (or a distinct portion of life)". The word 'career' is also used to refer to an occupation, profession, vocation or employment.The career path that you follow takes into account your education, training, jobs that you get paid for or any volunteer work. For example – A career could mean working as a Doctor, Lawyer, Engineer, etc. This broadly explains what is the meaning of 'career'. Let us now know more about what is a career.
Also Read | 5 Steps To Finding The Right Career For You
What Is A Career?- Difference Between Job And Career
To understand what is the meaning of a 'career', it is essential to understand the difference between job and career. A job is a work activity that you take up and get paid for those certain tasks you perform. A job can be full-time or part-time, or even for a short term. You might need to learn specialized skills connected with that job role, but not all jobs require specialized training.
For instance, a company hires a local building contractor to complete an office renovation. The company and the contractor agree upon the terms of payment duration , so the job ends once the project is finished and the office is renovated.
However, a career might last for your entire life. It consists of all the jobs you have done in your chosen industry and progressed through during your career, regardless of whether or not they are associated with each other.
For instance, you may work for making a career in Education or a career in Finance, throughout your life.
Also Read | How to choose a career?
What Is A Career?- Understanding What Is A Career Goal
Once we have understood what is the meaning of a 'career', we can move on to know what is a career goal. Any long term professional path you may plan for yourself, based on your interests and ambitions will be your career goal. They are professional targets that you set your mind on achieving.
They can be short term, for e.g. getting admission in a particular college for a particular course, or they can be long term, for e.g. like being a CEO at your dream company.
Understanding what is a career goal and formulating one for yourself can help you select the right courses and work on developing the right skills.
Also Read | Top 5 Factors for Career Options in India
What Is A Career?- Understanding What Is A Career Plan
Since we now have clarity on what is the meaning of a 'career', and what is a career goal, let us understand what is a career plan. A career plan includes interim goals, eventual career goals, and all the efforts you make to achieve them.
For e.g. Understanding what is a career plan and creating one for yourself can help you decide what subjects to choose in class 11, what extracurricular activities you should take part in, or which internships will help you become a strong job candidate.
It is also important to be practical about your career goals and timelines. Career action plans can help you achieve your goals and stay organized.
Read on to know more about what is a good job and what is a corporate job.
What is a career? - Different Types Of Career Paths
Students often face the dilemma of 'What career should I choose?'. Understanding the different types of career pathways might help you formulate an idea of what type of a career you would want. A career path is a particular sequence of jobs that helps you progress towards your career goals. Different types of career pathways can be:-
Path 1- Multiple jobs that are unrelated to each other, and gradually discovering your niche
Your career comprises numerous jobs that are entirely unrelated to one another. It is a chance to explore all the available options. Working on different jobs might help you understand better what might be the best fit for you.
For e.g. You start with an internship in college at a fashion design studio, and you might be studying to get a business management degree, and then you might start working with any of the BIG 4 companies after finishing your graduation.
Also Read | Which is the Best Career Option to Choose in Today Times
Path 2- Advancing in the same profession from the very beginning, aligning every new role with the previous one
The second path involves advancing in the same occupation, with a series of higher positions and responsibilities that are interconnected to each other. You might be working for the same organization or at different companies.
For e.g. If you want to be an Educationist or Principal of a school, you will start with working as a teacher, then can move to a different role of being a curriculum coordinator, to the vice-principal and after gaining a few years of experience, you may become the Principal of a school.
Path 3- Moving up the ladder through different roles, but same industry
This path involves moving up the higher positions professionally through diversified roles in the same industry, but does not mean that you work in the same occupation.
For e.g. Your ultimate goal in life is to be a retail chain store manager, you can begin doing an internship at a retail chain store, then qualify for a salesperson position. After gaining some experience you may become a department manager, then assistant store manager and eventually store manager.
Please note, every person may have their own different career path and it may not be a linear one. We all have our own unique experiences. However, we suggest to students to explore and encash on as many relevant opportunities as they can. This helps to create better network and industry readiness.
Read further what is a good job and what is a corporate job.
What is a career?- Knowing What Is Career Counselling And Learning To Manage Your Career Path
Taking a decision about a career is crucial for every student. To find answers to questions like, 'What career should I choose?', multiple different aspects, such as one's aptitude, interest, skills, personality and much more, need to be taken into consideration. This is a decision that can impact one's entire life, and hence needs to be taken with great care. One way of doing that is to know and understand what is career counselling.
Assessing your interests, personality, aptitude and motivation; these are some areas where career counselling helps. It also aids you to explore career options and research on degree programs, as well as additional courses. Career counsellors assist students in exploring and making decisions related to choosing the right career, and swiftly moving from academics to industry. They help in resolving the question of 'What career should I choose?'.
Also Read | Career Options after 12th
Right time to begin career counselling-The beginning of class 9 is usually the right time to begin career counselling. It can carry on in class 10 when you have to choose your subject streams for class 11. In class 12 it can be helpful in choosing the right undergraduate followed by postgraduate degree programmes.
Also Read | How To Choose A Stream In Class 11
Career counselling at different stages- Career counselling is also offered when you are transitioning into the world of work, when you are changing a career, during periods of unemployment and during the transition to retirement. The support is provided at every step to develop and manage your career.
A lot of people, when we ask them what is a career, might say that a career is synonymous to being employed. However, a broader perspective says that a career is the sum total of decisions that direct your educational, social, economic, and spiritual aspirations. It's a lifelong journey that reflects your unique personality and basic life values. Careers are constantly evolving, so it's very important to keep learning new skills, and understand the patterns in the future work trends. Take charge of your own future!
Yashodhra Arora, who is a Counselling Psychologist, with extensive experience in Career counselling of high school students.
Frequently Asked Question (FAQs) - What Is A Career? - A Complete Guide
Question: How do you define a career?
Answer:
A career is the job or profession that someone does for a long period of time in their life. A career is a lifelong process which includes education, training and work experience. It is the sequence of jobs and positions that a person holds over his or her life. (For example - Rahul has chosen a career in Medicine.)
Question: How are job and career different?
Answer:
A job is an activity that an individual takes and gets paid to complete certain tasks, it can be just going to work and earning a paycheck. On the other hand, a career is the combination of your past jobs, acquired skills and relevant work experiences that help you advance in your desired work industry .
Question: What can be some examples of a career?
Answer:
A career could mean working as a Lawyer, Doctor, Teacher or an Engineer.
Here are few other examples of how a job title fits in to the context of a Career:
Financial Analyst - Career in Finance

Middle School Science Teacher - Career in Education

Restaurant Manager - Career in Hotel Industry

Hairstylist - Career in Cosmetology