A person with a graduation, or for that matter, a postgraduation in English can build a career in areas like teaching at schools/colleges, media and journalism, content creation, and that's perhaps it. The list is exhaustive. At least that's what the popular perception is. Well, what if we tell you that it's a myth? Let's break this bubble by exploring the realm of teaching English as a spoken language – a niche that people from multifarious educational backgrounds, not just English, have started to carve.
If you are intrinsically motivated to regularly enhance your own knowledge of this language, and equipped with teaching and related skills, then it is a good idea for you to explore this area and consider a career as an English Language Trainer. Let us start from scratch so that, towards the end of the article, you have a bird's-eye view of this career option.
Also Read | 6 Careers To Consider After An English Major
Let's consider the following cases one-by-one through venn diagrams.
You are not confident with your language and teaching skills, but you are willing to enhance the same.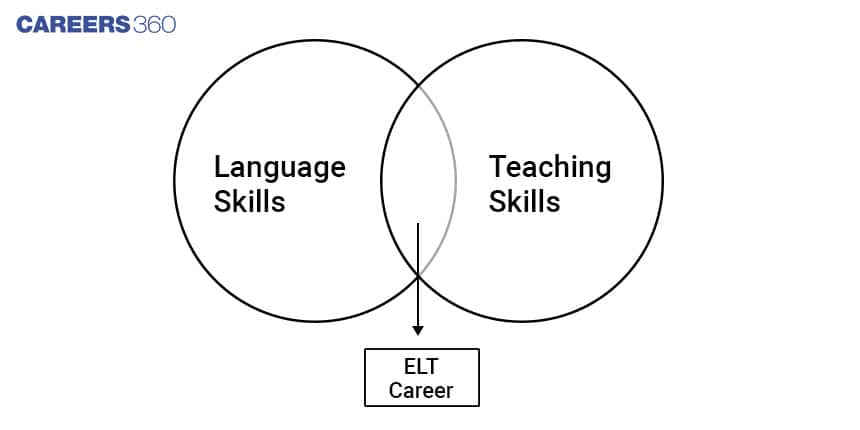 You are confident with your language skills but apprehensive of your teaching skills.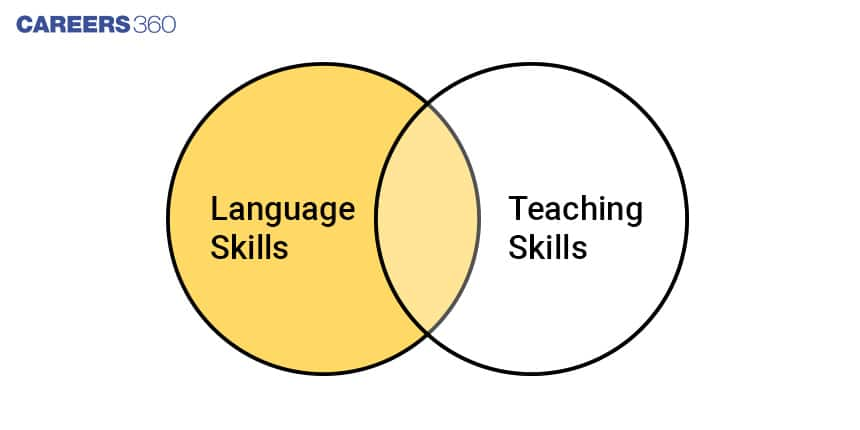 You are confident with your teaching skills but apprehensive of your language skills.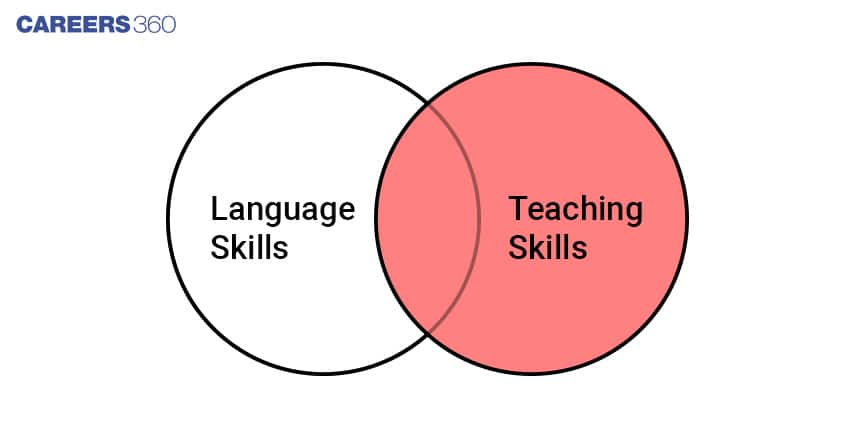 You are confident with your language as well as teaching skills but clueless about the English language training aspect.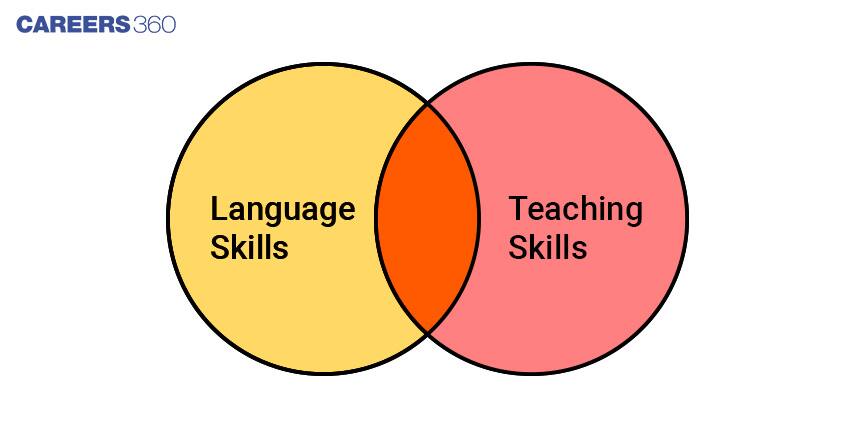 We will elaborate Case 1 and Case 4 which will give you an insight into the whole shebang:
1. Language ✖, Teaching ✖
The element of willingness is there. Other things can be taken care of.
To become an English Language Trainer, with respect to the Common European Framework of Reference (CEFR), you should ideally be an Upper-Intermediate (C1) user of English. To break it down for a layperson – you should be able to express yourself fluently and spontaneously for social, academic, and professional purposes. Additionally, a C1 user of English is able to use a wide range of vocabulary flexibly in well-structured sentences.
Here's the Common European Framework of Reference: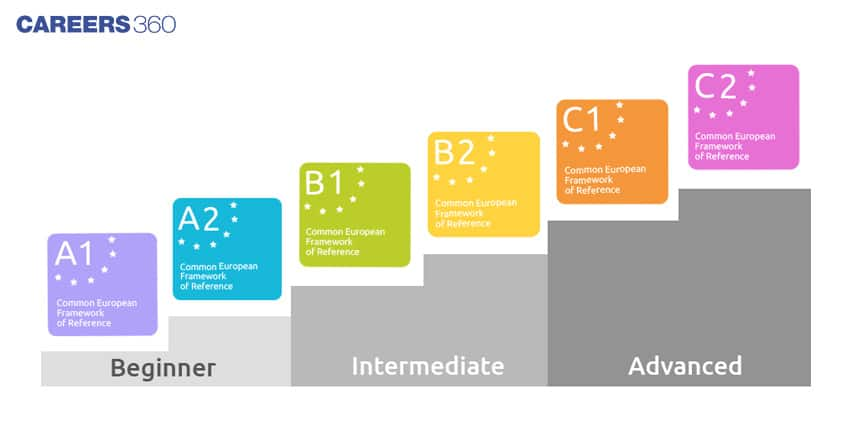 Joining An English Course
To reach this level, joining an English Language Course is recommended. A Google search can, in a jiffy, make you aware of a plethora of language institutes and online courses available for all users of English. The icing on the cake - whilst you are a student, you understand and empathise with what your students would expect once you have come to the other side as you become a trainer. You will be equipped with an external environment wherein your listening, reading, speaking, and writing skills will continually enhance. Depending on your current level and motivation, it takes between three months to one year to reach the desired language level.
Consider Training In Teaching
Now, let's talk about the teaching skill. Needless to say, some people have innate teaching skills. In other cases, it can be imbibed by taking a teaching course like Bachelors in Education. Having said that, this qualification is not a mandate for building a career in English Language Training. We will talk about the specific courses required to become one as we discuss Case 4.
2. Language ✔, Teaching ✖
Considering that you are good with language, you already have an edge over others. Time to enhance your teaching skills to catalyse your career in this field.
3. Teaching ✔, Language ✖
You are certain of your teaching skills. Now, you need to upgrade your language skills. Refer to the solutions recommended in Case 1 above. Additionally, try and get yourself enrolled in a Bachelor's in Linguistic Studies Course if that interests you.
4. Language ✔, Teaching ✔
To specifically imbibe the skill of English Language Training, you ought to choose one of the following two courses:
Certificate In English Language Teaching To Adults (CELTA)
Teaching English To Speakers Of Other Languages (TESOL)
Let's now get some insight into these courses.
CELTA
It is a 120-hour long rigorous course which gives you a certification by Cambridge English to establish a career as an English Language Trainer. The course is available via offline as well as online mode. To understand its entry requirements, curriculum, and structure, this link will come handy - https://www.britishcouncil.in/teach/teacher-training/cambridge-celta
TESOL
The TESOL program includes the following two courses.
Teaching English As A Second Language (TESL) | This includes programs in English-speaking countries for students whose first language is other than English.
Teaching English As A Foreign Language (TEFL) | This includes programs in countries where English is not the primary language and is not a lingua franca.
It is a 200-hour long course which will give you a certification by Trinity College London. To know more about the course content, entry requirements and career prospects, visit the website - https://www.trinitycollege.com/qualifications/teaching-english/CertTESOL
Once you have attained a certificate, you will be ready to explore the following career avenues.
Also Read | How To Speak English Fluently: 8 Helpful Tips
Language Institutes
Language institutes like the British Council, Inlingua, International Language Schools of Canada (ILSC) and many others specifically look for CELTA or TESOL certified trainers. Join these organisations as a full-time or hourly-paid teacher, depending on the type of vacancy. You can also join online portals like Coursera, Vedantu, and likewise.
Support Teaching At IB Schools
International Baccalaureate (IB) Schools hire ES teachers who preferably hold these certificates. The job description largely encompasses teaching students who need support in terms of language enhancement.
Also Read | Should You Choose CBSE Or IB? Experts Resolve Your Dilemma
Freelancing
Almost all organisations, especially aviation-centric and hospitality-centric, look for continuous professional development opportunities for their employees. Equipping the employees with a competent level of English and grooming their soft skills is a major part of these opportunities. As a certified English Language Trainer, you can easily be chosen to conduct these sessions. Besides this, you can build your own brand and provide spoken English classes. This would also include creating your own content and related activities.
IELTS Training
A large number of people consider moving abroad for study or job opportunities. This requires going through an English exam called IELTS. To take this test, candidates look for coaching sessions. As a language trainer, you would be well-versed with the curriculum of this test and can successfully provide preparatory classes. To have an even better edge in this field, you can take the IELTS Masterclass Course and enhance your training qualifications.
Content Creation
Create your Instagram page. Learn about Instagram Business and start posting. If your content equips the audience with knowledge related to English, and you are well-versed with the Instagram algorithm then you can generate a huge profit just by your content. Harness the power of reels in this tech world where people are legitimately living on the internet.
Apart from all these opportunities, this career grooms your own personality, continually enhances your language level, and keeps you in synchronisation with the ever-changing modern world.
Also Read | Is There A Future In Humanities
Jaya Thukral is skilled in English Language Training, Teacher Training, Creative Writing, and Blogging. She has delivered several successful projects to learners of varying age groups, in collaboration with renowned institutions like British Council and University of Delhi. Currently, she is English Support Tutor of PYP learners at Pathways School, Gurgaon.