'Software Architect Salary in India' article will be telling you about all necessary details that you need to know for your career move. Information about 'Salary of software architect in India' coupled with Job roles of a Software Architect and qualifications required to become a Software Architect are illustrated with given page details and links. The candidates looking for their career in the Software Architecture domain can go through this article and its details mentioned with page links.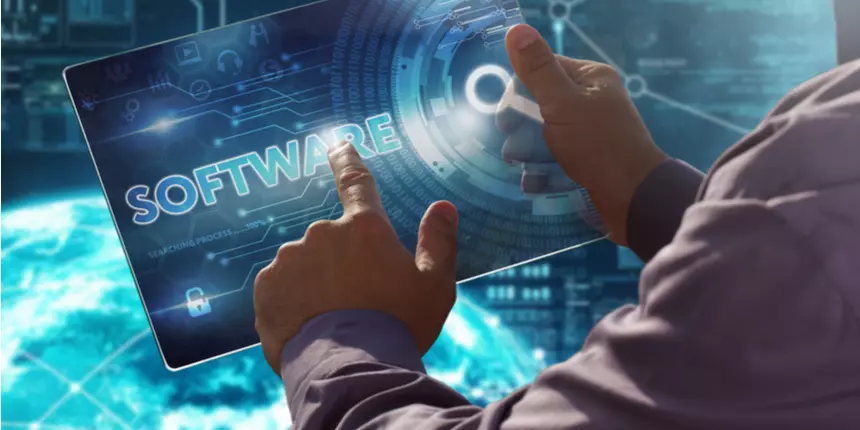 Software Architect Salary in India for Fresher & Experienced
Who is a Software Architect?
A Software Architect is a professional who is responsible for the planning and organising of the system software in terms of technologies, designing and development. The department of a System Architect is related to the IT field and projects. System Architect works as a team lead guide who has an expertise in the domain of Software Development.
Also read: Solution Architect
How to become a Software Architect?
First and foremost, you have to complete your educational studies and have qualifications required to become a Software Architect. Thereafter, you become eligible for a Software Architect different job roles and programs. Looking forward to career progression, you need to complete your bachelor's degree in any of the following listed programs mentioned in the table below:
Once you are done with your Bachelor's degree, you can move forward for your Master's degree. Why a Master's degree? To summarise, a master's degree in Software Architect program will provide you with an enhanced perspective and knowledge towards your career path and widen your horizon. The enhancement and depth of knowledge in the development field would also step up job looking approach and position in the domain. To remark, there is no necessity as such to pursue your master's degree after being qualified and done with your bachelor's degree. Here, I can mark that a master's degree will serve to add to your added degree and broaden your future career prospects.
Also read: Popular M.Tech Courses in India
You can also refer: M. Tech Eligibility
There are various certifications as well, in bulk, that you can do and pursue for making a career in Software Architecture and development domain. The courses available will not provide you with the subject knowledge but also provide you with the 'on- hand' training and techniques. Certifications/ Programs/ Courses prepare you, in a thorough way, before entering into the job sector and start working. You can call it a 'switch for next step work now'. Listing below various different courses and certifications for becoming a System Architect in India. Go through the page's details and analyse the structure and materials with concentration and self- analysis.
Certification/ Courses/ Programs page details:
'Salary of software architect in India' with their respective careers and its detail:
Software Architect: The job role of a Software Architect in companies and enterprises occurs in three different levels and each having differences in their job functions and responsibilities. The three levels are: Entry- level, mid- evel and senior- level. In common, what a Software Architect is required to do is: handle designing, architectural and engineering plans with expertise in the sphere working in. Handling assessments and decision making processes based on technology, architecture and design. To monitor and review architectural works of teammates and handle departmental timely workshops. The job role demands high capability in communication skills, designing, leadership, working with teammates and problem- solving.
Also read: Programming And Development Certification Courses
Salary Description: An average salary of a Software Architect darts with Rs. 13,00,000 per annum to Rs. 25,50,000 per annum. Senior level salary range comes as Rs. 46,00,000 lakhs per annum. Salary estimates are based on acquired skills and work experience with the amount of workload able to handle.
(via: ambitionbox)
Application Architect: Application Architect manges the design and development work of software applications. An Application Architect monitors and supervises the design, development and architectural stages in its process of development and decision making. They also focus on the application integration, development, upgrades, maintenance and performance.
Salary Description: The entry- level job salary of software architect in India starts with Rs. 13,75,000 per annum to mid salary range as Rs. 25,00,000 per annum. Salary preference depends on the skillset, work experience, domain knowledge and depth and work handled in the department/ sector.
(via: in.talent.com)
Technical Architect: Technical Architect are also referred to as Engineering Manager. Technical Architects are expected to have an excellent and strong skill set in coding and software development processes and work handlings. Technical Architect works on the cloud tech development, implementation and strategies for growth processes and meeting clients requirements. They primarily work on the back- end and front- end applications integration and its development. They also handle the work of mobile and web applications development and tools.
Also read: IT Software Certification Courses
Salary Description: Technical Architect salary totally depends on the amount of work experience in the department and sectors since its work is to handle and monitor with services in problem- solving. The average salary range of a Technical Architect is between Rs. 14,00,000 lakhs to Rs. 22,00, 000 per annum. The senior level salary range is provided as Rs. 36,00,000 lakhs per annum. The salary of software architects in India per month ranges around Rs. 1,16,666 to Rs. 1,83,333 per month. (via: ambitionbox)
(via: ambitionbox)
Other beneficial courses: Engineering And Architecture Certification Courses