If the scent of money pulls you, number crunching excites you, and you enjoy working with financial products, want to build a great career which commands immense respect in society, look no further than careers in banking. Competitive salaries, excellent perks, job security, good working conditions, opportunities for career development and advancement, are some of the reasons why careers in banking have grown to be one of the most sought-after professions.
Banking jobs are there in multiple streams and specialisations, ranging from entry-level jobs to senior positions that require qualification and expertise in different fields. We shall further discuss various roles that the banking industry offers, along with educational requirements for each.
To begin with, let us first understand the different types of banks in India and their role in managing the financial landscape of the country.
Types Of Banks
The different types of banks in India are as follows:-
Central Bank (Reserve Bank of India)
Commercial Banks (Public Sector Banks/Private Banks/Foreign Banks)
Cooperative Banks
Regional Rural Banks (RRB)
Local Area Banks
Specialised Banks (viz. Exim bank, NABARD, SIDBI)
Small Finance Banks
Payments Bank
Top Banking Exams in India
Which are the top banking exams in India? Here is a list:-
State Bank of India (SBI) - Probationary Officer (PO)
SBI - Specialised Officer (SO)
SBI – Clerk
Institute of Banking Personnel Selection (IBPS) – PO
IBPS – SO
IBPS – Clerk
IBPS -RRB
RBI Officer Grade B
RBI Officer Grade C
RBI Office Assistant
NABARD- Grade A and Grade B
NABARD - Development Assistant
Also Read | IBPS PO, SBI Clerk: Cost Of Online Coaching For Major Banking Exams
Career In Banking In Public Sector
Presently, public sector banks recruit employees for banking jobs in the following cadres:-
Officers/Specialised Officers in Scale "I"
Managers in Scale "II"/Scale "III"
Clerks/Assistants
The basic qualification required to apply in banking jobs for the post of clerk/assistant is graduation. There is no requirement for prior experience. The banking exam is conducted by SBI/IBPS in two phases, i.e. preliminary examination and mains examination. Proficiency in Hindi/regional language is also sought.
Job Responsibilities | After the baking recruitment process, the selected employees could be posted in a branch, administrative unit, regional office, zonal office, or head office. Routine bank functions viz. teller, cashier, assistant functions, are assigned to those deputed in a branch. Those deputed in other offices in a bank may get to work in a functional department like HR, Recovery, Inspection, Service centre, clearing unit, currency chests, retail lending branches, industrial branches etc.
Officers In Scale I – Probationary Officers
Officers are generally inducted as probationary officers. To be a probationary officer in one of the banking jobs, the candidates should have completed graduation, although prior experience is not prerequisite to being eligible for the job. Those who qualify in the mains examination have to undergo a personal interview as well.
Job Responsibilities | Probationary officers are placed in a branch or any other office of the bank, and are rotated and exposed to different functions so as to groom them for their all-round development as banking professionals and prepare them for more responsibilities. For banking jobs as officers in Scale I, the job profile includes general banking, bank administration, supervision of clerical works and working for business development.
Banking jobs are there in multiple streams and specialisations, ranging from entry-level jobs to senior positions that require qualification and expertise in different fields.
Specialist Officers (Scale I/ Scale II/Scale III)
Specialist officers are inducted for various specialisations. Some of the banking jobs specialisations are sector, credit, market risk, climate risk, ind as. Recruitment in all of these requires a qualification in Financial Risk Management by GRP, or Professional Risk Management by PRMIA.
Some other lucrative specialisations that aspirants may look at acquiring are that of an IT Officer, Agriculture Field Officer, Law Officer, Marketing Officer, Rajbhasha Adhikari.
Banking jobs as specialist officers are also inducted in various other fields like chartered accountancy, cost accountancy, forensic science, information security, cyber security, ethical hacking, data mining, etc.
Also Read | Know The Life Of New Employees At Banks
RBI, NABARD, And Other Banks: Selection Process
The selection process for banking jobs in RBI/NABARD and RRBs, cooperative banks is broadly similar to those described above, but with a few additional features which are explained below.
RBI Grade B Officer | The Mains Exam features questions based on economic and social issues, English language, finance and management, economics and statistics.
RBI Assistant | Upon qualifying the Mains Exam, candidates also have to appear for a language proficiency test apart from their banking exams, which is conducted in the official language of the concerned state.
NABARD Grade A Officer | In addition to the test of quantitative aptitude, reasoning skills, English language, computer aptitude and general awareness, the Preliminary Exam for banking jobs also has questions on economic and social issues, agriculture and rural development. Mains will test descriptive writing skills in English, knowledge of economic and social issues along with agriculture and rural development issues for those applying for general posts; agricultural issues for those applying for specialisation in agriculture; and legal awareness in the field of banking, cooperatives, cyber laws, commerce/property transactions, staff matters etc., for those applying for legal or related positions in banking jobs.
Selection Process At Private Banks
Private banks regularly hire freshers for their retail banking business. Aspirants should have completed graduation with at least 50% marks. Most private sector banks do not have positions for clerks but they hire people as Junior Officers. These are entry-level positions and those with good communication skills, computer proficiency, and interpersonal skills are usually able to make the cut. A well-drafted resume and a strategic approach to job-hunting are helpful in fetching banking jobs at private banks.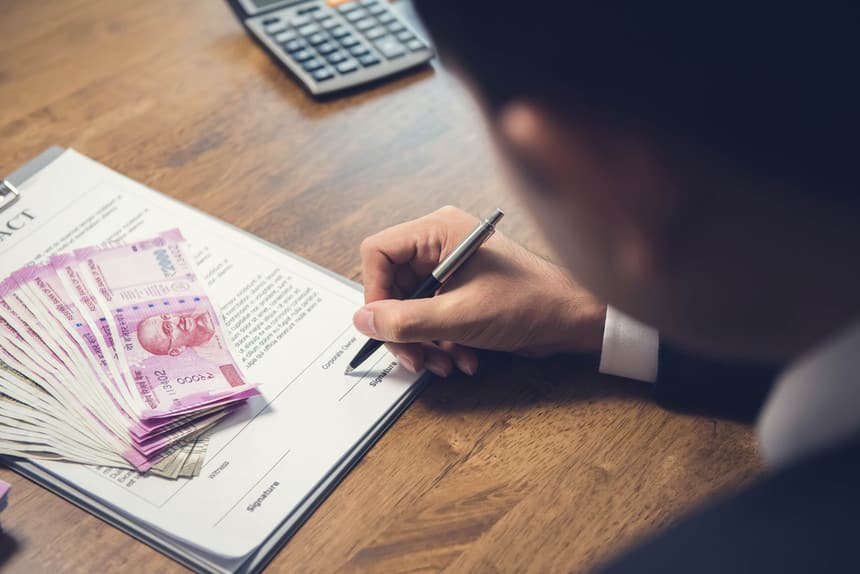 Experienced professionals are in great demand for banking jobs within and even outside the banking industry.
Career Progression In Banking
What does a career in banking progression typically look like? Here is a snapshot.
Public Sector Banks
Top-down hierarchy in public sector banks looks like that discussed below:-
Banking jobs as Chairman and Managing Director– CEO of the bank, appointed by Government of India, duly recommended by RBI.
Banking jobs as Executive Director– Appointed by Government of India, on the recommendation of RBI
Chief General Manager – Scale VIII
General Manager – Scale VII
Deputy General Manager – Scale VI
Assistant General Manager – Scale V
Divisional Manager – Scale IV
Senior Manager – Scale III
Manager – Scale II
Officer – Scale I
Clerks / Assistants
On completion of six years of service as a clerk, an employee can appear for banking exams for becoming a Scale I Officer. Those who have passed JAIIB and CAIIB examinations conducted by Indian Institute of Banking and Finance are eligible for the promotion after four years of service.
Promotion examinations followed by interviews are conducted for each cadre up to Scale III. From Scale IV onwards, promotions are based purely on performance and interviews. Sincerity and dedication can lead a person up to the position of a General Manager or Chief General Manager.
Other Banks
Career in banking for those working in banks other than public sector ones is also on similar lines. Designations may vary as per the need and HR policy of the bank and promotions may also be subject to vacancy in a specific role.
Experienced professionals are in great demand for banking jobs within and even outside the banking industry. With the right skills, one can move to working in fintech, venture capital funds, investment banking firms, and international financial institutions like Asian Development Bank (ADB), Overseas Economic Cooperation Fund (OECF), BRICs Bank, International Monetary Fund (IMF), World Bank.
Pramod Nagpal is Chartered Accountant by training, (Retd.) Managing Director, Central Cottage Industries Corporation Of India Ltd. (A Govt. Of India undertaking, under Ministry Of Textiles). He holds close to four decades of experience in the areas of finance and commerce. Pramod has keen interest in the field of education, and guiding students on harnessing available opportunities to achieve their goals.