Sports-related careers have been in a latent state for the longest time in India, mainly because of the uncertainty in the financial returns they offer. Another reason could be a lack of awareness about various promising professions that sports have to offer. While people do know about careers like that of an umpire, coach, athlete, or referee, there are quite a few prospects that have not yet received their deserved attention from the masses.
Unveiling this aspect of career planning, let us look at a few sports-related career options a sports enthusiast may consider taking up. However, please note that the following list is not exhaustive by any means.
Also Read | Become A Kabaddi Player: Here Are 8 Academies For Training
Sports Physiotherapist
Sports Physiotherapy is one of the most lucrative career options for medical students who also love to be on the sports field. As a sports physiotherapist, you will be required to assess injuries among athletes, help the latter to manage injuries, and prevent those in the future. A sports physiotherapist accompanies the team or the individual athlete to their trainings and competitions and remains available to provide any sort of emergency medical assistance that may be required. Hence, you will always find physiotherapists on the field with huge bags, carrying surgical bandages, pain-relieving ointments, ice packs, defibrillators, along with other medical-assistance tools.
To be able to practice as a sports physiotherapist, you will ideally be required to complete your Master's in Physiotherapy (MPT), wherein you will have to complete a certain number of hours under clinical supervision. Post that, try taking up projects and internships in sports academies, sports science centres, or sports medicine clinics/hospitals, to get a more practical idea, and you may then go on to formulate your own path as an independent practitioner.
Sports Medicine Doctor
This is an encouraging option for all the medical students who want to take a unique path and don't want to be confined within the clinic/hospital setting. Beginning with a pre-participation evaluation, where the physician assesses if the individual is fit enough to indulge in sporting activities, the sports physician is typically involved in doing a general medical evaluation, and providing regular medical care to athletes. They treat common sports injuries, cater to any health emergencies, and provide the necessary advice on drugs/medications that athletes intake for various reasons.
Usually, an MD in Sports Medicine is the desired qualification to qualify as a sports medicine doctor. In India, an MBBS and a Postgraduate Diploma in Sports Medicine may also get you a good opportunity in the field.
Sport Psychologist
A sport psychologist's work begins with observation and assessment of athletes. Observation includes aspects such as non-verbal communication, interactions with teammates, coaches and other sports staff, responses to success/failure, and motivation level, among other observable behavioural aspects. The latter, i.e. assessment, includes using psychometric questionnaires and standardised tools that provide insights related to important mental factors in sports such as stress, attention, reaction time, peripheral vision, etc. All the relevant information is corroborated and an athlete profile is created. This profile gives important information about the athlete and the current level of their mental abilities. Using all this data, a sports psychologist formulates an intervention plan, which is then implemented both on and off the field with athletes. In addition to performance-related factors, mental health screening is also done to ensure the holistic well-being of athletes.
The minimum qualification to practice as a sports psychologist include a Master's in Counseling Psychology/Clinical Psychology/Applied Psychology/Sport Psychology. During the course of regular education, doing short-term certificate courses, project works, and internships in Sport Psychology will be helpful for you to bag a job in this field.
Also Read | A Career In Counselling Psychology: What Can You Expect
Individuals interested in non-medical Science fields can opt for this interesting profession. Sports Biomechanics is a branch of Sports Science, related to the analysis of the movements of an athlete. There are specific movement patterns in every sport, which are not just bodily movements but also movements that are a result of the interaction between an athlete's equipment and their body, which is called the 'technique' of the game. Sports biochemists study these movement patterns using methods such as high-speed video recording, cinematographic analysis, kinetic analysis, and force plate testing, among many others.
A minimum of a Master's in Kinesiology, Biological Sciences, or Biomechanics, will be essential to work as a sports biomechanist.
Strength And Conditioning Experts
Often mistaken as gym instructors, strength and conditioning experts have a very important role to play in helping athletes maintain and improve their fitness levels. They work alongside coaches to improve performance aspects such as strength, flexibility, neuro-muscular coordination, speed, and agility of athletes. They understand the bodily responses to physical stressors that arise due to extensive training and exercise routines of the athletes, and hence implement interventions based on the periodisation plans of the athlete, or the teams, or both.
S and C experts work in conjunction with sports psychologists to ensure that any mental fatigue is taken care of, and also with physiotherapists, to ensure that an athlete recovers well, both emotionally and physically, and is at bay from any possible injury.
As for the qualification, a Science background and a postgraduate degree in Sports Science are required to enter this highly rewarding profession.
Sports Nutritionist
The role of a sports nutritionist is important in determining the performance of athletes. Sports nutritionists employ their knowledge of the effects of various dietary practices on the human body in the context of sports. Sports nutrition experts assess the athlete's biochemical profile and training load to prepare an ideal diet plan for them such that their utilisation of nutrients, minerals, and other supplements is adequate.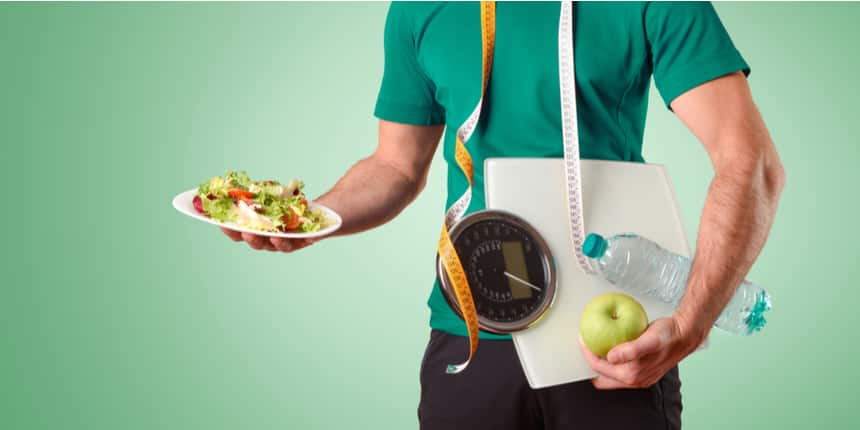 Sports Nutritionists Play A Crucial Role In Determining The Performance Of Athletes
A typical day in a sports nutritionist's life would involve collecting data about the athletes' hydration levels, sweat rate, fatigue levels, and body composition to ensure that they provide holistic nutritional advice to the latter. A degree in Food Science and Nutrition will be the minimum qualification needed for this role.
Also Read | Balanced Diet, Nutrition For Children, Adolescents: What To Eat, How Much To Eat
Sports Analyst
One of the most rapidly growing professions in Sports Sciences is that of a sports analyst. However, there are two aspects to this profession: the first is that the role of the sports analyst may entail writing, communication, and journalism surrounding sports, and a parallel alternate is that the role of a sports analyst may be to record and analyse sports' performance data. Accordingly, the former would require an educational background in Mass Communication/Journalism. Whereas, the latter would require a technical background, preferably in Computer Science/ Engineering/Statistics/ Data Analytics. Nonetheless, both would require the individual to have sound knowledge of the nitty-gritty of different sports.
An analyst focused more on sports writing or journalism will perhaps work in different avenues, such as content creating websites, media teams of sports channels and sports teams, or individual athletes, and news channels. A technical sports analyst will look into the quantitative datasets that are recorded during training sessions or competitive matches. This recording is done using technological wearable devices like heart rate monitors, and stress trackers, to name a few. The recordings are then made sense of by using mathematical formulae and technical programmes (Python, R software, SPSS) to anticipate favourable sporting outcomes.
Sports Manager
A unique path one can take as a management student is that of a sports manager. They are responsible for handling the day-to-day administrative and organisational duties related to the smooth functioning of an athlete's training. A sports manager's role is very broad as they have to manage the operating costs of teams or individual athletes, make sure that the resources that the athletes need are provided on time, take care of the distribution of finances for all support staff and the athletes, and take care of any other logistic issues.
Usually, a Bachelors's in Business/Finance/Marketing suffices for the position of a sports manager. However, with the growing demand for professionals in this field, an MBA degree or specialisation in Sports Management should be beneficial.
Sports Physiologist
Athletes are subjected to a plethora of physiological demands during their day-to-day training, which is monitored by sports physiologists. They observe parameters like heart rate variability, aerobic and anaerobic capacity, metabolic rate, and sleep quantity and quality to help understand an athletes' adaptability to their training demands. This information also helps in understanding an athlete's recovery levels, which is an important marker for how well an athlete will be able to tolerate the stress caused by exercise.
On a regular basis, a sports physiologist's role is to assess an athlete using physiological tests, some of which include the Wingate Test, Vo2 Max, Lactate Analysis and Respiratory Gas Analyser. Based on the results of these tests, they prepare physiological profiles, and work collaboratively with other sports science professionals including physiotherapists, strength and conditioning experts, sports analysts, sports psychologists, and also coaches.
Relevant educational qualification is a Master's in Sports Science, or one in a related subject such as Biology or Physiology.
Also Read | Top Career Options In Biology You Could Pursue
Sports Biochemist
Sports and exercise involve a number of underlying principles based on the biochemical profiles of an individual. Hence, a rise in the number of professionals specialising in Sports Biochemistry is essential. A sports biochemist studies and analyses the effects of various biochemical factors such as iron profile, lipid profile, hormonal structure, cortisol levels, and vitamin levels, among others, on the performance of sportspersons.
They work specifically along with sports medicine doctors, sports nutritionists, sports physiologists, and sports psychologists to provide a holistic intervention plan for athletes. For instance, they would discuss the deficiency in Vitamin D levels in an athlete with the sports doctor and provide necessary supplements, and discuss an increase in cortisol levels with a sports psychologist to keep a check on the stress levels of athletes.
A Master's in Biological Sciences, Biochemistry, or Sports Sciences will be essential to enter this field.
Sports enthusiasts are most likely to find their right fit careers in the sports industry, with interest in sports growing at a much better rate in the country, especially after the Tokyo Olympics, wherein India won their first gold medal in athletics. So, it is safe to say that if you are a sports enthusiast, you may delve into these non-athletic careers without worrying too much about the financial returns, because it may not be as sure-shot as a corporate job, but definitely more satisfying for those who genuinely want to work in sports.
Vaishali Chaudhary is a practising Counselling and Sports Psychologist, working with the apex national sports body in India. She supports athletes with emotional and cognitive facets related to sports performance. On her usual day, she can be found on the training ground, observing athletes in their natural environment, and working with them to train them on mental skills.