Growing up years usually are easy, full of fun with friends and family. There is nothing that worries you too much. A little fight here or there, a broken heart once in a while, bunking school, and getting caught by auntyji living next door. These are some precious memories of growing up and some of you may have written them down in a diary or notebook. You may have also kept dried flowers, cards or secrets which you didn't want to share with anyone at home or school. The diary was for your eyes only, and it worked as a stress buster.
As you grow older and get busier with studies, how do you manage your stress? By listening to music, hanging around with friends, or gymming, which may ask for a lot of time and space. Why not pick up a diary again and start jotting down your thoughts as you did at a younger age. However, let us first begin by understanding what stress exactly is.
Stress: Sad Contemporary Norm
In the fast-paced, tech-driven lives of the millennials, stress has become the norm. From meeting deadlines, and acing examinations, to bagging the best college or a job, it's a daily hustle. Add to it family, peer or societal pressures, and a whistle is ready to blow off. Time flies, and so does the temper.
Are There Different Types Of Stress?
For our better understanding, we can group stress into the following types:-
Time Stress | Stress that results when one is not able to complete a task within the given time, for example submitting an assignment.
Situational Stress | Stress that comes when you are in an unfamiliar situation or environment, for example, joining a new school or college.
Anticipatory Stress | Stress that arises when you are not so confident about something that you need to do. You imagine the worst, for example, giving a presentation in a school assembly and making a mistake.
Also Read | 'Distinguish Between Real And Imagined Fears,' Says Expert, On Dealing With Exam Anxiety
How Can You Identify Stress?
Let us now take you through some of the signs that help you know that you may be stressed.
Anger
Easy frustration
Poor sleep
Irritation
Poor attention
Difficulty in memorising or solving a problem
Muscle tension
Sweating
Headache and low mood
Lack of hunger
Dizziness or nausea
Is stress all that bad? The answer to this is 'no'. A little stress may be good for you as it helps in taking you towards a goal; making you well-prepared and successful. This kind of stress is mild, stays for a shorter period, and is manageable. An example of this will be an office presentation to be done, a talk to be hosted, or an event to be organised.
Bad stress is continuous, long-term, and interferes with your daily routine. For instance, stress arising out of witnessing a family problem, which in turn interferes with your ability to perform well in school.
Also Read | How Does Parental Discord Impact A Teenager?
Managing Stress Through Journaling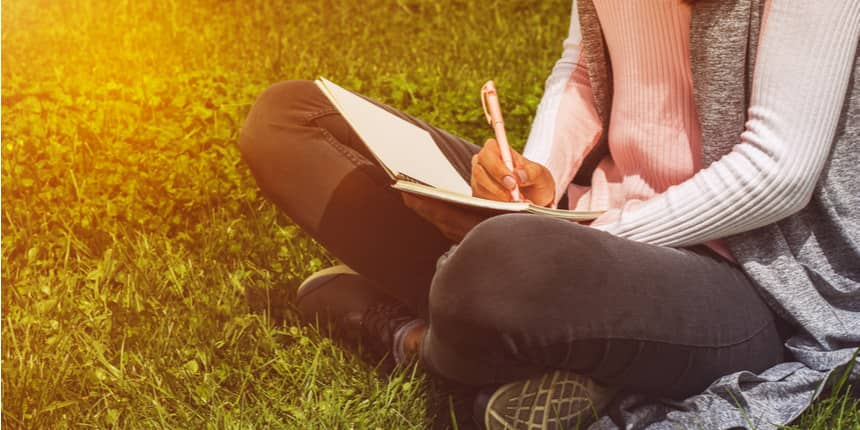 Journaling Is The Simplest Way To Manage Stress
There are lots of methods, as you must be seeing or hearing, of managing stress, like yoga, listening to music, meditation, and the like. One of the very effective ways to manage stress is called 'journaling'. It is like keeping a diary as you may have done when younger.
Simply put, journaling is putting your thoughts and feelings to paper. It is your personal story as to how you think, feel, or behave. Journaling involves writing on a daily, weekly, or monthly basis depending on your interest and time at hand. However, journaling does not have to be writing only. Journaling may also be sketching, drawing, painting, recording, photo albums, and so on.
Why Journal? Getting Started
Journaling is a way of coping. It needs hardly any money, and offers maximum benefit to your well-being. Social media features like Instagram reels and TikTok videos are trending with people recording themselves journaling. To help you get started, you may consider buying a do-it-yourself (DIY) journal that has prompts based on your interests. A few other benefits of journaling are:-
Availability | Your journal can always be at hand, whether as a notebook, scribble pad, or the notes or voice record feature in our mobile phones.
Convenience | A journal is convenient to carry, aids in quick noting, on the spot venting, or getting clarity through writing down pros and cons, and doodling by way of relaxing.
Reminder | Journaling acts as a reminder in course correction in terms of recognising patterns of erroneous thoughts or personal misacts.
Therapy | Journaling proves to be therapeutic, motivational, and positivity evoking.
Introspection | It encourages developing an introspective and informative mindset, and helps a person refrain from being impulsive.
Privacy | Journaling entails privacy, as it is a personal choice whether to share with others or not.
Equitable | Age, gender, profession, or education are no bar to journaling.
Trend-Setting | Regular journaling can be trend-setting, as in leading by a progressive personal example.
Some people say that journaling is a waste of time. But then, why is it so popular worldwide? Because journaling is simple to do. Written words make things easy for you to understand. You get to see the mistakes made and can plan for their correction. It helps you in making decisions as you can write down all the options to choose from. Journaling gives you confidence as it is like a reference book that you can consult anytime. So, go ahead and start journaling today.
Dr. Sanjana Seth is a Psychologist and Psychotherapist, registered with RCI, and holds more than two decades of practising experience with the healthcare organisations of the Armed Forces, as well as those operating as private. She is skilled in administering psychological assessments, providing therapeutic intervention and psychoeducation via talks, lectures, workshops, and literary articles. She has worked extensively for children with special needs, and has taught Psychology to students at undergraduate and postgraduate levels.