12 Best Career Options after M.Com: What to do After M.Com?
Many people who are looking to get a job after completing their M.Com degree wonder which career path is best for them. The Master of Commerce is a two-year program that is offered by various universities in India. This degree level program is designed to provide a deeper understanding of the concepts of commerce. What to do after MCom is a common question among students and there are plenty of career options available.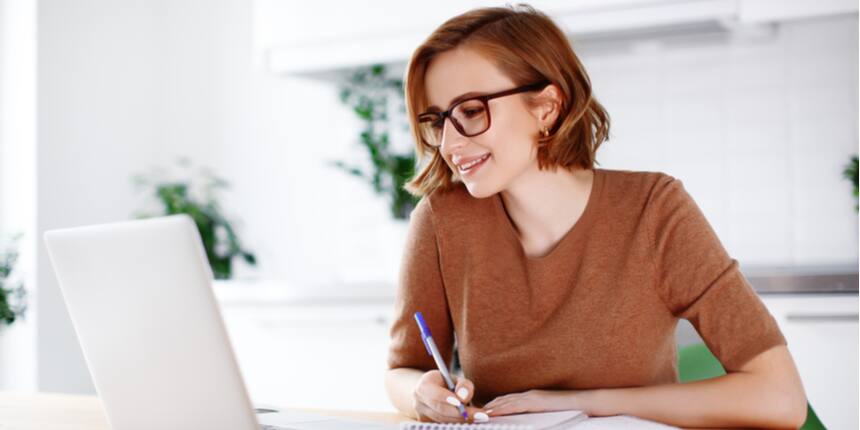 After completing an M.Com degree, students often choose to pursue careers in various professional fields such as banking, finance, and insurance. It can be hard to find a job after completing a M.Com degree if one does not have the necessary knowledge about the various career options after MCom. Having a list of all the available career paths can help one choose the right one.
As a young graduate, you might be wondering what to do after completing your M.Com degree. This article aims to help you navigate through the various career paths that are available after completing the program. Besides being exposed to various management and business-related subjects, you would also have gained the necessary knowledge to build a successful career. If you are interested to know what are the career options after MCom, then read the complete article.
Career Options After MCom
Enroll in an MBA Programme
One of the most popular courses after completing M.Com is the MBA. This is a highly regarded course that allows students to pursue a career in managerial positions. It is also ideal for individuals who are looking to gain a foothold in the managerial field.
During your studies at M.Com, you'll be exposed to various subjects such as economics, stock markets, and accountancy. However, after you pursue a Masters in business administration, you'll be able to apply your knowledge and skills to help organizations grow.
Most MBA programs offer a case study approach to help students develop their critical thinking and decision making capabilities. Various online platforms allow academic institutions to offer Global MBA degrees. These online programs are also designed to help students continue their academic pursuits and get the guidance they need from industry experts. You can also specialize in a particular field. The average annual salary for an MBA graduate is around Rs. 7.2 Lakh Per Annum.
Become a Chartered Accountant
One of the most popular career options after MCom is becoming a Chartered Accountant. This is a fast-track program that requires a lot of preparation. After qualifying for the various stages of the CPA exam, such as the IPCC, Final, and CPT, students need to complete an articleship in order to practice as a professional.
Many graduates of the CA program find employment at the Big 4 accounting firms, such as Deloitte, KPMG, and PwC. These individuals typically earn an annual salary of around INR 8 lakh. The average annual salary of a Chartered Accountant is around Rs. 8 Lakh Per Annum.
ACCA Course
If you're interested in becoming a certified accountant, you can pursue the ACCA course. This is a requirement for working in the field of finance and accounting.
Although the two-year course is highly regarded by multinational corporations, you will still need to complete three years of practical experience before you can become an official member of the association.
The minimum educational qualification required to enroll in the program is a 10+2 degree. This means that most students from the commerce stream only enroll during their undergraduate studies. Even if you're not an M.Com student, having the necessary knowledge and skills in accounting will help you pass the examinations. Due to the high demand for this course, multinational companies pay a salary of around 5 to 16 lakhs.
Company Secretaryship
If you're looking for a job after M.com, then the Company Secretary position is one of the many critical roles that an organization has. The CS is responsible for overseeing the legal requirements of various companies.
The CS course consists of three phases. It's divided into three categories: Executive, Professional, and Foundation. After completing the training, candidates can then become an associate member of the Institute of Company Secretary.
The Institute of Company Secretary is the only organization in the country that provides the company secretary course. It has over 62,000 members. The salary range for the company secretary in India varies from Rs. 4 to 10 lakh per year. According to Payscale, the average salary for this position is around Rs. 5.8 lakh per year.
CMA Credential
The Certified Management Accountant course is a professional qualification that requires candidates to complete two years of work experience and two stages of examination. The International Management Accountants Association (IMA) is a professional organization that provides this qualification. It has been recognized around the world for its quality.
The objective of the CMA is to recognize individuals with exceptional expertise in the areas of financial management and management accounting. The candidates who successfully complete the course are expected to have the necessary skills and knowledge in various areas of management accounting. They are also expected to be capable of handling financial analysis and planning.
CFA Course
One of the best courses after MCom is the Chartered Financial Analyst (CFA). This is a US-based program that provides a great opportunity for aspiring financial analysts.
The program covers various aspects of financial analysis, such as bonds and derivatives, portfolio management, and financial analysis. After completing the program, you can start working at some of the top financial firms such as Goldman Sachs, Morgan Stanley, and Royal Bank of Canada.
To be eligible to take the exam, you should be in your final year of undergraduate study. Although the program's duration is only 2.5 years, it takes around four years to achieve the Chartered Financial Analyst designation.
Get a CPA License
One of the most common career options after MCom is becoming a Certified Public Accountants. This is a designation granted by the American Institute of Certified Public Accountants.
Individuals who hold a license to practice as a public accountant have a good understanding of the principles of accounting generally accepted by the industry. To become a certified public accountant, they must first complete a four-part exam.
As accountants, they help companies and individuals manage their financial affairs by performing various tasks such as reviewing and auditing their financial statements. They also provide advice on taxation and financial planning.
FRM Certified Professional
Before you decide what to do after Mcom, there are many options available. One of these is risk management. This discipline is a growing part of the financial industry and is an excellent option for those who are looking to gain a short-term perspective. The goal of this program is to prepare you for the examinations, which are conducted in May and November each year.
The certification of a financial risk manager shows that you have the necessary skills and knowledge to identify and analyze financial threats. You can offer various services such as credit and market risk, trading, sales and marketing, and marketing. According to Payscale, the average salary of financial risk managers is around 10 to 18 lakhs per year.
CFP Exam
After completing M.Com, many people choose to do a short-term course known as the Certified Financial Professional (CFP). This is a highly effective way to find a career in the insurance and finance sectors.
Although the six-month course is relatively short, it requires participants to meet various requirements in order to become a certified financial planner. Some of these include having a good educational background, professional ethics, and work experience. Aside from being able to handle various tasks such as tax planning and insurance decisions, a certified financial planner can also specialize in retirement planning and investment management.
Digital Marketing
Many students who are not interested in working in finance or accounting after graduating from MCOM are left wondering what to do after they leave school. There are many creative occupations that are available after MCOM.
One of the most innovative fields that is available after MCOM is digital marketing. This is a part of marketing that uses the power of the internet to promote products and services. Due to the increasing popularity of this field, it is expected that it will continue to grow.
There are various courses that are designed for students who are interested in pursuing a career in digital marketing. These include courses that are focused on topics such as search engine optimization, social media management, and marketing analytics. Some of the prominent institutes that offer these types of courses include MICA and upGrad.
Having the necessary knowledge about digital marketing can lead to a promising career in the field. In India, a digital marketing professional can expect to earn around INR 5 lakh per annum, while managers can earn up to 15 lakhs depending on their job profile. According to Payscale, various companies such as ad agencies and startups are hiring digital marketing professionals.
CIB Certification
The Certificate in Investment Banking (CIB) is a six-month course that prepares graduates for the job of investing in companies.
The valuation examination is a globally recognized test that aims to determine the fair value of listed and unlisted companies. It is a vital part of any investor's decision-making process.
Although you can take the course right after your B.C., having an M.C. will allow you to grasp the various aspects of the program. In addition to investing in companies, the course also covers various other financial instruments and strategies. According to Payscale, an investment banker can expect to earn around INR 9 lakh annually in India.
Teaching and Research
If you're interested in studying the various facets of commerce and business, then you might want to pursue a doctorate in one of these fields. Some of the major fields that are commonly associated with a doctorate include finance, operations research, and human resource management. Looking for a study abroad program that fits your interests can be a good way to get started. It can also help you land a job after graduating.
Besides JRF, there are also various international and national scholarships that are available for students with exceptional research capabilities in various fields such as economics, management, and commerce. If you're planning on becoming a university lecturer, then a Ph.D. program is highly recommended. However, if you're more interested in teaching school students, then a two-year B.Ed program might be a better choice.
Conclusion
If you are planning on graduating from M.Com, here are some great career options that will allow you to pursue your goals after that. You can also determine your interest in one of these options by choosing your desired field of study. We hope the article answered your question - what are the job opportunities after MCom?
Before you start considering what to do after graduating from M.Com, it is important that you first check the various factors that affect the course's success. Some of these include the time commitment, difficulty level, and price. The best courses after M.Com will allow you to land a great job right away.
Following through with this guide will allow you to easily identify your career options after graduating from M.COM. There are a variety of career paths that you can choose from, so gather as much information as possible about them.