A successful career in law can be rewarding and challenging, and it can provide individuals with a variety of intellectual and personal challenges. It is also considered one of the elite professions. Law school graduates have more opportunities than ever before. With the increasing number of people entering the profession, there are more diverse career options in law available to them. It can be hard for law graduates to decide which career options in law they should take due to the varying options available. In this article, we will talk about some of the best career options in law available to them in India.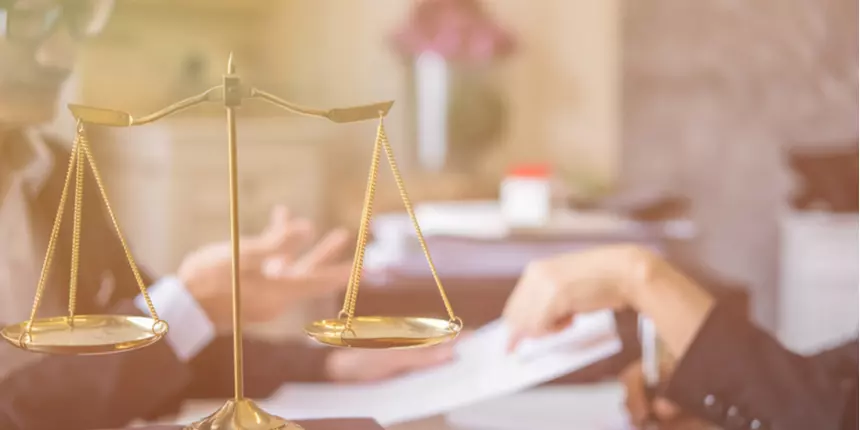 Top 7 Career Options in Law In India: Job Opportunities for Law Graduates
The study of law can be useful in various ways. According to Thomas Jefferson, it can help a man be useful to his neighbors and the public. Jefferson also explained the concept of law as a discipline and a leader. Law is regarded as a great career option for many people. It can provide them with a life-changing experience and inspire them to excel in their chosen field.
This statement can be backed by various prominent personalities such as Mahatma Gandhi, Barack Obama, and Dr. Rajendra Prasad. In this section, we will talk about various aspects of law and provide you with the necessary information to start learning about it.
Career Options After Law in India
Career options in law offer many advantages, such as the satisfaction of helping the citizens of the society and the financial benefits. It also allows you to make a difference in the world by educating people about the rights of others.
The first step in becoming a lawyer in India is to study for a degree in law. After completing this course, you can either start working as a lawyer or join a legal firm. You can also take up a postgraduate program in law to improve your skills and knowledge. Although career options after LLB does not necessarily mean that you will be representing clients in court, it has a wider scope.
Aside from providing legal advice to various clients, such as government agencies and businesses, law graduates can also work as judges, lawyers, and consultants. This ensures that they can develop a work profile that is geared toward their chosen field.
Criminal Lawyer
Criminal lawyers are usually responsible for defending their clients in court. They handle cases that are referred to the local or Supreme Court. During a trial, criminal lawyers argue their client's case before a judge. They then question witnesses and other individuals involved in the case.
This field requires strong interpersonal and investigative skills. You'll also need to have the necessary skills to present your client's case in a convincing manner. Criminal lawyers are also experts in various legal analysis and research.
Criminal Lawyer Salary in India
In India, a criminal lawyer can expect to earn around INR 7 lakh per year. For experienced lawyers, this can be around INR 30 lakh per year. On the other hand, those who are just starting out can expect to earn around INR 2 lakh per year.
Criminal lawyers are highly sought after by individuals who want to work in a law firm or start their own practice. This is because it allows them to focus on litigation.
Corporate Lawyer
Corporate lawyers help companies comply with the regulations and rules of their industry. They are also responsible for helping their clients navigate through the various legal processes involved in running a company.
As a corporate lawyer, you would typically advise clients on various legal issues, such as disputes over business transactions and liability. You would also help them submit their legal documents for review. Aside from these, corporate lawyers also have to be knowledgeable about various other legal subjects such as mergers and acquisitions, corporate contracts, and competition law.
Corporate Lawyer Salary in India
In India, a corporate lawyer can expect to earn around INR 7 million per year. As a beginner, this figure could be around INR 1.47 million. The upper limit of this profession is very high, and it can pay around INR 20 lakh per year. This is considered to be one of the best career options after LLB for people who are passionate about law.
Judicial Services
A judge is the head of the court that rules on a case. After hearing arguments and reviewing the legal arguments, the judge gives a final verdict. The judiciary is regarded as one of the most prestigious career options after LLB in India. To become a judge in India, you would have to appear for the state-level examination for the judiciary.
Judicial Services Salary in India
In India, a High Court judge can earn about INR 2.2 lakh a month. On the other hand, a Supreme Court judge can get paid about 2.5 lakh a month. As a government job, a Supreme Court judge can get many perks and allowances.
Legal Journalist
If you're passionate about writing, then legal journalism is a LLB career options that you can pursue. This discipline involves going to court and reporting the facts directly. Journalists are also involved in writing articles for various publications such as newspapers and magazines.
Because of their expertise in law, legal journalists can participate in discussions about various legal issues. Aside from having strong writing and communication skills, legal journalists also need to have the necessary skills to work in other forms of media such as YouTube and television. This is a unique LLB career option that requires a certain amount of patience and determination.
Legal Journalist Salary in India
In India, a journalist can expect to earn around INR 3.7 lakh per annum. However, for senior-level professionals, they can earn up to INR 9.89 lakh per year. This is considered one of the best LLB career options for creative people.
Legal Analyst
The legal analyst is responsible for analyzing and reviewing legal documents and for making recommendations to the lawyers on the same. They also assist legal teams in performing their duties. The legal analyst is also sometimes referred to as a litigation analyst or a paralegal. They are also responsible for keeping track of various databases and tracking systems.
Usually, legal analysts work on the same schedule as their regular duties. However, they might have to work overtime due to the large number of cases they handle. They also need to have a good understanding of the law and legal documentation.
Legal Analyst Salary in India
The average annual salary for legal analysts in India is around INR 4.40 lakh. This is a good start for people who are interested in becoming a legal analyst. The pay for this field can go up to around INR 9.8 lakh per year.
Civil Lawyer
Although civil lawyers are not lawyers for criminal purposes, they have the same duties. When a defendant hires them, they take over the case. The duties of a civil lawyer include overseeing the various tasks involved in a case, such as gathering evidence, interviewing witnesses, filing motions, and presenting the case. Due to the wide variety of specializations in the field of civil lawyers, the field is constantly evolving. Some of these include divorce law, taxation law, and excise law.
Civil Lawyer Salary in India
There are various branches in civil law in India, which makes it difficult to determine the average salary of a civil lawyer. For instance, divorce lawyers in the country can earn around INR 10 lakh per annum while intellectual property lawyers can earn around Rs.1 crore. The pay of a civil lawyer depends on his or her experience. Having a good understanding of the country's legal system will help you gain a deeper understanding of the litigation process.
Legal Advisor
One of the most popular career options in law is as a legal advisor. This role involves advising clients on legal matters and dealing with regulatory and contractual issues. As legal advisors, they have to negotiate with clients and resolve disputes. They also work with the upper management of a company to resolve any issues that arise. This field is characterized by the skills that include contract negotiation, legal research, and litigation case management.
Legal Advisor Salary in India
In India, the average salary for legal advisors is around INR 5.9 lakh per year. However, with the right skills and experience, you can earn up to INR 40 lakh per year. This is a very lucrative LLB career options for people who are looking to work in corporate law.
Scope of Law in India
Law is a financially rewarding career options after law that requires an intellectual and challenging approach. It offers a variety of salary and benefits. The average salary for a lawyer is 419728 per year. On the other hand, a corporate lawyer can earn around 692821 annually. Outsourcing companies like Legal Process Outsourcing (LPOs) hire highly skilled lawyers and provide them with attractive packages. Individuals can also choose to work in social work or in fields like immigration and public policy. There are also a wide variety of unconventional careers available in this field.
Conclusion
There are various career options after law in the legal sector. You can choose one of these depending on your interests and goals. For instance, if you're a creative person who enjoys writing, then legal journalism would be a good choice. On the other hand, someone with strong interpersonal skills might want to become a civil lawyer.
It can be very challenging to choose one particular stream in the legal industry due to the wide variety of options. Before you make a decision, it's important that you thoroughly consider all the factors that affect your choice.