Who is a Legal Advisor?
It is not wisdom but Authority that makes a law ~Thomas Hobbes
Do you want to make a career in the field of law as well as in the corporate sector at the same time? Do you want to be someone to whom companies come in order to take advice from? Think no more, you can make a career as a legal advisor. The Indian constitution is the longest written constitution around the world. An organisation or a company needs a specialist in the field of law who could help them in advising on legal matters. Big companies hire an entire team of legal advisors in order to do everything in accordance with the law. Legal advisors are lawyers who are employed by the government, large companies, and other organizations to provide legal advice and services to the organization and its employees. In other words, legal advisors are in-house lawyers, as compared to attorneys and advocates, who provide their services to the public as a whole rather than to an employer.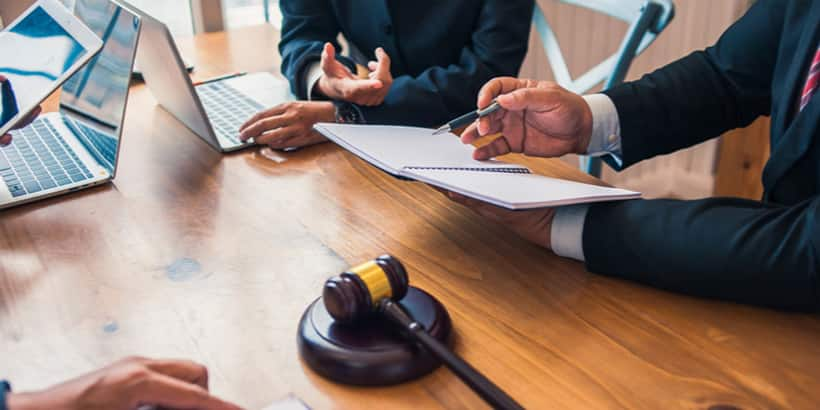 Legal Advisor in a Nutshell
The career of a Legal Advisor is one of the immense responsibilities, pressure, and excitement. A Legal Advisor can be employed in both, the government, as well as the private sector. Every organization operating in the market these days requires a legal advisor. Most legal advisor jobs are taken by former attorneys or advocates who want to go into a corporate environment. Therefore, the requirements and training for legal advisors are the same as for advocates and attorneys.
Quick Facts for Legal Advisor
Industry

Law

Average Salary in India

₹25000

Suitable for

Male, Female, Others

An individual from any section or gender can become a legal advisor in India. It doesn't matter which gender he/she belongs to when it comes to taking up legal advisor jobs. Being a legal advisor in India is one of the most desired professions where an individual's gender is insignificant. Legal advisor jobs are opening up with new prospects which makes it attractive to a growing number of students, including women.

Any special needs

Yes

When it comes to legal advisor jobs it is better to be physically fit for a better and efficient way of working. However, there is no hard and fast rule that it is compulsory to be physically fit in order to become a legal advisor in India. As long as the disability doesn't come in the way of one's work they are good to go for legal advisor jobs.
What is the role of Legal Advisor?
Legal advisor jobs usually consist of working in law firms or act as a part of a legal counsel team hired by companies and enterprises for their expertise on legalities. Company leaders and CEOs usually ask advice from them in the aspect of legalities before the company takes a step further. In other words, a company legal advisor helps their clients arrive at a right decision.
Overseeing contracts
Legal advisor jobs consist of overseeing all client and vendor contracts. Legal advisors help companies in providing guidance about laws. They help their clients with contracts, legal drafts, and documents, and resolve disputes. Legal advisor jobs in banks and financial sectors require the individual to do so.
Cost effective legal advice
Legal advisor jobs consist of providing commercially sensible and cost-effective legal advice for construction contracts management.
Drafting
Legal advisor is responsible for creating new documents and reviewing the existing contracts of their clients. They must be familiar about the terms and conditions of different contracts. Legal advisor jobs include drafting basic legal documents for construction projects.
Damage claims
Damage claims are also known as claims of damage to a company which can result in financial loss. . Damage claims usually come in the form of monetary payment. Legal advisor jobs consist of preparing contracts and damage claims.
Resolving disputes
Resolving disputes is sorting out the conflicts between two parties. There are different types of disputes in the field of law. Disputes can be resolved going to court also and without going to court also. Legal advisor jobs include resolving buy-sell disputes and property infringements.
Overseeing claims
Legal advisor jobs consist of overseeing health and safety and injury claims and offering advice on court cases.
Meeting and interviewing clients
Legal advisors conduct meetings and sometimes interview clients to know more about their case. This includes asking questions and scenarios. They organise meetings and interviews so that they can collect proofs with their help.
Types of a Legal Advisor
Legal advisor: Individuals who specialize in the field of law are called legal advisors. Their job is to protect their clients from any sort of legal implications. A legal advisor works with a company or an organization, wherein he or she does work like documentation of contracts or providing legal advice and many other legal situations.
Senior legal advisor: Big companies or organizations generally have an entire legal department wherein a team of specialized lawyers of various fields work together in order to meet the legal requirements of a company. This team is led by a senior legal advisor whose job is to supervise them as well as distribute work.
Senior counsel: The job of a senior counsel is to take care of several legal matters that a law firm goes through. Their job is to provide legal advice. Their specific responsibilities may vary depending on the firm they work in.
Attorney: An attorney-at-law is a lawyer who practices in court and is responsible for defending his or her client from a legal matter. An attorney who is a fresher in the market generally begins legal practice either in an organization, a legal firm or under a senior attorney.
Senior attorney: A senior attorney is responsible for the efficient functioning of the team of junior attorneys under him or her. In some cases a senior attorney can be a partner in a firm or even a high ranking specialist retained by one. The job of a senior attorney typically is to direct the preparations of the team in representing a client in the court or outside for negotiation.
What is the workplace/work environment of Legal Advisor like?
Legal Advisors generally work in the legal departments of large corporations. They work in an office set up. They might have to go to the court if required. But most of their time is spent in the office.
Does Legal Advisor require travelling?
Likely
Legal advisor jobs are mainly office limited but they may have to travel to courts. It is not a full time travelling job but there might be occasions when a legal advisor has to travel from one place to another.
Employment Shifts
Full Time
A legal advisor has to work for a minimum of eight hours a day. The nature of work is full time. A legal advisor may have to work for extra hours depending on the workload or the number of clients being handled. The job of a legal advisor is generally 9 to 5 but they may have to work for extra hours depending on the workload.
Employment Nature
Contractual, Permanent
If an individual fresh out of college is hired as a legal advisor in some law firm then his/her job is permanent in nature. But, small firms or start-uos if they hire a legal advisor in order to make some contract or any drafting work for instance then that job may be contractual in nature. Therefore, legal advisor jobs can be both contractual as well as permanent in nature.
Work Place
Office
A legal advisor works in an office environment.
Presence in Geographical Area
Semi-urban, Urban
A legal advisor has to work in urban as well as semi-urban areas. The kind of industries or organization a legal advisor works for are located mainly in urban areas. A few might be located in semi-urban areas.
Time Pressure
Likely
Time pressure is quite high in the case of a legal advisor. A legal advisor has to work for a minimum of eight hours a day. The nature of work is full time. A legal advisor may have to work for extra hours depending on the workload or the number of clients being handled.
Overtime Details
Generally, the legal advisors are required to work on usual timings i.e. 9 am to 5 pm. But depending on the work assigned to them and deadlines approaching, they are required to work overtime. On average, legal advisors are required to work for 50-55 hours. Also, they are required to work overtime if the work demands.
Weekly Hours of Work
Min 40 Hours
Legal advisors are required to work for about 40 hours a week. A legal advisor may have to work for extra hours depending on the workload.
How to become a Legal Advisor?
What are the skills and qualities required to become a/an Legal Advisor?
Commercial awareness: Legal advisor jobs require an individual to have commercial awareness as one of the most important attributes a candidate can have. It basically means possessing knowledge of current developments in local, national, and world business, particularly any issues that may impact a law firm and its clients. Firms expect their legal advisors to market their services to prospective clients, as well as develop trusting relationships with existing ones. Ultimately, law firms are businesses, so lawyers must appreciate the commercial importance of meeting deadlines, keeping costs low, and handling information confidentially.
People skills: As a legal advisor in India one will have to work alongside a variety of people and more often than not winning a case will be a team effort. Legal advisors do not work alone, they need to collaborate with colleagues and partners in their firm, as well as liaise with clients. Legal advisors need to foster a close working relationship with their clerks and will often work high-profile cases alongside other legal advisors, as workloads on such cases are too heavy for one representative. The ability to work as part of a team is therefore essential and you'll need the skills to deal with people from all levels of the legal hierarchy.
Communication skills: Communication in the workplace is essential to businesses as it helps organizations to be competitive and function efficiently. Workers will experience an increase in performance, efficiency, and engagement if they can collaborate inside an entity. Strong oral and written communication skills are vital and without them one will struggle to do well as a legal advisor. Excellent listening ability is also important when working with clients, as a legal advisor needs to be able to build relationships and engender confidence.
Attention to detail: A sharp eye for accuracy is crucial to the success of an individual's career as a legal advisor. A single word out of place can change the meaning of a clause or contract, while misspelled or ungrammatical emails, letters, or documents can give clients a bad impression, costing the firm the legal advisor works for a heavy price.
Research skills: Reading large amounts of information, absorbing facts and figures, analysing material, and distilling it into something manageable is a feature of any law career including legal advisor jobs.
Problem-solving ability: Some may think that the legal profession provides a little outlet for an individual's creative talent but this simply isn't the case. No matter which legal career an individual chooses they will frequently have to think outside the box to get the job done.
Which certifications and internships can be helpful in becoming Legal Advisor?
Internship Availability
Yes
In the field of law, internships are a must in order to have real-world experience. Legal advisor jobs require an individual to atleast have experience in terms of internships. Any company does not hire a legal advisor who is a fresh graduate. But, having internship experience can increase the candidate's chances. One could also intern with a legal firm and if it works well he or she may get a permanent job there. Therefore, internships are a must in order to gain practical knowledge, some work experience as well as to make contacts.
Career Path Progression for Legal Advisor
Senior Attorney: In the legal advisor hierarchy, senior attorney holds the highest level. Senior attorneys should have 8 to 10 years of experience in the legal sector. They should have a wide knowledge of all aspects of laws. They provide advice to the appellate and the trial courts.
Attorney: The name attorney often explains the chief officer of law enforcement in the government, either on the state, federal or local level. The attorney acts as the representative of the country in the legal issues and as the lead of the legal counsel of the government. The degree of law is a must for the job of the attorney.
Senior Counsel: The senior counsel name is given to the senior advocates in some countries which are similar to the title 'Queen's Counsel'. This is the senior level of the counsel. They are having many years of experience in becoming senior counsel.
Advisor: An advisor helps the top leaders to ensure that the employees are in accordance with the laws when performing their tasks. A legal advisor works for reperusing corporate policies and their workings and making sure that these policies stick to the regulations of the government and the industry practices.
Senior Legal Advisor: It is the immediately higher level of Legal advisor. A senior legal counsel should have an experience of 6 to 8 years in the law firm. They should have good written and verbal communication skills and should be fluent in English. They should have excellent negotiation skills. They should work accurately and in a planned manner.
Legal Advisor: In the legal advisor hierarchy, legal counsel holds the lowest level. Legal counsel researches local, federal, and state laws either in education, accounting in or financial services. Their duties start from developing the legal procedures that put into effect the corporate governance to reperusing legal contracts, publications, and leases of real estates. In addition to this, legal counsels present applications of the copyright for products, services, and trademarks, mediate labor disputes, closely work with different lawyers, and look over the tax payments. Legal counsels also collect evidence and other legal information for various court cases, during trials representing the client.
Legal Advisor Jobs and Salaries
Attorney
Monthly Salaries
Average Salary

25000

Junior Level Salary

20000

Senior Level Salary

100000
Job Description
Attorney guides and defends clients in both criminal and civil litigation, and their legal rights. This may well start with advice, then continue with both the preparation of documents and court proceedings to speak on behalf of clients.
Salary Description
The salary of this industry depends on experience and cases, solved by the attorneys. The entry-level salary could be up to four lakhs per year and eventually, it could be above twenty-four lakhs per year depending on the skill and experience of the attorney.
What is the job outlook for Legal Advisor?
Legal advisors generally work in the legal departments of large corporations. According to research their employment category of lawyers will realize 6 percent job growth through 2024. Legal advisors work in teamwork with members of the legal services department of a corporation on matters connecting to commercial power, authoritarian issues, and profit-making contracts and several other things. Legal Advisors often have the same training as lawyers, rather than legal consultants generally only offer advice outside of the courtroom. The legal advisor can be employed in both the government as well as the Private Sector. There are huge opportunities for contenders after completing their Bachelor's Degree in Law. There is a great possibility for high remuneration in the legal field. Only some physical demands in this career, though legal consultants can work more than 40 hours per week. They search for traditions to approve the most recent company transactions of their corporation to make sure that they collapse within acceptable legal parameters
The job market scenario for legal advisor jobs is bright in India. It is a country with many pending cases therefore the demand for lawyers is likely to go up in the coming time. As far as legal advisor jobs are concerned they are growing rapidly as well. Legal advisor jobs are not just limited to MNCs or government bodies anymore. Even start-ups, banks, insurance companies, and other organisations are also hiring legal advisors.
Frequently Asked Questions for Legal Advisor
Que. What is the difference between Advisor and Consultant?
Ans.
An adviser is usually a person with more and deeper knowledge in a particular field and generally also includes persons with cross-functional and multidisciplinary expertise. An adviser's role is that of a mentor or leader and varies categorically from that of a task- particular consultant.
Que. What is the difference between a lawyer and a legal advisor?
Ans.
A legal advisor is a person employed by an organisation or corporation and works "in-house", whilst a lawyer is employed by a law firm.
A legal advisor will only provide legal advice to their employer, while a lawyer is engaged by various clients to provide a range of legal services and advice.
Que. Who gives the president legal advice?
Ans.
By delegation from the Attorney General, the Assistant Attorney General in charge of the Office of Legal Counsel provides legal advice to the President and all executive branch agencies.
Que. Can you call yourself a lawyer if you haven't passed the bar?
Ans.
Actually you can call yourself a lawyer with just a JD, even though you haven't passed the bar. You cannot actually practice, though, unless you have a law license which means being a member of the bar which in turn means you passed the bar exam somewhere.
Que. Who is the legal advisor to the government of a state in India?
Ans.
In India, an advocate general is a legal advisor to a state government. The post is created by the Constitution of India and corresponds to that of Attorney General of India at the central-level. The governor of each state shall appoint a person who is qualified to be appointed judges in high court.
You might also be interested in
The question have been saved in answer later, you can access it from your profile anytime.
Access now
Report Question
Select your reason of reporting