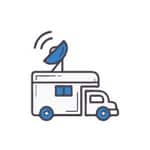 Journalism
Degrees offered: B.A., B.A.(Hons), B.F.A., B.J., B.Voc., BCJ, BS
Q&A : 837 Question
What is Journalism
The Journalism course is a branch of mass media that teaches students the foundations of journalism and mass communication. Journalism is gathering information, collating it and creating something informative out of it. Apart from these basic roles, a journalist is also required to comment on events being reported but diplomatically, to not influence any reader too strongly.


Journalism and Mass Communication are usually offered together in courses in Journalism. The Journalism course is offered at the Undergraduate and postgraduate degree levels. The undergraduate degree of the Journalism course is Bachelor of Journalism and Mass Communication (BAJMC), Bachelor of Arts (Honours) in Journalism, BA in Journalism, Bachelor of Journalism, BA in Convergent Journalism, BA in Journalism and Communication Studies.


At the Post Graduate level, the courses offered are MA in Journalism and Communication, MA in Multimedia and Masters in Journalism and Mass Communication. There are also various diploma courses offered, such as Post Graduate Diploma in Journalism, Post Graduate Diploma in TV and Radio Journalism, and Post Graduate Diploma in Print and Broadcast Journalism.
Eligibility Criteria (UG & PG) of Journalism
For Undergraduate courses, the eligibility criteria are:
Candidate needs to have completed 10+2 years of education.

Must have a minimum of 50% in 12th from a recognised board, and any stream (Arts, Science, Commerce)

Some colleges have the criteria which require candidates to possess good communication, reading and English skills.

Admissions are usually made based on merit or a university-level examination.

For Post Graduate courses, the eligibility criteria are:
Candidates must hold a valid Bachelor's degree from a recognised university or college.

Entrance tests are sometimes required.
Browse Journalism Colleges by States
Browse Journalism Colleges Location


Entrance Exams for Journalism
There are various entrance exams that universities and autonomous colleges usually conduct at their university-levels. Some of the main exams that students have to give to secure admissions in Journalism courses are:

There are also other university-level entrance examinations at colleges such as Christ University, St. Xavier's College, and a few others.


At PG levels, for Master's Degrees, there are separate examinations conducted by universities and autonomous colleges. They typically test a person's abilities in the following areas:
General English

Reading Comprehension

Logical Reasoning

Current Affairs

Verbal Reasoning

Media and Communication
Scope of Journalism in India and Abroad
With the increase and advance in technology which led to the broadening of communication networks such as social media, television, newspapers, e-magazines, and radio, the scope and reaches of journalism have also risen. This has caused journalism to also gain a huge, global audience for even the smallest of events. There is coverage of all events worldwide. Broadcasting of news reporting isn't limited to local, regional or national ranges anymore.
When people think of Journalism, they merely picture news reporters and newspaper articles. But that isn't what journalism is limited to. It extends way beyond those realms and brings various opportunities and various paths to follow, in terms of jobs.
While there are basic jobs such as those of reporters and writers in newspapers, there are also several other jobs, and the scope of journalism is thus very wide.
Editor

Proof-Reader/ Sub-editor

Researcher

Critic

Photojournalist

Cartoonist

Illustrator, and various other options.
Popular Online Media Courses and Certifications
Course Fees Journalism
Minimum Fees
Maximum Fees
Private
Government
Private
Government
UG

7.00 K

B.A. in Journalism at Seth Anandram Jaipuria College, Kolkata

---

Data not available

13.60 Lakhs

B.A.(Hons) in Journalism at IILM University, Gurugram

3.42 Lakhs

BJ MJ in Journalism at Delhi School of Journalism, Delhi

PG

4.00 K

P.G.D in Journalism at Central India Institute of Mass Communication, Nagpur

---

Data not available

8.82 Lakhs

M.A. in Journalism at Symbiosis Institute of Media and Communication, Pune

1.64 Lakhs

P.G.D in Journalism at Indian Institute of Mass Communication, New Delhi

DOCTORAL

2.60 Lakhs

Ph.D in Journalism at SRM University AP, Amaravati

60.60 K

Ph.D in Journalism at Potti Sreeramulu Telugu University, Hyderabad

6.25 Lakhs

Ph.D in Journalism at Baba Mastnath University, Rohtak

2.07 Lakhs

Ph.D in Journalism at Dr Babasaheb Ambedkar Open University, Ahmedabad

DIPLOMA

12.00 K

Diploma in Journalism at Hans Raj Mahila Maha Vidyalaya, Jalandhar

4.47 K

Diploma in Journalism at Krishna Kanta Handiqui State Open University, Guwahati

20.00 Lakhs

Diploma in Journalism at Pearl Academy, West Delhi Campus, New Delhi

25.00 K

Diploma in Journalism at Banaras Hindu University, Varanasi
Course Subjects
The subjects that are mainly taught in most courses in Journalism and Mass Communication are:
Introduction to Journalism

Introduction to Mass Communication

Editing Techniques

Media Laws and Indian Constitution

Reporting Methods

Media Management

Advertising and Public Relations

History of Journalism, and more

The syllabus for Bachelor's in Journalism and Mass Communication is:
Writing for Media

Socio-Economic & Political Scenario

Introduction to Communication

Basics of Design & Graphics

History of Print & Broadcasting in India

Media Laws & Ethics

Print Journalism

Development & Communication

Radio Journalism & Production

Basics of Camera, Lights & Sound

Television Journalism & Production

Public Relations

New Media

Advertising Practices

Media Research

Media Organisation & Management

Global Media Scenario

Bachelor of Arts (Honours) Journalism provides the following subjects:
History of Communication Media

Indian State and Democratic Polity

Communication and Mass Communication: Concept and Process

Introduction to Journalism

Development Communication and Rural Journalism

Media and Cultural Studies

IT and Online Journalism

Reporting for Print

Broadcast Journalism

International Politics

Media Laws and Ethics

Print Journalism and Production

International Media Scenario

MA in Journalism offers:
Print Journalism

Radio Journalism

TV Journalism

Online Journalism

Photojournalism

English for Communication

There are also courses such as MA in Broadcast Journalism which offers subjects such as:
Introduction to Mass Media and Society

Introduction to Audio- Visual Media

Growth and Development of Media

Specialised Reporting

Broadcast News Production (Radio & TV)

Broadcast Media Technology

Media Analysis and Criticism

Photo Journalism

Development Journalism

Communication Research and Methods

Introduction to Film: Form, Content, Narrative

Broadcast Media Management and Operations

Lifestyle and Travel Journalism

Political Communication

Multimedia Journalism and Content Management

Business and Finance Journalism

There are also other Master's courses such as MA in Journalism and Mass Communication, and MA in Convergent Journalism.
Careers in Journalism
The field of Journalism is ever-expanding. What with the social activism, the riots all around the world, growths, developments, political changes and everything else that keeps happening, the work of a person in this field doesn't end. There are endless opportunities with no limit to what one can do. From being on television as a reporter, bringing news to people live, one could also work as a print journalist, bringing more detailed news to people, after the event has already occurred. There are also options where people can go beyond just words, they can use photography, cartoons and other illustrations to express or depict a story. Some people edit these stories and make them perfectly suited to the basic style of a newspaper.

Apart from this, some people work behind the scenes on TV news channels, such as production managers, researchers, and newscast directors, among others. In conclusion, this boundless field has given rise to many greats over the years, and it will continue to do so. With endless possibilities, increasing popularity, this field is expanding even more than before and is creating a better environment for us to live in by making us aware of global citizens.
Upcoming trends
5G Networks – It is said that in this and the coming year, 5G networks will be set up and ready to be used. This will make network connections faster and more efficient, and this will allow the field of journalism and media to get information to people even faster than before, and even to the remotest corners of the world ultimately.

AI-Driven Technologies – These technologies such as automatic translation, transcription and speech-to-text (and vice versa) services will make things easier of the viewers and audience, thus increasing the market and customer bases as it will all be more convenient.

Editorial Partnerships
Browse journalism certification courses
View complete list of journalism certification courses
Job Profiles and Top Recruiters
| | |
| --- | --- |
| Job Profile | Description |
| | A reporter writes and delivers news, stories and events to people, via broadcast, print, radio or the Internet. This job involves gathering and authenticating facts, following up on leads and investigating them, and writing or delivering news to the audience through any other medium. |
| | An editor edits and analyses the written content for various platforms, such as newspapers, and the internet and correct them by re-writing or pointing out the errors. The basic framework and layout of the newspaper or magazine are also determined and decided by the editor. |
| | Content Writers develop content for various mediums such as newspapers, magazines, or any online publication platform. Content Writers are usually assigned topics to write about, and they can also pitch topics to the editor of the publication. |
Top Recruiters in Journalism
| | |
| --- | --- |
| Hindustan Times | Outlook |
| The Times Group | India TV |
| The Pioneer | All India Radio (AIR) |
| The Hindu | Indian Express |
| India Today Group | Star India |
| Zee Network | Balaji Telefilms Ltd |
Average Salary
| | |
| --- | --- |
| Job | Average Salary |
| Reporter | Rs. 3 Lakhs p.a. (Approx.) |
| Feature Writer | Rs. 4.7 Lakhs p.a. (Approx.) |
| News Anchor | Rs. 4 Lakhs p.a. (Approx.) |
| Correspondent | Rs. 7 Lakhs p.a. (Approx.) |
| Editor | Rs. 4 Lakhs p.a. (Approx.) |
| Cartoonist | Rs. 4 Lakhs p.a. (Approx.) |
| Illustrator | Rs. 10 Lakhs p.a. (Approx.) |
| Columnist | Rs. 6 Lakhs p.a. (Approx.) |
Required Skillset for Journalism
This field requires and demands skills without which one will be rendered helpless in certain situations. These skills are necessary to help one be a better, more truthful journalist.
General Awareness – Any individual working in the field of journalism is required to have thorough general awareness. This is because being aware of anything and everything happening around one, helps to identify potential news-worthy situations (politically/socially/culturally, etc.). It also helps one remain informed about all events and situations, and it could also help resolve issues in those situations.

Keen Observer– This is another important skill because being a keen observer helps spot the tiniest details in any given situation that another person might have missed. These details help paint a verbal picture of the situation being reported, more effectively.

Language Fluency – This skill is a must for anyone who chooses to work in this field because journalism is a lot about communication, both written and verbal, and teamwork. If one is not fluent in conversing, s/he will face difficulties in successfully and effectively communicating a point or decision.

Confidence – Whether it is while writing or speaking, confidence is imperative. In both aspects of communication, confidence is seen and recognised as soon as one begins conversing. It is important to be confident while speaking, because viewers and co-workers want to listen to somebody who knows exactly what s/he is saying and believes in it.

While writing too, the level of confidence is evident from the writing style, selection of words etc. To make any feature/report/article power-packed and hard-hitting, it is important to show confidence.
Some other important skills include Alertness, Self-motivation, Creativity, and the ability to work on strict deadlines.
Students also liked
Course Curriculum for Journalism
Bachelor's and Bachelor of Arts in Journalism/ Journalism and Mass Communication are 3-year long, undergraduate courses. The number of semesters/trimesters that they are divided into usually differ.


Master's in Journalism and Mass Communication and other PG Master's courses are 2 years long.


The aim of these courses is basically to create more aware end alert minds. They provide detailed information and knowledge on journalistic and reporting methods, and ethical journalism along with ethics in all countries. The aim is to shape the minds of students in ways that they understand the mechanics of our world, and they learn how to be ethical, moral and honest.
Popular Journalism Entrance Exams in India
Popular Journalism Colleges in India VIEW ALL
Frequently Asked Questions (FAQs)
Question: Can I do internships along with these UG courses in Journalism and Mass Communication?
Answer :
Yes. A major part of these journalism and mass communication courses lies in internships. They allow and mandate internships in different semesters, which helps students learn more through the practical use of knowledge.
Question: Does journalism always involve being on tv and reporting?
Answer :
No, journalism is a lot more than reporting. It involves writing for newspapers, magazines and other online publications, as a print journalist or as a feature writer. It could also involve being an editor for certain publications.
There are also people in this field who tell stories through images clicked by the, (photojournalists), and others who depict situations through cartoons and other illustrations.
Question: What is the difference between Journalism and Mass Communication?
Answer :
Journalism and mass communication are both very similar. The main difference is that journalism requires a lot of fieldwork; it includes and focuses on reporting and writing. Mass Communication, on the other hand, focuses on the technicalities of all these processes.
Question: What are the best colleges for courses in Journalism?
Answer :
The colleges that offer the best courses in Journalism are:
1. Indian Institute of Journalism and New Media, Bangalore
2. Symbiosis Institute of Media and Communication, Pune
3. Lady Shri Ram College for Women, New Delhi
4. Christ College, Bangalore
Question: Does Journalism have enough options and scope?
Answer :
Yes, journalism is a vast and varied field with endless scope and opportunities. As the world goes on with its events and happening each day, so does journalism. There are always new options being created in this field, too. Opportunities can be in various areas, also such as print, broadcast, digital etc.
Questions related to Journalism
Showing 766 out of 766 Questions
Interested in Journalism? Find information around eligibility, career scope, jobs , colleges and exams and much more for free.