10 Best Certification Courses After Hospital and Healthcare Management
While management studies are offered in a wide variety of options, the ever-popular MBA now has a fairly recent addition- Hospital Management. Very closely followed by the MBA in healthcare management, they are both getting acceptance by the industry. This specialisation is a two-year post-graduation program that is provided in numerous colleges throughout India and abroad. Online certifications courses after Hospital and Healthcare Management train candidates about different administrative and supervisory functions at healthcare or a hospital.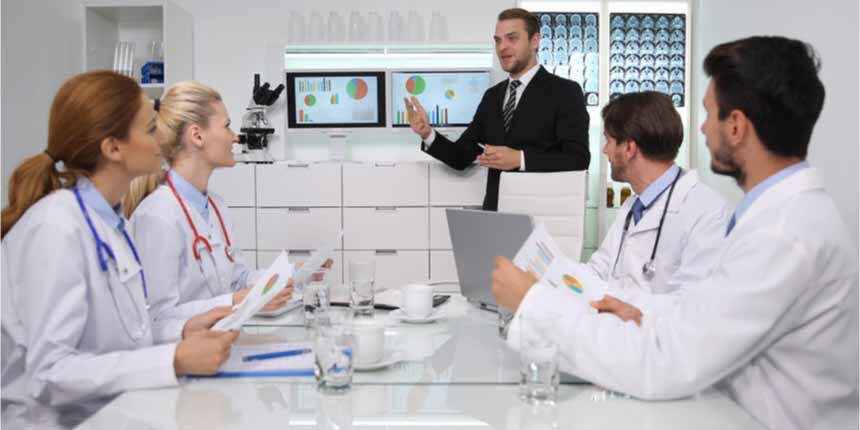 Hospital Management is largely used at the postgraduate level but a couple of courses under healthcare management are also provided at the bachelor's level. The Hospital Management MBA is available online, on-campus as well as through correspondence. MBA in Hospital and Healthcare Management is focused on strengthening the practical skills of trainees in the core healthcare sector. Its main objective is to impart a sophisticated understanding of multi-dimensional healthcare organizations, and operations of company administration and healthcare management. Below is the list of 10 best online certification courses After Hospital and Healthcare Management
Also Read: Professional Certificate Programme in Healthcare Management and Analytics by IIT Kozhikode via Erudituss
10 Best Certification Courses After Hospital and Healthcare Management
The Hospital Management MBA is designed at imparting niche skills to incumbents in the field of hospital administration. Candidates who have exceptional interaction skills, relationship structure abilities, and excellent knowhow of this industry are likely to find this courseware very rewarding.
1. Drug Development Product Management Specialization by UCSanDiego
This online certification course after completing Hospital and Healthcare Management helps in understanding the complete process of drug discovery and development. Candidates will learn Drug regulation, Pharmacology, Clinical Development, and research. The course will take almost 3 months to complete. The online certification course is available on Coursera free of cost.
View more - Public Health Certification Courses
2. The Business of Health Care Specialization by University of Pennsylvania
This online course after Hospital and Healthcare Management helps in keeping pace with the continuously changing healthcare environment. With the guidance of industry experts, candidates will learn health care policies to develop the required skills that will fetch good salary packages. Avail this online free certification course from Coursera to upgrade your skills in Hospital Management.
According to a study of the Bureau of Labor Statistics, US Department of Labor, The employment of medical and health services managers will increase approx 17% from 2014 to 2024.
3. Integrative Nursing Specialization by University of Minnesota
In this online certification course after Hospital and Healthcare Management, candidates will learn the ways to use the 06 principles of Integrative Nursing, the best way to practice it, and more. Healthcare professionals can upgrade their skills by learning these skills and courses from industry professionals.
Also Read: Post Graduate Certificate in Healthcare Management
4. Medical Billing and Coding Certificate
Many schools provide healthcare administration programs concentrated on medical billing and coding. Graduates are prepared to operate in medical facilities, clinics, doctors' workplaces, or assisted living homes. This kind of curriculum regularly covers subjects in medical terms, human anatomy and physiology, procedural coding, diagnostic coding, and healthcare law.
As a thumb rule, the online certificate in healthcare could require 6 months to a year's worth of research. Apart from medical billing, students also gain skills in computer innovation and organization interactions in many programs.
5. Medical Office Administration Certificate
A certificate focused on medical office administration may be a fantastic alternative if the Office management side of the trade interests you. Trainees find out about medical records management, workplace management, business interactions, healthcare financing, and healthcare law and principles. Jobs might be discovered in medical professionals' workplaces, clinics, healthcare facilities, or other health care centres. The courseware for a typical certificate environment is driven with the objective of being relevant to the jobs that candidates take up afterward. This typically takes 6 to 12 months to finish. It is essential to note, this time to conclusion can vary based on the number of courses you take and if one has transfer credits. Online trainees can access the online class at all times.
Also read - M.B.A in Health Care Management Colleges in India
6. Health Information Technology Certificate
Graduates of this kind of program are prepared with the understanding and abilities required to work efficiently with digital medical records. Typically, the courseware includes healthcare computer technology, industry software application, medical records management, healthcare law and ethics, and medical terminology. Trainees will also find methods to improve effectiveness in this area. The majority of online certificate programs with a focus on health info innovation take about 6 months to a year to complete. An online curriculum permits trainees the flexibility to work around their busy schedules.
Also Read: Certified Hospitality Facilities Management Professional by Vskills
7. Healthcare Management Certificate
Trainees interested in operating in a medical office management capacity for healthcare facilities, centres, physicians' offices, and retirement homes, might gain from this type of program. Courses cover subjects in healthcare delivery systems, health care finance, client records management, and Ethics & healthcare law. Usually, it is observed that Healthcare management courses range from 6 months to 1 year in duration. The range depends on the choice of electives and the degree chosen. In addition to typical industry topics, students may also find out about computer technology and service interaction. The versatility of finishing a certificate provides students with the alternative to continue operating at their present jobs while taking classes.
8. Public Health Certificate
Trainees thinking about a public health focus may want to work as health educators or social and social work managers. These positions exist in both the private as well as public sectors with healthcare facilities, centres, schools, non-profit companies, or government firms.
Given that this type of curriculum is developed for trainees who have finished a course at the Bachelors's level, the courseware will focus on healthcare subjects. Popular subjects may include epidemiology, biostatistics, behavioural and social sciences, environmental health, and health services administration.
View more - Health Economics Certification Courses
9. Health Information Certificate
Technology is a vital component in today's health care system. Trainees thinking about checking out computer technology, making use of biostatistics, and health data might have an interest in this kind of courseware. The incumbents will inculcate a working knowledge of how the efficiency of healthcare can be improved by ensuring systematic acquisition, storage, and retrieval of health information. Students can expect to finish the certificate anytime between six months to a year. This will depend upon the specific curriculum and variety of courses taken.
Also Read: Certified Hospitality Sales and Marketing Professional by Vskills
10. Post Masters Certificate
Courses at this level concentrate on leadership and critical thinking skills while training people to be mindful of the particular needs of the healthcare industry. Several tasks in this field need trainees to have at least a bachelor's in the topic, so taking the additional steps to pursue a master's degree followed by this one will unquestionably set you apart from fellow task candidates. Covering topics like health care interactions and tactical planning, these programs last between one and two years. The online post master's certificate used at Clarkson College has a structure where trainees just take one course at a time.
Career Options After Hospital and Healthcare Management
Though the Hospital management course is fairly a new field of post-graduation, the course uses a myriad of job opportunities. The need for management experts in the healthcare industry is ever increasing. The average course fee charged in India varies between Rs. 30,000 and 4 lakhs for the overall period. The average yearly wage used to successful postgraduates of the course in the country ranges between Rs 5 and 8 lakhs. The following table has interesting insights.
View more - Health Certification Courses
Brief Job Descriptions After Hospital and Healthcare Management
Hospital CEO - This position is essentially the chief of the hospital or the healthcare institute. He cares for the overall direction of the organization per the set standards. They ensure a flawless operation of the institute that they lead.
Hospital CFO - The Chief Financial Officer is accountable for the financial resources of the organization. The CFO guarantees that the hospital runs most cost-effectively. He also plans and manages all the financial elements of the hospital.
Hospital Administrator - This person in this position is accountable for taking care of the daily operations of the institute. They coordinate, control and arrange services according to the set standards. They also assist in the recruitment and managing spending plans.
Health director - The Health Director makes methods for the healthcare company. He makes sure that all the set goals of the firm are attained and targets accomplished. He deals with the leaders of the hospital and makes sure excellent public relations. He is, to put it simply, the face of the organization.
Healthcare Finance Managers - They work under the guidance of the CFO. The routine financial operations are handled under their purview. They closely monitor the company's spending plans and utilize financial analysis skills to keep the business solvent and healthy.
Chief Nursing Officer - They help the directors informing the very best techniques and practices in a hospital. They supervise the daily activities of a hospital and also care for the administration. They handle the nursing operations of the healthcare institute.
Scientific Project Manager - This position is responsible for the optimum running of the organization. They examine staff efficiency, train staff members, and resolve problems revolving around clinical studies.
Medical Affairs Manager - They contribute towards developing a brand technique. They likewise develop medical strategies and handle publications related to the brand name.
Also Read: Certified Hospitality Assistant
Salary After Hospital and Healthcare Management
| | |
| --- | --- |
| Job Profile | Average compensation (In Rs. per annum) |
| CEO of the Hospital | 42 lakhs to 9 crores |
| CFO of the Hospital | 27 lakhs to 39 lakhs |
| Administrator | 6.5 lakhs to 8.25 lakhs |
| Health Director | 7.5 lakhs to 9 lakhs |
| Healthcare Planner | 7 lakhs to 8.5 lakhs |
| Healthcare Finance Managers | 9 lakhs |
| Chief Nursing Officer | 10 lakhs to 11.5 lakhs |
| Clinical Project Manager | 9.5 lakhs |
| Healthcare Quality Assurance Manager | 12 lakhs |
| Assistant Professor | 5 lakhs |
| Medical Affairs Manager | 3 lakhs |
Explore Popular Platforms Certification Courses
Frequently Asked Question (FAQs) - 10 Best Certification Courses After Hospital and Healthcare Management
Question: Should I get an MBA or an MHA?
Answer:
While an MBA program provides general training in organization administration, an MHA program normally positions more of an emphasis on healthcare management. The very best MHA candidates usually are trainees who plan to construct a profession within the world of healthcare.
Question: What is the salary of an MBA in hospital management?
Answer:
This varies from Rs. 25,000 to 45,000 depending upon the college/university. While those with master's degrees are qualified to obtain a higher designation and can make Rs 4.5 lakh to 12 lakh per year. MBA holders can reach an optimal salary of Rs. 25 lakh per annum.
Question: What are some subjects in MBA Hospital Management?
Answer:
A few important subjects are:
Strategic Management in Healthcare

Managing Quality in Healthcare

Health Communication, Planning and Management
Question: What is the work of Hospital Management graduates?
Answer:
Hospital supervisors deal with administrators to prepare and collaborate with the health services of a hospital. They work to improve the efficiency of care, keep up-to-date on new laws, represent the facility at governing boards and arrange the records of facility services.
Question: Is Hospital Management a great career in India?
Answer:
A career in hospital management assists you to accomplish two objectives- an excellent pay bundle and service to mankind. The demand for competent administrators in healthcare facilities and healthcare centres is growing rapidly as the nature of operating in medical facilities is extremely dissimilar from other organizations.
Question: Is a Healthcare MBA worth it?
Answer:
It's not a surprise that more than 95% of students reported that the MBA degree is an "impressive worth" and an investment that more than pays for itself. Healthcare MBA holders are most likely to work towards their dream task that pleases their needs in terms of professional development and individual satisfaction.
Question: What jobs can one get with an MBA in Healthcare Management?
Answer:
Following are some popular job profiles:
Policy Analyst

Hospital Administrator

Health Services Manager
Question: What is the distinction between Hospital administration and Hospital management?
Answer:
Healthcare management focuses on supervising the direction of a healthcare facility or system, organization-wide efforts, and "broad view" requirements, while healthcare administration concentrates on private departments and spending plans, everyday operations, and staffing.
Question: What are the duties of a Hospital Administrator?
Answer:
Hospital Administrators are responsible for organizing and managing the health services and day-to-day activities of a hospital or healthcare centre. They handle staff and budgets, interact between departments and make sure adequate client care amongst other duties.
Question: Can I pursue Hospital Management after the 12th?
Answer:
To pursue a master's degree in Hospital Administration, you can be a graduate from any stream. Even non-medical students can look for this career. The Indian Society of Health Administrators (ISHA) supplies a one-year range finding out the course in hospital administration and nursing administration.
Question: How do Hospital Management Systems work?
Answer:
The hospital management system (HMS) is integrated software that handles different instructions of clinic workflows. It handles smooth healthcare efficiency along with administrative, medical, financial, and legal control. That is a cornerstone for the effective operation of the healthcare facility.
Question: What are the best certificates in Healthcare?
Answer:
Following are the most popular courses in Healthcare:
Certified Coding Specialist Physician-Based (CCS-P)

Certified Patient Care Technician (CPCT)

Certified EKG Technician (CET)

Certified Phlebotomy Technician (CPT)

Certified Clinical Medical Assistant (CCMA)

Certified Medical Assistant (CMA)

Certified Nursing Assistant (CNA)
Health Care Management Updates and Articles
Learn to lead a happy and peaceful life by taking these happin...
17 Sep 2021
People looking to get into healthcare management must have cer...
31 Mar 2021
Questions related to Health Care Management
Showing 65 out of 65 Questions