Average Nursing Salary in India is a variable product and depends on various factors such as the number of graduates, and type of job responsibilities. Last year, as the world was dealing with the coronavirus, doctors and nurses became our true saviors. They kept our patients safe and provided round-the-clock care. While they were working, they wore protective equipment and masks, which made them look exhausted. Their faces and bodies caught the attention of social media users.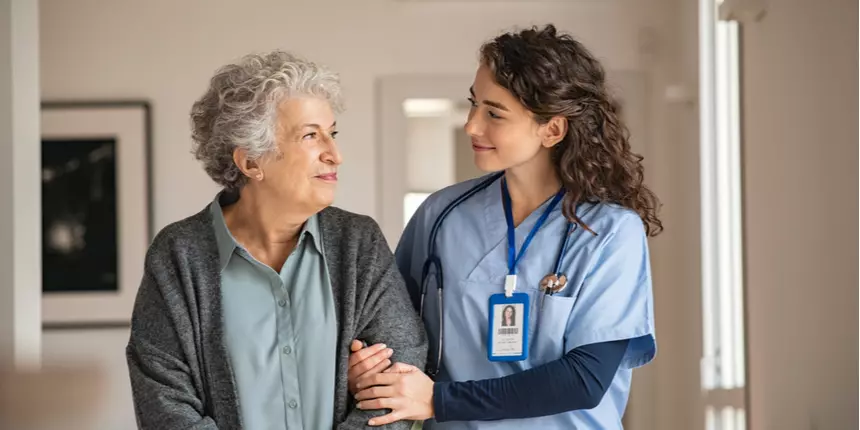 Average Nursing Salary in India - Job Profile, Scope, Responsibilities
Aside from being vital to the healthcare industry, nurses also play a vital role in the communities they live in. They deliver quality healthcare to people in need. In this article we will be looking into the nurse salary in India or the nursing salary per month.
Currently, India has the biggest nursing jobs in the world. Around 62% of medical professionals are working as nurses. According to the latest data, the global healthcare market is expected to grow at a steady rate of 6.27% in 2025.
Job Profile and Salary for Nursing
| | |
| --- | --- |
| Job Profile | Salary Range |
| | Rs. 3 LPA (Approx.) to 6.5 LPA (Approx.) |
| Head Nurse | Rs. 4 LPA (Approx.) to Rs. 10 LPA (Approx.) |
| Clinical Nurse Specialist | Rs. 7 LPA (Approx.) to Rs. 12 LPA (Approx.) |
| Nursing Instructor | Rs. 4.5 LPA (Approx.) to Rs. 8.3 LPA (Approx.) |
| Nurse Practitioner | Rs. 2 LPA (Approx.) to Rs. 10 LPA (Approx.) |
| Nurse Manager | Rs. 5 LPA (Approx.) to Rs. 40 LPA (Approx.) |
Nurses Responsibility: What Nurses Do?
The nursing job is committed to providing high-quality healthcare services to all individuals, regardless of their background or political inclinations.
This profession aims to provide the best possible healthcare to each individual. Through a combination of medical experts, nurses develop effective treatment plans and provide comprehensive care to meet the varying needs of patients.
The national codes and standards of the various countries vary slightly. However, all nurses follow the four core principles of nursing practice. These principles are focused on ensuring that the nurses deliver the highest quality of healthcare to their patients. They also act with integrity and honor by upholding the dignity of the profession.
Unlike doctors and other healthcare experts, nurses have different training and professional goals. Some nurses specialize in different areas such as palliative care, cardiac nursing, and orthopedic nursing. They also have varying levels of autonomy and prescription authority.
Also Read: How to become a nurse in India?
Where Do Nurses Work?
Many nurses work in various healthcare settings, such as hospitals, rehabilitation centers, and schools. They often work in shifts and are usually referred to as nurses. Some nurses may also act as experts on various insurance companies and can offer advocacy for their clients. Others may also work in pharmaceutical companies and research institutions.
Salaries in Nursing
A Registered Nurse typically earns an average nursing salary in India of Rs. 298,781 per year. This nursing job salary in India is based on an annual salary of Rs. 233,151 LPA. After 4 years of experience, registered nurses can expect to earn a total compensation of 249,994. Experienced nurses with 15 years of experience can expect to make 496,269.
Salaries for experienced nurses also increase as they gain more experience in the industry. This is because the more experience you have, the more skilled you become. Although private hospitals and government hospitals pay different salaries, government hospitals typically pay higher rates.
Also Read: BSc Nursing
Average Nursing Salary in India Range: Minimum, Medium and Maximum
Salary Range: An average nurse salary in India ranges between 13,300 and 37,300 INR per month. If your nursing salary is higher than the median and the average, then you're doing well.
Median Salaries: The median nursing career salary is 22,700 INR per month. This means that half of the nurses working are earning less than 22,700 INR, while the other half are earning over 22,700 INR. The median nursing salary is the portion of a nurse's salary that's left over after taxes. Generally, it's the portion of a nurse's salary that's left over after taxes.
Percentiles: The percentage of nurses who are earning less than 16,000 is also related to the median salary. In the distribution diagram, 75% of the nurses are earning more than 16,200 INR.
Related: Online Nursing Courses & Certifications
Average Nursing Salary in India By Years of Experience
The experience level is very important in determining the salary of a nurse. It can be a bit challenging to determine the right nursing salary for someone with limited experience. A nurse with less than 2 years of experience is expected to make around 15,500 Indian Rupees per month. On the other hand, a nurse with 5 years of experience is expected to make 19,600.
After five years of experience, an experienced nurse with an average salary of 25,800 will be 32% more than the average nurse with less than two years of experience. For nurses with expertise spanning between 10 and 15 years, the average nursing salary is around 30,300 per month.
If the level of experience is between 15 and 20 years, then an average nursing salary in India of the experienced nurse should be around 33,600 per month. For employees with more than 20 years of experience, the average nursing salary in India is 35,700 Indian Rupees per month.
Also Read: List of Nursing Entrance Exams in India
Is Nursing a Good Career?
Is Nursing a good career in India? A nursing career, it's a rewarding and satisfying job for individuals who desire to help others. There are many reasons to consider taking up nursing as a career. A nursing career comes with many rewards and opportunities. There are also various challenges and rewards involved in this field.
1. You Get to Help People in Need
You will be able to save the lives of people by providing them with the best medical care possible. You will also help them cope with their emotional issues.
As a nurse, you'll also promote the importance of well-being and public health. You'll also be able to positively affect the lives of many people.
2. Nursing Jobs are in Demand
Due to the increasing number of people needing healthcare, the demand for nurses will always be in high demand. Due to the increasing number of people needing healthcare, the demand for nurses has also increased. This profession is expected to continue developing.
With numerous job options, nurses can choose the one that best suits their interests. There are also various career paths available for nurses, such as becoming a Registered Nurse or a Nurse Manager.
3. There's Plenty of Room to Grow
Aside from being able to provide quality healthcare, nurses also have the opportunity to develop their skills in various areas, such as infection control and surgical asepsis.
4. Decent Package
According to AMN Healthcare's 2017 survey, 83% of registered nurses are satisfied with their job performance. Not only are they paid a good average nursing salary, but they are also regarded by the community as a whole.
5. You Can Pursue Nursing Education Online
Online nursing programs are also becoming more prevalent in today's world. These are designed to provide students with a well-rounded curriculum and practical assignments. Another advantage of taking up an online nursing course is that it's cheaper than traditional ones.