Who is a Staff Nurse?
Constant attention by a good nurse may be just as important as a major operation by a surgeon ~ Dag Hammarskjold
A doctor takes care of a patient's treatment but do you think he can do it all alone? The answer is no. Therefore, we need staff nurses who could help the daughter in the process of curing a patient. Staff nurse is someone who works closely with both the doctor as well as the patient. The doctor gives several instructions to the nurse in order to boost the patient's recovery and the nurse aids the patient in getting recovered following the doctor's instruction. The health sciences industry is vast in nature therefore, there are several job opportunities available for the post of a staff nurse.
Nursing is a common healthcare occupation which deals with different areas of clinical care. Nursing is a profession that supports those people in most need of medical treatment. Considered to be one of the bravest occupations, nurses practice in close contact with doctors and other healthcare staff. The main purpose of a skilled nurse is to understand the method and technical details involved in healthcare.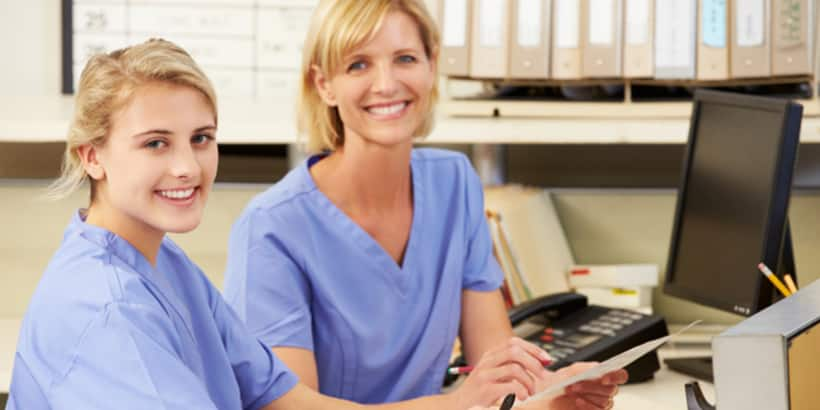 Staff Nurse in a Nutshell
Nurses' work profiles can be described with the form of responsibilities and tasks they provide. Although some are generally involved in preparing and identifying requirements for patient care, performing the operative treatment, others are expected to maintain medical records, manage and control routine check-ups and medication.
Quick Facts for Staff Nurse
Industry

Healthcare

Suitable for

Male, Female, Others

A Staff Nurse's position is not necessarily gender-specific. It can be selected by men, women and others as their own profession. In fact, gender does not appear to have any effect on wages. But usually, women take these careers as their future prospect.

Any special needs

Yes

The profession Staff Nurse suits everyone, even those with special needs. People who are physically deformation can support those people who need medical care. They must aim to show the world that, through many tough circumstances, they can still accomplish their goals.
What is the role of Staff Nurse?
Even before a patient comes into the equation the duties of a nurse can begin. The general nurse job description is to maintain a secure and hygienic environment for patients, and also clean rooms, secure the safe operation of facilities and decontaminating tools. A nurse's day-to-day duties may include taking medical records and completing medical tests. Also, a part of their job is to track the changes in a patient's health, observe and monitor his actions. Nurses are eligible to perform the treatment and medication plans.
Patient care
The role of a staff nurse is to perform patient care and healing. Nurses serve to care for people who are suffering from disabilities, accidents or diseases. When patients visit a hospital, clinic, or medical centre, they will be the first health care professional patients interacted with. Nurses commonly analyze the condition, take the report back to physicians, and then they can diagnose them in better detail. Staff nurses work long hours. Their roles are challenging and so they have to be physically, emotionally and mentally healthy to manage the physical demands of everyday life. Most health-care services can not survive without nurses.
Maintain records
Staff nurses keep health care records and report precise and complete. They take care of the patients ' medicines and monitor them for complications and reactions. Staff nurse recommends medical equipment and other therapies. They report vital signs and medical records of patients. Often order clinical and medical diagnostic tests. The track, report, and record patient reactions or changes. Staff nurses also take care of non-intravenous medications. Assess, execute, schedule, or review nursing care strategies for patients by communicating with members of the healthcare team. Changing care plans for patients, as shown through symptoms and reactions to patients is also a vital responsibility of the staff nurses.
Action recommendations
A staff nurse recommends medical equipment and other therapies as per the conditions and medical reports of the patient. They report vital signs and medical records of patients. Often order clinical and medical diagnostic tests. The recommendations they placed are important for patient care. Recommendations are the additional suggestions that want people to obey while carrying out any diagnosis.
Assistance
A staff nurse assists with the handling of medical equipment and instruments for the patient's diagnosis and treatment. He or she has to be careful while using such equipment and instruments. He or she is also responsible for the cleanliness of medical equipment and instruments. Medical equipment is being used for the specific uses of evaluating and treating illness or traumatic injury, it may be used individually or in addition to any other medical device.
Types of a Staff Nurse
Registered Nurses: Registered nurses are primary nurses in the industry, collaborating with the doctors and communicating with patients and their families are the main responsibility of these nurses. They are more involved in advanced treatment than Licensed nurses. These nurses are licensed with healthcare organizations and agencies. They collaborate with the surgeons or specialists within the hospital premises to conduct activities in hospital settings.
Nurse Practitioners: Nurse practitioners may make more choices about tests, procedures and other procedures. They go much further than Registered Nurses' reach and work closely with physicians. Nurse practitioners receive certifications in professional areas such as critical care, family medicine, and pediatrics.
Travel Nurse: As the title indicates, these are nurses who serve on a rotational basis both domestically and globally. A travel nurse's job culture is equal to a registered nurse.
Licensed Practical Nurses: Licensed practical nurses provide patients with basic care such as washing, checking patients and applying bandages. They perform the duties which they are ordered to perform by the seniors.
Neonatal Nurses: Neonatal nurses are generally registered nurses who have been trained to take care of prematurely born babies or other problems of safety. They provide lactation assistance to mothers in intensive care nurses who visit and to the feed patients, as well as informing families how and when to care for infants after hospital discharge.
Intensive Care Unit (ICU) Registered Nurse: Intensive Care Unit (ICU) Registered Nurses have a specified and definite function designed only to take care of the medical and maintenance requirements relevant to the hospital or Intensive Care Units of nursing homes. They may work with specific types of patients or patients of a specific age group.
Operating Room (OR) Nurse: Operating room nurses, also known as Perioperative Nurses or Scrub Nurses, are responsible for the care of patients throughout, and after the surgery or treatment.
What is the workplace/work environment of Staff Nurse like?
Registered nurses operate in clinics, physicians ' offices, home health care, and nursing homes. Others operate in ambulance clinics and schools or serve in the armed forces. In Hospital sixty percent of registered nurses works, eighteen percent works in ambulance/mobile clinics, seven per cent works in-home healthcare, five per cent in armed forces and three per cent works in educational services.
Does Staff Nurse require travelling?
Likely
Many nurses often travel, travelling in India and around the world to support patient care in countries where there are not enough healthcare staff.
Employment Shifts
Full Time, Part Time, Hourly Basis, On Call
Patients require round-the-clock treatment in hospitals and nursing homes, nurses in these settings typically work in shifts, covering all twenty-four hours. They are required to work evenings, weekends, and holidays. They could be on-call, which means they are in service and have to be ready for short notice work. Nurses who work in workplaces, classrooms and other areas where twenty-four-hour treatment is not offered are more likely to work normal business hours.
Employment Nature
Permanent
Staff nurses gain employment in various hospitals that can be private and government. They also work in clinics.
Work Place
hospitals
A majority of the nurses are employed in hospitals and private nursing homes.
Presence in Geographical Area
Rural, Semi-urban, Urban
Nurses are required in every area of the country, whether it is an urban area or rural area because hospitals or small clinics are present everywhere. But in rural areas where big hospitals are constructed, Staff Nurses are required in huge numbers.
Time Pressure
Likely
Staff nurses are required to work under a lot of time pressure. Patients require round-the-clock treatment in hospitals and nursing homes, nurses in these settings typically work in shifts, covering all twenty-four hours. They are required to work evenings, weekends, and holidays. They could be on-call, which means they are in service and have to be ready for short notice work. Nurses who work in workplaces, classrooms, and other areas where twenty-four-hour treatment is not offered are more likely to work normal business hours.
Overtime Details
Staff nurses work overtime quite often. As far as the work hours are concerned, they work for about 10 hours a day and six days a week. However, in an emergency situation, their work hours can increase significantly. During the crisis, nurses are known to work continuously without taking a break.
Weekly Hours of Work
Min 50 Hours
As far as the work hours are concerned, they work for about 10 hours a day and six days a week. However, in an emergency situation, their works hours can increase significantly. During crisis, nurses are known to work continuously without taking a break.
How to become a Staff Nurse?
What are the skills and qualities required to become a/an Staff Nurse?
Cultural sensitivity: Being aware of cultural sensitivity is understanding that not everyone is just the same. It includes understanding from different types of people, knowing their backgrounds, working closely with all of them, and cooperating with each other, without ever being judgmental. Cultural awareness means that everyone should be regarded as one particular individual. It is necessary to provide complete patients' treatment. Various cultural beliefs and values affect the patient's safety, health, care, acceptance of medication, and commitment to it, and sometimes even death. Understanding, honouring and meeting the needs and desires of the patients as per their specific values and beliefs, traditions, and activities should be part of both the nursing scheduling and performance.
Professionalism: Professionalism embraces the behaviour patterns, personality, and ethics of an employee's at the workplace. Individuals with high levels of professionalism are often seen as more reliable and trustworthy than their coworkers. Everything that staff nurses say and do reflects their ethical principles and moral values. Nurses should always practice professionalism in front of clients as well as in front of colleagues. respect, behaviour, honesty, obligation, and discipline are some of the main areas of Professionalism in nursing skills. But the day-to-day job is the responsibility of patient care.
Attention to detail: Attention to detail is what distinguishes a regular employee from some kind of brilliant one. Businesses are striving for employees who could really recognize minor intricate details to generate comprehensive, detailed work. Developing and perfecting the attention to detail not only means that you can prevent a medical mistake, but it also helps to provide better treatment for the patient. Reflect on active listening, observe the patient's non-verbal signals, and understand their words. This makes the patient think that they are heard as well as understood. It also allows them to relate to their unspoken desires.
Critical thinking: Critical thinking is essential as it allows individuals and communities to analyze issues more effectively and to find alternative approaches that are not necessarily understandable. And also critical thinking is a method to settle organizational disputes. Skills which help balance these will make their life significantly simpler. Critical thinking brings together knowledge, facts, results, and observations and transforms them into successful patient plans and solutions. Keeping up with the latest with the reviews of technical journals and then get active in the processes of improving the efficiency of the service. These are only two ways that can improve critical thinking abilities.
Compassion: Compassion is basically empathy and concern. Being accessible to everyone else means allowing everyone to be creative and resourceful in difficult times. Compassion and understanding allow people to connect to individuals. It tends to help everyone to get things accomplished and to deal with the pressure and the hardships of leadership. In the healthcare system, nurses are at the front lines working intensively with patients, their families, and challenges. Maintaining humanity is necessary if good treatment is to be offered, but complicated to do in today's world.
Patience: Patience is one of the aspects that play a significant role in accomplishments to contribute significantly. Patience is a vital element of workplace achievement. Employees have to experience several circumstances many times that really need patience. They, therefore, need to operate a few more extra shifts, due to the extreme urgency of certain circumstances. Nurse boredom is a common phenomenon that demands that nurses first should take care of themselves to protect this. Exercise, meditation, or volunteering might be useful ways to connect and maintain the ability to serve those who led them into some kind of profession in nursing. Many companies educate their nurses on self-help strategies and stress reduction courses.
Time management: Time management is the method of increasing the knowledge and skills of the time spent on specific tasks to operate cleverer unlike extremely hard. It's a balancing act of multiple things that would help them boost efficiency and strike a perfect balance between work and personal life. Putting job at the first priority and remaining organized, wherever necessary, with individual checklists, or databases and multi-tasks. Using the anticipatory, delegated, and supervisory nursing abilities to that end. Staff nurses also need to find a nurse mentor or co-worker and discuss ways to improve the day-to-day time efficiently.
Rationality: Rational thinking enables us to make judgments in familiar or unexpected circumstances by implementing actions that will allow us to collect and analyze the necessary information. Support others to develop their ability to think. They may teach someone else how to develop their own rational thinking when they perceive thought as a method. Nurses are the essential connection between patients and physicians, and in order to manage patient care, they must interact efficiently with other health care staff too. Being descriptive and rational is very important. The same applies to contact with clients. While dealing with patients and their families, staff nurses need to be cool, rational, and polite. Taking the time to get to know the patients and their families and develop the most effective and secure communication techniques for them.
Which certifications and internships can be helpful in becoming Staff Nurse?
Internship Availability
Yes
An internship is an opportunity that an organization offers aspiring employees, considered as interns, to operate at any business for a defined duration. Healthcare professionals are generally university or graduate students and therefore the internships last from one month to six months. The internship could be paid or unpaid however interns are recognized with a credential and an appreciation letter after successful completion of this period. These certificates mainly help them in future placements. Students browse for this and register for an internship programme personally or even with the assistance of the multiple sites, and attach a portfolio with a cover letter to the interviewing entities to reflect the experience and desires and typically include some experience in the industry that the candidate has in himself.
Interns are capable of finding decent jobs in private hospitals, clinics and government hospitals as well. They hire interns to assist the senior nurses and doctors in the operation and other routine check-ups. With the recruiting platforms like naukri.com, Glassdoor, Internshala, indeed.com, and other online platforms someone could explore multiple options.
Career Path Progression for Staff Nurse
Healthcare assistant: Healthcare assistants are generally known as nursing assistants. They take care of patients in hospitals and other medical centres. They work under the guidance of qualified professionals.
Senior healthcare assistant: Senior healthcare assistant works with a medical team to provide the best care to patients. Senior healthcare assistants help doctors on a daily basis to take care of the patients.
Senior staff nurse: Senior staff nurse works as a part of a team to provide a safe, effective, efficient care environment for patients. They are responsible for the assessment, planning, implementation and evaluation of programmes.
Community Care assistant: They guide clients with personal care tasks, such as washing, dressing, eating and toileting. Also, perform light housekeeping tasks, such as dusting, vacuuming and changing bed linens. Assist in the safe lifting, transferring, repositioning and movement of clients.
What is the job outlook for Staff Nurse?
Registered nurses' employment is expected to rise by twelve per cent over the next ten years, significantly higher than the average for all professions. Job creation can occur for a number of reasons. Compared to the growing population, demand for healthcare services will grow, as elderly people generally have more medical issues than younger people. Patients with numerous medical illnesses, such as asthma, depression, diabetes, and obesity, may also require nurses to educate and care for it. Economic pressure on hospitals to release patients as quickly and efficiently as possible will lead to more people being admitted to long-term care facilities and other treatment centres, with a greater demand for home health care.
Job development is projected in facilities offering long-term care for patients with stroke and brain injury, and in facilities treating people with Alzheimer's disease. However, many older adults need to be treated at home or in residential care facilities, licensed nurses in such settings would be in demand.
With developing importance on healthcare services, nursing career opportunities look so much better than ever before. There have been growing numbers of hospitals, nursing homes, and medical institutions coming up. The government on its part is working extremely hard to provide support to the country's nursing industry. The government has planned to establish more than 130 Auxiliary nurse-midwife, and General Nursing and Midwifery schools each, according to the current development. Plans are already in progress to develop the State Nursing Councils and Nursing Cells in various regions. These plans also include the development of new Nursing Colleges throughout the nation. The Government, therefore, approved special hospitals to begin M.Sc.Nursing programs without including the necessity for creating corresponding degree programs for such institutions.
The rules for admission to nursing schools were also modified so that married people would then be admitted to different nursing schools. Trained and experienced nurses are in great demand worldwide. However, India has emerged as the biggest nursing supplier to overseas countries. The attraction of huge money and improved standards of living abroad also attracts professional Indian nurses.
Frequently Asked Questions for Staff Nurse
Que. Who is a Staff Nurse?
Ans.
In general, a staff nurse is a licensed nurse who cares for patients with physical/mental illnesses and/or injuries.
Que. What are the different ranks of Nurse?
Ans.
Certified Nursing Assistant (CNA)
LPN / LVN
Registered Nurse (RN)
Nurse Practitioner
Certified Nurse-Midwife (CNM)
Certified Registered Nurse Anesthetists (CRNA)
Doctor of Nursing Practice (DNP)
Que. What is the difference between a staff nurse and a registered nurse?
Ans.
A staff nurse is a lower-ranking person compared to a nurse in charge. In other words, a registered nurse is a person who is licensed by the state, country or province to practice and provide healthcare services. An RN must be a staff nurse.
Que. What are the functions performed by a Registered Nurse?
Ans.
Registered nurses perform many practices. They note and update the patients ' medical records, as well as help them recover quickly. To ensure proper functioning they supervise other nurses. Often they take care of the benefits and billing of the part. They also engage in laboratory research and evaluate the medical records of the patients.
Que. Describe the ward nurse job description.
Ans.
Ward nurse job description is mainly to develop or contribute to their patients' health-care programs. They can also be expected to support other nurses also in the hospital through assisting their patients with personal treatment at a certain time. Individuals monitor all patients, and note their findings in reports.
Que. Describe the medication nurse job description.
Ans.
Medication nurse job description is to operate in nursing homes, hospitals for elderly care, rehab centers and other facilities. They primarily research drugs and their adverse effects and share awareness of diverse forms of compound medicines. Their responsibility is to offer patients medications as recommended by physicians.
You might also be interested in
The question have been saved in answer later, you can access it from your profile anytime.
Access now
Report Question
Select your reason of reporting