How to Become UI/UX Designer - Skills, Career Prospects, Salary
Are you searching forhow to become UI UX designer? A UI Designer is a professional who creates, designs and organises interactive elements. He or she works in close collaboration with UX Designers. The role of UX Designers include mapping out the vision of the project. A UI and UX Designer works in close collaboration with the Product Designer. A Senior UI Designer usually takes up the lead on conjuring up ideas for visual elements. An entry-level UI Designer adds input concerning the look and feel of the website instead of focusing on storyboards, process flows or sitemaps. The articles gives a brief on how to become UI UX designer.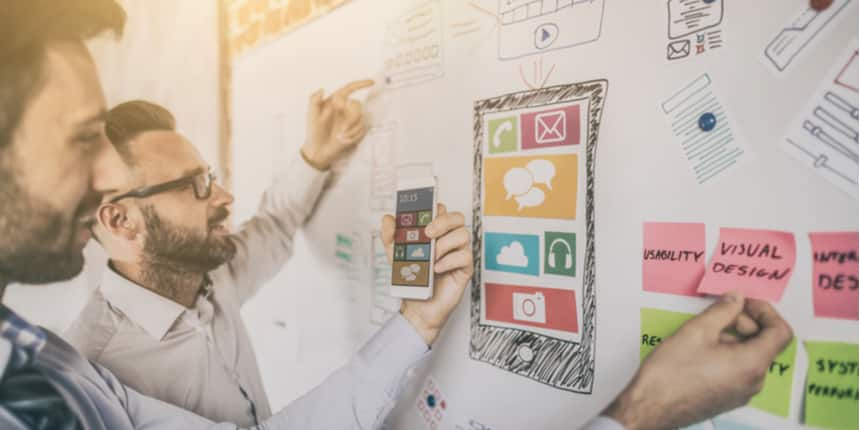 What is UI Designer?
A UI Designer is responsible for taking insights based on user research and personas. He or she works on user interfaces with the help of crafting interactive design elements such as buttons, widgets, tabs, scrollbars, sliders and search fields. An experienced UI Designer may also provide fonts, layouts, graphic design elements, colour, images, animations and icons.
The major responsibilities of a UI Designer include creating and enforcing style guides and visual language to ensure the consistency across the board. He or she designs each and every individual screen to which users might interact. A UI Designer makes necessary decisions about layout and visual design elements. He or she creates animations and ensures the layout will work across varying screen sizes. A UI Designer may utilise different types of wireframes.
Low Fidelity Wireframes are utilised to quickly sketch user flows on paper. It is used to convey ideas in the cheapest and fastest way.

Clickable Prototypes consist of screen layout, user journey and overall visual design. By utilising it a static screen with a medium level of detail can be created.

High Fidelity Prototypes can be utilised to finalise the designs in order to hand them off to developers. As it closely resembles the finished product.
UI Designers have numerous prototyping tools to choose such as InVision and Sketch. The more advanced prototype tools are Proto.io, Flinto, Principle or ProtoPie.
Also Read: Career as Computer Programmer
To know how to become UI UX Designer, scroll down and read.
UI Designer Skills
We have provided here a list of UI Designer skills. These skills are crucial to remain competent and efficient in a fast paced UI Designer work environment.
Creativity and Design Skills: A UI Designer is required to create UI designs with attractive features. He or she must possess knowledge of textures, colour gradients and font styles to incorporate designs to support the business objectives. Numerous UI Designers develop these skills through practical experience with artistic design and digital interfaces.
Technical Skills: A UI Designer must possess technical skills and knowledge. He or she must be able to create and integrate UI strategies into websites and applications. A UI Designer evaluates and improves technical aspects of a design. Technical skills are required to support the learning to utilise new programs for future projects.
Industry Knowledge: There has been a rapid change in the UI and UX design concerning the future innovations and advancements. Specialised skills such as design strategies, current applications and other resources are crucial to advance the career. It is crucial to build industry knowledge and be aware of new ongoing developments in UI Design.
Attention to Detail: A UI Designer requires attention to detail in order to plan, integrate and modify UI systems. He or she must be able to identify and improve the elements affecting the quality of the designs. Attention to Detail is crucial to evaluate and make informed decisions concerning the project outcomes.
Problem Solving Skills: A UI Designer must be able to troubleshoot and apply skills to overcome challenges. Most employers look for UI Designers with the ability to resolve conflicts or disagreements. He or she must be able to apply problem solving skills to work in collaboration with colleagues and clients.
Teamwork Skills: A UI Designer works in a team environment. It is crucial to collaborate and work in a team in order to create and improve outcomes that support the business goals and user requirements. UI Designers work with diverse individuals in web development or design teams.
Popular Online Design Courses and Certifications
UI Designer Career Prospects
Aspirants usually search for how to become a UI UX Designer. Let's check the career prospects of UI UX Designer. A UI/UX Designer career comes with plenty of job opportunities. It offers alluring salaries, work-life balance and day-to-day work life. A UI/ UX Designer works with a multidisciplinary team of designers, developers and marketers. From the career perspective of job security, it is a best suited career. A UI Designer finds employment in any number of industries such as companies, work situations, startups, agencies and large corporations. Working as a Freelance UI Designer, you get the opportunity to be your own boss. Remote work and work from home is also provided in a UI Designer career. A UI Designer has a high scope in future as it will lead the innovations that seem to be on the horizon. UI Designers are going to play a crucial role in futuristic products such as self-driving cars and Internet of Things. UI Designers tend to work on a huge array of product types for various industries and companies. It provides an opportunity to learn and experience new things at work.
Also Read: Career as Web Developer
how to become UI UX designer
Young aspirants usually ask how to become a UI Designer with no experience or how to become a UX Designer. Well, we have an answer for this too. Individuals who want to become UI Designer may opt for relevant certifications or get themselves in a degree programme that provides skills to establish a career in web development. Any undergraduate degree in computer science, software engineering, computer applications are sufficient for a career as UI Designer. BCA and MCA are popular UI Designer degrees. After completion of an academic degree, they can opt for UI UX Designer internships. It further increases candidates' chances to acquire full-time job roles.
How to get a job as a UI Designer
There is no rocket science involved in getting a job as UI Designer. To bag the role, you need to work on your skills and master them. Besides this, working on acquiring soft skills plays a key role such as communication skills, coordination, teamwork and time management. You might be searching for how to become UI Developer? The education requirements for both are the same. An internship in the same increases the chances of acquiring a full-time job role. Build an impressive resume adding required skill sets according to the role to get notified by the recruiter. Apply for entry -level jobs through recruitment websites such as LinkedIn, Naukri.com. Indeed. Glassdoor and others.
UI Designer Salary
The salary of UI Designer varies depending on candidates' skills, knowledge, qualifications and prior work experience. The size and structure of the organisation also affects the salary. The average UI Designer salary is Rs. 490138 per annum.
| | |
| --- | --- |
| Experience | UI Designer Salary (per annum) |
| 0-1 Year | Rs. 301157 |
| 1-4 Years | Rs. 409479 |
| 5 -9 Years | Rs. 732511 |
| 10 - 19 Years | Rs. 918809 |
An average Fresher UI Designer salary in India is Rs. 301157 per annum.

The average entry-level UI Designer salary is Rs. 409479 per annum in India.

A Mid-career UI Designer salary in India is Rs. 732511 per annum.

A Senior UI Designer salary in India is Rs. 732511 per annum.

An experienced UI Designer salary in India is Rs. 918809 per annum in India.
Student Also Liked:
Conclusion: Aspirants are required to acquire relevant skills and qualifications to become a UI Designer. They can give a start to their career by opting for UI Design internships. It provides the exposure and increases the chances of acquiring a full-time entry-level UI Designer role.