One cannot really think of warehouse management without having an idea of or interest in logistics and supply chain movement. It is an unknown fact that we are eligible to take warehousing management certification courses right after the high school examinations. By pursuing warehouse management courses, you can pave the way for your careers as supply chain managers, warehouse managers, warehouse administrators, and so on. When we talk about the best online warehouse management courses and warehouse designing certificate courses, there are different levels that go up to seven.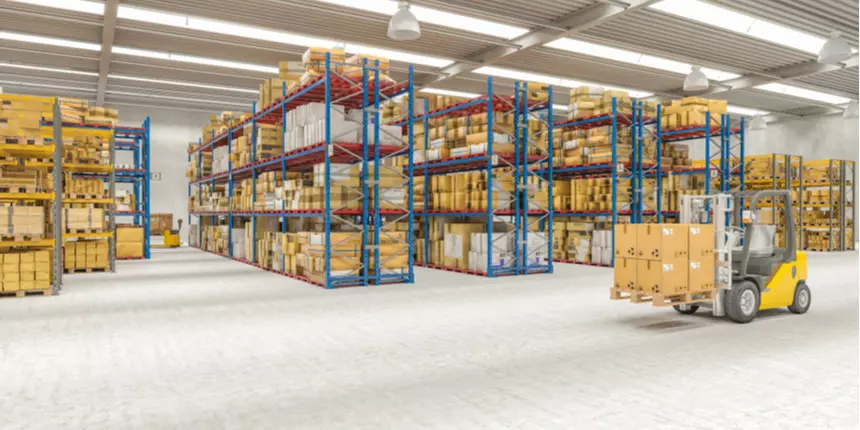 5 Best Online Certification Courses in Warehouse Management
The duration of the warehouse management training is totally subjective to the institute providing the warehouse certifications, so cannot be ideally classified. The more one completes the levels, the more it counts for their experience and makes them more likely to pursue a long-term, high-paying career in this field of warehouse inventory management. There are many courses on warehouse management through which various aspects related to it can be learnt.
Online learning has picked up big time, especially in sectors such as supply chain and logistics. Courses on warehouse management deal with various aspects of warehouse management systems, such as inventory management, warehouse operations, the design, layout, and security of the warehouse, order fulfilment, quality control, and many more.
In a country like India, where e-commerce and logistics are picking up pace, having a job in supply chain management will help you understand market dynamics better. So is the demand for warehouse management system certifications among learners. In order to help aspirants upskill themselves, we have curated a list of the top five online courses on warehouse management that you can use to skyrocket your career in the supply chain management industry.
Also read: Top 10 Warehouse Management Software
Inventory Management Vs Warehouse Management
Both of these terms seem to overlap, but there is a key difference between them. Inventory management is focused solely on the actual items being held within a warehouse. Its main goal is to control and monitor purchases from suppliers to customers, maintain the storage of stock, and control the product amount for sale with order fulfilment. On the contrary, warehouse management is more concerned with the "journey" of individual items as they flow through the warehouse from receipt to shipment.
Technology has a critical role to play in the whole process of warehouse operation. A warehouse management system is used to coordinate activities including collection, packaging, and transportation, as well as organising inventory renewal. Warehouse management systems (WMS) have evolved from their vintage days, where most of the work was done through handpicking and handwritten records, to the modern days, where we see a greater involvement of modern technology.
5 Best Online Certification Courses in Warehouse Management
Courses on warehouse management provide you with the expertise and abilities required to succeed in the constantly evolving sector of warehouse operations and the extended warehouse management system. Warehouse management courses are created to give you the practical knowledge, strategic thinking skills, and industry-specific insights you need to successfully negotiate the challenges of contemporary warehousing.
An ideal combination of theoretical knowledge and practical training provided by these courses on warehouse management helps you achieve your objectives, whether you are an expert wishing to enhance your skills or a person wishing to make a career in the warehouse management industry. These courses on warehouse management will help you improve your warehouse operations by introducing you to the basic principles of warehouse management systems and extended warehouse management systems.
Warehousing courses also give you a glimpse of possible future advancements. There are numerous online certification courses on warehousing, warehousing management systems, and extended warehouse management on the Internet. To help you pick the right warehouse course for you, here is a list of the five best online courses on warehouse management systems to choose from and pursue.
Top Warehouse Management Training Programmes
| | | |
| --- | --- | --- |
| Course | Duration | Platform |
| | Self Paced | Vskills |
| | Self Paced | Vskills |
| Warehouse Design and Management | 5 Days | IIM Ahmedabad |
| | 200 Hours | Oxford Home Study Centre |
| | Self Paced | Grey Campus |

1. Certified Warehouse Manager - Vskills
This warehouse manager course focuses on different techniques required for the successful running of a warehouse and covers many aspects related to warehouse management, such as its role, the significance of multiple storage equipment, the advantages and IT needs of warehousing, and so on.
These kinds of warehouse certifications require an exam with MCQs, for which you need to score 25 marks to get qualified. The offerings of this warehouse manager course include:
Government certification
Lifetime certification validity
Everlasting e-learning access
Free practice tests
2. Certified Supply Chain Management Professional - Vskills
This is one of the warehouse management courses for supply chain managers that examines the learners based on the needs of the company. This certificate course in warehouse management deals with various concepts related to supply chain management, such as its operations, significance, historical development, customer association, and many more. The exam for this warehouse course has 50 questions and no negative marking.
To pass the test in this course on warehouse management, you have to score at least half of the total score, that is, 25/50. This warehouse management course offers:
Government certification
Placement assistance
Lifelong e-learning access
Free practice tests
3. Warehouse Design and Management - IIM Ahmedabad
This is one of the highest-rated warehouse management courses for entrepreneurs and will provide ample knowledge about various concepts of the warehouse, such as design, management, and performance, along with administrative and legal aspects. The offerings of this warehouse manager certification include:
IIIMA Certification of Accomplishment
Guidance from the best professionals
Case modules
Simulation games
4. Warehouse Management QLS Level 3 Certificate - Oxford Home Study Centre
The Oxford Home Study Center offers five levels of courses on warehouse management systems. This is the 3rd level of the Warehouse Management course that will teach you about warehouses, the types, and functions of warehouses, warehouse operations and systems and warehouse inventory management. This warehouse management system course will also explore warehouse material handling. The highlights of this warehouse management course include:
200 hours of course material
Endorsed by Quality License Scheme
No entry requirements
5. SAP Extended Warehouse Management Training - Grey Campus
This is one of the best online certification courses in warehousing management that focuses on extended warehouse management. You can learn about warehousing structures and master data, warehouse organisation and warehouse monitoring and processing with mobile devices. This warehouse management training also covers others related to extended warehouse management, such as warehouse monitoring and processing with mobile devices, as well as additional functions in SAP extended warehouse management.
Conclusion
Warehouse management and supply chain management are some of the fastest-growing career options and are seen as satisfying professions. Thus warehousing courses online being pursued by candidates are also on the rise. Learning warehouse management courses will open various new avenues in the logistics and supply chain domains. You can also pursue a diploma in warehouse management. Warehouse management course fees vary according to the level and the institute offering them. As you can enrol in warehouse management courses right after the high school examination, there is scope for gaining knowledge on warehouse management systems, warehouse operations, and extended warehouse management at an early age.
Getting into any of the available warehouse manager certifications makes securing the job easier. Anyone interested and who belongs to the commerce or logistics field can opt for warehouse management courses. The scope of landing a job in this field advances with every addition to one's skill set, especially the ones related to technology from an inventory management course online or from the different warehouse management classes.