As the world is becoming a global village, multinational companies are continually seeking candidates who can address cross-cultural challenges and think on a global scale. Individuals can pursue a career in International Business Management from an international management institute, including banking, commerce, or a multinational corporation with international business courses. If you are wondering why choose international business management and is international business management a good course, we have brought you this article on the benefits of studying international business management.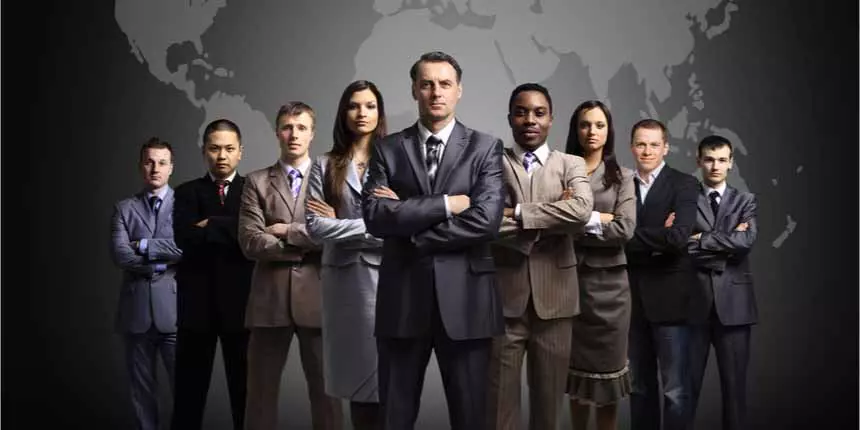 10 Benefits of Studying International Business Management
The mechanism and level of modernisation have rendered the study of international business important to everyone. These 10 benefits of studying international business management covered in this article will help you understand the importance of business management courses in a global context. They will also help you in making better decisions when opting for the best international business management certificate courses.
Also Read: MBA in International Business Admission: Eligibility, Selection Process, Fees, Top Colleges
What is International Business Management?
The term International Business Management focuses on leading global business management areas. An international business management course addresses a company's requirements by incorporating the aspects of finance, marketing management, human resources management, and more. Opting for an online international business management course will provide learners with a wide range of transferable skills, from analysis and planning to presentation and writing.
One of the main reasons of why study international business management is that it trains students for management or consulting positions globally. Read on to know the relevance of global business management and international business management course benefits.
Also Read: 10 Free Online Management Courses with Certification
10 Benefits of International Business Management
There are several benefits of studying courses in global business management. Students can check the international business management course benefits below.
1. Diversity at World Marketplace
One of the benefits of studying international business management is the exposure to the diverse nature of the global marketplace. International business is substantially unique and dynamic owing to variations in 'environmental conditions' and 'operational structure' amid an expansion of the domestic industry. The experience made the domestic economy globally, safer, and more comfortable. Therefore, it is essential to recognise the prevailing conditions in a given country wherein investment is now to be produced and where the exchange is to take place with other nations.
It is a small world, and it is only getting smaller with ever-evolving technology. The economy is globalised today. When corporations are faced with more foreign transactions and acquisitions than ever before, employers are continually searching for staff with the expertise to handle these transactions. Whether you are majoring in international business or following a global specialisation in management through a general business programme, you will be able to have international business management on your degree and your resume.
Read more: International Business Diploma Courses
2. Growing Portion of the World's Business
The term Globality was adopted at the annual meeting of the World Economic Forum in Davos, Switzerland, in 1999. It refers to the consequences of the globalisation process. An international company forms a significant and growing part of the market world over. Global disasters impact all forms of businesses that perform abroad, as well as domestically. Whether engaged in a foreign business or not, the management of the company needs to be aware of what is happening internationally in its markets and its industry. This growing need for talent in this field ensures the demand for online certifications and degrees in international business.
No nation, while drawing its economic policies, can ignore the foreign sector. Most issues apply to foreign policy and also international trade, investment, and finance. One of the reasons the VAT (Value Added Tax) was implemented in India was that it was in effect in 123 countries worldwide.
Also Read: Top International Business Colleges in India
3. Range of International Financial Transactions
One of the benefits of studying international business management like an MSc in International Business is that the business enterprises can recognise the mode of financial transaction suited for them. All transactions are risky business. A good entrepreneur can manage to escape or reduce risk, at least. The risk basket associated with a foreign transaction is likely to be different from domestic Indian trade. Not only are the risks different but also variations in attempts to mitigate the risk. It is also worth considering that such risks fluctuate continuously.
The characteristics of the risk can differ by form of transaction. Financial transactions are categorised into four categories- exports imports, business purchases, authorising, and foreign direct investment. The combinations of one or more of the four different categories are a franchise, joint partnership, and counter-trade. One of the main benefits of international business management courses is that companies must determine which mode of transaction or process to use when conducting international business.
4. Getting to know the External Environment
Working knowledge of basic social sciences such as politics, economics, psychology, geography, or others is also needed to draw your conclusion by observing the external environment to do international business. Having an understanding of the external environment is very important in the business and it proves the international business management scope. The political ecosystem informs us how and why it affects elected officials and how it regulates foreign business. The legal environment (both domestic and international) tells us all kinds of laws that businesses have to work by. The cultural climate informs us about the essential perceptions, values, and opinions of entrepreneurs.
The economic environment informs us about the hosting nation's economic structure, which may (or may not) be different from the traditional country. It will also describe the factors (such as level of growth, human resources, GDP, and consumption) which determine a firm's ability to do business. Geography informs us about the place, size, and nature of the resources in the world. One of the most important international business management course benefits is that you will be able to explore international borders, commerce, global economies, and how to deal with different cultures, you can research the global challenges that businesses face.
Also Read: Free International Business Courses & Certifications
5. The Business Philosophy
This is another one of the advantages of studying international business management. A company is always in the look to expand as part of its economic objectives. The domestic market is likely to populate and then develop further; the only alternative may be regional liquidity outside the domestic market. It should be remembered that all the major corporations in developing countries are foreign. Opportunities for internationally trained business professionals are abundant in the corporate, non-profit, and public sectors. You may find work with a corporation or organisation as a cultural adviser.
You may even find a job as a community developer or diplomatic associate with a government agency. Many foreign business students do business in the corporate world, managing tasks surrounding global growth and activities, or international trade. Some also use their international business experience as a basis for a degree in law school. So, one of the international business management benefits is the understanding of various business philosophies.
6. Large Small and Medium-Sized Enterprises
Another importance of international business management courses is that a significant number of small and medium-sized enterprises (SMEs) are also active in the foreign market. The dimensions are not necessarily a constraint. Only small businesses reported the fastest growth in exports. Mid-size companies have an acceptable combination of scale and agility. The importance of the small and medium-sized enterprise sector varies according to country. SMEs are expected to develop rapidly in the years to come. In a country like India, it is impossible to ignore the position of SMEs. The mentality has completely globalised with the advent of liberalisation.
Many small businesses import their supplies from China, Taiwan, Thailand, Singapore, and other countries, which has become a new phenomenon today. Studying international business can help you understand various cultures, different economies, and other geographies. When it comes to business problems and their solutions, it will help you see the big picture while enabling you to make essential business decisions.
Also Read: 15 Best Online Certification Courses on International Trade
7. Career Prospects
One of the major benefits of international business management and why international business management is essential is that it offers numerous career opportunities. You may be employed in an IT company, and your group project might include executives from Latin America, Europe, or North America (as TATA hires graduates from universities in various continents for summer training). A basic understanding of international business management would allow you to know why the team was created, what it was supposed to be doing, and how you could effectively communicate with the team members representing different cultures. If you work in an international organisation, you need to have a strong understanding of international business to determine your job prospects.
You will need all of the skills found in general business programmes to excel in international business, including marketing, finance, accounting, management, and economics. By concentrating on foreign markets, you will not be losing out on any significant foundation studies while studying international management. However, when you take international business management courses such as international marketing, global behaviour economics, and cross-cultural organisational behaviour, you can get the opportunity to study these topics from various perspectives.
International Business Courses By Top Providers
8. International Business Education Gaining Importance
In almost all universities worldwide, foreign business is in the syllabus of business education. From an MBA in international business to a Master in International Business, management education is becoming specialised. Several of India's top schools have started offering international business management courses at master's levels. With these courses, students will study foreign languages, fly around continents do their summer jobs and learn more about business in other countries.
Studying global business management would give students an appreciation of today's global economy and global culture. The aim of an international business management course is to sensitise potential entrepreneurs about the international business sector, and the ways associated risks are handled. Internation Business Management is a rigorous degree that exposes one to a variety of skills that employers seek. When an individual advances through their degree programmes, they start defining their path and focusing on the business functions that they are most interested in. So, this is amongst the advantages of international business management.
Resource Links for Online MBA
9. Financial Complex Transactions
An MBA in International Business is gradually becoming an important programme to study and solve various global financial issues. Such programmes help in researching market strategy, evaluating global and local business issues and identifying practical alternatives. You may build the skills required to pursue a career in consulting or management for a multinational corporation by studying foreign markets and negotiating with other cultures and countries through an international business management course.
How to handle diverse teams, boost financial efficiency, international research rivals, and overhaul business processes are just a few examples of what you can learn through an International Business Management course. This core knowledge is essential to any company's operation, and you can improve your skills further in critical areas through elective modules of an international business management course. Thus, this is one of the benefits of international business management and the major reason why study international business management.
10. Development of Key Business Skills
One of the benefits of studying international business management is that it helps students understand a whole new world of business operations. They will be exposed to how to work, coordinate and monitor a diverse team, and perform research within a global context. They can also improve business performance and learn new skills like digital marketing, time management, leadership, decision-making, communication, and social media while making strategic decisions to ensure that business goals are accomplished.
Also Read: Top Recruiter For International business After Completing Finance Courses