All India Institute of Medical Sciences Bhubaneswar
Quick Facts
Type of Institute
Institute of National Importance
Estd. Year: 2012
Campus Size: 100 Acres
Total Faculty: 200
Total Students Enrollment: 877
Interested in this University?
Medical
Careers360
Rank
Score

23rd

156.03
Universities
Careers360
Score
Rating
181.51
AAA+
Disclaimer: Careers360 Ranking/Rating is done separately for government and private colleges but NIRF ranks both together. To refer the ranking methodology
click here
Exams and Cutoffs
Exam Date: 25 May, 2019 - 26 May, 2019
All India Institute of Medical Sciences Nursing Entrance Examination
No exam date Available
Excellent and improving

I joined this college in the year 2016. Many things have changed. OPD outfall +3000 , great infrastructure, excellent faculty. When I joined it I doubted how would it be because I have left some of the oldest and prestigious colleges. Today I can proudly say it was a right decision. The peer group you get is unmatchable, probably the best minds in country always encouraging still funny all times. The hostel provides me a good space to study with single room and all modern facilities at times better than my home. The activities and events all throughout year helps me relieve stress. Gym, sports ground name it and you have it here. The best part is we are part of a fast developing medical college and seeing it grow to one of the best is a great experience in itself !
Placements
Infrastructure
College Life
Industry Exposure
Affordability
Student Crowd
Faculty
Hostel
Questions related to AIIMS Bhubaneswar
General Information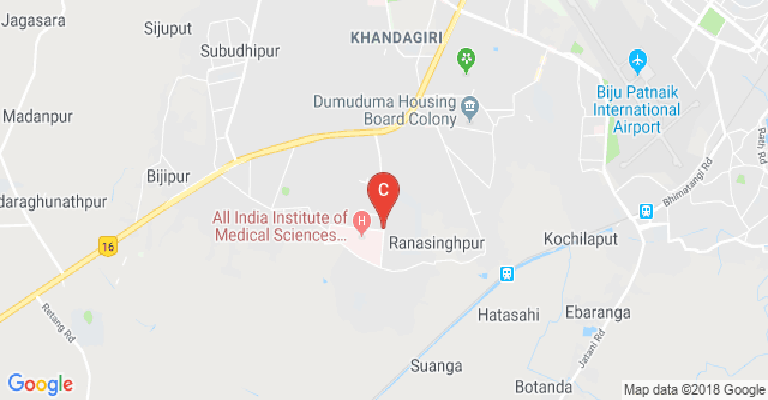 Address:
All India Institute of Medical Sciences, Sijua, Patrapada, Bhubaneswar-751019, Odisha, India
About College:
The All India Institute for Medical Sciences (AIIMS) was first established in New Delhi in the year 1956. It is attached to a government hospital by the same name. Over time, the name AIIMS came to be associated with excellence in the field of medical education. Cracking the entrance test for AIIMS became a hallmark for millions of young aspirants to crack in India. A multitude of coaching centres sprang up to cater to this enormous need. Those graduating from this institution were almost guaranteed professional success. However, by the time of the Tenth Five- year plan (2002-07), it was realized by the central government that the number of quality institutions dedicated to medical education was not sufficient. There was a need to scale up the numbers. So, it was decided to open new AIIMS campuses. Six new were inaugurated in the year 2012 in – Bhopal, Jodhpur, Rishikesh, Raipur, Patna and Bhubaneshwar. Two more were further established in 2018 at – Nagpur and Mangalgiri (Andhra Pradesh). Plans are already afoot to have another thirteen all over the country, spread across the states.
The AIIMS in Bhubaneshwar in Odisha state was founded in the year 2012. The 100- acre campus is located just outside the main city of Bhubaneshwar. Initially, the classes were held at a temporary location, but since 2014 when the main campus was inaugurated, classes are held at the permanent campus. Like most of the other AIIMS, this too is located right next to a hospital by the same name. This ensures that the students studying here are exposed to real-world problems. This helps during their internships as well as they learn under practising doctors, surgeons, administrators or nurses. The entire campus is divided into three blocks, one each for the medical college, hospital and student residential facilities. Like the others, this AIIMS too is fully- residential. There is also a director's bungalow and guest houses are attached to the campus. A 350- bed satellite centre is being developed in the Balasore district within the state of Odisha itself.
At present, only undergrad programmes are held at the AIIMS Bhubaneshwar. This includes the flagship MBBS which typically takes up to five and a half years' duration. The other is the BSc. in Nursing which carries on for four years at the least. In addition, several training programmes are planned for varied stakeholders. Regular conferences are held in medical affairs. Medical ethics are also important here, so a conference was held on that crucial aspect as well. Several publications originate from this campus. There is a periodic newsletter published here known as Dhauli. The faculty here have contributed regularly to the Indian Journal of Community and Family Medicine. Research publications have been contributed by almost all the faculty members, the details of which are transparently put out on the college website.
To keep research flourishing, there is a separate Internal Research Committee (IRC) here. There are people from across medical disciplines who run this committee. This includes people from Microbiology, Pediatric Surgery, Nursing, Pharmacology, Obstetrics and Gynecology. To further the research credentials of the institute, there is also an Institute Scientific Evaluation Committee (ISEC) which meets to suggest any changes required to the ongoing curriculum. It is for both academic reviews as well as for further research. The institute is working on several research projects at present. Some are intramural or non- funded internal ones. Others are collaborative with others called extramural. One of the key external projects is being done in collaboration with the IMM (Institute of Mineral and Metallurgy). A sub- committee has also been formed to oversee clinical trials, as they are often fraught with several unintended risks.
The hospital itself abides by the government norms on the promotion of Yoga and Ayurveda through the Ayush. To oversee quality control in them as well as for surgical procedures, safety committees have been formed. They must also act to contain infections within the hospital in case of any. Medication safety procedures are also overseen. A periodic audit is conducted by the members of a committee to ensure compliance with the right medical procedures. Another committee is in charge of managing the entire physical facility. As fire safety cannot be ignored by any means, that has another independent committee. The faculty members and medical practitioners are divided across these committees. The AIIMS Bhubaneshwar hospital has been declared as the second cleanest in the country, so it received the Kayakalp Award.
Other Popular Universities in Odisha