MBBS (Bachelor of Medicine, Bachelor of Surgery)
All about MBBS – Bachelor of Medicine and Bachelor of Surgery - MBBS or in its Latin name, Medicinae Baccalaureus, Baccalaureus Chirurgiae, is considered as the most sought-after medical course. MBBS course is the most demanding undergraduate course among Class 12 science students. Candidates and their parents and guardians have accepted MBBS as a route to becoming a doctor of modern medicine in the country. The duration of MBBS course is 5.5 years of which four and a half years is theory-based and one year of rotatory internship. Aspirants who wish to get admission to M.B.B.S. course must have completed their Class 12 with Physics, Chemistry, Biology and English with the percentage prescribed by the respective authority. Through MBBS graduates, candidates will get deep knowledge about Pre-Clinical, Para-Clinical and Clinical subjects.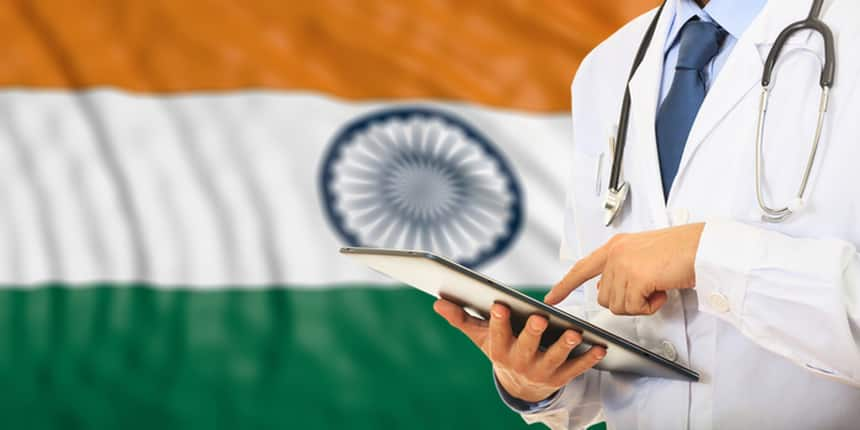 The admission to MBBS course is done through a national level entrance examination. National Eligibility cum Entrance Test - NEET UG is a single entrance exam across India for admission to around 82,926 MBBS seats in 529 medical colleges of the nation. No other entrance exam is conducted for Bachelor of Medicine and Bachelor of Surgery courses.
Level of MBBS (Type of MBBS Degree)
Aforementioned, MBBS is a postgraduate degree awarded after five and a half years of studies in a particular college recognised by the Medical Council of India (MCI).
MBBS eligibility criteria
For admission to MBBS course, it is mandatory for aspirants to fulfill the eligibility conditions set by the respective authority. One must check the basic eligibility criteria of MBBS to know whether they are eligible or not. Check some of the basic MBBS eligibility criteria below.
It is important for aspirants to qualify Class 12 examination with Physics, Chemistry, Biology and English from CBSE and other recognised schools of India.
One must have completed 10+2 with 50% for general category candidates, while 40% for SC/ST/OBC category candidates.
Aspirants seeking admission to MBBS course must be of 17 years old.
All the students will have to fulfil the eligibility criteria set by the MCI
MBBS admissions
As discussed earlier, the admission to MBBS degree will be done only on the basis of NEET scores. Since, NEET is the only entrance examination across India, no exam is conducted for admission to medical colleges in the nation. In order to appear for MBBS degree, aspirants need to appear for the National Eligibility Entrance Test through application form, followed by admit card, conducting the exam, result and counselling. It is important for candidates to fill the application form for an MBBS degree, after fulfilling the certain eligibility conditions. The application form should be submitted in the online mode after the payment of prescribed application fee.
Only the successfully registered candidates can download the admit card for MBBS degree. The hall ticket can be downloaded in online mode and should be carried at the exam centre for verification purposes. The detailed name and address of exam centres will be mentioned in the admit card. Along with the admit card, aspirants must also carry the relevant documents like ID proof, photograph and required documents.
On the date of MBBS, it is mandatory for candidates not to break any rule. No restricted items should be carried at the exam centre. Anyone with any of the prohibited items will be considered as unfair activity and his/her candidature will be cancelled. One must take care that each and every exam day guideline must be adhered to inside the exam hall. Anyone violating the rules will not be allowed to appear for the exam.
MBBS results will be announced as per the schedule mentioned by the authority. The result of MBBS will be released in online mode in the form of scorecard. Aspirants can download MBBS result-cum-scorecard by logging in using the required credentials. Aspirants who will secure the cutoff of MBBS will be considered qualified. Only the qualified candidates can appear for the counselling process.
MBBS specializations
The MBBS degree contains pre-clinical, clinical and para-clinical courses. The specializations to be covered under MBBS pre-clinical, para-clinical and clinical courses are mentioned below.
Anatomy
Biochemistry
Physiology
Forensic Medicine
Pathology
Pharmacology
Microbiology
Clinical posting in wards
Community Medicine
Psychiatry
Dermatology
Obstetrics and Gynecology
Anaesthesiology
ENT
Ophthalmology
Orthopedics
Clinical posting
MBBS Syllabus
The syllabus of MBBS is divided into three categories Pre-Clinical, Clinical and Para-Clinical. Also check the 12 months rotatory internship schedule below.
Subjects covered in MBBS
Phase

Semesters

Subjects covered

Pre-Clinical

1-2: two semesters

Anatomy, Bio-chemistry, Physiology

Para-Clinical

3-5: three semesters

Community Medicine; Forensic Medicine, Pathology, Pharmacology, Microbiology, Clinical postings in wards, OPDs to begin here;

Clinical

6-9: four semesters

Community Medicine, Medicine and allied subjects (Psychiatry, Dermatology), Obstetrics and Gynaecology; Paediatrics

Surgery and allied subjects (Anesthesiology, ENT, Ophthalmology, Orthopedics);

Clinical postings

MBBS syllabus - the division of subjects covered

Phase

Subject

Topics

Pre-Clinical

Anatomy

Gross anatomy, Microanatomy, Embryology and Genetics, Neuroanatomy

Biochemistry

Biological cell, Biomolecules, Enzymes, Metabolic pathways, their regulation and metabolic interrelationships, Food assimilation and nutrition, Hormones, Molecular Biology, Molecular Biology, Immunology, Environmental biochemistry, cancer and cancer makers

Physiology

General Physiology, Nerve–Muscle, Blood, Respiratory System, Cardiovascular System, Gastrointestinal System, Nutrition, Environmental Physiology, Reproduction, Kidney, Neurophysiology, Yoga

Para-clinical

Forensic Medicine & Toxicology

Forensic Medicine, Toxicology

Microbiology

Microbiology, Bacteriology, Bacterial Staining and Cultivation, Common Tests for Bacterial identification, parasitology, Virology, Laboratory Diagnosis of Viral Infection, Mycology, Common Laboratory Methods for Diagnosis of Fungal Infections, Collection of Transport of Samples, Host-Parasite relationship, Bacterial and Viral Genetics, Immunity to infection, Immunodiagnosis, Vaccines, Sterilisation and disinfection, Bacteriology of water and air, Microorganisms associated with gastrointestinal infections, Gastrointestinal infections caused by parasites

Pathology

General Pathology, Systemic Pathology, Practical

Pharmacology

General Pharmacology, Autonomic nervous system & Peripheral nervous system, Central nervous system, Autacoids, Cardiovascular system, Gastrointestinal and respiratory system, Hormones, Chemotherapy, Miscellaneous

Clinical

Anesthesiology

Preoperative evaluation & optimization, Skills I/V, Cannulation, Oropharyngeal/Nasopharyngeal Airway insertion, Bag Mask Ventilation, Attaching pulse oximeter, BP cuff and ECG electrodes and setting up a monitor

Community Medicine

Behavioral Sciences, Health Education, Environment, Biostatistics, Epidemiology, Nutrition, Maternal & Child Health, Rehabilitation, Epidemiology of Communicable Diseases And Non-communicable Diseases, Important National Health Programmes, Occupational Health, Health Administration, Health Economics, Geriatrics, Counselling

Dermatology and Venereology

Ineffective dermatoses, Infective dermatoses, Infestations, Melanin synthesis, Allergic disorders, Drug eruptions, urticaria, erythema multi-forme, Vesiculo-bullous diseases, Epidermopoisis, Psoriasis, Pathogenesis, Syphilis, Gonococcal and Non-gonococcal infections, HIV infection, Dermatological Emergencies

Medicine

Clinical Pharmacology, Nutritional and metabolic disorders, Water, electrolyte and acid-base imbalance, Critical care Medicine, Pain management and palliative care, Medical Psychiatry, Poisonings, Specific environmental and occupational hazards, Immune response and Infections, Cardiovascular system

Obstetrics & Gynaecology

Basic Sciences, Obstetrics, Gynaecology, Contraception, Neonatology and Recent Advances

Ophthalmology

Microbiology in relation to eye, Pathology in relation to eye, Pharmacology in relation to eye, Disorders of the Lid, Disorders of the Lacrimal Apparatus, Conjunctivitis & Ophthalmia Neonatorum, Trachoma & Other chronic conjunctivitis, Keratitis and corneal ulcers, Corneal ulcer, Scleritis & Episcleritis

Orthopaedics

Pediatric orthopaedics, Orthopaedic oncology, Management of Trauma, Sports Medicine, Physical Medicine and Rehabilitation, Orthopedic Neurology, Disorders of Spine, Radiology, Fracture

Otorhinolaryngology

Oral cavity and oropharynx, Ear, Instruments, Operative Procedures, X-ray

Pediatrics

Vital statistics, Growth and development, Nutrition, Immunization, Infectious diseases, Hematology, Respiratory system, Gastro Intestinal Tract, Central Nervous System, Cardiovascular system, Genito-Urinary system, Neonatology, Pediatrics Emergencies, Fluid-Electrolyte, Genetics, Behavioral Problems, Pediatrics Surgical Problems, Therapeutics

Psychiatry

Behavioural Sciences, Emotion and its application to health, Cognitive process and memory, psychiatric disorders, personality disorders, Schizophrenia, Bipolar disorders, Depression, Anxiety neurosis, phobia and OCD

Surgery

Skin, Head and Neck region, Arteries, Veins, Breast, Oesophagus, Stomach and duodenum, Small intestine, Colon and rectum, Appendix, Acute abdomen, Urology
MBBS syllabus - 12 months rotatory internship
| | |
| --- | --- |
| Specialty | Duration |
| Medicine | 1.5 months |
| Surgery | 1.5 months |
| Rural | 3 months |
| Paediatrics | 1 month |
| Obstetrics and Gynaecology | 1 month |
| Casualty | 1 month |
| Anaesthesiology | 15 days |
| Ophthalmology | 15 days |
| Elective | 2 months |
| Total | 12 months |
MBBS Salary
The average salary for MBBS of an aspirant varies gradually. The variation may vary due to the sector and firm of employment and candidate's dedication and experience in the workplace. Below mentioned are the salary scale MBBS course as per the experience years.
Year-wise salary for MBBS
| | | |
| --- | --- | --- |
| Experience (in years) | Salary scale from | Salary scale up to |
| 0-6 years | 3 to 4 lakh per annum | 6 to 8 lakh per annum |
| 6-12 years | 8 to 10 lakh per annum | 10 to 12 lakh per annum |
| 12-20 years | 12 to 15 lakh per annum | 15 to 18 lakh per annum |
MBBS Scope
After the completion of MBBS degree, deserving aspirants can get opportunities for earning in some of the following areas, in which they can get a better scope.
Hospitals
Laboratories
Biomedical companies
Nursing homes
Medical colleges
Health centres
Pharmaceutical and Biotechnology companies
MBBS Career Opportunities
Candidates after completing their MBBS wish to get jobs in reputed companies across the nation and globe. There are a lot of job opportunities for deserving aspirants in private and public sectors. Everyone has the opportunity to grab the below-mentioned jobs.
Doctors
Junior Doctors
Physicians
Junior Surgeons
Medical Professors or Lecturers
Researcher
Scientists
Frequently Asked Question (FAQs) - MBBS (Bachelor of Medicine, Bachelor of Surgery)
Question: What is the full form of MBBS?
Answer:
MBBS stands for Bachelor of Medicine and Bachelor of Surgery.
Question: What is the minimum age to apply for MBBS?
Answer:
Aspirants need to be minimum 17 years of age to be eligible for MBBS admission.
Question: What is MBBS all about?
Answer:
MBBS is all about studying the branch of medicine and surgery in the bachelor degree.
Question: What is the minimum qualification eligibility for MBBS?
Answer:
Since MBBS is an undergraduate course, aspirants need to be atleast 12th or its equivalent qualified.
Question: Can i only study MBBS from India?
Answer:
No, one can study MBBS from abroad but he/she has to be a NEET qualified.
Question: Is it mandatory to qualify NEET to study MBBS in private medical colleges also?
Answer:
Yes, since the NEET is a common entrance test for all UG medical degrees, so you have to be NEET qualified for admission in private medical colleges also.
Question: Is doing MBBS from private college worthy?
Answer:
Yes, ofcourse, doing MBBS from any college doesn't matter. What matter is how you are performing in your medical academic session.