MBBS (Bachelor of Medicine and a Bachelor of Surgery) Courses, Admissions, Eligibility, Syllabus
MBBS or Bachelor of Medicine and Bachelor of Surgery is also described as BMBS, which is an abbreviation of the Latin word, Medicinae Baccalaureus Baccalaureus Chirurgiae. This is an undergraduate degree programme in the field of Medicine and Surgery. The first two advanced and professional undergraduate medical degrees are Bachelor of Medicine and Bachelor of Surgery. It is probably one of the topmost degrees in the world and therefore by profession, after completing an MBBS from top medical colleges, an individual is officially transformed into a medical professional.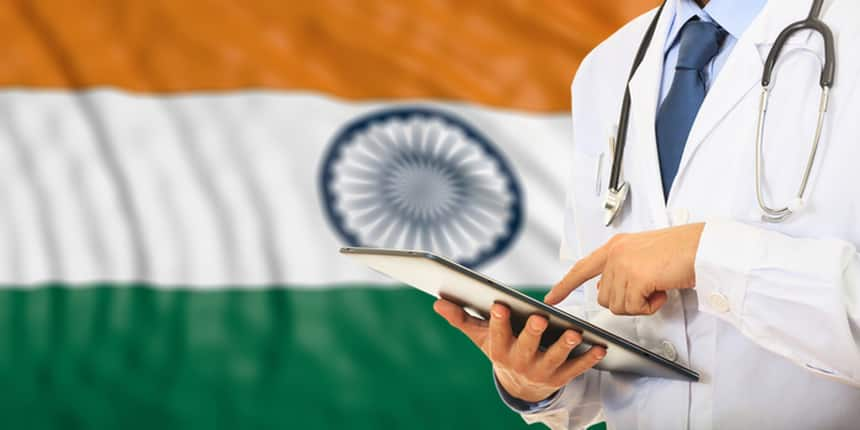 This is a very prolonged study that requires a huge amount of patience and ability. Being a medical professional is one of the bravest and most humble occupations. The curriculum describes different medicine and human anatomy and is able to educate the participants on how to test and cure specific diseases. MBBS degree cover numerous medical specialities to allow the learners to develop an in-depth understanding of the area of interest. In this article, we have discussed the MBBS course details which include MBBS admission, courses after MBBS, and the MBBS course fee structure, and career opportunities after MBBS.
What is MBBS Full Form?
MBBS full form is Bachelor of Medicine, Bachelor of Surgery. Bachelor of Medicine, Bachelor of Surgery or MBBS degree is a five-year-long undergraduate medical degree programme. Bachelor of Medicine, Bachelor of Surgery or MBBS is derived from the latin phrase Medicinae Baccalaureus Baccalaureus Chirurgiae.
Highlights - MBBS
| | |
| --- | --- |
| Course Name | Bachelor of Medicine and Bachelor of Surgery |
| Abbreviation | MBBS |
| Type | Degree |
| Level | Undergraduate |
| Field | Healthcare |
| Eligibility | |
| Duration | 5.5 years |
| Average Fee | Rs. 71,000 to Rs.2,100,000 |
| Average Salary | Rs. 360,000 per annum |
| Career Opportunities | Physician, Doctor, Endocrinologist, Pathologist, Neurologist, Cardiologist, Gynaecologist |
MBBS Eligibility
Applicants must meet the eligibility requirements for a Bachelor of Medicine and Bachelor of Surgery (BMBS) or MBBS course. Candidates also should be aware of the basic requirements needed for pursuing a bachelor's degree in medicine and a bachelor's degree in surgery, including the course understanding. These are the necessary eligibility requirements that the students must follow to obtain MBBS admission:
MBBS Admissions
There are various ways of enrolling students in the MBBS course provided by various institutions and schools. In the Bachelor of Medicine and Bachelor of Surgery programmes, educational institutions use various methodologies to enrol applicants. To receive an MBBS degree, applicants must follow the different strategies with a thorough understanding from which they must then achieve university admissions. The various methods by which candidates may become admitted to this degree are described below.
Entrance exams: The most common method for approving candidates is a medical entrance exam used by colleges and universities. Aspiring MBBS students sit for different entrance exams to earn a Bachelor of Medicine and a Bachelor of Surgery (BMBS or MBBS) degree. The results obtained in these exams allow the students to apply to high-ranking universities offering such degrees.
Merit-based: There are colleges and universities in these courses which offer candidates admissions based on the marks achieved in 10 + 2. The eligibility criteria are based on competencies gained in 10 + 2. These colleges often take students using their cut-off lists. But the number of these colleges is very less in numbers and the medical entrance exam is a must for this particular degree.
Top MBBS Exams
A few universities conduct entrance examinations for a Bachelor of Medicine and a Bachelor of Surgery (BMBS or MBBS). Selection for this degree in some major universities is based on the total marks in the final year of school and on the entrance exam.
National Eligibility-Cum-Entrance Exam (NEET): NEET-UG (National Eligibility-Cum-Entrance Exam for Undergraduate Courses) is the criteria for enrollment in the MBBS degree. NEET-UG is the common all-India entry-level foundation for admissions amongst all medical universities and colleges all around the world. Each and every applicant who aspires to be recruited for the MBBS course must apply for the National Eligibility-Cum-Entrance Exam-UG.
Previously there was an exception for admissions to AIIMS and JIPMER MBBS because these educational institutions seemed to undertake their own medical entrance exam. But meanwhile, those examinations have also been eliminated.
Browse Medical Colleges Accepting NEET
MBBS Courses
The Bachelor of Medicine and Bachelor of Surgery (BMBS) or Baccalaureus Medicinae, Baccalaureus Chirurgiae (MBBS) degree programme is a national undergraduate specialist graduate degree program for medical aspiring candidates. This MBBS course programme allows interested and eligible candidates to study medicine and surgery in the country. The length of the MBBS course is five and a half years, with a one-year internship.
Popular Online Medicine Courses and Certifications
MBBS Specialisations
The university aims to provide all MBBS students with a modern, growth-driven education through its MBBS degree programs. A Bachelor of Medicine and a Bachelor of Surgery degree allow the graduates eligible for the market in the world's current scenario. Throughout India, there is a tremendous demand in the medical industry among medical practitioners as there are fewer employment opportunities in the marketplace and the number of doctors is much greater than it is. Earning an MBBS course offers students the opportunity to achieve their objectives in the medical and healthcare industries.
| | |
| --- | --- |
| Ophthalmology | General Medicine |
| Orthopedics | General Surgery |
| Anaesthesiology | Obstetrics & Gynaecology |
| Dermatology | ENT (Ear, Nose, and Throat) |
| Psychiatry | Pediatrics |
MBBS Syllabus
We have mentioned below MBBS subjects. It may vary from college to college.
Semester-I

Fundamentals of Disease and Treatment

Locomotor System

Introduction to Medical Practice I

Introduction to Molecular Medicine

Cell Biology

Introduction of Embryology and Histology

Semester-II

Health and the Environment

Neuroscience 1 (Peripheral System)

Basic Haematology

Respiratory System

Healthcare Concepts

-

Semester-III

General Pathology

Environmental Pathology

Neoplasia

Nutrition Disorders

Hereditary Disorder

Immunity

Semester-IV

Systemic Pathology

Alimentary System

Common Symptoms and Signs

Cardiovascular System

-

Semester-V

Special Pathology

Growth Disturbance and Neoplasia

Clinical Pathology

Immunopathology

General Pathology

-

Semester-VI

Epidemiology of communicable diseases

Reproductive and child health

Epidemiology of non‐communicable diseases

-

Semester-VII

Infectious disease

Diseases of immune system, connective tissue and joints

Nutritional disease

Hematology and Oncology

Geriatric disease

-

Semester-VIII

Endocrine disease

Brain Death, Organ donation, Organ preservation

Metabolic and Bone disease

Nervous system

Emergency medicine and critical care

-

Semester-IX

Nervous system

Environmental disorders, poisoning and snake bite

Kidney disease

Emergency medicine and critical care
Browse Medical Colleges by Cities
Also Read:
Types of MBBS
MBBS degree is a professional undergrad degree in the surgical and medical field, awarded by medical colleges and universities. However, as the name implies, a Bachelor of Medicine and a Bachelor of Surgery are two different degrees but are merged into one discipline and presented together in practice. The length of the Bachelor of Medicine and Surgery degree includes an internship, and the degree is of five to six years.
Candidates who need to study physics, chemistry, biology, and English at the 10+2 level are eligible to apply for this programme. MBBS degree is a graduate degree for candidates who seek to pursue their goal of being a physician. A Bachelor of Medicine and a Bachelor of Surgery (MBBS) degree is one of the best professional degrees in science and medicine. The length of the MBBS course is five years and one year of internship in a nonprofit organization, medical center and rehabilitation center.
Advantages of MBBS
MBBS stands for Bachelor of Medicine and Bachelor of Surgery. It is a highly competitive programme as the admissions are offered on the basis of rank acquired in the NEET examination. Lakhs of students appear every year in the NEET examination for MBBS admission. Several students take a year off from their academic year to prepare for the NEET examination to get admission to prestigious medical colleges in India.
Students need to appear for the NEET counseling process once they get the required marks for admission. Successful completion of an MBBS course opens numerous opportunities for a medical career in the healthcare industry. Candidates can opt for an MS, MD, or DNB in any related specialization after successful completion of an MBBS programme. They can opt for numerous careers such as general surgeon, endocrinologist, pathologist, neurologist, physician, ENT specialist, cardiologist, and oncologist.
Browse MBBS Colleges by States
Browse MBBS Colleges by Locations
Scope of MBBS
In the healthcare industry, Bachelor of Medicine and Surgery students are highly focused. MBBS students have employment opportunities in both the government and private sectors. For these specialists, there are more than enough jobs available in the fields of biomedical companies, medical centres, healthcare facilities, laboratories, emergency rooms, community health centres, and private practice. There seem to be a number of choices available for students after MBBS course with both the development and commercialization of the healthcare industry.
MBBS is a medical degree on its own that enables graduates to prescribe drugs, and most participants choose to obtain a master's degree in this area to become known physicians. The major recruitment agencies for MBBS candidates are Apollo Munich Health Industries Co Ltd, Medanta Hospitals, Sun Pharmaceutical Industries Ltd, Fortis Healthcare Ltd, and Cipla Ltd, with positions available like Anesthetist, Cardiologist and much more.
Browse Medical Colleges by States:
Students also liked
Careers Opportunities after MBBS
In this section, we have discussed some of the career opportunities after MBBS degree.
Medical Officers: Medical officers are also regarded as chief medical officers are doctors who are mainly in charge of clinics. Such physicians strongly recommend as well as provide medical assistance, problem detection, and instruction on medical conditions and illness control. This profession is one of the best career options for MBBS graduates. Medical officers play an important role in supervising patient treatment and the duties of other medical professionals. When services are initially implemented, they can sometimes actively participate in the treatment. They may very well assist in assessing and diagnosing family and individual necessities and plans of treatment.
Medical Surgeon: The surgeon is liable for the patient's essential diagnosis, conducting the surgery and providing continuous medical care and treatment for the patient. Surgeon is one of the best career options after MBBS. The surgeon is often regarded as the surgical team leader. Medical surgeons work to ensure collaboration and coordination among all the other leaders of the surgical team, usually requiring another surgeon or an assistant to the surgeon, anesthesiologist, and nursing staff in the operating theatre. Patients are operated by them to enhance or recover health, like repairing injury problems or preventing depression.
General Physician: MBBS degree graduates can begin their careers as general physician who researches, diagnoses and treats and cures patient diseases. This profession is one of the best career options for MBBS graduates. A physician typically treats diseases in the early stage, but if the illness remains serious after identification, then perhaps the patient is referred to a specialised medical professional. General Physicians are professionally educated physicians who provide elderly patients with a variety of nonsurgical medical attention. They treat complicated, critical or severe health issues, and they proceed to serve the patient unless they have treated or healed such complications.
Physicians: Physicians work in many different forms to treat patients, from chronic disease diagnosis to recommendations on healthcare services. Whilst also physicians' areas of expertise can sometimes differ significantly, the similarity among all specialisations would be that physicians work primarily to identify and manage illnesses and injuries. Sometimes individuals do this by conducting screening tests, taking medical records, conducting and analysing diagnostic procedures and suggesting a course of treatment. Physicians require a different level of intelligence and education, generally including a bachelor's degree, a medical school degree, and practice for a prolonged period of time.
Paediatrician: A medical practitioner is in charge of treating kids with the disease and diagnoses their overall development and growth. In order to test and monitor the health and regular physical performance, paediatricians perform regular detailed tests on babies and young children and observe children evaluate their health and inquire questions to collect knowledge regarding complications. They prescribe medicine and provide specific guidance about how to take it.
Dietician: Dieticians encourage wellness in patients or the public at large and develop a balanced nutrition plan for them. Dietitians focus on providing knowledge on nutrition and health and therefore helping people to stay healthy. Individuals give advice and recommendations relating to nutrition. Dietitians may also modify diet plans to help maintain conditions like allergies and intolerances to food. They educate individuals and organizations on fundamental principles of healthy nutrition, appropriate food choices, and controlling nutrition to enhance their quality of life. They track activities of the food service to ensure alignment with nutritional, health, sanitation and safety standards.
MBBS Salary
The average salary for MBBS of an aspirant varies gradually. The variation may vary due to the sector and firm of employment and the candidate's dedication and experience in the workplace. Below mentioned are the salary scale MBBS course as per the experience years.
Year-wise salary for MBBS
| | |
| --- | --- |
| Experience (in years) | Salary |
| 0-6 years | Rs. 6 to Rs. 8 lakh per annum |
| 6-12 years | Rs. 10 to Rs. 12 lakh per annum |
| 12-20 years | Rs. 15 to Rs. 18 lakh per annum |
Also Read: BAMS
Other Popular Medical Degrees
Frequently Asked Question (FAQs) - MBBS (Bachelor of Medicine and a Bachelor of Surgery) Courses, Admissions, Eligibility, Syllabus
Question: Is it mandatory to qualify NEET to study MBBS in private medical colleges also?
Answer:
Yes, since the NEET is a common entrance test for all UG medical degrees, so you have to be NEET qualified for admission in private medical colleges also.
Question: Is doing MBBS from private college worthy?
Answer:
Yes, of course, doing MBBS from any college does not matter. What matter is how you are performing in your medical academic session.
Question: Is Indian MBBS valid in the USA?
Answer:
In the United States of America, an Indian student could not really start practising immediately after completing MBBS because the basic level of practice is postgraduate medicine in the United States of America. The United States Medical Licensing Examination (USMLE) strictly outlined the medical courses to be completed in the United States after completing MBBS degree.
Question: What is MBBS called in the USA?
Answer:
In the United States of America, the medical degree is regarded as an MD (Medicine Doctor), not as an MBBS. English is the medium of instruction for medical courses in the United States of America. The medical degrees accepted in America are MCI, WHO, ECFMG, and MCC. In the US, the MBBS standard for clinical education had already been established.
Question: What is the full form of MBBS degree?
Answer:
The abbreviation MBBS stands for Bachelor of Medicine and Bachelor of Surgery. This programme offers both the Bachelor of Medicine and Bachelor of Surgery, which are the two professional undergraduate medical degrees. Including the internship phase, the MBBS curriculum typically lasts 5 to 6 years.
Question: Is MBBS required for career as a doctor?
Answer:
MBBS is the most popular and well recognised doctoral degree (Bachelor of Medicine and Bachelor of Surgery). The only bachelor's degree that qualifies graduates to use the title "doctor" after their names is this one. A medical undergraduate degree programme is the MBBS.