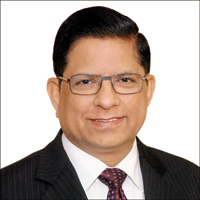 As the cost of higher education goes up, loans are the only option for most of the students. Talking to Careers360, Canara Bank's CMD R.K. Dubey tries to dispel students' doubts...


Q. Whom do you give loans to?
A. Education loans can be sanctioned for pursuing eligible courses in  government-recognized institutions in India or abroad, as per IBA model education loan scheme guidelines. University/College should be recognized or approved by UGC/AICTE. Courses offered by Deemed Universities are also eligible. However, employability after completion of course is an important issue, for which the student has to make sufficient enquiries prior to applying for loan facility, as loan repayment depends on the salary levels.
Q. How much of own funding of fees is needed?
A. Our Education Loan scheme is based on IBA model scheme according to which no margin is required for loan up to Rs. 4 lakhs. However, if the loan exceeds Rs. 4 lakhs, students have to bring a margin of 5% for inland studies, whereas the same is 15% for studies abroad. If scholarship is available, the same will be considered as margin.
Q. Should I pay interest immediately?
A. Under Education Loans the interest is allowed to accrue during the moratorium period (that is, study period + 1 year after completion of course or 6 months after getting a job, whichever is earlier), and the same is not demanded from the borrower. At the end of the moratorium period the accrued interest gets capitalized or gets added to the principal, on which EMIs are fixed. Alternatively the student borrowers can opt for repaying the interest during moratorium period, and gets 0.5 percent concession in the Rate of Interest. Simple interest is charged during the repayment holiday/moratorium period.
Q. Is there a benefit for economically weaker sections?
A. Students belonging to economically weaker sections (parental income less than Rs. 4.5 lakhs per annum), who are pursuing professional courses in India can avail of 100% interest subsidy during the moratorium period under Central Sector Interest Subsidy (CSIS) scheme of Ministry of Human Resource Development, Government of India. Loans up to Rs. 10.00 lakhs will be eligible for coverage under the scheme. Canara Bank is the designated Nodal Bank for consolidation and submission of claims of member banks to the MHRD, GOI.
Q. What are the tax benefits of educational loans?
A. Education Loan borrower or co-borrower can avail of a tax benefit under Section 80E of Income Tax Act, 1961. An individual can avail of tax benefit on interest paid on an education loan for self or relative meaning spouse, child or a student for whom the individual is a legal guardian. Rebate can be claimed by the borrower when the individual starts paying the loan, and is available for a total of eight years or till the principal and interest have been repaid, whichever is earlier. Further the benefit under 80E is in addition to that available under 80C of Income Tax Act.
Q. What are the usual eligibility requirements?
A. The student should be an Indian national. There is no specific restriction with regard to the age of the student to be eligible for education loan. Loan can be extended to a minor student represented by parent/guardian. Major student shall execute loan documents jointly with parent/ guardian. He/she should have secured admission to a higher education course in a recognized institutions in India or abroad through Entrance Test/Merit-based Selection process after completion of HSC (10 + 2 or equivalent). For admissions to higher studies in majority cases, selections are one through Entrance Tests/Merit-based selection process. Wherever colleges are allowing admissions on the basis of CET, GRE, G-MAT, CAT, etc., admission to the college shall be the criteria for considering educational loan. Wherever a student is directly getting admission to the college without any selection process, i.e., Entrance Tests/scoring in eligibility tests/merit-based selection process), then educational loan can be considered if one has scored a minimum of 60% marks in the previous qualifying exam. For students belonging to SC/ST categories the minimum marks has been reduced to 50%.
Q. What is the interest rate and are there any concessions?
A. Currently the rate of interest on education loans in our bank are the lowest , when compared with those of other banks. Loan up to Rs 4.00 lakhs, and those beyond Rs 7.50 lakhs are charged @ 11.70%, whereas the loans in the range of Rs>4.00 to Rs 7.50 lakhs are charged @ 12.20%. For girl students, concession of 0.5% on card rate for education loans is available.
Q. Is there a pre-payment penalty?
A. No pre-payment penalty will be levied for prepayment of loan anytime during the repayment.
Q. What is your advice to students?
A. They should choose the field in which they are interested and have an aptitude for learning, with good employment potential. Students are required to consider institutions of repute with consistent placement record. 
Illustrative CALCULATION of EMI ON EDUCATION LOANS

Sl. No

Loan amount          (Rs.)

Course
duration
(Years)

Moratorium period (Study
Period+ 1 year)

Rate
of
interest
(%)

Moratorium period (interest   accrued but not demanded)  (Rs.)

Loan amount+ Moratorium Period Interest-outstanding as at end of 5th year   (Rs.)

No of EMIs -
commencing from 61st month   (Months)

EMI
amount
(Rs.)

1

400000

4

5

11.70

163800

563800

60

12456

2

400000

4

5

11.70

163800

563800

84

9862

3

400000

4

5

11.70

163800

563800

120

7991

4

600000

4

5

12.20

256200

856200

60

17132

5

600000

4

5

12.20

256200

856200

84

15206

6

600000

4

5

12.20

256200

856200

120

12383

7

900000

4

5

11.70

368550

1268550

120

17981

8

900000

4

5

11.70

368550

1268550

180

14981

9

1200000

4

5

11.70

491400

1691400

120

23974

10

1200000

4

5

11.70

491400

1691400

180

19974
ASSUMPTIONS:
1. LOAN AMOUNT DISBURSED IN EQUAL INSTALMENTS PER YEAR FOR THE STUDY PERIOD. 
2. SIMPLE INTEREST CALCULATED DURING MOTORIUM PERIOD OF THE LOAN
3. REPAYMENT PERIOD FOR LOANS ABOVE RS. 7.5 LAKHS FIXED FOR 10-15 YEARS IN EMIs