Do you think is marketing stressful career? then this article is completely for you. Being a successful marketer needs to be working on the job. It brings a sense of pride and passion. To create successful ad campaigns, marketing professionals require broad knowledge and technological breakthroughs. Marketing Professionals must be able to deal with stress and control actions. When it comes to Marketing Jobs, it always hits the list of being the most stressful career or the most hated job in the world. There has always been a heated debate on marketing jobs as questions are always raised such as whether is marketing a stressful job, is marketing manager a stressful job, or are marketing jobs stressful?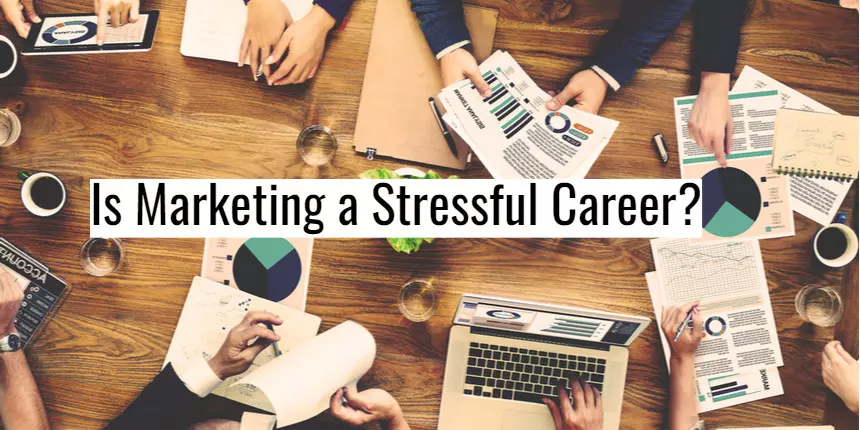 Is Marketing a Most Stressful Career
According to a recent survey, stress is reaching perilous levels for advertising executives. There have been multiple surveys conducted to study stress in the online marketing industry. The reasons to cause a big stress mess are:
Around 55 per cent of Marketers aim to prove value to the people who do not understand them.

Around 27 per cent of Marketers keep juggling to get all the work done in a 40-hour work week.

Around 23 per cent of Marketers report no or marginal profit from a campaign.
According to the study of Workfront, one in four marketing professionals said that they experience high stress on a daily basis. 71 per cent of the marketers claimed that they experience the feeling of burning out while 66 per cent said that they are expecting an increase in their stress level in the near future. 80 per cent of those who participated in the study claimed that they are overloaded with work. One of the most shocking facts is that the marketing firms that reported being overloaded with work also claimed to be understaffed. Such critical conditions of the marketing firms may lead to missing deadlines, lack of direction, and extreme requirements for stress boosters for the entire office.
Also Read: A Career as Marketing Manager
According to a Paychex survey based on 2000 office workers, it revealed that 60 per cent felt stressed during three or more work days per week. Marketing Director Karen Webber believes that the marketing industry is lagging behind to adapt to the new 24-hour work week. It has become hard to balance personal and professional life for marketing professionals as they get work calls on their phones directly. Returning a call right away often lands getting a big-time client. The marketing industry has not adopted the flexible working models as other industries. A Marketing career is least likely to provide work-from-home employment shifts. According to a poll done by Axonn Media, it was revealed that 87.3 per cent of marketing professionals work full-time sitting in the office. It is quite high compared to all the other industries.
What makes a Marketing Career Stressful?
After going through the statistics of the above-mentioned surveys, you might not ask us, is marketing job stressful. But, are you aware of the other factors that make marketing a stressful career? In this section, we will discuss what makes marketing a stressful career.
Marketing may seem like advertising a product or service to a complete stranger and persuading him or her to buy it. Marketing is one of the most competitive industries with picky audiences.

Marketing is not an easy job. It involves statistics. Professionals need to conduct analysis and study to get an intimate knowledge of the audience. It involves collecting and sorting out data. You need to be intelligent to make sense of the demographics.

Marketing is dynamic in nature. Advertising and marketing practices have changed and evolved over the years. It is amazing to see how quickly marketing campaigns rise and fall. One needs to stay up-to-date with the developments in their niche. It is required to be alert and attentive to be a marketing professional.

Most marketing jobs are stressful and may turn out to be toxic to personal and family life. Numerous marketing jobs demand spending a lot of time in the office or traveling. Unconsciously, most marketers carry work to their homes with them. It affects their family members and friends. There are numerous other factors that make a marketing career stressful.
Also Read: Career as Digital Marketing Manager
How to overcome Stress in Marketing
If you will ask us, is being a marketing manager stressful? Then, we might say yes indeed the field of marketing is stressful. But there are ways to cope with the stress instead of compromising with a successful high-paying career. We have listed here several ways to dispose of the stress. We understand that stress affects the overall well-being of the person and can cause some serious health issues.
Pace Yourself
A Marketing career is quite stressful. It requires a lot to be done on a daily basis. Pacing yourself makes it quite easier. It will save quite some time if you'll start with easy tasks first. You do not get tired easily as it saves most of your time and energy. You must acknowledge your position. Do not rush, it will not help.
You need a break, acknowledge it
You will acknowledge after working quite a long in the industry that it does not sleep. But, taking a break is commendable otherwise you will compromise with your performance. If you feel fatigued, take the advantage of the bathroom breaks to get a break from the buzz of marketing. Create a routine to take 15 minutes off from your work to calm your mind each day. You may choose a quiet place to avoid any interruptions.
Also Read: Career as Brand Manager
Try De-Stressing and Relaxing Techniques
Everyone deals with stress differently. One of the best ways to deal with stress is by exercising. Exercising is necessary for marketers. Marketers are sedentary and hence they are more prone to poor health. Yoga, Meditation, and other hobbies may also help. You can spend time doing anything that makes you happy, it is stress-relieving as long as you do not overindulge.
Make some time for Family and Friends
Humans are social beings. The lack of strong social and family ties affects mental health and makes it quite stressful. Numerous marketers deal with family problems and they are often stressed out. Spending time with family and friends helps to maintain social ties. It is suggested to never take work home unless it is required.
Also Read: Career as Advertising Manager
Students also liked
Conclusion: Marketing is indeed a stressful career. But, by following several measures you can lower your stress. Taking small breaks from the marketing buzz and avoiding taking work home definitely helps. Spending some quality time with family and friends is quite helpful to cope with the work stress of a marketing job.