Who is a Marketing Manager?
Good marketers see consumers as complete human beings with all the dimensions real people have ~ Jonah Sachs
A career as Marketing Manager is all about overseeing a company or product marketing. He or she can be in charge of multiple programmes or goods or can be in charge of one product. A marketing manager is enthusiastic, organised, and very diligent in meeting financial constraints. A marketing manager prevents unauthorised statements and informs the public that the business is doing everything to investigate and fix the line of products. A Marketing manager plans and executes marketing initiatives to create demand for goods and services and increase consumer awareness of them. A wide range of actions can be included by this broad term, including designing, administering, and assessing marketing plans. Students can pursue MBA in Marketing Management Courses to become marketing managers. Here, in this article, we have discussed the marketing manager salary, marketing manager skills, marketing manager degree, marketing manager job description, and marketing manager role.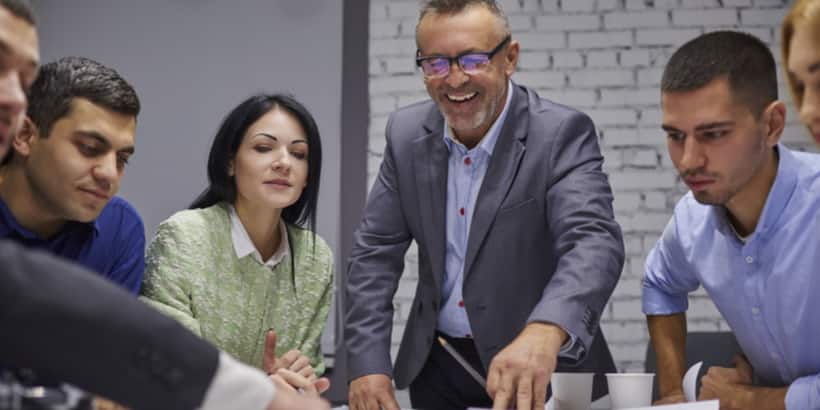 Marketing Manager in a Nutshell
A marketing manager comforts public anxiety and dissatisfaction through announcements and commercials, guaranteeing the credibility of the organisation escapes inadequacies. Individuals who opt for a career as Marketing Managers work with other team members to produce advertising campaigns that are both simple and complex. A marketing manager decides if a new product or service is marketable. Students can opt for MBA Finance or MBA in Digital Marketing Management to be a marketing manager. He or she evaluates the public interest level with respect to a new product or service. Individuals who opt for a career as Marketing Manager is appointed to encourage buyers to buy products from the firm and to increase awareness of the brand through marketing strategies.
Quick Facts for Marketing Manager
Industry

Marketing

Average Salary in India

₹55000

Suitable for

Male, Female

A career as a marketing manager is not gender-specific. Men, females and others can choose marketing as a career. In India, male and female marketing managers receive equal benefits because gender is insignificant in this profession.

Any special needs

Yes

A career as a marketing manager suits everybody, even those with special needs. Occasionally they may be asked to attend events and schedule meetings with clients. Individuals with bodily deformity can organise and conduct marketing campaigns for corporations; they should have the drive to show the world that they can fulfil their goals under all the circumstances.
What is the role of Marketing Manager?
A career as a marketing manager involves a range of duties, like designing marketing strategy estimates and budgets, sending them for approval, and coordinating with advertising agencies. An individual in the marketing manager role also negotiates, plans sales and promotional contracts, and updates promotional strategies. Unexpected incidents may arise when one of the company's members misinterprets in public, thereby requiring immediate damage control, or when an external force threatens the business. A marketing manager determines pricing and marketing strategies with other team members. He or she searches for new markets that may need the products or services of the organisation. An individual in the marketing manager role manages the brand development analysis, providing a detailed understanding of the strengths and limitations of the product, before introducing the product to unconventional markets. So how to become a marketing manager and what does it takes to become one?
Resource Links for Online MBA
Target setting
A marketing manager defines the objectives for monthly quotas and marketing. A marketing manager oversees the marketing team and supervises its work reports. Target setting helps a marketing manager to guide and motivate the team in performing the tasks and events that impact revenue.
Target Audience
A marketing manager works hand in hand with the sales department to decide whether the services and goods meet the target audience's needs. It is important to select a target audience because it enables the business to direct its investments on those markets with potential growth, brand value and brand loyalty. A marketing manager develops and implements a marketing plan that is specific to the needs of the targeted audience.
Monitoring progress
A marketing manager tracks the development of any company and its employees. He or she examines the data and monitors the improvements in market performance. Observing a project explains the process of keeping a record of progress-related measures, like team performance and service period, identifying potential difficulties. A marketing manager takes the required remove steps to ensure that the project is within the framework, in the proper expenditure and within the deadlines.
Mentoring
A marketing manager is responsible for mentoring individual members and managing incentive programmes. Mentoring is a standardised support system in which one mentor offers his or her experience, knowledge and skills to help others grow their careers. Mentors need to be knowledgeable and eager to provide assistance whenever the need arises.
Types of a Marketing Manager
Market Research Analyst: Market research analysts collect and analyse information about customers and competitors. Market research analysts analyse market dynamics to look at potential products or services. Market research analysts evaluate customer demand to help organisations determine how their products and services should be shaped, advertised, and commercialised. Most market research analysts work for consultancy firms. Others work directly at consumer and product companies as part of the marketing team. Market research analysts convey their observations to managers and consumers through graphs, diagrams, and charts to support them in making better decisions regarding product launches, adjustments and marketing strategies.
SEO Analyst: Search engine optimisation analysts maintain that future and current consumers can identify and access the content of a company. They are an important part of the marketing department and are an integral part of preparing the marketing strategy of the company. The role of SEO Analysts includes carrying out keyword analysis, improving the content and tracking user interaction across the website. They should be aware of current SEO techniques and resources to be successful in this role and have strong analytical skills. SEO Analysts conduct keyword research using various tools such as Moz and Keyword Planner. SEO Analysts track significant SEO metrics including organic traffic, transaction rates and time spent on page.
Chief Marketing Officer: Chief marketing officers (CMOs) are C-level corporate executives accountable for an organisation's operations related to the creation, communication and delivery of value-added offers for customers, clients or business partners. Chief marketing officers oversee the planning, development and execution of the marketing and advertising initiatives of an organisation. Chief marketing officers are responsible for preparing, developing, managing and evaluating the overall marketing strategy for their businesses. They produce revenue by increasing sales through effective marketing using market research, pricing, product advertising, marketing and public relations.
Brand Manager: In the career as brand manager, one is responsible to monitor market trends and oversee advertising and marketing activities so that the intended message is put across for a particular product or a service. He/ She should know when and how to allocate funds for various purposes such as packaging, advertising, market research, and promotions. In the career as a brand manager, one has to be mindful of not only profits but also about the customers' satisfaction as well. He/ She has to assist and coordinate with the marketing analyst and assistant brand managers of the team. He/ She has to plan the strategies and execute the strategies well to see the progress of the company.
What is the workplace/work environment of Marketing Manager like?
A career as a marketing manager includes the promotion and distribution of products or services. An individual in the marketing manager role researches to determine a target group, maintains market research, describes goals, develops concepts and sets campaign expenses. An individual in the marketing manager role spends a considerable amount of time in the office environment. A career as a marketing manager is a regular job and the individual prefers working in an office, and generally in a safe atmosphere.
Does Marketing Manager require travelling?
Likely
Yes, the marketing manager's career occasionally requires traveling to meet with the organisation's clients. This happens when they are required to meet the client at the company. An individual in the marketing manager role travels quite frequently both internationally and domestically to provide instructions and monitoring for major marketing campaigns.
Employment Shifts
Full Time
Job shifts are usually full time in a career as marketing manager. A marketing manager performs full-time, but shifts differ by workload. He or she, however, seems to work in the daily shift, which does not indicate they should not have to spend extra shifts. An individual in the marketing manager role operates 40 to 45 hours a week, with particularly important tasks that also require additional shifts.
Employment Nature
Contractual, Permanent
A marketing manager's job can also be permanent or temporary in nature. As part of a group, a marketing manager must work within organisations. An individual in the marketing manager role communicates about projects with colleagues or interacts with customers around the world. Individuals who opt for a career as Marketing Manager would also need to be able to travel to meet clients and depending on the customer's geographical position. He or she may be employed for a certain period of time, but the individual is usually employed as a permanent employee.
Work Place
Office
A career as a marketing manager includes making plans for marketing campaigns and carrying them out. Those activities are carried out in the office setting. Marketing Manager job requires intelligence and strength of mind but not much physical labour.
Presence in Geographical Area
Semi-urban, Urban
A career as marketing manager has fewer possibilities in rural areas than in urban or semi-urban regions. However, this in rural areas began to expand with each day.
Time Pressure
Likely
An individual in the marketing manager role involves carrying out certain activities within a defined time span for a company or individual. Career as Marketing Manager is one of India's emerging career opportunities that requires a lot of time and emotional stability.
Overtime Details
In most companies, a marketing manager works for nine hours a day on a daily basis. Yet he or she has to work harder when it comes to product launches. Many tasks that need more effort, individuals who opt for a career as Marketing Manager in these circumstances will stretch the duration of the shifts to complete it in time.
Weekly Hours of Work
Min 40 Hours
A career as marketing manager includes working about forty hours a week, almost nine hours a day. The job of a marketing manager falls under some shifts, and a marketing manager can also work longer hours to address the issue in different types of projects. While he or she is working nine to ten hours a day, at the time of product launch it may be up to fifteen hours.
How to become a Marketing Manager?
What are the skills and qualities required to become a/an Marketing Manager?
You must be wondering how to become a marketing manager in India. So, in this section, we will be describing the marketing manager qualifications and skills. In order to make a career as a marketing manager one must possess some skills. Here, we will discuss how to become a marketing manager in India.
Interpersonal management: Marketing managers work in different roles, both within the organisation and outside it. Interpersonal skills are the abilities and strategies which an individual uses to communicate with everyone effectively. In the corporate world, the word implies an individual's ability to work effectively with each others. Interpersonal skills differ significantly from communication and teamwork.
Analytical skills: With the emergence of digital media, advertising, and promotions, the marketing industry is developing. Marketing managers need to be able to determine consumer desires and identify the most appropriate strategies for their organisation. Analytical skill begins by gaining exposure among a company's consumers.
Communication skills: Marketing managers must be able to interact effectively with a team composed of several other managers or staff members during the promotions and marketing process. In particular, they need to communicate with the public. Communication is crucial because it gives consumers a glimpse of the various products that the business provides. An individual in the marketing manager role also highlights the effectiveness, features, and standards of a specific product. This practice of communicating with consumers is extremely important in the marketing industry.
Creativity: An individual in the marketing manager role should be able to create unique and innovative concepts. Creativity in marketing fulfils the corporate demands of clients. Creativity requires a substantial understanding of how a company meets the needs of a consumer. This could be as important as casting out a successful performer for a company. In terms of marketing and advertising, creativity is the most important aspect. This is the most effective method for developing unforgettable memories for consumers and is a great way to establish the target audience.
Popular Online Finance Courses and Certifications
Which certifications and internships can be helpful in becoming Marketing Manager?
We have mentioned below certifications that individuals may opt for who want to establish a career as Marketing Manager.
Internship Availability
Yes
In order to have a better understanding of a career as a marketing, it is always important to go for an internship. An internship gives you insights into an industry and answers several questions relevant to how to become a marketing manager. Marketing apprenticeships are most appropriate for starting a career as a marketing manager. Internships are recognised as the perfect way to gain exposure. Internships help to have industry experience for the candidate. Internships also provide the ability for future applicants to incorporate the theoretical principles they have learned during their college days. A marketing intern assists an organisation in its marketing and advertising activities. The marketing intern is involved in various activities, like recognising business needs, designing promotional materials, and collaborating with team members to evaluate the existing marketing initiatives. Marketing interns use their educational background to support the firm while also gaining practical experience. Interns in marketing, research on business dynamics, and finding ways to strengthen the marketing strategies of the organisation. They also handle social media pages for the company and communicate with customers, and create content for advertising material.
Career Path Progression for Marketing Manager
Social media manager: Social media managers are in charge of preparing, executing, maintaining, and managing the social media strategy of the organisation with the aim of growing brand recognition, and enhancing marketing activities and sales. Social media managers track the statistics for (Search engine optimisation) SEO and web traffic. They work with other departments to ensure brand sustainability, such as marketing, distribution, and customer support. Social media managers communicate with customers, respond to queries and track customer feedback on time. They suggest and implement new features, such as promotions and competitions, to develop brand awareness. Social media managers remain updated with new social media techniques and trends.
Digital marketing analyst: Digital marketing analysts play an essential role in securing the online presence of a business. Digital marketing analysts are responsible for analysing statistics and seeking ways for the company to improve its online marketing activities. Such efforts often include topics such as strategies for email marketing, social media promotions, PPC campaigns, and online marketing activities. Part of their task is to evaluate the current online presence of their business and examine web traffic and other data that can help them make conclusions about how successful their social media presence is. They need to identify traffic goals and the target audience they are trying to attract, and then develop new methods to achieve those goals and increase website traffic.
Product developer: Product developers work in a range of industries to design and create industrial and commercial products ranging from vehicles to home goods to health care devices. Product developers require extensive knowledge of the principles of engineering and industrial design, as well as the ability to identify opportunities for the market establishment of competitive products and improvement of existing products. This may include the use of computer-aided design programs (CAD) to create prototypes and transform sketches into working sheets. Product developers may work with marketing professionals to ensure the product is launched successfully.
Quick Links: Career as Advertising Manager
Marketing Manager Jobs and Salaries
Social media manager
Monthly Salaries
Average Salary

60000

Junior Level Salary

30000

Senior Level Salary

100000
Job Description
Social media managers are responsible for representing an organisation as the company's sole voice across social media channels. They respond to feedback, organise campaigns and generate content. They provide guidance required for businesses to strengthen their social media presence. Social media managers conduct research on emerging patterns in performance monitoring and interests of the customers. In compliance with company priorities, they plan and execute social media strategies.
Salary Description
Social media managers' income depends on job development or is mostly dependent on knowledge and experience of the particular industry. Social media managers' salaries rely on specific industry experience and competencies. On average, social media managers earn over Rs. seven lakhs per annum. At the entry-level, they earn more than Rs. four lakhs a year but eventually make more than Rs. twelve lakhs at the senior level of their career.
Digital marketing analyst
Monthly Salaries
Average Salary

50000

Junior Level Salary

25000

Senior Level Salary

90000
Job Description
Digital marketing analysts use pay-per-click and other online advertising methods to create and manage search marketing strategies. They work mainly in office environments. Digital marketing analysts find full-time jobs, but these professionals may also function as freelancers. Digital marketing analysts work to increase website traffic, social media posts and other forms of online promotional content.
Salary Description
Within this sector, salaries are centred around the different departments and the position one holds. The salary for a professional digital marketing analyst is growing steadily. The average salary, a digital marketing analyst, receives more than six lakhs a year.They earn more than Rs. three lakhs a year at the start of jobs, and that increases by more than Rs. nine lakhs a year at the senior-level.
What is the job outlook for Marketing Manager?
Marketing managers are at the frontline of trade, technology, and design. Achievement in this field requires innovation, creative ideas, and resourcefulness. In an evolving, fast-paced world, marketing managers need to be detail-oriented and time-driven, and in various setups. The job market for those who are in the marketing industry is highly competitive, and a bachelor's degree could have been appropriate to enter the profession as freshers. However, employers are searching for Masters or MBA candidates. A Master's degree is required in some fields, such as market research analysis.
The U.S. Bureau of Labor Statistics (BLS) claims that from 2014 to 2024, the job growth of marketing managers will increase faster than the overall average for all professions. Job growth may occur as businesses seek to distinguish their products and services in a market that is increasingly competitive, resulting in demand for skilled marketing managers. Job growth can vary; however, depending on the marketing field one wants to specialise in, the location and the business, and also on marketing manager qualifications and skills. Competition for these coveted positions will be high. Also, the salaries and reputation associated with a marketing manager job will increase. Marketing manager qualifications and skills will have the best career prospects.
Student Also Liked:
Frequently Asked Questions for Marketing Manager
Que. Is a career in marketing good?
Ans.
Yes, definitely, a career in marketing is good. Your marketing experience will depend largely on the company and its role. But whatever marketing position you are actually pursuing, you can expect your job to give you a flexible work shift, a decent work-life balance, decent wages and plenty of innovative opportunities.
Que. Which is better marketing or sales?
Ans.
While sales and marketing in most organisations reside in different departments, integration between the two can help improve overall performance in terms of revenue and profit—sales and marketing work hand on hand.
Que. Is marketing a well-paid career?
Ans.
Marketing is an industry which is in constant evolution. In addition to this, there is substantial room for wage growth in this field, for example, the average base pay for a senior marketing manager rises to a range of between Rs. 50,00,000 and Rs. 1,00,00,000 annually.
Que. What are the 7 Ps in marketing?
Ans.
Once you have developed your marketing strategy, you should use a "Seven P Formula" to continually assess and re-evaluate your business activities. These seven are price, packaging, promotion, product, place and positioning.
Que. What are the top MBA entrance exam in India?
Ans.
Xavier Aptitude Test (XAT)
Management Aptitude Test (MAT)
CMAT (Common Management Admission Test)
Common Admission Test (CAT)
You might also be interested in
The question have been saved in answer later, you can access it from your profile anytime.
Access now
Report Question
Select your reason of reporting