Who is a Brand Manager?
Determine who you are and what your brand is, and what you're not. The rest of it is just a lot of noise ~ Geoffrey Zakarian
There are so many products that we use from different brands. But, have you ever thought about why a certain product does wonders in the market while some struggle to get sold? The answer is simple, the products that do well have good brand managers behind them who have done their share of work with complete dedication. Brand managers are responsible for ensuring that the products, services and product lines that fall under their domain resonate with current and potential customers.
The role of Brand Managers is to continuously monitor marketing trends and keep a close eye on competitive products in the marketplace. They regularly meet with clients and senior management and oversee a team of junior marketers. For those interested in becoming a brand manager pursuing an advertising course can be beneficial, however, it is not compulsory. In this article we will discuss is brand manager is good career, how to become brand manager in India and brand manager qualifications.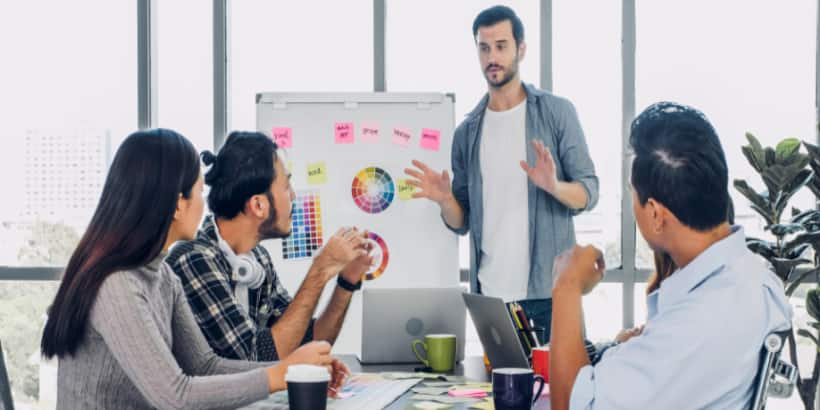 Brand Manager in a Nutshell
Brand management is a function of marketing that uses techniques to increase the recognised value of a product line or brand over time. Effective brand management enables the price of products to go up and builds loyal customers through positive brand associations and images or a strong awareness of the brand. As the name suggests, the career as a brand manager refers to the management of the brand's image by creating a lasting impression among consumers and improving product sales and market share.
Quick Facts for Brand Manager
Industry

Media

Average Salary in India

₹109650

Suitable for

Male, Female, Others

One of the finest aspects of making a career as a brand manager is that the profile is not gender-specific. People of all genders can become brand manager, provided they have the required skill sets.

Any special needs

Yes

As long as the disability does not hinder the creative ability and other skills of the candidates that are required to work in the career as a brand manager, this career is suitable for people with special needs. In most scenarios, brand managers work from a static location.
What is the role of Brand Manager?
In a career as a brand manager, one is responsible to monitor market trends and oversee advertising and marketing activities so that the intended message is put across for a particular product or a service. He or She should know when and how to allocate funds for various purposes such as packaging, advertising, market research, and promotions.
In the career as a brand manager, one has to be mindful of not only profits but also the customer's satisfaction as well. He or She has to assist and coordinate with the marketing analyst and assistant brand manager of the team. He or She has to plan the strategies and execute the strategies well to see the progress of the company. Major decisions regarding sales promotions are taken care of by the brand manager.
Resource Links for Online MBA
Research work
The research's main objective is to teach action, demonstrate a concept and contribute to the advancement of expertise in an area of study. A method for developing awareness and making learning easier. Involves knowing and raising public consciousness of multiple problems. Research often focuses on enhancing a condition within a specific company. Companies require serious research work as they encourage employees to know about the structures of the organisation. Brand managers are responsible for conducting consumer as well as market research.
Develop brand identity
A good brand name allows you in keeping your business in the eyes of customers as well as investors. A strong brand identity enables you to build relationships with customers across the company if a customer is satisfied with your services and goods. It offers the consumer a sense of confidence and trust. A brand identity gives people a sense of organisational culture or characteristics. An organisation guarantees that it will be acknowledged and recognised in creating a consistent image. Identifying how the brand is positioned in the marketplace.
Plan strategies
Strategic planning is the method of developing an organisation's objectives and afterwards implementing that vision with specific, achievable objectives. Employees who work in strategy formulation can set priorities, determine what measures workers really have to undertake and help the workers accomplish that goal. A strategic plan is a process designed to meet overall organisational objectives, capital accounting, market conditions, stakeholder expectations, and much more. The role of Brand manager is to make a strategy out of the research.
Study trends
Study of the trend will boost the company by allowing you to recognise areas which are doing great for the company, and also places which are not doing good. Through this way, it generates useful information that can help guide better decision-making regarding the long-term plan and also some opportunities to make the company longer-term-proof. Trend studies collect information from a particular community marked by a single feature, like cultural background. Brand Managers should be up to date on what is happening in the marketplace.
Reporting
Reports could include valuable information which could be used to develop predictions about the future, marketing campaigns, budget preparation guidance and enhancements of decision-making. Furthermore, daily reporting during the business year allows companies in the very same field to evaluate and compare their product to others.
Reporting helps company owners, businesses or the government in making timely decisions. This is also an internal method of communication within the company and its employed people. A report must be submitted about successful campaigns.
Types of a Brand Manager
When it comes to brand manager jobs and requirements, there are several brand manager career options available. Mentioned below are several types of a brand manager:
Marketing Executive: A marketing executive of a company is an individual whose job is to manage as well as oversee a company's marketing strategy. Marketing Executive's job is to decide how to promote products and services through marketing campaigns. The role of a marketing executive also encompasses creative, analytical, digital, commercial and administrative responsibilities. The overall goal of a marketing executive is to maximise a company's earnings profit by using his or her strategies.
Marketing Analyst: The job of a marketing analyst is to closely monitor the market, and the competition of the company he or she works for as well as study the behaviour of the company's potential or target audience. A market analyst of a company helps it to make decisions about which product or service to sell, to which segment of the customer which is deciding the target audience, and he or she also decides the price at which the product or service will be made available to the potential customers. This is done by a firm in order to reduce the potential risks that are involved at the time of launching a new product.
Marketing Director: The marketing director is known as the strategic level manager, he takes all the strategic decisions of the company. Some decisions are made by the marketing editor also regarding brand communications, products and sales. A marketing director of a company is involved in the formation of the marketing strategy of the company from the very beginning. They brainstorm around the formation of the idea as well as aim at implementing it on a larger scale to maximise the company's profit. Read further to know about how to become brand manager in India.
What is the workplace/work environment of Brand Manager like?
In a career as a brand manager, one usually works in offices. Sometimes they might even have to work at the client's offices.
Does Brand Manager require travelling?
Likely
Yes, there is some travelling required in the career as a brand manager. This takes place when the brand manager has to go and meet the client or work at the client's office.
Employment Shifts
Full Time, Work From Home
When it comes to a career as a brand manager, it is a full-time job. Certain companies do allow work from home according to their requirements to achieve their deadlines.
Employment Nature
Contractual, Permanent
The nature of the employment in the career as a brand manager is permanent until and unless the firm or clients wants to hire a part-time employee to maintain their costs.
Work Place
Office
Brand managers typically work in an office environment. They often have to coordinate with other teams in order to shape a brand properly and strategise as to how to build the image of the brand, through various mediums.
Presence in Geographical Area
Urban
The offices are in urban areas the career as a brand manager, as the big brands and clients are mostly located in cities.
Time Pressure
Likely
Brand managers are quite likely to face time pressure issues. Time pressure is quite active for the career as a brand manager. Apart from performing their research and work, they are also required to supervise and verify the work done by their team members. Hence, brand managers work under a lot of time pressure.
Overtime Details
The allotted working hours for brand managers is 9 hours per day typically. But because of the responsibilities assigned to brand managers, they work overtime for half the time in a month.
Weekly Hours of Work
Min 40 Hours
As such there are no specifics for overtime in the career as a brand manager. Working overtime would be only in case there is a deadline to meet.
How to become a Brand Manager?
Steps to become a Brand Manager
If you are interested in the marketing field and want to develop and promote new products in the market, then a career as a brand manager is a suitable career option for you. If you want to learn more about sales and promotion and looking for the details of how to become Brand Manager in India, then we have listed below the detailed steps for how to become brand manager in India.
What are the skills and qualities required to become a/an Brand Manager?
When it comes to a career as a brand manager, there are several skills that can help individuals in high-salary brand manager jobs in India. Some of the skills required in a career as a brand manager are:
Brand Awareness: Being aware of the brand and its characteristics are one of the most important aspects of being in a career as a brand manager. Brand awareness is important for retail as well as the service industry, and when trying to differentiate between industry competitors, it drives choices by potential customers. Brand awareness refers to the amount your brand or company is recognisable and memorable to your target audience's mind. It promotes purchase decisions and results in an increased market share and revenue.
Perseverance: In a career as a brand manager, one has to be quite determined as there will be times when a particular idea might not move forward and there will be delays. A brand manager has to be determined enough as to not become callous because of delays. A brand manager needs to continuously push forward to make the brand a success. Perseverance is a really necessary quality of character to allow you to succeed in life. This implies a willingness to work hard no matter what risks or difficulties might exist. It is just to focus on getting the job done and not surrender, as well as be serious.
Relationship building: In the career as a brand manager, one has to work across disciplines and with multiple teams at any given point in time and most of them might not be forthcoming. One might have to do a lot of to and fro in order to get the work done. Hence, it is important for a brand manager to be able to have good relationship management skills.
The relationship you are developing with others is based on how much effort and empathy you are investing in that relationship. Developing successful professional relationships has the power to strengthen employee productivity, making them more efficient later on. The higher achievement rate for employees, when employees develop close relationships with fellow workers, they can feel strongly attached to a business.
Result-oriented: The delivery of positive results is what brands want to witness, hence this is the most important aspect of being in a career as a brand manager. A positive result means a satisfied and happy client, whereas a negative result means an unsatisfied client as he or she will need to shell out more money and go back to the drawing board. Results orientation is a phrase used to refer to the skill of an individual to understand what outcomes are essential and what steps are needed to accomplish them. In several career paths, like business or law, it is an essential skill, because it can be extremely important to an organisation's success.
Analytical skills: This job of a brand manager involves forecasting future consumer trends and determining the various benefits and challenges of a particular pathway. Analytical skills can sound complicated although in daily work we use such expertise. Analytical skills are effective because it allows people to discover solutions to various issues and to decide what actions should be taken next. Recognising challenges and evaluating the scenario for possible alternatives is a crucial competency throughout all levels in the career as a brand manager.
Budget Management: In a career as a brand manager, one must develop and maintain marketing and advertising budgets. Budgeting helps you to estimate and schedule future investments, and you can easily compare real expenses with those budgeted for managing business efficiency. This allows the company to build an expenditure plan for the finances, important to make sure you will also have enough money to do the things you need because of the things which are necessary for you. If you are actually in debt, implementing a budget or expenditure plan can however support you find the way out of problems. Scroll down to read how to become brand manager in India.
Which certifications and internships can be helpful in becoming Brand Manager?
We have provided below certifications courses for aspiring individuals who wish to become a brand manager. These courses provide may help to upgrade skills and knowledge for better efficiency and increase productivity in work.
Internship Availability
Yes
A number of advertising and marketing companies provide internships for those who want to make a career as a brand manager. Interns have to do a lot of work which includes driving media planning and budgeting, coordinating marketing activities with external agencies, planning and conducting online and field research at client sites and in markets, performing market analysis and analysing research findings. Interns normally work regular shifts (9 a.m. to 5 p.m.) and overtime as and when required by the client or company. This is mostly a desk job (except where the client or firm requires the intern to meet a client in person or collect information from the market (Interact with the people to gather data).
Career Path Progression for Brand Manager
Junior Brand Manager: A Junior Brand Manager is a professional who conducts market research and consumer and develops custom marketing and advertising strategies. A Junior Brand Manager usually works under the supervision of a Senior Brand Manager and other senior professionals in the team.
Senior Brand Manager: A Senior Brand Manager is an experienced professional who communicates with the organisation's marketing personnel, public figures and executives and conducts meetings with clients. A Senior Brand Manager leads the team and trains Junior Brand Managers.
Brand Manager Jobs and Salaries
Junior Brand Manager
Job Description
The Junior Brand Manager job description includes analyses of brand positioning and consumer insights and transforms brand elements into plans and market strategies. A Junior Brand Manager researches and develops brand and marketing strategies.
Salary Description
The estimated Junior Brand Manager salary in India ranges from Rs 3.4 Lakhs to Rs 31.9 Lakhs with an average annual salary of Rs 12.0 Lakhs per annum. The Junior Brand Manager salary in India may vary depending on the various job factors.
Salary Source: AmbitionBox
Senior Brand Manager
Job Description
The Senior Brand Manager job description includes managing a marketing team and leading creative development. A Senior Brand Manager measures the report performance, monitors market trends, and oversees new and ongoing marketing and advertising projects.
Salary Description
The estimated Senior Brand Manager salary in India ranges from Rs 6.4 Lakhs to Rs 49.4 Lakhs with an average annual salary of Rs 22.0 Lakhs per annum. A Senior Brand Manager salary in India may vary depending on the various job factors.
Salary Source: AmbitionBox
What is the job outlook for Brand Manager?
Managing a brand is not easy, but it can be highly rewarding for those who have a knack for customer appeal. Brand management can be a stable and lucrative career. Many brand manager jobs are in industries such as FMCG, Pharmaceuticals, Education, Retail, Media, Hospitality, Leisure and Travel, Telecommunications, Electrical Products, and Entertainment.
In non-corporate sectors like advertising agencies consultancies, training and recruitment firms, commercial marketing departments, digital marketing agencies, and specialist brand consultancies also hire brand managers for the development of the company. These days with most brands emphasising a lot on their image, almost all brands have a dedicated brand manager or a team of brand managers. The career of a brand manager here in India and abroad has grown in the last decade and is growing expeditiously to date and it is predicted that by 2020 there will be a 14 per cent growth in the brand management career line.
Frequently Asked Questions for Brand Manager
Que. What is a brand management experience?
Ans.
It is the duty of brand managers to ensure that the products and services are in line with the current and potential customers. In order to do so, brand managers continuously monitor marketing trends and keep a close eye on competitive products.
Que. What do brand managers do on a daily basis?
Ans.
On a daily basis in the career as brand manager, individuals plan, develop and implement marketing strategies to increase brand equity and overall performance, which includes print, web and social media campaigns.
Que. What skills do brand managers need?
Ans.
Key skills for brand managers are
Analytical skills and attention to detail.

An understanding of trends and the ability to respond to customers' wishes.

Creativity and the ability to produce innovative and original ideas.

Team working skills.

The ability to manage and allocate budgets.

Written and verbal communication skills.
Que. How do I prepare for a brand manager interview?
Ans.
If you want to get hired as a brand manager, you have to make sure you're well prepared for the interview.
Do your research about the Company

Know the competition

Explain how you would help the Brand grow

Provide examples of past results you've achieved

Talk about Brands and Campaigns that You admire

Establish your credibility as a problem solver
Que. What qualifications do you need to be a brand manager?
Ans.
To become a Brand Manager, you are required to opt for a bachelor's degree in Marketing or a related field. You must opt for a specialisation in MBA in Marketing and a minimum of 3 years of marketing work experience.
Que. What is the highest salary of brand manager in India?
Ans.
The estimated Brand Manager salary in India ranges from Rs 3.4 Lakhs to Rs 31.9 Lakhs with an average annual salary of Rs 12.0 Lakhs per annum.
You might also be interested in
The question have been saved in answer later, you can access it from your profile anytime.
Access now
Report Question
Select your reason of reporting