Business Analysis is an approach to introduce and manage change in organisations. It is utilised to identify and articulate the requirement of change that improves the efficiency and productivity of businesses or organisations. Data exists everywhere. Large data sets include information that is crucial to make reliable, data-driven business decisions. It offers organisations an extra competitive advantage to collect, analyse and apply data sets in a constructive manner.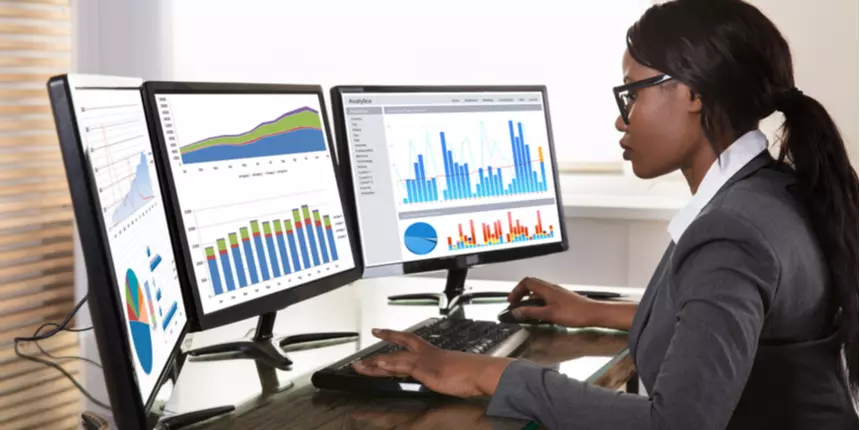 Business Analyst Salary in India for Fresher & Experienced
A Business Analyst is a professional who utilises data to enhance the operational efficiency of the employing organisation by increasing productivity with quality performance. He or she studies the processes, operating procedures and large data sets to improve the organisation's efficiency. A Business Analyst is also known as a Management Analyst. He or she identifies and defines solutions that maximise the value delivered by organisations. It includes defining strategies, creating enterprise architecture and taking the lead. A Business Analyst defines goals and requirements for improvements in the programmes and projects to support the continuous improvement in processes and technologies.
The work responsibilities of a Business Analyst include reducing costs and eliminating or reducing inefficiencies. He or she boosts the competency of the organisation to sustain itself in the modern business world. A Business Analyst is required to utilise analytical skills in order to understand and implement data-focused strategies.
Not only do Business Analysts perform business analysis, but there are an array of other career options that involve performing the analysis such as Systems Analyst, Product Manager, Business Architect, Management Consultant, Data Scientist and others. In this article, we will discuss about business analyst salary in India, business analyst salary for freshers, and business analyst salary per month.
Functions of Business Analyst
A Business Analyst job includes performing numerous tasks on a daily basis. We have listed below the major functions of a Business Analyst.
Improving Business Operations: A Business Analyst work responsibilities include identifying the areas that require improvement in business operations and processes. He or she is required to provide support in designing and modification of existing systems.
Collaborate: The role of Business Analyst involves collaborating with the system architects and developers. He or she is required to interact with business stakeholders and subject matter experts to understand their needs.
Documentation: A Business Analyst role involves gathering, documenting and analysing the organisation's needs. He or she creates system testing and system documentation as well as user manuals.
Validation: A career as Business Analyst involves ensuring that needs are being addressed. He or she is required to ensure the requirements are approved by the stakeholders and meet the quality standards.
Business Analyst Skills
Are you thinking of pursuing a full-time career as Business Analyst? Then you must know about the required skills to become a Business Analyst. We have provided here details of Business Analyst skills.
Business Sense: A Business Analyst job demands to recognise the business problems and come up with the best solutions. He or she must possess an understanding of the business motive is the first step in a business analyst's life, it is a special skill in itself. Now, let us proceed to the next set of business analyst skills.
Critical Thinking: A career as Business Analyst requires critical thinking to assess the intensity of the problem and come up with multiple solutions and alternatives. He or she has to gather and understand the client's needs. It helps Business Analysts to prioritise business requirements and reach stated goals.
Communication Skills: In a Business Analyst career, being understood is equally as important as being understanding. He or she is required to collaborate with other stakeholders and validate the final solution. Verbal and written communication is essential to convey ideas and opinions to stakeholders.
Negotiation: There are times when you do not agree with an opinion, idea or other things about a project. In such situations, you have to negotiate to determine what must be added to the project's vision. Business Analysts are required to negotiate at every phase. Negotiation skills are crucial to make technical decisions.
Also: Career as Data Analyst
Business Analyst Education
Aspirants who want to become Business analysts are required to successfully complete an undergraduate degree in Data Science, Statistics, Mathematics or related specialisations.
Also Read: B.Tech. in Data Science
Business Analyst Salary
The business analyst salary varies depending on the candidate's skills and prior work experience. The size and structure of the employing organisation also affect the salary. The average salary of a Business Analyst in India, IT is Rs. 612719 per annum.
Business Analyst Annual Salary
| | |
| --- | --- |
| Experience | Annual Salary |
| 0-1 Year | Rs. 368590 |
| 1-4 Years | Rs. 510720 |
| 5-9 Years | Rs. 850359 |
| 10-19 Years | Rs. 1278508 |
| 19 or more | Rs. 1969067 |
The Fresher Business Analyst salary in India is Rs. 368590 per annum.

The average Junior Business Analyst salary in India with junior-level experience is Rs. 510720 per annum.

A mid-career Business Analyst average salary in India is Rs. 850359 per annum.

The average Senior Business Analyst salary in India is Rs. 1278508 per annum.
(Source: payscale.com)
The in-hand average Business Analyst salary in India per month might not be equivalent to their annual CTC. It is due to the deduction of charges of other services provided by the employing organisation such as pick up and drop facility, health insurance or other benefits as well as PF deduction. According to Indeed, the average Business Analyst salary is Rs 45688 in India per month.
The average Business Analyst salary in India also varies due to the geographical location of the employing organisation. Business Analysts employed in Pune, Maharashtra earn 25.4 per cent higher salaries than the national average. While business analyst salary Bangalore, Karnataka earns 17.5 per cent more than the national average.
(Source: payscale.com)
Top Business Analyst Recruiters and Annual Salary
| | |
| --- | --- |
| Top Recruiters | Annual Salary |
| Tata Consultancy Services Pvt Ltd | Rs 698717 |
| Accenture | Rs 602490 |
| Computer Sciences Corporation | Rs 603269 |
| Capgemini | Rs 700000 |
| Deloitte | Rs 579808 |
| HCL Technologies Ltd | Rs 650000 |
| Infosys | Rs 800000 |
(Source: payscale.com)
Student Also Liked:
Business Analyst Job Prospects
Business Analysts are employed in all kinds of industries and businesses. It includes government and nonprofit organisations as well. A Business Analyst increases the profitability of employing an organisation with his or her skills and expertise. He or she adds a large share of profits in management consulting firms and IT firms. Finance or accounting, investment banking and market research-based organisations offer a pool of opportunities to Business Analysts.
Also Read: Career as Statistician
Conclusion: Business Analysis is about identifying the required changes to implement in the operations and technologies to improve the organisation's efficiency to achieve the common goal and Business Analysts serve the purpose by doing it with the help of data. Any business wanting to succeed must hire a third-party Business Analyst as a consultant or recruit one such in-house position.
Popular Online IT Courses and Certifications