Who is a Data Scientist?
Without big data analytics, companies are blind and deaf, wandering out onto the web like deer on a freeway ~ Geoffrey Moore
In career as data scientist, individuals help the organization make the right decisions and strong marketing strategy in the global marketplace. The primary word which comes up to our mind when we first hear the word data scientist is intelligence. Yes, and why not when the career in data science, is all about information and scientific knowledge, the power of analysis. Okay, so if you have the knowledge of analysing any kind of information scientifically then maybe you are a potential candidate for this field. But this profession requires a thorough study and a good understanding of science, computer science and programming skills. A data scientist's work activity centres around the information. These days in the technological and software world, Data science is the new and mostly used lingo. It is a major step towards learning how to use computers. Day-to-day technology advancement and the generation of huge volumes of data has increased the opportunities for data scientists nationally and internationally. Here, we have discussed the details of a data science career such as what does a data scientist do, a data science degree, a Data Scientist salary in India, is data science a good career, how to start career in data science as a fresher.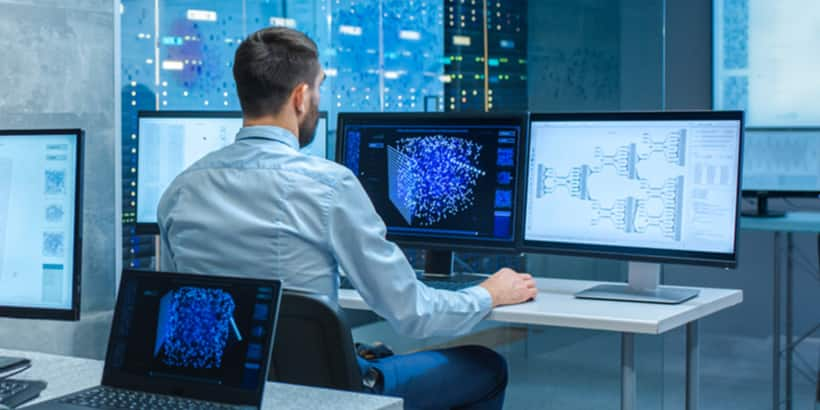 Data Scientist in a Nutshell
In career as Data Scientist, individuals are generally called as big data wranglers, collecting and analyzing vast collections of data from multiple sources. The job of a data science career includes computer science, mathematics, and statistics. Data analysis careers, big data careers and data mining careers require analytical and knowledge statistics to use their technological and social science expertise to recognise trends and manage information.
Quick Facts for Data Scientist
Industry

Technology

Average Salary in India

₹40000

Suitable for

Male, Female, Others

We often see that some professions are gender-specific, as a certain job can only be done by a man or a woman. But a career as a data scientist comes with no gender obligation. Men, female both can easily take up this career. Whilst data scientist is nowadays the most exciting place of employment. Though 18 per cent of contemporary data science positions are filled by women, and 11 per cent of data teams have really no female employees.

Any special needs

Yes

Everyday functions of a Data Analyst can be performed by candidates with special needs. What this industry needs is basically intelligence. So it is very obvious that people with physical disabilities can easily go for a career as a data scientist without any hesitation.
What is the role of Data Scientist?
Data Science career is an interdisciplinary subject matter that utilises several statistical methods, scientific algorithms, information science, data assessment, machine learning theories, as well as other similar subjects. It involves the extraction of relevant information from a wide data group to generate a strategy for businesses to understand their information and analyse them. Individuals who opt for a career as a data scientist acquire an industry-specific understanding of analytical and programming skills. Students can pursue B.Sc, B.Stat, B. Tech to become data scientists. They write extremely complex algorithms to assemble big amounts of information. An organization plans its business strategy and plans, based on the performance provided by a Data Scientist.
Management
The data scientist performs a significant managerial role in assisting to develop the base of state-of-the-art science and technological abilities to assist many organized and ongoing data analytics activities. The data scientist determines the data to be collected by the company, establishes strategies for modifying the data system to generate this information and works with many other data and analytics departments to establish methods that turn raw data into usable advanced analytics. The data scientist will also be a supervisor to help employees in the task, and maintain successful implementation of assignments.
Analysis
The data scientist performs an analytical role in developing, applying, and analyzing complex computational equations and application methods in some of the most complicated problems of the business. A data scientist constructs quantitative and statistical patterns for various issues, which include economic forecasts, classification, clustering, pattern recognition, testing, simulation techniques. Data scientists explore new models to control and simulate end-user activity and behaviour and also develop techniques for data analysis and visualization to convey main objectives in advanced analysis.
Plan strategies
The data scientist plays a strategic role in introducing new and innovative strategies for recognizing market trends and behavioural patterns in the business, and also ways of solving critical business challenges, such as product quality and total revenue. Data scientist produces useful information through the implementation of advanced statistical methods such as computational statistical models, segmentation analysis, consumer analysis, observation and data processing. The data scientist is liable for the cleaning of huge large amounts of data and allowing analytical ability to survey the data and identify business requirements.
Data analysis
After the data has been processed, it can be analysed. Scientists can begin decoding the texts in the data using a range of methodologies named observational data assessment. The process of exploring will result in significant cleaning up of data. Descriptive statistical analysis, like the average, maybe generated to better clarify outcomes. In order to gain more information on the data signals, data modelling could also be used to process data in graphical format.
Research work
A data scientist spends a considerable amount of time researching and planning solutions within the company for existing problems. Business intelligence developer is indeed capable of creating OLAP or analytical processing. Often, he or she deals with relational and multilayered databases. A business intelligence developer is an engineer responsible for the development, deployment and maintenance of business intelligence interfaces. This would include database tools, interactive dashboards and data analysis, ad hoc reporting, and data modelling tools.
Types of a Data Scientist
There are various types of careers in the data analyst career path whether it be data analysis careers, data mining careers or big data career. We have mentioned below the major job roles that you can opt after graduating from a data science school.
Data Developers: Data developer is a data engineer who is skilled with user experience and is also knowledgeable about business value. Data developers recognize business objectives and are therefore not confined to store, retrieve, information flow issues. IT Engineers, Data warehouse developers or software developers may also be known as data developers. Database developers are able to gather data before creating the database. They develop, build, evaluate, introduce and manage new databases as well as current ones. Developers of the database build management techniques and processes to access data stored in databases safely.
Data Researcher: A Data Researcher is liable for collecting and analyzing the data, securing and regularly enhancing the quality of data from an institution and working with the research group to analyze information in a logical manner. Their job description includes supporting the research department in monitoring and evaluating all facets of the institution's business and using data analysis for services, company ventures, and activities in business growth. They are often accountable for devising or changing new and current statistical and numerical data.
Market Research Analyst: Market Research Analysts evaluate consumer behaviour to help businesses in deciding how their services and products should be formed, marketed, and commercialized. Several market research analysts are working for contractually hired consultancy firms. Else work directly at product companies as part of a marketing team for business owners. Market research analysts collect and interpret information about customers and competition. Market research analysts analyze market dynamics to look at future product or service sales. They help companies in understanding and producing products that consumers want.
What is the workplace/work environment of Data Scientist like?
Data scientist operates mostly at the offices. Data scientists typically employ computer and software programmes to calculate their statistics. A data scientist's primary task is to gather, analyse as well as to conduct statistical analysis of the data. Individuals who opt for a career as a data scientist convert research and facts into simple English, to support businesses and organizations, so that they could know how to make smarter business decisions. Almost every company collects data whether it is a business plan, profits statistics, transportation or the cost of travel. A career as a data scientist involve the collection of numbers to find out a number of products, like pricing manufactured innovations, reducing shipping charges, or addressing the issue which impacts the businesses.
Does Data Scientist require travelling?
Likely
A career as a data scientist involves travel both internationally and domestically frequently for the purpose of providing data access control, guidance, and supervision for major shareholders or other related companies. Political data science careers require to attend meetings, seminars and conferences, and meet clients and other professionals.
Employment Shifts
Full Time, Part Time
People do their work both on a full-time and part-time basis. But, a career as a data scientist is still opted for by people on a full-time basis. Most individuals who opt for a career as a data scientist work full-time, though schedules can differ by responsibilities and deadlines. Work from home also exists for a career as a data scientist.
Employment Nature
Contractual, Permanent
A career as a Data Scientist provides employment on both contractual as well as permanent basis. Although many data scientists operate individually, similarly employees could work as part of a team in organisations. Many data scientists consult on assignments with their colleagues or interact with clients around the globe. Individuals who opt for a career as a data scientist can establish their business entirely as they would like in their sitting room, but they will have to be ready to travel to meet customers and workplace conditions may vary based on the location of the client or company they deal with.
Work Place
Office, artificial intelligence offices
Individuals who opt for a career as data scientists often work in offices where they do their research work. A career as a data scientist involves the collection of data through various software programmes and analyse it to solve various problems of organisations and understand the consumer market and consumer behaviour.
Presence in Geographical Area
Urban
In rural areas, data scientist has fewer or nil opportunities. Many data scientist workers are mainly employed in urban areas since there are many IT firms based in metropolitan centres. Urban areas such as Gurgaon (Haryana), Delhi (New Delhi) and Bangalore (Karnataka) are locations where a data scientist may find employment because they are the IT hubs of India. Though it is less yet still rising in rural areas.
Time Pressure
Likely
Data Science is a profession that requires a lot of hard work, persistence, and supervision. There are a lot of tasks for data scientists to perform within a day. Hence, the time pressure is immense. Meeting deadlines, completing projects, holding meetings, performing data refining and other significant research requires a lot of time management. The time pressure for a career as a data scientists is considered intense.
Overtime Details
Individuals who opt for a career as data scientists are required to work overtime almost every day. In fact, they also work on weekends and sometimes holidays. They are required to report to their office before everyone and leave the office after everyone. Working overtime for long hours is quite common for data scientists.
Weekly Hours of Work
Min 45 Hours
Individuals who opt for a career as a data scientist actually work 45 hours a week, with increasingly stressful projects that usually employ additional shifts. But the scientists who are only engaged in research work can spend more than 45 hours a week.
How to become a Data Scientist?
What are the skills and qualities required to become a/an Data Scientist?
You must be wondering that how to become a data scientist in India? So, in this section, we will be describing the data scientist qualifications and skills. In order to make a data science career in India, one must possess some skills. Some of the data scientist qualifications and skills are mentioned below:
Communication Skills: The data scientist's communication skills are a must, in both written and verbal manner. To clarify complex mathematical material to senior data scientists and other stakeholders, a data scientist would need to communicate well. Therefore, with clear advice and observations specific to the audience at hand, they must have the ability to translate and tailor this technical content into relevant business material. Individuals who opt for a career as a data scientist need to explain clearly their findings to a client or a small team of corporate executives. The key to success lies in inefficient communication.
Analytical Skills: The applicant must have a good understanding of the methods of data mining and be able to utilize such strategies in real-world business problems. Individuals who opt for a career as a data scientist would display a skill for the company to analyze data, recognize trends, problems or data analysis requirements. The main elements of a good data analyst are enthusiasm and creativity. Strong fundamentals in statistical analysis are essential but thinking regarding challenges through a kind of creative and analytical perspective is even more important. It will assist the scientists in producing active research questions that will help employees know the subject.
Technology Skills: An applicant for this role requires to be technically advanced, demonstrate exceptionally good computer skills, and demonstrate an interest in science, statistics, and data processing and also a basic competency and desire to develop and implement effective data analysis strategies within a company. The data scientist must be trained in at least one language and therefore should possess some specific skills. Individuals who opt for a career as a data scientist use computer languages such as R and SAS for data collection, data processing, statistical analysis, and data display.
Interpersonal Management: The applicant always needs to acknowledge positive characteristics that would suit him for the task, such as possessing the capability to work in a group or collaborative setting. They need to be result-oriented, to be detail-oriented, be a strategic and analytical thinker and also they need to possess superior leadership skills. Data scientists pay very close attention to specifics, even have the capacity to operate on complex projects and resolve any issues, have the excellent problem-solving ability and maintain calm and relaxed moments of stress and confusion.
Computer Skills: The important aspect to remember is that every Microsoft Excel-related analytical tool. The development of information analytics typically focuses on data loading and internal collaboration on an excel sheet. The important advantages of entering an advanced Excel programme significantly increase productivity by saving the cost, becoming an expert in managing spreadsheets, efficiently developing charts and figures, and enabling a comfortable environment to operate. Individuals who opt for a career as a data scientist will also have a good sense of competence and can recognize advanced modelling and analysis approaches.
Students also liked
Which certifications and internships can be helpful in becoming Data Scientist?
There are various types of online certifications that help in improving the technical skills required to become a successful data scientist.
Internship Availability
Yes
An Internship is an initial step towards a career. It gives provides an entry-level work experience which someone gets from a company. Organisations offer aspiring candidates to work with them for a given period of time and they are termed, interns. Interns are usually university or graduate students and also most internship programmes span is for a month to three or six months. An Intern will be liable for employing statistical methods to give information into user data to direct decision-making and improve customer service. In certain situations, interns in data science are termed data analysts. In a data science career, individuals spend most of their time reviewing data from the research and submitting their conclusions to the group. For other instances, computer science and mathematical activities are assigned to them, like research into new methods or artificial intelligence strategies.
Career Path Progression for Data Scientist
There are various careers in data science such as careers in data analytics, big data careers, data mining careers and political data science careers. Data science professionals are in the brainstorming career with the applications of artificial intelligence and machine learning tools in their everyday job. We have mentioned below major job roles for data analysis careers.
Data Engineer: A data engineer is regarded as the foundation of any major company. This role requires a considerable understanding of technical knowledge as a data engineer works with the data structure infra-structure of the organisation. Data engineers are usually software engineers. Data engineers are able to compile and implement database systems, composing complex queries, balance to different systems, and establishing disaster recovery systems, rather than data analysis.
Data Analyst: A data analyst collects, analyses and performs statistical analyzes of the wide collection of information. They start figuring out how data can be supplied to answer questions and provide information. With the growth of computers and a growing drive towards technology development, data analysis. The database development has brought a fresh breath to the data analysts. It is the responsibility of a data analyst to take that information and use it to help the company make smarter business decisions.
Business Analyst: A business analyst evaluates a company or business domain and records, analyzes the business strategy or its compatibility with emerging technologies, its business or methodologies or structures. Business analyst serves to empower companies with the help of data analysis to enhance processes, products, services and applications. The main purpose of the business analyst is to help the company to introduce innovative technologies in a cost-effective manner by defining project or system specifications and communicating them directly to investors, facilitators and associates.
Data Scientist Jobs and Salaries
Data Engineer
Monthly Salaries
Average Salary

40000

Junior Level Salary

30000

Senior Level Salary

100000
Job Description
Data engineers are able to identify trends in data sets and for designing algorithms to help make the company 's raw data more reliable. This IT task requires a considerable range of professional skills, such as in-depth knowledge of SQL database design and multiple languages.
Salary Description
The more experience you would obtain in these fields the better salaries you can receive in this sector. At the initial stage of their career, they get a little less, though better than other careers. which are almost Rs. five lakhs per year, but gradually they earn more than twelve lakhs at senior level.
Data analyst
Monthly Salaries
Average Salary

40000

Junior Level Salary

30000

Senior Level Salary

200000
Job Description
Roles in data analytics include data collection and clean-up to disclose business trends and insights. Data analyst's day-to-day role varies depending on the industry to industry or the type of expertise in data analytics they want. Data analysts may use business intelligence tools, Tableau, and programming to create dashboards, plan, and maintain inter-department relationship databases and frameworks throughout their organization.
Salary Description
In data science, salaries are centred on the various departments and the place that one holds. The salary increases steadily for experienced workers. The average income for a data analyst is up to five lakhs per year. At the beginning of employment, they earn four to five lakhs a year, and that rises more than twenty lakhs a year at the senior level.
What is the job outlook for Data Scientist?
In recent years data science is used in almost each and every sector and has resulted in a sharp 45 per cent rise in total data science-related employment. The increasing importance of data scientists will give an indication of data science's future scope in the data analyst career path. Electronic health records, payment, health services, wearable devices data and different parts provide massive amounts of data each day. Banks use the technology to recognize and maintain their customers and also to get new ones. Effective data analysis applications would also help e-commerce companies to predict transactions, revenues, failures, and sometimes even manipulate people to purchase stuff by monitoring their behaviours and attitudes. Major retailers evaluate consumer profiles and market the related goods based on the findings in order to manipulate the people to purchase. Passenger counting systems, GPS tracking systems, checking tickets and boarding pass collection systems, and scheduling and wealth management systems obtain much of the industry data and information. Data sciences include the immense potential in providing information into the development and preparation of transportation infrastructure in the data analyst career path. Analytics from this collected data are essential in building sustainable competitive advantage, improves system accuracy and managing risk.
Frequently Asked Questions for Data Scientist
Que. What does a data scientist do?
Ans.
Data scientists are working closely with the company stakeholders to recognize their objectives and to assess how data could be used to accomplish the desired objectives. They design processes for data modelling, generate algorithms and predictive analytics to extract meaningful information, the business needs, then assist evaluate the data and share information and insight with coworkers.
Que. Is being a data scientist a good career?
Ans.
Not only data science will offer a great career but it would also support you in your self-improvement. You could have a problem-solving outlook. You will be able to fully enjoy the best experience although most data science positions bridge IT and Management.
Que. Do data scientists code?
Ans.
Yes, data scientists are able to code and If individuals have a data engineer or a machine learning engineer, that could help them place their code into production and finalize some of the things they do.
Que. Who is eligible for a data science course?
Ans.
The basic qualifications for being successful to follow this programme include a Bachelor's degree in science, business management, engineering, computer applications, or mathematics or a Master's degree in statistics, finance, or mathematics with 50 per cent or equivalent scores.
Que. Is a data scientist similar to a software engineer?
Ans.
Data scientist duty involves the dashboards for data processing, machine learning, algorithms and business intelligence. A software engineer develops programmes and applications. Developers will be actively engaged from design to coding, running tests and analysis throughout all stages in the project. So, yes we can that these two professions are not similar to each other.
You might also be interested in
Questions related to Data Scientist
Showing 3 out of 3 Questions
34 Views
what are the opportunities for btech in electronics and communication engineering with specialisation in data science?
hello Aspirant ,
The study of Electronics and Communication Engineering with Specialization in Data science has become essential to cater the growing need for professionals and researchers to deal with the future challenges. You can go for a Masters in Science in fields like Telecommunication Engineering, Microelectronics & VLSI Design, Electronics Design and Technology, Wireless Communication, Signal Processing, Robotics, Embedded Systems or VLSI System Design. If you aspire for managerial roles, you can go for a Masters in B
Research and development
Electronics engineers can follow the M. Tech- Ph. D- Research path innovation and development is what interests them. Organizations like ISRO, DRDO, SAIL and BHEL lead in the research field and are ideal workplaces to engineer new and better technologies for the enhancement of the communication and signal systems.
hope this information was useful .
thank you .
1012 Views
What is the difference between Bsc data science and BSc IT (data science) in terms of curriculum? Which is more useful?
BSc Data Science focuses on statistics, big data analytics, machine learning and related aspects which make you understand the problems/phenomena with respect to a set of real world data whereas BSc IT revolves around the processing and management of information in a systematic way through the subjects technical communication skills , data structure using c language, content management system, etc.
So you can have a rough idea about the two courses but which one is better is something only you can decide as you will know better which subject interests you more.
The question have been saved in answer later, you can access it from your profile anytime.
Access now
Report Question
Select your reason of reporting