Who is a Business Analyst?
To be good at improving a client's business a business analyst must be able to improve himself ~ Anonymous
Career as business analyst is considered one of the highest paying jobs in the management and marketing field. An organisation has to perform several functions on a daily basis for the efficient running of the business. How do you think a company manages to think of ways in which it can maximise the amount of profit? Well, a lot of analysis is done, things are learnt from past mistakes and the successful strategies are enhanced further. If you are someone who loves analysing data, someone who tries to find a pattern behind the things that are happening, or simply if you are an analytical thinker then being a business analyst can be your dream job. The bright minds help and consult the companies in order to make informed and well-researched strategies that can maximise the profit in business analyst careers. A business analyst goes through real-world data in order to provide the most feasible solutions to an organisation. Students can pursue Business Analytics to become Business Analysts. Here, in this article, we will discuss the details of business analyst careers such as business analyst jobs, what does a business analyst do, business analyst salary, business analyst qualifications, is business analyst a good career.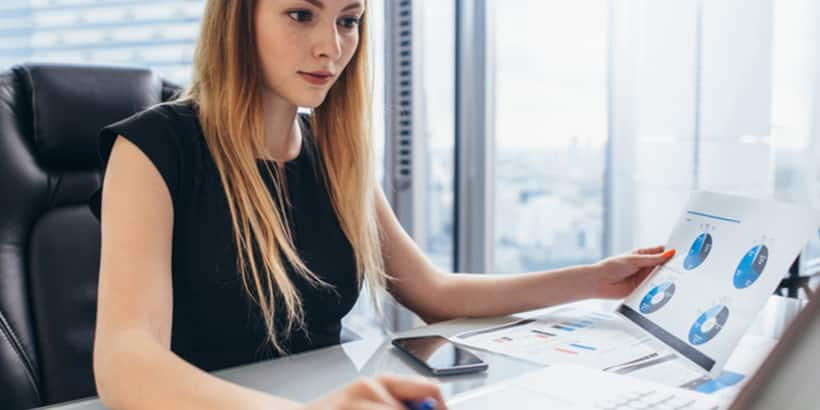 Business Analyst in a Nutshell
Individuals who opt for a career as a business analyst looks at how a company operates. He or she conducts research and analyses data to improve his or her knowledge about the company. This is required so that an individual can suggest the company with strategies for improving their operations and processes. Students can visit Great Lakes Institute of Management, Jamnalal Bajaj Institute of Management Studies to study Business Analytics courses. Business analyst jobs are usually done to help the company make more money, solve existing business problems and achieve its goals.
Quick Facts for Business Analyst
Industry

Marketing

Average Salary in India

₹37333.33

Suitable for

Male, Female

Anyone can choose to have a career as a business analyst. In order to become a business analyst, an individual from any section or gender can do so. It doesn't matter which gender he or she belongs to when it comes to taking up business analysts as a career option. Being a business analyst in India can be of several advantages due to the vast career opportunities available in this field where an individual's gender is insignificant.

Any special needs

Yes

When it comes to taking up business analyst jobs it is better to be physically fit for a better and efficient way of working. But, differently-abled people can also be a part of business analyst jobs as it is more of mental work than physical work. If an individual can carry out all the duties without the efficiency of the work being hampered then he or she can become a business analyst.
What is the role of Business Analyst?
We have discussed what does a business analyst do in this section. A career as a business analyst is closely linked to the IT industry, and in some companies, business analysts can be considered for the role of a technical professional and stay in the IT department. Nowadays, business analyst's solutions for clients often involve the development of new, or improved, computer systems, and the analyst's role can be expanded to inform the broader business about the benefits of new technology and to teach colleagues how to use it. One can work 'in-house' with a company, where he or she will only work on projects that the employer has, or are hired by an analyst or consulting company and often go to the client's office and get promoted there for the duration of the project. The length of engagement for a business analyst varies, as they may be present in the short term, coming up with solutions to a problem, or a longer period of time, when he or she will assist in developing a solution.
Research work
The first step for a business analyst in order to solve any problem or for achieving a company's desired goal is to do the research work. One needs to dig in deep in order to understand the problem for the company. It is a crucial step for if the research is done properly, it is said half of the problems begin to get solved from themselves. One needs to go through all the data available and then take other necessary steps.
Interaction
A business analyst interacts with the clients, stakeholders or the people who can provide information regarding the project one is working for. It is done in order to know more about the problem from the people who are working in the company or to the subject matter experts. This helps in understanding the problem better and in turn solve the problem with the most productive solution.
Inspection
In order to help the company prosper one needs to inspect what all can and will happen if the projected steps are taken. Proper research needs to be done first for finding the loose ends in the inspection process. It is an important job function as the steps taken after this ca
Solving Problems
Once a business analyst understands the problems faced by the company thoroughly his or her next step is to find solutions to the problem. Going through all the research data and by brainstorming the most suitable solution which maximises the company's profit is taken into consideration. Depending on the problem the business analyst provides the solutions and the changes are made accordingly.
Implementing
Once the solution of the problem is finalised the job of the business analyst generally does not end there. He or she assists and makes the system architects or the developers to understand what has to be done. It is done to gain the desired output and to make sure the work is properly implemented.
Types of a Business Analyst
Here we have discussed the alternative careers in business analyst career path in India.
Information Analyst: An information analyst is also known as a data analyst who is responsible for generating reports, analysing data, troubleshooting, researching and resolving issues. He or she checks the information to make sure their reports are accurate. One can also design and use a computer model. An information analyst makes recommendations on how the organization should move forward and make predictions about future prospects. Data analysts work closely with managers, as well as customers or suppliers to get the kind of data analysis required.
Safety Analyst: A security or safety analyst acts as a tracking expert for a particular company. His or her work responsibilities include overseeing business operations to ensure that all health, safety and environmental regulations are adhered to. The data is collected, segregated and analysed accordingly by a safety analyst.
Computer Systems Analyst: A computer system analyst works to ensure that all computer systems within the organization are working to support the organization's objectives. He or she then takes this information and designs and builds advanced systems. Computer Systems analysts work in a number of industries and are usually part of an engineering or IT team.
Management Analyst: The management analyst is responsible for developing and preparing operating manuals and procedures to assist the company's management in a proper and efficient manner. He or she is responsible for completing a company's organisational studies and experiments, design programmes and processes, and also does the simplification and simulation studies.
Product development manager: A product development manager is considered responsible for the profits and loss. product development managers are expert professionals who lead the organizations with their abilities and effective decision making. A product development manager analyzes the market and competitive conditions. He or she lays out a product vision that delivers customer demands. The product development manager collaborates between engineering, marketing, sales, and support teams.
Data analyst: A data analyst gathers, analyzes and carries out statistical analyzes of broad data collection. They figure out how to provide data to respond to questions and resolve issues. Data processing has developed with the growth of computers and an increasing drive towards technical enhancement. The invention of the database has given the data analysts a fresh breath.
Also read - Career as product development manager
What is the workplace/work environment of Business Analyst like?
Individuals who opt for a career as a business analyst spends most of his or her time in the office environment itself. As a result, working hours are mostly between 9 to 5. Individuals who opt for a career as a business analyst may sometimes stretch depending on the task at hand. It is a desk job and the individual generally works in an office on a desk and in a clean environment. One does not have to do any kind of physical work; it is mostly about research and brainstorming along with applying one's knowledge in the task.
Does Business Analyst require travelling?
Not Likely
A career as a business analyst does not involve travelling. At least not at the beginning of the career. Individuals who opt for a career as a business analyst may have to travel to several places if the client asks him or her to do so but this is generally done much later in the job. Moreover, even that is occasional in nature.
Employment Shifts
Full Time
A career as a business analyst has employment shift of full-time in nature. The duration is generally 45 hours a week. It may stretch depending on the workload on the individual.
Employment Nature
Contractual
A career as a business analyst involves employment that can be both permanent as well as contractual in nature. For example, he or she can be employed by a public or private organisation as a business analyst on a full-time basis or one could be a freelancer or work with a firm which provides the demanding company for a business analyst for a specific task and then they won't need him or her. It is contractual in nature.
Work Place
Office
A career as a business analyst involves working in an office environment.
Presence in Geographical Area
Semi-urban, Urban
A career as a business analyst requires functioning in an urban or semi-urban location. These companies do not operate in rural environments. Since the companies are located in urban or semi-urban geographical areas, therefore a business analyst operates in these kinds of geographic locations.
Weekly Hours of Work
Min 45 Hours
One works in an office environment for a minimum of 45 hours per week. Individuals who opt for a career as a business analyst may have to work for extra hours depending on the workload.
How to become a Business Analyst?
What are the skills and qualities required to become a/an Business Analyst?
You must be wondering that how to become a business analyst? So, in this section, we will be answering the most commonly asked question that how to become a business analyst. In order to make a career as business analyst, one must possess some skills. Some skills required by a business analyst are mentioned below:
Decision-making skills: It is essential that a business analyst is decisive in nature. There are several instances where a business analyst is supposed to make decisions about the strategy to go with. Individuals who opt for a career as a business analyst need to be calculative as well as decisive about the decisions made as well as calculate the risks in taking those decisions. Calculative and well-informed risks should be taken otherwise the company can suffer a huge amount of loss.
Leadership: A business analyst should have the ability to work with a group of people as a team. Not only that he or she should be able to lead the team as well. Individuals who opt for a career as a business analyst may have a technician or a junior business analyst under him or her. It is important that he or she is able to communicate well and work towards attaining a similar goal.
Negotiation: A business analyst also works with the pre-sales and sometimes sales team to grab a project from the market. For this, he or she must possess good negotiation skills so that the revenue generated from the project seems profitable for both the client as well as for the business analyst. He or she has to at times pursue the client to agree on what he says as the same is beneficial for both the business analyst as well as the client.
Attention to Detail: A business analyst is expected to have extremely high attention to detail. It is important in his or her job position that he or she does not miss out on anything while doing his or her research as well as during the process of insight mining. Each and every step needs to be taken care of and every detail must be noted by a business analyst in order to avoid any kind of errors in the future.
Communication Skills: A business analyst must have a good command of his or her language. It is important for his or her job position to be able to explain the message to the recipient clearly and precisely. Being able to communicate well eliminates the probability of errors as well as ambiguity in the mind of the receiver. Being able to understand the problem and clearly explain the solution to the client is required in this job and one must be good in his or her communication skills in order to be able to carry out these functions properly.
Popular Online Finance Courses and Certifications
Online Banking And Finance Courses
Which certifications and internships can be helpful in becoming Business Analyst?
Internship Availability
Yes
Internships are considered the best possible way for gaining experience in an individual's career choice. The career path for business analysts is about solving problems, it can be learnt in a better way by doing it practically. Internships provide the candidate with real-world experience. It is a way of knowing the career field before professionally joining it. Internships provide an aspiring candidate with the opportunity to apply the theoretical knowledge he or she gained during their time in college, to bring them to practical use. Not only that, but internships also enable the candidate to make connections in the field for future use. The candidate can get an internship either through an online medium or he or she could also contact the aviation company of choice directly.
Career Path Progression for Business Analyst
Data Business Analyst: A data business analyst uses the saved data to find problems and errors so that he or she could look for the most feasible solutions. But he or she is not responsible for doing in-depth technical analysis. He or she works at a conceptual level, defining strategy and interacting with stakeholders, and affecting the business impacts of data.
Budget Analyst: A budget analyst is required by a company for the process of reviewing budget proposals to determine project funding. In an analyst career path, individuals are responsible for reviewing budget proposals and applications for funding, assessing expenditure needs and conducting cost-benefit assessments, among other activities.
IT Business Analyst: An IT business analyst works with organizations to help them improve their processes and systems. He or she does the research and analysis to come up with solutions to business problems and help introduce these programmes to businesses and customers. The IT business analyst helps guide businesses in developing processes, products, services and software through data analysis techniques.
Financial Analyst: A financial analyst is a professional person, who performs financial analysis for external or internal customers as an aspect of the job. In an analyst career path, individuals often recommend a course of action, such as to buy or sell a company's stock based upon its overall performance and outlook.
Business Analyst Jobs and Salaries
Data Business Analyst
Monthly Salaries
Average Salary

32000

Junior Level Salary

30000

Senior Level Salary

40000
Job Description
A data business analyst is considered as the easiest job in the field of business analysis. An individual can begin his or her work from this job position. It does not involve the candidate to go into the technological details and therefore. He or she can begin to gain some essential knowledge at a beginner's level.
Salary Description
The salary of a data business analyst majorly depends on which sector he or she is working for. An individual is paid comparatively more in the private sector than in the government sector.
Budget Analyst
Monthly Salaries
Average Salary

40000

Junior Level Salary

35000

Senior Level Salary

45000
Job Description
When a company plans on investing in a new field or a new product a proper budget is prepared. The job of a budget analyst is to get into the details of the budget and analyse it so that the appropriate amount can be passed for the project. It is a critical job as the success of the project at a great level depends on the budget allotted.
Salary Description
The salary of a budget analyst majorly depends on which organisation the individual is working for. The salary increases as the years of work experience increases. On the other one can also be promoted to a higher designation if he or she performs well as a business analyst.
IT Business Analyst
Monthly Salaries
Average Salary

40000

Junior Level Salary

39000

Senior Level Salary

45000
Job Description
An IT business analyst is one of the highest-paying jobs. Since the technology is advancing most of the companies carry out the maximum portion of their operations on an electronic device like a computer. An IT business analyst helps the companies in improving and yield the maximum profit by using these systems.
Salary Description
At the job position of an IT business analyst the primary factor that affects the amount of salary is the years of experience. More the work experience more is the salary as a long term of work experience would sharpen the individual's skill sets as well.
What is the job outlook for Business Analyst?
The world continues to evolve on a daily basis and so does technology. With so much advancement in technology, more and more businesses are coming to the market which has, in turn, increased the growth in demand for a business analyst. Not just big multinational companies need a business analyst in order to find solutions to their problems but nowadays, even small companies have begun to hire business analysts. In fact, now there are special firms that function as a consultancy firms. Data has taken a significant place on the global stage as the organization's most important asset. As more and more firms begin data delivery for business growth, the need for people who can build data processing systems and analytics systems like a business analyst will only increase. A study of market trends revealed that the need for business analyst careers in the coming decade is expected to grow at a higher rate than most current operations.
Student Also Liked:
Online Degree and Diploma Courses
Online Free Courses and Certifications
Online Short Term Courses and Certifications
Frequently Asked Questions for Business Analyst
Que. Is a business analyst a good job?
Ans.
The education of a business analyst covers the most important business analysis skills. A good business analyst is a good communicator, problem-solver, and thinks critically. He or she can create requirements specifications, analyze requirements, create visual models, facilitate elicitation sessions, and use the necessary business analyst tools. It is one of the most valued job positions for several companies.
Que. Is being a business analyst difficult?
Ans.
Being a business analyst can be tough because, at one point in this career, the individual will have to deliver inputs or outputs for a project despite encountering many problems and issues and that makes being a business analyst a tough job and it can get stressful at times due to various deadlines.
Que. Are business analysts well paid?
Ans.
The job of a business analyst can get stressful at times but he or she is paid quite well. An individual goes through a lot of hard work and education in order to reach that position and he or she gets the remuneration accordingly.
Que. How many years does it take to become a business analyst?
Ans.
In order to become a business analyst firstly one needs to complete his or her graduation. It can be three to four years long. After that one has to complete the post graduation which can be between one to two years in length depending on the choice of course. So, it takes around five-six years of education in order to become a business analyst.
Que. Can you get a business analyst job with no experience?
Ans.
It is not necessary to have job experience before becoming a business analyst. But, one must have completed a master's degree. It is mandatory to become a business analyst.
You might also be interested in
Questions related to Business Analyst
Showing 2 out of 2 Questions
65 Views
what is business analysis please explain
Dear Aspirant,
Business Analysis is the practice of enabling change in an organizational context, by defining needs and recommending solutions that deliver value to stakeholders. The set of tasks and techniques that are used to perform business analysis are defined in a guide to the business analysis body of knowledge.
The business analyst is an agent of change. Business analysis is a disciplined approach for introducing and managing change to organizations, where they are for profit bussiness, governments or non profits.
Thank you
The question have been saved in answer later, you can access it from your profile anytime.
Access now
Report Question
Select your reason of reporting