DBA Salary in India - Skills, Qualification, Careers Prospects
A DBA is an IT professional typically responsible for installing, upgrading, administering, monitoring, maintaining and securing databases of organisations. DBA stands for Database Administrator. He or she utilises his or her knowledge and skills in order to secure databases, design and adopt development strategies for database management as well as conceiving plans for handling future requirements.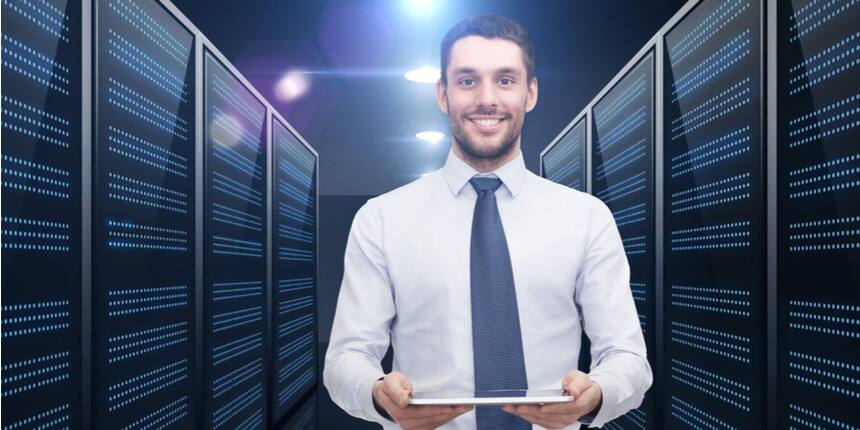 A Database Administrators utilises special types of software in order to store and organise the organisation's data. He or she works with technology. It includes a variety of information such as confidential financial numbers, customer shipping records and payroll data. A Database Administrator ensures that the data is protected from unauthorised access or accidental loss or corruption. He or she ensures that the data is available to users.
4 min read
Mar 05, 2022
Read More
Streamed Webinar
01 Apr'22 05:00 PM to 01 Apr'22 06:00 PM IST
Database Administrator Skills
We have provided here details of Database Administrator skills. These skill sets are crucial to work in a fast-paced Database Administrator work environment.
Time Management: A DBA is responsible for organising the schedule and setting the priorities concerning more important tasks in a professional context. Time management skills are crucial for the role of Database Administrator.
Communication Skills: The role of Database Administrator demands proficiency in communication skills. He or she is required to engage with colleagues and get across the information required to run the organisation smoothly.
Attention to Detail: A Database Administrator is required to have an eye for detail. He or she detects the potential problems. He or she is required to be prepared to take action whenever crises arise and prioritise what matters over others.
Streamed Webinar
03 Apr'22 12:00 PM to 03 Apr'22 01:00 PM IST
8 min read
Mar 05, 2022
Read More
Customer Service: A Database Administrator role involves collaborating with internal departments in order to meet organisation's goals. He or she is required to provide backup support to team members, leverages technical expertise to deliver good customer service.
Also Read: Career as Data Scientist
Functions of Database Administrator
We have provided here details of everyday functions of a Database Administrator.
Planning: A Database Administrator checks emails or SMSs for system alerts. He or she prepares an action plan. The job of Database Administrator involves overseeing the performance of the servers, especially critical ones.
Testing: A DBA everyday functions include testing systems and ensuring that backups are reliable to carry out another daily task. He or she maximises data recovery and minimises the time it takes concerning server downtime.
Providing Support: A Database Administrator provides support to developers in adding new applications or rejigging existing ones without overloading the server.
Opening Database Accounts: A DBA job includes opening new database user accounts. He or she allocates user access as well as reviews troubleshooting systems.
Coordination: A Database Administrator may require to attend meetings with senior managers to ensure timely completion of tasks. He or she has to take up final inspection of systems before leaving.
Also Read: Career as a Data Engineer
Database Administrator Qualifications
Employers prefer to hire candidates with an undergraduate degree in computer science, data analytics, information technology, management information systems or related fields. A prior work experience as well as postgraduate level of education is required for senior-level positions. Certifications such as Oracle or Microsoft are highly valued to progress in a Database Administrator career.
Also Read: Career as a Big Data Engineer
Database Administrator Work Environment
A DBA work environment is quite stressful. High- speed internet access has made it possible for Database Administrators to work from home. Database Administrators work on a full-time basis. They may work on rotational shifts in big companies. A DBA may also require travelling to clients' sites to perform duties. Several Database Administrators jobs include managing databases for retail companies. They keep the track of customers' credit card and shipping details. While, several other Database Administrators work with healthcare businesses and manage systems having medical records of patients.
Also Read: Career as Data Analyst
Database Administrator Career Prospects
The field of big data is one of the fastest growing markets in India and other places. The career prospects of Database Administrators is quite good. There are numerous Database Administrators jobs posted on a daily basis.
DBA Salary in India
The salary of Database Administrator varies depending on candidates' skills, experience, qualifications and employing organisation. The average Database Administrator salary in India is Rs. 509032 per annum. We have provided here details of DBA salary in India concerning their work experience.
Average Salary of DBA in India
| | |
| --- | --- |
| Experience | Average Salary (per annum) |
| 0 -1 years | Rs. 290393 |
| 1- 4 years | Rs. 420773 |
| 5 - 9 years | Rs. 825624 |
| 10 - 19 years | Rs. 1314864 |
The average Database Administrator salary per month in India is Rs. 42420. The Database Administrators salary in India for freshers is Rs. 290393 per annum. A mid-career Database Administrator earns an average salary of Rs. 825624 per annum. A senior Database Administrator salary per month is Rs. 1314864 per annum.
Also Read: Career as Data Administrator
Top Database Administrator Cities
We have provided here details of Database Administrator salary based on employing organisations' geographical locations.
DBAs employed at Bengaluru, Karnataka earn 26.2 per cent higher salary than the national average. Database Administrators employed at Chennai, Tamil Nadu get 15.9 per cent higher salary. While those employed at Pune, Maharashtra get 7.1 higher salary than the national average.
(Source: payscale.com)
Also Read: Career as Data Architect
Top Database Administrator Employers
We have provided here details of top Database Administrator companies with the average salary offered by them to these professionals.
Tata Consultancy Services: Rs. 558000
HCL Technologies: Rs. 500,000
IBM India Private Ltd.: Rs. 483653
Accenture: Rs. 500,000
Cognizant Technologies Solutions Corp.: Rs. 750000
Conclusion: A career as Database Administrator comes with good job prospects. Aspirants who want to become a Database Administrator must acquire these skills such as communication, problem-solving, detail oriented and analytical skills to succeed in a career as Database Administrator.
DBA Salary in India - Skills, Qualification, Careers Prospects