Top 15 Highest Paying Jobs in Finance in India
When it comes to job hunting, it's important to identify the roles that match your aspirations and profile. In order to find the right fit, you should also look into the various opportunities in the finance industry in India.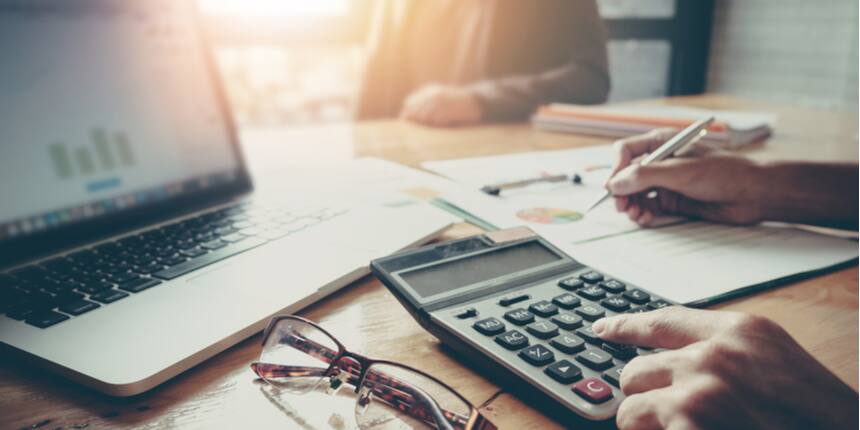 A financial management specialization can lead to some of the highest salaries in the country. There are various types of jobs in the finance industry that are available in India. Some of these include: accounting, investment, lending, corporate finance, and advisory services. Before we dive into the details of the various job titles and their compensation, it's important to understand the work requirements of the role.
4 min read
Mar 05, 2022
Read More
Streamed Webinar
01 Apr'22 05:00 PM to 01 Apr'22 06:00 PM IST
1. Financial Analyst
As financial analysts, they play a vital role in the management of a company's finances. They analyze data and make recommendations regarding the company's strategy and operations. It is one of the highest paying jobs in finance. These professionals usually work in the junior and senior levels of financial institutions. Aside from having a good knowledge of financial instruments and procedures, they also need to have good communication skills.
Average Salary: Rs. 4,09,903 per annum
2. Compliance Officer
The duties of a compliance officer or analyst include monitoring and reporting on the activities of a company or organization. These individuals are usually hired by private or public companies to ensure that their activities are carried out according to the guidelines set by the organization's governance agencies. It is one of the highest paying jobs in finance
Streamed Webinar
03 Apr'22 12:00 PM to 03 Apr'22 01:00 PM IST
8 min read
Mar 05, 2022
Read More
These individuals play a vital role in the finance industry as they monitor and report on the activities of companies and organizations. They also analyze data and develop effective processes to achieve compliance.
Average Salary: Rs. 5,39,500 per annum.
3. Financial Advisor
Responsibilities of a financial advisor include identifying and recommending the most appropriate products and services to meet the needs of their clients. It is one of the best paying jobs in finance. They also work with risk managers and insurance companies to implement their various tasks. The insurance advisor is also responsible for providing guidance to their clients regarding the purchase of various insurance products.
Average Salary: Rs. 6,00,000 per annum
4. Senior Accountant
The role of an accounting professional is similar to that of a financial manager: They are responsible for keeping track of all of a firm's assets, expenditures, and revenue. It is one of the best paying jobs in finance. They also maintain a variety of records and procedures to ensure that the financial information is accurate and complete.
Average Salary: Rs. 4,12,977 per annum
5. Loan Officer
The loan officer is responsible for approving and processing loans for various types of businesses and real estate transactions. This is one of the top paying finance jobs. They also conduct credit and financial assessments. Aside from performing these duties, the loan officer also sets up debt payment plans and reviews the applicable ratios and metrics.
Average Salary: Rs. 4,60,000 per annum
6. IT Auditor
The goal of an IT auditor is to ensure that the organization's technology infrastructure is aligned with the needs of its business. They also perform various tasks to ensure that the organization's operations are running smoothly.
This job involves reviewing various aspects of an organization's technology infrastructure, such as its software programs and network security setups. This is one of the top paying finance jobs. Aside from having the necessary knowledge about the hardware and software used by the company, the auditor also has to be able to identify areas of concern within the organization.
Average Salary: Rs. 10,50,000 per annum
7. Financial Software Developer
Due to the rise of technology and the need for software development, the number of software developers has increased significantly. These individuals design and develop programs that meet the company's needs. It is one of the highest paying jobs in finance sector. Developers in the financial technology industry are known for developing apps that help companies deliver financial services efficiently. Some of these include mobile payments and stock trading apps.
Average Salary: Rs. 7,00,000 per annum
8. Investment Banker
You are an investment banker who is responsible for managing the investment portfolio of a company. This involves keeping track of the money that the company has invested in various businesses.
Aside from investing in companies, investment bankers also arrange for debt financing and stock sales. They are also adept at handling mergers and acquisitions. It is one of the highest paying jobs in finance sector. Investment banking is one of the highest-paying finance jobs in India. With a total annual compensation of over Rs 16 lakh, candidates with exceptional experience can expect to earn a lot of money.
Average Salary: Rs. 9,00,000 per annum
9. Hedge Fund Manager
High net worth individuals often hire hedge fund managers to maximize their returns. These individuals typically have the same responsibilities as investment bankers. However, the positions held by hedge fund managers are typically riskier. This is one of the highest paying careers in finance. A hedge fund manager is usually hired by investors to protect them from potential losses. Due to the nature of the job, this individual has a starting salary of around Rs 7.5 lakh a year.
Average Salary: Rs. 24,00,000 per annum
10. Private Equity Associate
The role of a private equity associate is to provide capital to early-stage companies and grow their businesses. Similar to a hedge fund manager, they work with investors to identify potential growth areas and develop a strategy for their companies. This is one of the highest paying careers in finance.
Average Salary: Rs. 33,00,000 per annum
11. Chief Financial Officer
The Chief Financial Officer or CFO is responsible for managing a company's capital structure and financial operations. He or she must have the necessary skills to effectively plan and execute a company's strategy. These individuals also oversee the financial activities of the company, including the management of its various divisions and financial teams. The CFO is often associated with the commercial banking and retail sectors in India. It is one of the highest paying entry level finance jobs.
Average Salary: Rs. 35,00,000 per annum
12. Chief Compliance Officer
The responsibilities of a compliance officer are very demanding and involve monitoring and managing various policies and procedures. These professionals are expected to excel in their fields and meet the legal standards of their employers. It is one of the highest paying entry level finance jobs. Before they can become a successful CCO, they must first master the various managerial and technical skills required to operate in this industry.
Average Salary: Rs. 16,00,000 per annum
13. Chief Risk Officer
Chief risk officers (CROs) are responsible for monitoring and analyzing financial firms' activities to identify potential threats and risks. They work with the firm's other risk-related staff members to develop and implement effective strategies.
Average Salary: Rs. 13,00,000 per annum
14. Management Analyst
Business analysts and management consultants are responsible for analyzing and improving the performance of a company. They work with various departments to develop effective strategies and solutions. To be considered for a management analyst position, you should have the necessary skills and knowledge to analyze and interpret data. Having a business analytics certification can help prepare you for the job.
Average Salary: Rs. 5,00,000 per annum
15. Personal Finance Advisor
You'll be responsible for providing a variety of financial services such as estate planning, investment management, and retirement planning. It is one of the highest paying corporate finance jobs. You can also start a consulting firm or a practice. Usually, individuals with a background in finance or accounting would be ideal for this role.
Average Salary: Rs. 5,00,000 per annum
Conclusion
The BFSI (banking, financial services, and insurance) sector is a critical part of India's economy and contributes around 6 percent of the country's GDP. In 2022, it is estimated that the industry will require around 1.6 million skilled workers.
If you are looking to upskill, there are various types of advanced certification courses and diplomas that can help you do so. Before choosing a program, it is important to thoroughly analyze its syllabus and financial commitment. You can enroll for the program while you are working, and it will allow you to earn dual credentials.
The online MBA programs in BFSI can help you land a better job in the industry. This course will provide you with the necessary knowledge and skills to be successful in the digital finance and banking sectors. You will also learn about various innovations such as blockchain and artificial intelligence.
The program is offered through various online platforms, an education platform that has been acknowledged by the prestigious JGBS. Its alumni have worked for various companies such as Amazon, Deloitte, and Barclays.
In this article, we identified the top 10 finance jobs in India that are worth more than $100,000. We also explained the various job specifications and detailed the salaries that are available in this industry. This information will help you land a better job in the financial sector.
Top 15 Highest Paying Jobs in Finance in India