What can I do with a Pharmacy Degree
If you have taken a degree in Pharmacy then you definitely have an interest in a healthcare career. As this industry is rapidly growing every day with the growing needs of companies and individuals there are a lot of jobs in the pharmaceutical industry. A pharmacy career means you don't need to just distribute or supply medicines or you will be sitting in just a research laboratory doing research. If you are thinking about what can I do with a Pharmacy degree then you have come to the right place. This article will be a complete guide to what can you do with Pharmacy degree.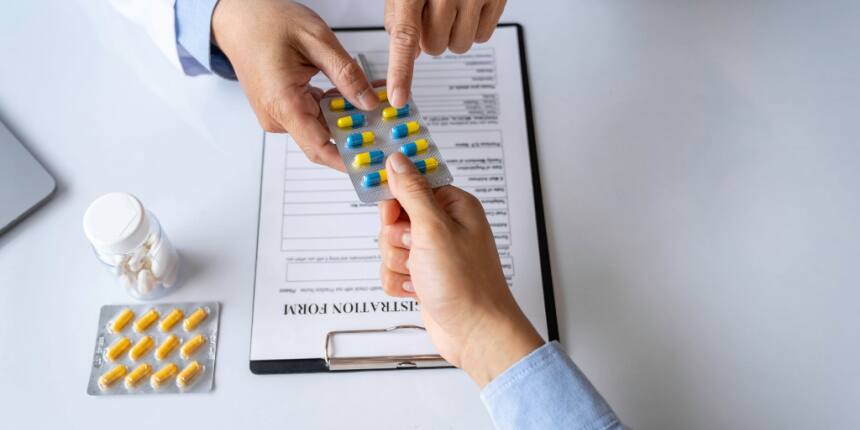 Once you have completed a pharmacy degree there are a lot of pharmacist jobs and many other jobs such as in hospitals, corporations, academia, and many more. Let us now look at what jobs can you get with Pharmacy degree.
Pharmacy Qualifications
Candidates must have passed their 10+2 examination in Physics, Chemistry, Mathematics, or Biology.

A minimum of 55% of the score is required to get admission into B.Pharma

Bachelor of Pharmacy degree from a recognized university. A minimum of 50% of the score is required to be eligible for a Master of Pharmacy, M.Pharma
Entrance exams
Entrance exams such as UPSEE, GPAT, NEET, BITSAT, MHT-CET, TS EAMCET, AP EAMCET, BCECE, and WBJEE. GPAT, BITS HD, NIPER JEE, HPCET, OJEE, AP PGECET, TS PGECET, and TANCET among others.
Top colleges for pharmaceutical science
Parul University, NIPER, ICT, BITS Pilani, NIRMA University, Amity University, DIPSAR, Lovely Professional University, Birla Institute of Technology and Science, Manipal College of Pharmaceutical Sciences, Panjab University, ICT Mumbai, Jamia Hamdard University and many more.
Career Opportunities After Pharmacy
Let us now look at what jobs can you get with Pharmacy degree. There are a lot of job opportunities after Pharmacy that we will discuss in detail about their roles and responsibilities, skills, qualifications required, and their average salary in India.
Community Pharmacist
A community Pharmacist is a professional who is responsible for direct access to the public. His/Her work includes dispensing medicines with a prescription or sometimes without a prescription where applicable (OTC drugs).
Responsibilities of a Community Pharmacist
Supplying the correct medicines and dose

Ensures the quality of the supply of the product

Records controlled drugs for legal and stock control

Suggests minor ailments treatments to people

Manages, trains, and supports other staff members

Provides medicines as per the prescription to the people

Manages finance, and budgets and follows pharmacy present trends

Researches projects and manufactures medicines of small scale in a few cases

Prepares dosette boxes runs clinical programs and manages the delivery of the prescribed medicines to people
Skills of a Community Pharmacist
Strong communication and customer service skills

Collaborate with the other team members

Technology skills and training skills

Gives attention to details and concerns about the general public

Must have knowledge about all medical terms and be updated on the trends
Community Pharmacist Qualifications
To become a pharmacist you will need an accredited Masters's degree in pharmacy (MPharm) for 4 years. After that, you can do a Pharm.D program for two years. A one-year of paid pre-registration training in a GPhC helps the students to gain experience or practice under the supervision of a licensed pharmacist.
Community Pharmacist Salary in India
Community Pharmacist salary in India ranges between Rs 2.0 lakhs to 4.0 lakhs per annum with an average annual salary of Rs 3.3 lakhs.
A Drug Inspector is a professional responsible for monitoring drug safety, quality, and use. His/Her responsibility is to ensure the safety of drugs for the people. They check the drugs of prescription and at various stages such as in manufacturing, production, and distribution.
Skills of a Drug Inspector
Testing and analytical skills

Evaluation and record-making skills

Must have knowledge of pharmaceuticals

Decision-making and attention to safety skills

Scientific, communication, and self-confidence skills
Responsibilities of a Drug Inspector
Checks the quality and safety of drugs for the consumption

Implements laws and standards with the help of local administration

Performs investigations of various drug producers, stores, sellers, agencies, companies, foods, drugs, and cosmetics.

Collects chemical tests and bacterial and seizes the fake or harmful products, and prepares sample reports

Assists Drugs Standard Control Organisation (CDSCO) in preparing documentation
Drug Inspector Qualifications
The candidate should have a B.Pharma or Bachelor's degree in Pharmacy

They must have Physics, Chemistry, and Biology / Maths subjects in their 12th class

B.Pharma or Medicine with specialization in clinical pharmacology or microbiology

The candidates must be at least 21 years old while applying, maximum age is 30 and 35 for reserved categories
Drug Inspector Salary in India
Drug Inspector salary in India ranges from Rs 0.4 lakhs to 21.0 lakhs per annum with an average annual salary of Rs 3.0 lakhs.
Pharmaceutical Sales Representative
A pharmaceutical Sales Representative is a professional who's responsible for erecting connections with clients and stakeholders. He/She'll look for developing deals of the associations. They impact the providers to suggest their medicines.
Responsibilities of a Pharmaceutical Sales Representative
Increases sales growth

Looks for the client's needs and offers suitable products

Using sales skills to liaise with targeted doctors

Presents products samples and information to clients

Assists projects, develops and maintains a reports

Implements marketing and sales strategies

Represents and attends organization in meetings, conference calls, and Training sessions
Skills of a Pharmaceutical Sales Representative
Experience in Medical sales and knowledge of MS Office.

Communication, organizational and negotiation skills

Bilingual and interpersonal skills

Ability to maintain relationships with clients and team members
Pharmaceutical Sales Representative Qualifications
A Bachelor's degree preferably in Pharmacy

Proven work experience of more than 2 years as a Pharmaceutical Representative or Medical Salesperson

Knowledge about the latest medical issues, statistics, databases, and product lines
Salary of a Pharmaceutical Sales Representative
The Pharmaceutical Sales Representative salary in India ranges between Rs 6.3 lakhs and Rs 24.0 lakhs with an average annual salary of Rs 3.8 lakhs per annum.
Clinical Data Manager
Clinical Data Manager is a professional who collects data from various organizations or projects. His/Her everyday work includes hospitals, private companies, and government organizations. They collect data and organize it. With the use of databases, they design strategies and resolve problems.
Clinical Data Manager Responsibilities
Analysis trends and makes reports

Solves databases problems

Trains other employees or staff

Develops data management plans

Collects data from medical research projects

Designs and validates clinical databases

Develops technical specifications for data management programs

Coordinates with clinical research and database analysts in clinical trial databases
Clinical Data Manager Skills
Must do data analysis

Must know record-keeping skills

Ability to work flexible and adaptive

Must have computer and leadership skills

Must observe and solve the problem of databases

Must have time management and communication skills

Must have knowledge about the drug development process
Clinical Data Manager Qualifications
A Bachelor's or Master's Degree in Pharmacy, physiotherapy, medicine, biotechnology, paramedical science, biochemistry, dental, or nursing.
Salary of a Clinical Data Manager
A Clinical Data Manager's salary in India ranges between Rs 2.7 to 9.3 lakhs with an average annual salary of Rs 5.0 lakhs per annum.