12 Companies Recruiting Data Scientists in India
Do you know what was called by Harvard as the sexiest job in the 21st century? Any guesses? Yes, data scientist.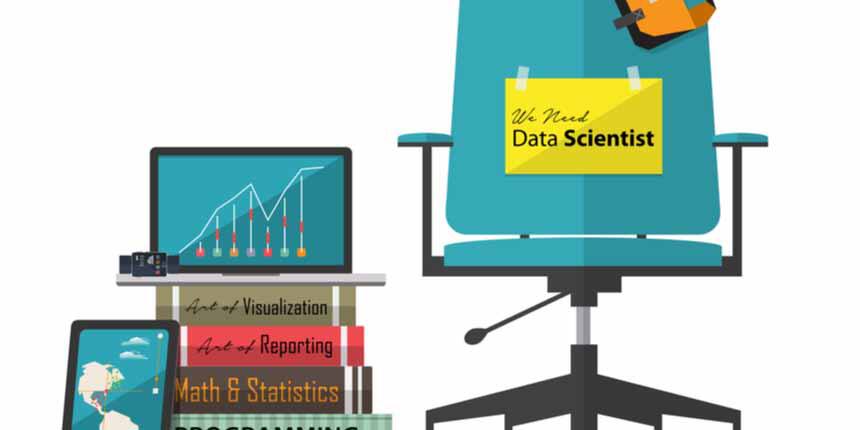 So what is Data Science? It is the science of data preparation, cleaning, and analysis. So, for several scientific methodologies to get hidden patterns from data, data science is that umbrella term. Healthcare, Banking, Financial Services, Insurance, Manufacturing, and Transportation are some of the fields in which data science finds its application. There is more to a job in data science than just preparation, analysis of cleaning. Data science has various other applications like customer analysis and solving business problems in multidimensional processes deploying prototypes, algorithms, predictive models. To extract important information, people with data analysis certification work distinctively with data and apply predictive analysis, machine learning, and sentiment analysis. In this article, Careers360 talks about the top companies recruiting data scientists in India.
Also Read - PG Program in Data Science and Analytics by Great Learning
Some applications are:
Healthcare - Health bots, drug discovery, Conversational virtual assistants, medical image analysis, predictive modeling for diagnosis, and genomic sequences to understand genetic structures.

Transport – Vehicle performance optimization, Making safer driving environments, logistical route mapping, self-driving cars, and surge, pricing models.

Manufacturing - Equipment monitoring, cost reduction, Production optimization, preventive maintenance, production hours optimization, and quality improvement.

Finance - Fraud detection, Customer lifetime value prediction, algorithmic trading, customer relationship management, and stock market assessment.

E-Commerce - Inventory forecasting, fraud detection, sales trend identification, optimizing pricing strategies, customer base identification, prevention, and customer targeting.

Banking - Customer data management, Customer Segmentation, Risk modeling, Fraud Detection, and real-time predictive analytics.
There are several skills required if you want to be a Data Scientist, you need to master the skills mentioned below -
• In-depth knowledge of SQL/Database/ SAS/R coding.
• Statistical & Analytical Skills.
• Understanding of knowledge Mining, Correlation, Machine Learning, and Deep Learning principles.
Also Read - Certification course in Data Science for All by NIT, Patna
SALARY ESTIMATES
The average annual salary estimates for Scientists range from US$100,000- US$125,000, according to a leading recruitment platform.
Data may be a big weapon in today's times. If we closely observe, then we require data science and analytics in almost every field of the world ranging from finance to healthcare. As a data scientist one needs to analyze, interpret, predict outputs based on perceived data from the consumers based on their usage. The Bureau of Labor Statistics has predicted that the job outlook prospects for computer information, including data mining, data scientists, data analyzing will escalate by nineteen percent by the year 2026. It took a pandemic to teach us the importance of data-driven business operations. Everyone might think the best sectors for data scientists to work in would be IT and Marketing, but data science has its unique place in the company of every sort. If we talk of statistics and surveys in America, it has been found out that data scientists have the best and the highest paying jobs in America with annual pay of $96,116. Some of the biggest recruiting giants for anyone working with data are Accenture, Amazon, Google, Facebook, Apple, Microsoft, etc.
It's a competitive world and to be recruited in the best of top companies recruiting data scientists in india and there are a lot of top companies recruiting data scientists in india, a new bee, or even a working professional in the field in the world of data science needs better and advanced skill sets to land in the top companies recruiting data scientists in india. So, after pursuing a pg program in data science or Mtech in data science or big data a lot of people go for online data science courses with certification. According to Forbes 2020 for the best online data science courses – Data Science and Machine Learning Essentials by Microsoft on edX, another one of the best data science certification courses is Data Science Crash Course by John Hopkins University on Coursera and IBM providing online masters in data science are some of the data science certification courses on the list.
Also Read - Certification Course in data Science with Python Course by Simplilearn
Let's have a look at 12 companies hiring data scientists in India.
Airtel X Labs:
Everything has gone online during the pandemic. Hence, the company's main aim is to work towards refining the experience of each customer by analyzing and assessing tons of data. With millions of people using My Airtel App every second and millions of people getting their phone recharges every second, there is a huge role of people who have done data science certificate courses in building an algorithm for analyzing each request and giving options and choices based on the previous choices. It has certain promising products like Xtreme and Wink on which customer engagement has seen a surge during the times of the pandemic.
The company sees its future in information technology and security networking. Hence, data scientists are required to process and analyze data of over a trillion customers even during the lockdown.
Any person with a degree in data analytics and data science or a holder of data science certification courses is perfect for the job.
JP Morgan
If anyone is interested in seeing how data science is applicable in the finance sector, this is the company for you. It is a very respectable company in the world and is famous for providing solutions that are data-driven to various finance-based firms for better customer experience and some critical issues like structuring optimization tools for transaction control.
The average salary is five to seven lakh rupees per annum. A person who has knowledge of data science, data model, data operations, can understand optimizing tools and has done data science certificate courses has a good chance at this company.
Also Read - Advanced Programme in Data Sciences by IIM, Calcutta
Oracle
It is considered to be a data science giant across the world, it provides jobs after data science programs at different levels. Hence, can be a boon for people starting their careers in data science. It has a web of 286 offices across 72 countries around the world. The company boasts of its team of dedicated young data scientists working towards forming and putting effective data models for their customers on work.
Oracle has an excellent cloud data-based platform that works by assisting various top companies recruiting data scientists in india and brands to understand their audience and customer response and make better business decisions. Some of their major projects are:
Develop a system driven by data for National Health Security to improve public health and security in the United Kingdom.

To provide a secure route for the customers to make transactions on Paysafe by assessing, analyzing their transaction channels.
The average salary is estimated to be sixteen to twenty-seven lakh per annum. Strong command over data science and data visualization with knowledge of Python, Java and online data science courses is recommended.
Also Read - Certificate Course in Data Science by IIM, Shillong
Amazon
It is one of the most desirable places for millennials to work. It is an e-commerce giant that has more than 218 offices in 35 countries It provides plenty of opportunities for big data-driven projects. Like:
Analyzing customer data to develop a better recommendation engine.

Woking on Alexa to register, analyze and understand data better
The average salary ranges from five lakhs to thirty lakhs per annum. Along with great analytical skills, command over languages such as Python, Java, etc. and big data intelligence tools like Cognos and Hadoop with good soft skills acts as an advantage and a data science diploma courses.
Fractal Analytics
It is one of the largest top companies recruiting data scientists in India. It has some major noteworthy projects in diverse fields like healthcare, business analytics, and strategy, and decision making. Some of its noteworthy projects are:
Deep learning methods for marking and identifying abnormalities in the genome using MRI, CT scan, X-ray for Qure AI

Assessing the right data for developing a deep understanding of the insights of business for Eugenie AI and Cuddle AI
The average salary here after a data science graduate program ranges from eight lakhs to eighteen lakhs Indian rupees. A person with an added skill of forecasting in data science and a data science diploma courses has an edge over others in this company.
Also Read - PG Certification In Data Science by IIIT, Bangalore
Crayon Data
They are considered to be data science giants in the south. It has a strong client-based network in seven countries across the globe. This company with its two major projects Maya, for analyzing numerous customer profiles to target and mark the major risk areas and Yoda, which is a sales assistant that recognizes the major possibilities and provides a personalized sales experience; provides a unique solution for every customer. The average salary ranges from ten lakhs to thirteen lakhs per annum. Any person aiming for a job here should be good with knowledge of big data, data science and should have a data science diploma courses..
Paytm
This company is hiring people with data science certification for designing better prospects for transactions, payments, and e-commerce through data-driven solutions for enhancing customers' experience. The average salary is eight lakhs to ten lakhs Indian rupees per annum. The person with masters in data science and big data can be considered.
Also Read - Post Graduate Certification in Data Science by IIT, Guwahati
PayPal
It is the leading platform for transactions and efficient payments between businesses across the world. It's hiring data scientists to come up with an innovative approach and data-driven solutions for new emerging business problems. The average salary is ten lakhs to fifteen lakhs Indian rupees per annum. A person with masters in data science and big data can be considered.
Mercedes Benz Research and Development
The leading automobile company usually hires data scientists to Select features, build and optimize classifiers using machine learning and Deep Learning techniques. The average salary of a data scientist can be six lakhs 98 thousands per year.
BG Consultants
They are hiring people with data science certification for market scope, which is a leading placement and HR consulting firm to provide data-driven solutions to enhance a deep learning experience. The average salary is eight lakhs to ten lakhs Indian rupees per annum. A person with masters in data science and big data can be considered.
Also Read - Data Science Course by Digital Vidya
IBM
It is an American cloud platform which is a technology and consulting firm with a vast employee network across 170 countries in the world. It provides data derived solutions to various business digital problems ranging from weather to healthcare. It is among the largest recruiters in India for people data science certification and data analysis certification.
Data science is a very bright spot for people dealing with information and also who want to learn data science. In 2018 according to the Data Security Confidence Index from Gemalto, it is stated that 65% of the polling businesses could neither analyze data nor categorize all the data that they had sorted. Also, 89% of them believed that they could have a competitive edge if they were able to analyze information wisely. According to another survey data science, analytics-based jobs increased by 86% from 2013 to 2018. Research shows that since 2011, 94% of people after data science graduate programs have been employed in the field.
Also read -
Frequently Asked Question (FAQs) - 12 Companies Recruiting Data Scientists in India
Question: Are there enough data science Jobs in India?
Answer:
The number of jobs is much more than the number of trained people with data science certification. The gap is getting wider each day
Here, I am putting across some numbers from a PTI report published by almost every major print media house in India:-
21 percent of analytics job openings are now for freshers, compared to 17 percent last year

Many large players have been forced to acqui-hire (buying out a company primarily for the skills and expertise of its staff) talent to keep the wind in their sails

Close to 97,000 positions related to analytics and data science are currently vacant due to a dearth of qualified talent, which is 45 percent over last year

Analytics and data-based decision making has given rise to a 45 percent increase in jobs over last year

Majority of these job openings are for junior level roles for candidates with less than five years of experience.
Question: What is required to be a data scientist?
Answer:
The following is required to be a data scientist:
Data-Oriented Mindset: Ability to think about how data can help business and what value or insight you can provide to the business.

Mathematics - A good knowledge of mathematics will help you greatly. Don't forget Algebra is the key. Also, for image or video processing, etc you may need to know differentiation, calculus.

Tools & Technology: Quick abilities to build POC's using R, Python. Also, engineering side technologies like Spark, Hadoop, Solr, ElasticSearch are going to be of great help. Also, the ability to keep track of new technologies like Tensorflow, Caffe, etc.

Application of Algorithms: You need to know when to use what algorithm. This comes with lots of experience and working under a professor or some experienced person will help you.

Core Areas: Information Retrieval, Machine Learning (Classification, Clustering algorithms), Neural Networks, Natural Language Processing. Mastering any of these fields will be of help. You can't know everything. But, you can start with Information Retrieval and then move up.
Question: What companies are offering a data science internship?
Answer:
There are plenty of opportunities!
Many companies won't have the position The best way is to contact a recruiter directly or have someone who works there refer you. Here is a list of companies that mostly hire people with data science certification.
Airbnb

Cloudera

Coursera

Facebook

Intuit

LinkedIn (Master and Ph.D. students)

Redfin

Ola

Oyo rooms

Uber

Flipkart

Amazon

Redhat

Analytics Vidhya

Gramener
And many more.
More specifically, there has been a 256 percent increase in them since 2013, which suggests companies recognize the price of knowledge scientists and need to feature them to their teams.
Question: What are the best-paid job roles for people with data science certification
Answer:
Best paid job roles for data scientists:
Data Architect

Business Intelligence Developer

Data scientist

Statistician

Data Engineer

Remote data scientist
Question: Is being a data scientist a good job in 2020?
Answer:
It's great for professionals who have sufficient skills and knowledge to figure through all steps of real-world data science/ machine learning projects, meaning data acquisition and preparation, modeling and deployment, and tons of meetings and discussions with non-technical stakeholders/IT in between. It might be not so great for juniors who still need to gather practical experience, as I believe it's much harder to find a job now in the middle of the COVID crisis than it was a year ago.
Question: Do you think that in 3 years, the job market will be flooded with data scientists due to the overexposure the discipline received in the last few years?
Answer:
It's not easy to predict. There still is a shortage in the IT sector… there is always a need for programmers. The same will go for data scientists: data increases faster than the ability to make sense of it all and put it to good use. From data to implementation takes time and energy and trial and error. And even with better and faster tools, one still doesn't understand what one is doing. Data science is unlikely to disappear, and therefore the demand will always be greater than the availability.
Data Science Updates and Articles