13 Courses On Design Theory To Become A Better Designer
A design's function is far more closely related to strategy than to aesthetics. You need to know the basic concepts that govern user interaction with visuals to know how to design. You need to consider architecture as a language and a theory. You can do this by pursuing online design courses available on various online platforms. These education platform offer intensive design theory course online in the short and long term, catering primarily to those who are looking for a design career.
Also read - List of Certification Courses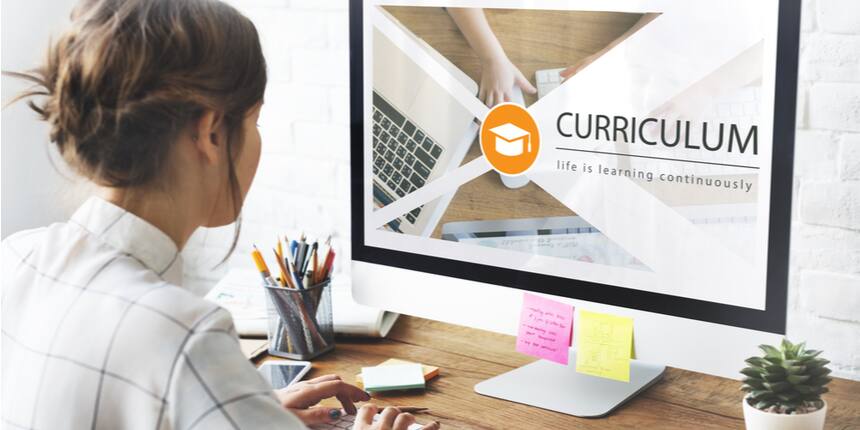 With the help of this article you can find out more about best design theory courses that you can take to kickstart your design career.
13 Online Design Courses
| | | |
| --- | --- | --- |
| Course Name | Platform | Duration |
| The Ultimate Drawing Course- Beginner to Advanced | Udemy | 11 Total Hours |
| Character art school- Complete character Drawing course | Udemy | 26.5 Total Hours |
| Complete Blender Creator- Learn 3D Modelling for Beginners | Udemy | 36.5 Total Hours |
| Design Thinking in 3 Steps | Udemy | 1.5 Total Hours |
| Illustrator 2020 Masterclass | Udemy | 13 total Hours |
| User Experience Design Essentials- Adobe XD UI UX Design | Udemy | 13 total Hours |
| Ultimate Adobe Photoshop Training- From Beginner to Pro | Udemy | 15 Total Hours |
| After Effects CC 2020- Complete Course From Novice to Expert | Udemy | 32.5 Total Hours |
| Graphic Design Masterclass- Learn Great Design | Udemy | 19.5 Total Hours |
| Adobe Photoshop CC- Your Complete Beginner to Advanced Class | Udemy | 15 Total Hours |
| Adobe Photoshop CC- Essentials Training Course | Udemy | 11 Total Hours |
| The Complete AutoCAD 2018-21 Course | Udemy | 18.5 Total Hours |
| Graphic Design Bootcamp- Photoshop, Illustrator, InDesign | Udemy | 15.5 Total Hours |
13 Best Design Theory Courses
1. The Ultimate Drawing Course- Beginner to Advanced- Perfect for all those individuals pursuing a Bachelors in Design and wishing to start gaining the drawing skills they've always wanted. The best design theory course will teach how advanced art that stands up as skilled work can be made. In the world of drawing, this design certification course will highly boost your skills. The course is your road to gaining drawing abilities as you always knew you should have, both for your designs or other individuals. This course takes you from not know drawing to making advanced art and having a deep understanding of the fundamental principles of drawing.
2. Character art school- Complete character Drawing course- This graphic design theory course will advance your present drawing skill to a much higher level, whether you're an absolute novice or you're already at an intermediate level. It is a comprehensive 10-module guided video course, where your determination and commitment to the rewarding tasks are the only limits to your progress. Whether you want to draw character design concept art for Disney Style, illustrations, comics, games, manga, movies, or any other style, this is the only design certificate course you need to get you there.
3. Complete Blender Creator- Learn 3D Modelling for Beginners- Blender is a wonderful tool that allows you to make models of AAA quality that can be easily exported to any 3D Printer, Software, or even game engine. This online design course is your best bet if you wish to learn how to create 3D models and assets for games using Blender. The design certificate course is project-based, so you'll immediately apply your new skills to actual 3D models. In addition to other references and tools, all the project files will be included - you will never feel lost.

Read more - Top 13 skills required for a fashion designer and how to attain them
4. Design Thinking in 3 Steps- You'll learn design thinking in this architecture design certificate course. Design-it is a multinational strategic design company, and its designers are helping companies around the world learn and implement an innovation strategy that is user-centred. You can learn a new approach to strategic problem-solving in this immersive graphic design training course so that you can construct interactions that customers love. On a real-life project, you can practise design thinking and equip yourself with a powerful collection of instruments to become more collaborative, creative, and successful.
Read more - Design Thinking by Indian Institute of Management Ahmedabad
5. Illustrator 2020 Masterclass- A hot-selling Adobe Illustrator course on Udemy, offered by one of the world's Top 10 Adobe Instructors- teaches you the correct way to use this industry-leading vector graphic application. To deliver the most effective and enjoyable way to master Adobe Illustrator, the entire online design course material, including illustrations, techniques, exercises, and quizzes, has been carefully selected and refined. This online design course has been purposefully developed for users of all experiences who desire to further improve upon their skills, from complete beginners to existing Illustrator users.
Read more - Adobe Illustrator Essentials Training BY Shaw Academy
6. User Experience Design Essentials- Adobe XD UI UX Design- This online design course is intended for individuals involved in UI/UX Architecture. It'll start from the very beginning and, step by step, work all the way through. If you already have some experience with UI/UX Design experience but want to use Adobe XD to get up to speed with Adobe XD, then this online Adobe XD class is also suitable for you! It will go through the distinctions between UX and UI architecture, wireframes that are low-fidelity, and how to use existing UI design kits.
7. Ultimate Adobe Photoshop Training- From Beginner to Pro- This is an outstanding training course on Photoshop that will take you from a total novice to a professional user in no time at all. While having fun, you will be able to use the software with ease. You will be able to use the programme with ease by the end of this design certificate course. When you undertake and complete more ambitious ventures, you'll feel in charge. This course is great for Photoshop users at the beginner stage.
Read more - Want To Be A Pro Designer? Check These 15+ Courses on Adobe InDesign
8. After Effects CC 2020- Complete Course From Novice to Expert - A very important tool at your fingertips is to learn the basics and beyond of Visual Effects as well as Motion Graphics, making use of Adobe After Effects. You will go through the development of helpful and realistic animations and learn how to use basic and complex techniques for animation. This online design course is a serious learning experience in which you get to make high-level animations and learn how to use After Effects to become a top-notch animator and artist with visual effects.
9. Graphic Design Masterclass- Learn Great Design- Are you intimidated by photoshop, illustrator, or InDesign learning and want to learn by real-world practical projects? This best design theory course is going to be the best for you then! Typography, colour theory, layout, and composition, how to use images in the design, photo manipulations, and editing, apart from magazine layout design as well as branding and logo design will be thoroughly studied, just to name a few. You can also learn the basic principles of Illustrator, InDesign for doing real-world applications after the completion of this graphic design training class.
Read more - Graphic Design Course by Shaw Academy
10. Adobe Photoshop CC- Your Complete Beginner to Advanced Class- Not only will you learn all of the editing resources available in Adobe Photoshop in this complete guide to Adobe Photoshop, but also delve deep into the process to create actual graphics that you can use for your commercial enterprise or for casual purposes. This online design course is great for beginners who haven't used Photoshop or used it barely a few times. It is also beneficial for advanced Photoshop users who would like to learn some new techniques and software and how to use Photoshop properly.
Read more - 20+ UI Design Courses on Coursera for Product Designers
11. Adobe Photoshop CC- Essentials Training Course- You're struggling to master Photoshop on your own? This design certificate course will allow you to professionally use Photoshop. The course will further equip you to enlist your Photoshop skills on your resume and begin to get your talent paid for. All that you need to know about getting started with Photoshop will be taught in online design course. The course will also teach you how Photoshop can be used for Graphic Design and Photoshop Retouching purposes. To rapidly increase your employability, you can build several projects of your own, that can be further added to your CV.
12. The Complete AutoCAD 2018-21 Course- This online design course is a full-length learning kit for AutoCAD 2018, 19, 20, and 2021, featuring almost all the topics you'll ever need to work with this app. From the very first lecture, a beginner can start learning the software right from square one, if he or she closely follows the course. This being one of the best design theory courses will also be very comprehensive for a seasoned AutoCAD user and they can focus only on those topics that interest them, skipping the rest.
13. Graphic Design Bootcamp- Photoshop, Illustrator, InDesign- This online design course is suitable for all those individuals specifically interested in becoming a graphic designer and focuses on beginners in particular. The students will use Photoshop, InDesign, and Illustrator, which are the industry-standard graphic design software. To help you create pixel-perfect print and web designs, the mentor will also review relevant terminology and design standards, to get you up and run as soon as possible so that you can start your fresh and exciting career as a graphic designer.
Read more - 25+ Advanced Adobe Photoshop Courses for Graphic Designers
Conclusion
Design is an exciting, innovative, and technical field in which you can make regular use of your passion for art. Employers of all ages and backgrounds need qualified graphic designers, whether it is buying a product or service or endorsing a big social cause, to further facilitate their interaction with the consumers. With each day throwing up a new creative challenge, life as a designer is never dull. One day you might design a social media post for a restaurant and the next, a strategic plan for a healthcare company. With no time for clock monitoring, a relentless flow of deadlines keeps you focused.
Fun, versatile and positively overflowing with imagination, becoming a designer is a work that dreams are made of, and we don't see one reason why you shouldn't take these best design theory courses to pursue your dreams and become a designer.
Also read -
Frequently Asked Question (FAQs) - 13 Courses On Design Theory To Become A Better Designer
Question: What is a graphic design and what is it all about?
Answer:
Graphic design is a method of design that integrates text and graphics in a manner that communicates a specific message. Graphic design is an art in which professionals generate graphic content to convey messages.
Question: What are the designers using to create these designs?
Answer:
Thanks to a large range of applications and virtually infinite digital design resources, designers may use hand-illustrated designs as well as computer-aided designs. The availability of applications such as Adobe Illustrator and Photoshop has become the mainstay of designers.
Question: What can a designer do that I can't do easily?
Answer:
Apart from just putting their creative abilities to work, a designer does much more. Although most designers are already intuitively imaginative, they typically spend time learning different design concepts. It is extremely crucial to understand the correct method of utilising design elements to convey the messages and values required, as well as to evoke a certain feeling in the viewer. Some graphic designers are also able to recognise the more complex design aspects needed to build a company's digital properties.
Question: As part of the work they produce for a client, what else does a designer achieve?
Answer:
In addition to turning the vision, brand image, and value proposition of their client into a graphic display, as part of a design project, a designer will undertake many specialty tasks. The specialised tasks include working on the idea (usually with a team), attending project meetings, paying attention to what customers are clicking on, presenting the different future designs, revising designs, and planning asset files for the team and consumer use.
Question: Do I have to pay extra when I complete the course in order to get the certificate?
Answer:
No. You get access to all of the course content when you pay the course enrolment fee, with no added restrictions. That also means that for any successfully completed course, at no extra cost, you will get a certificate.
Question: Is it possible to take more than one course at the same time?
Answer:
Yes, you will be able to enroll for as many courses as you desire. For example, you can take all 20 courses at the same time if there are 20 active courses and switch from one to the other, according to your needs and desires.
Question: What am I capable of doing if I skip enrollment, and the course is closed now?
Answer:
Don't worry about skipping the course inscription. Most probably, the course provider will be re-running it shortly. One of the main reasons why the courses are constantly open and closed is to monitor the classroom size. Networking is a big part of any course provider's value proposition, so they only want the right number of people to be in the courses.
Question: To become a designer, do I need to pursue some vocational course?
Answer:
You need to familiarise yourself with software applications such as Adobe Photoshop, Adobe InDesign, Adobe Illustrator, Adobe PageMaker, CorelDraw, and the like to become an expert designer. A variety of organisations have courses that are geared to enable aspiring designers to continue their careers. It doesn't take much time to finish the courses, however, and the course fee is typically kept nominal. You can make a living for yourself after the completion of the course from a reputed institution.
Question: How do we acquire experience in this field?
Answer:
To develop your confidence and refine your design skills, it's imperative to gain experience. Over time, this will help build your credibility as an expert. Consider the following to gain experience:
Volunteer with every non-profit agency or local school to offer your services.

Supporting a family friend/relative by creating invitation cards for their wedding.

Designing greeting cards of your own.