Learn Spanish With These 15+ Amazing Courses
Over 500 million speak spanish (native and second speakers) across the world. Native to 20 countries and common language for many more, this is a global language that has such a rich history and culture which has spanned across the continents. Not only is this a wonderful language that can open doors to different cultures, it can be a career too. There are myriad online courses and certifications that you can take to ensure you get the best spanish language courses.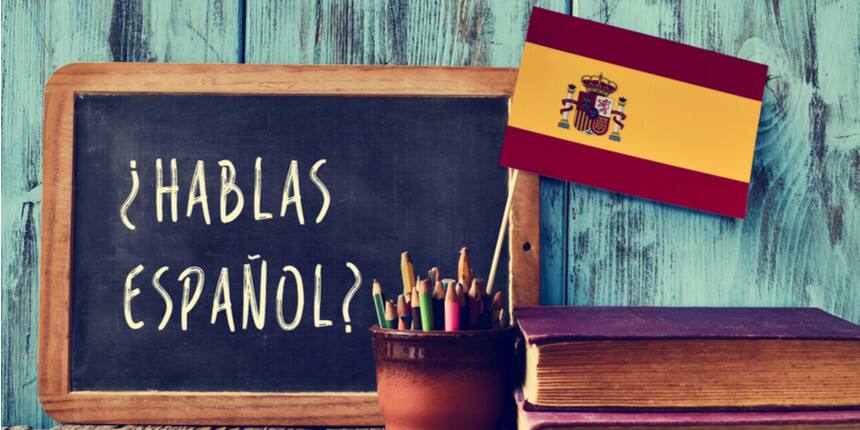 It is true that online courses and certifications have become the trend in recent years. And if you wish to have a career in Spanish language, then you will need more than Spanish language online courses. You will need at least one of the Spanish certification courses or the better option would be to take a degree or a diploma. So also take a look at our online degree courses and online diploma courses.
The employer always seeks those who are always learning. While you can take Spanish language certification courses that are recognised across the world, it is important to take it from a trustworth provider. So take a look at our online Courses & Certifications from Top Providers which opens up a world to innumerous Spanish language courses which are related to almost every field.
Now if you are still confused about which particular course to take, then take a look at our online course comparison to have a better clarity in choosing the best high paid jobs after post graduation.
What are the advantages of learning Spanish for job growth?
Being bilingual will bring lots of opportunities. One of those great benefits in life, especially in the workplace, could be taking Spanish coaching as a foreign language. Knowing a second language, living in a multicultural environment strengthens connectivity, language skills, and increases cultural understanding.
Knowing it not only helps with coordination at business meetings or while engaging with international trade, but it also helps with conversation in the areas of health care, employment in the public sector, and hospitality. More medical professionals need to connect without Spanish language certification for Hispanic patients who know little or no English.
The ability to relate adequately can be a difficult task in a global setting. While both parties share a common language, there can still be misconceptions due to ethical and cultural differences. There have been countless examples from the business sector over the last decade that show how poor communication can contribute to poor organizational performance. Organizations must create a competitive edge in the international market to know the implications of globalization on cross-culture communication. It can all be done if more people get into Spanish language courses.
Here are some of the best Spanish Language courses that are definitely worth checking out.
Rocket Languages
The Spanish language course at the Rocket is filled with supportive, daily Spanish and can take you from novice to intermediate or even advanced. Classes consist of approximately half an hour of audio lectures, each with a total of 134 hours of lesson time. This Spanish language learning course records your development and offers you plenty of chances in a role-play-type environment to talk and even record your speech. You should test yourself on what you have just learned after each lecture and score how simple (or hard) it was on your Spanish language certification.
Price- A one-time fee at varying prices. There's a free trial open.
Also read: Basic Spanish 1: Getting Started BY Polytechnic University of Valencia, Valencia via Edx
FluentU
FluentU provides a powerful choice for upgrading your Spanish game. You pick what you're learning and at what speed. You will strengthen your Spanish regardless of your current ability level with this diverse, authentic video content in this Spanish language certification. The lessons are thoroughly personalized so that the learner's history is taken into consideration when presenting questions. By training them based on what they already learned, FluentU 's algorithm sets students up for success.
Cost-Monthly charge or annual rebate in this Spanish language course. There's a free trial open.
LingQ
LingQ could be the place for you if you have trouble deciding about what kind of content you want best to practice from. LingQ has a massive catalog of audio and video content, plus it helps you download from across the web any other Spanish coaching materials you want. For support and advice, you'll have a whole network of language learners to fall back on, and you can virtually take both group classes and one-on-one sessions:
Cost-Monthly charge and pay-ahead discounts. There's a free trial open.
Top Trending Courses & Certifications:
Michel Thomas Method
Technically, these Spanish language courses are not necessarily taken online. Each original online Spanish course material is accessible on CDs, and "close alternatives" can be downloaded via iTunes, making them much more useful for specific learners than strict Online Spanish language course instruction. Michel provides no books, no printing, no memorizing strategies in a way that lets you feel like you're in a virtual school. It's all audio-based, so all you need to do is add it to your mobile, plug your headphones in and go.
Expense-One-time fee. A free sample lesson and ebook.
Transparent Language
Transparent Language provides intermediate students with Spanish certification courses for beginners. This is a versatile curriculum that encourages you to follow your course of learning. The lessons are only a starting point for you. You'll develop the skills you need to communicate effectively in Spanish with opportunities to practice texting, listening, writing, and reading.
Price: subscription charge or annual fee discount. There's a free trial open.
Also read: Proficiency Course in Spanish BY English and Foreign Languages University, Hyderabad via Swayam
Lengalia
Lengalia offers Spanish certification courses covering a beneficial variety of subjects. General classes of grammar vary from beginner to intermediate. However, what makes this one of the best Spanish online courses is that it also provides technical courses on advanced Spanish subjects, including business Spanish, medical Spanish, negotiation, and more. Price: annual fee and pay-ahead discounts. There's a free trial open.
Oregon State University
Look no further if you're searching for an Online Spanish language course that can also give you college credit. These Spanish certification courses at Oregon State University are affordably priced per credit. You can still check ahead of time with your college or university to see whether the credits can be transferred. This Spanish language learning course includes first- and third-year Spanish, third-year Spanish for fluent speakers, and special subject-specific courses on topics ranging from history to literature.
Price: Fee is per credit earned for college.
Also read: Swayam Spanish Courses & Certifications
MIT OpenCourseWare
MIT OpenCourseWare provides more than a dozen free online Spanish language courses relevant to language and culture. To get the best out of these Spanish language courses, the intrepid learner should be anything from a starting student to an experienced speaker. There are also specialized classes focusing on oral speech, advanced dialogue and composition, and Hispanic literature and general level courses.
Price- Free of cost
Open Learn
In recent years, in the context of free university-level educational classes, we have seen a tremendous growth of fantastic learning opportunities for individual learners. And it was all for the best. The Free Learn University offers a variety of Spanish online courses. It is provided at a British charity offering links to many educational topics, including a comprehensive syllabus in Spanish.
Price- Free
Collins Dictionary
It is apparently best known as one of the major publishers of English dictionaries. Collins also offers the Spanish learner convenient free Spanish online courses and well-known textbooks and grammar tools. The resources follow a logical pattern, though not a course, covering straightforward content such as nouns, numbers, and everything in between. The Spanish language certifications are free and available to anybody who is only beginning to learn Spanish.
Price: complimentary.
Language Transfer
The brainchild of translator Mihalis Eleftheriou, who once expressed his work as "battering my brain with languages," is known as "the thought process." Spanish coaching focuses on listening and revolves around the basic notion of converting your English skills to the Spanish language. This is one of the best Spanish online courses for beginners who are native English speakers or fluent in English and choose to learn Spanish from day one because of this creative methodology.
Price: Free, but they welcome donations.
Memrise
Memrise is a platform with a plethora of Spanish language online courses that incorporates flashcards, quizzes, questions, and digital tools that are helpful, such as natural speaking images. You can achieve your native sound, improve your memory, and sharpen your listening skills with this mix of techniques in these Online Spanish classes. For a little boost in motivation and inspiration, please take a look at Memrise polyglots moving between languages and sharing their jobs.
Price: Free, with the option of subscribing to the membership for more functionality.
NoComprendo
This Spanish language learning course is intended for beginners, but the tutorials still offer a perfect way to catch up on more experienced learners' basics. These Spanish language online courses look a lot like a textbook, including useful lists of words, lessons, and drills. But NoComprendo still has listening exercises, unlike a regular reader, to give you loads of the very well-rounded Spanish education you need and deserves.
Price - free.
Quizlet
Quizlet takes this conventional form of learning, essentially flashcards on steroids, and raises it to the next level with spelling, grammar, and personalized learning opportunities. To improve your Spanish knowledge and vocabulary, sign up for free to view and build study sets. The Spanish coaching is short, user-focused, and usually available with a free account.
Price: complimentary.
Alison
Alison offers introductory, free Spanish language online courses for beginners. You can choose between a general guide to the language of Spanish or the vocabulary of restaurants. To help you master the fundamentals of reading, listening, and pronunciation, each course lasts one to two hours and includes useful audio. To see how much you've achieved, the time comes with an evaluation. You'll also be able to print a Spanish language certification to illustrate your success if you finish with a passing grade. Use it on your resume, or show it on the fridge of your mother. She is going to be so proud of you.
Price: Free.
Live Lingua
If you're able to hear Spanish from what looks like the sound of a voiceover filmmaker from the 1960s, then this is your tool. This is one of the best Spanish language courses if you intend to visit or travel to South America, with over 50 hours of free Online Spanish classes content and a suggested Spanish language course period of six months, as Latin American Spanish seems to be the general subject of the recordings. The tapes' goal is to include useful, digestible, and ready-to-go phrases suitable for a learner-to intermediate-level student searching for a free real-world Spanish lesson.
Price: Free.
Conclusion
It enhances reading skills, thinking, and improved verbal communication as the staff learns Spanish as a foreign language. It can also improve grammar skills. Transactions with Latin economies in foreign trade can often only be carried out in Spanish coaching. It can be crucial for effective trading to know how to communicate concerns and negotiate with companies. Written and verbal interactions between international consumers are excellent ways of enhancing the lines of communication in companies. When interacting with ethnic teams, leaders must be mindful of the contact modes that are expected. So take some of the best Spanish language courses to learn other cultures and to boost your career.
Explore Popular Platforms Certification Courses
Frequently Asked Question (FAQs) - Learn Spanish With These 15+ Amazing Courses
Question: How can Spanish language courses help me in getting a better job?
Answer:
Spanish language courses can teach you the language and make you from a beginner to an advanced learner near-native fluency. This will also depend on your passion and commitment to learning the language.
Question: What is the need for Spanish language courses in the labor market in the USA?
Answer:
Seventy-nine percent of North American recruiters cited Spanish as the most in-demand among employers as an additional language. So taking Spanish language courses is a good idea in the USA.
Question: What is the benefit of taking Spanish language certification courses in India?
Answer:
Due to its aesthetics and broad scope, Spanish has always been a go-to language for English speakers to master. Ok, it is one of the simplest languages to learn for English speakers, too.
Question: Why is Spanish such a popular language?
Answer:
Two of the main reasons are: Territorial and literary expansion. Over the centuries, Spanish speaking populations have moved to different parts of the world and eventually became a native language in those places. And in the world of literature, Spanish has powerful authority due to many wonderful works. Some of them are: Don Quixote, Fictions, One Hundred Years of Solitude, etc.
Questions related to Spanish
Showing 38 out of 38 Questions