10 Best Job Opportunities after Bioinformatics in India
Bioinformatics has provided a new dimension in the field of biology and its data analysis with the help of information technology. To fulfil the demand for Bioinformaticians, more than 100 universities and colleges are providing bioinformatics courses in India making job opportunities for bioinformatics in India higher.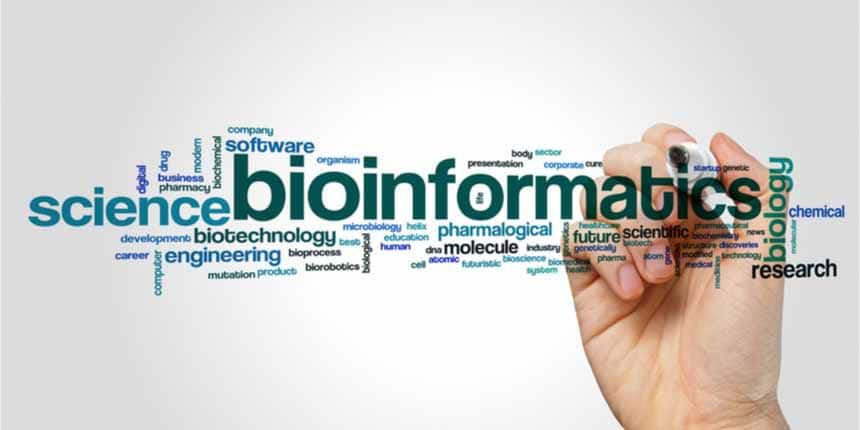 Department-wise, there are bachelor's degree courses, master's degree courses, and doctoral courses in bioinformatics available in most of the bioinformatics colleges in India. If we search for job opportunities after the bioinformatics online course, there is always a demand for candidates in this field, hence there is a huge bioinformatics scope in India. In the past years, the graph of the worldwide demand in the bioinformatics market shows that there was a higher trend in bioinformatics jobs in India as compared to many other countries as shown below:
10 Best Job Opportunities after Bioinformatics in India
The minimum eligibility to become a Bioinformatics professional requires Higher Secondary (10+2) with a Science stream and the basic salary of Biometrics professionals starts from Rs.2-2.5 lakhs p.a. (approx). There are a number of bioinformatics job opportunities some of which we have mentioned below, which indicate the extent of bioinformatics scope.
1. Software developer of Bioinformatics
A bioinformatics software developer works on the development of the existing software and the tools related to it. The developer is expected to have analytical skills as well as good communication skills. They must be creative in their work to be able to create new tools and new algorithms. Initially, the software developer needs to have good knowledge of essential hard skills such as SQL and Python. Companies that are responsible for building computational tools mainly hire a bioinformatics software developer as well.
To become a software developer of bioinformatics, one needs to have good knowledge in the field of biology and computer science. Individuals with a bachelor's degree or a master's degree in biology, bioinformatics, biostatistics, and computer science can opt for such an option.
Also read - Free Bioinformatics Courses and Certifications
2. Bioinformatics Research Scientist
Bioinformatics scientists are individuals who have studied biology and are capable of using computational methods to study the living system on earth. Based on the datasets and the outcomes from the computational methods, they find answers and provide new information related to the field of Biology. A bioinformatics scientist needs to pursue a PhD in bioinformatics. After this, taking up several research positions and increasing experience in this field is important to finally becoming a bioinformatics scientist.
3. Bioinformatics Analyst
A bioinformatics analyst studies the complex nature of the life chain while working on biological data. They are responsible for conducting research in laboratories, developing informatics algorithms, and creating databases that can help in the future analysis of several diseases and other physical conditions. To some extent, the bioinformatics analyst is similar to bioinformatics scientists. To become a bioinformatics analyst, a master's degree or PhD is required.
Also Read: Popular providers offering online courses and certifications in bioinformatics

4. Bioinformatics Engineer
Bioinformatics engineer is responsible for creating those computational methods which scientists and other users who are researching the subject use for their further studies and analysis. To become a bioinformatics engineer one must have good hard skills such as SQL and Perl as well as have computational and statistical science knowledge. Also, they need to have a good knowledge of the database.
Read more - PG Diploma in Bioinformatics by JSS Academy of Higher Education and Research, Mysuru
5. Computational Biologist
Computational biologists use computational principles to study biological systems. They specialise in computational management, statistical processes, biological processes, and a high range of computation. From the initial level, they work on the findings of research with the help of information technology. For a computational biologist, a doctoral degree is required. Individuals with biomedical sciences, mathematics, computer science, or related field backgrounds are suitable for this job option. Having experience of 3 to 5 years proves to be significant in the career.
6. Programmer for Database
A database programmer develops computer programmes and updates them. They are responsible for database management and creating new codes for programmes as per requirement. They also help in improving the overall quality of the database.
View more -

7. Pharmacogenomics
It is a combination of the science of drugs as well as the study of genes. It mainly studies the response of drugs applied to an individual while the genes are causing an impact. For instance, very recently, pharmacogenomics has been used in the case of HIV patients. The patient's genetic variations are tested and kept under observation to check the impact of the genes on their drug response.
Both bioinformatics and pharmacogenomics are related to each other. They both help in reducing the cost borne by pharmaceutical companies through their studies and research outcomes. The bioinformatician provides the required software tools and database, which are used in pharmacogenomics to design and develop drugs and develop processes related to them. Hence, an expert in bioinformatics can further study and work on pharmacogenomics. There are degree courses on pharmacogenomics and drug development available in many colleges in India. There are even many online courses regarding pharmacogenomics such as the 16-hour RxGenomix Program which is entirely available online.

8. Individual Contributor
In both academic and commercial divisions, many laboratories are picking up individuals who are trained in bioinformatics to support their research which has to be conducted in the lab. Positions are available for various levels and there are different types of training available according to the positions too. People in these positions usually work on a particular area of research after the initial training. Those who are pursuing their higher studies are mainly interested in such job opportunities. These jobs are good at increasing an individual's experience in the field of bioinformatics.
9. Core Facilities
There are certain institutions that are responsible for creating a central resource for laboratories. These resources are known as core facilities. These core facilities are managed by a team of members of an institution. There are workshops which are held in order to inform the different managers of the core facilities about the new skills, challenges, solutions, and experiences that require to be shared within them. Members of such groups are known to have a mix of various skills required. They work on different types of research studies. This involves researchers from many different backgrounds working together to experiment and analyse them to come to an outcome. Individuals who are open to learning and experimenting with their knowledge of bioinformatics training can opt for such jobs.
Students also liked

10. Educator
There are many universities and colleges that are hiring professors who can teach bioinformatics to students. Since the demand for bioinformatics online certification is increasing, so is the number of institutions that are providing such courses. Accordingly, the demand for faculties is also increasing. A professor typically needs to have a master's degree in the initial stage followed by a PhD in bioinformatics. They need to present an academic research paper of their own. Educators also require good communication and teaching skills which can be inherited through experience in teaching at the university level.
Bioinformatics is an upcoming field, and there is a huge scope of bioinformatics in India, because of which there are a number of bioinformatics career options to choose from. As there are a number of certifications available, one can choose any certification course, depending on the level and other factors such as fee and duration.
Explore Popular Platforms Certification Courses
Frequently Asked Question (FAQs) - 10 Best Job Opportunities after Bioinformatics in India
Question: What is the future of Bioinformatics?
Answer:
It is expected that bioinformatics will grow and integrate itself more efficiently even in areas outside of research. Services like hospitals and general practices, and services direct to the public are some examples. A preliminary issue could be funding through the government in this field to improve research and development.
Question: What is the career scope in Bioinformatics?
Answer:
The career prospect for bioinformatics includes suitable positions in various hospitals, healthcare companies, pharmaceutical companies, data science companies, research and development labs, and companies related to biotechnology, drug designing and development, bio-analytics, proteomics, clinical research, and pharmacogenomics.
Question: Which companies in India are hiring bioinformaticians?
Answer:
Many popular companies related to bioinformatics are hiring bioinformaticians. They are - QIAGEN, GVK Biosciences, Dassault Systems, Eurofins Scientific, PerkinElmer Inc, Strand Life Sciences, Roche, Innoplexus, Wipro, GVK Biosciences, Tata Consultancy Services, Silicon Genetics and Tessella, Reliance, IBM Life Sciences, Ranbaxy, Torrent Pharmaceuticals, Pubgene and Bison.
Question: What are the top bioinformatics colleges and universities in India?
Answer:
Top bioinformatics course offering institutions:
Calcutta University, Calcutta

Banaras Hindu University (BHU), Varanasi

IIT, Delhi

IIT, Hyderabad

IISC, Bangalore, Bangalore

Manipal Academy Of Higher Education (MAHE), Manipal

Bharati Vidyapeeth, Pune

Savitribai Phule Pune University (SPPU), Pune

Institute Of Bioinformatics, Bangalore (PhD Bioinformatics)

Institute Of Bioinformatics and Applied Biotechnology, Bangalore

Pondicherry University, Pondicherry

Amrita Vishwa Vidyapeetham, Kerala

Punjab University
Question: Is it mandatory to get a Ph.D.?
Answer:
It is only required for those candidates who are interested in research work. To lead research projects, a PhD is mandatory. But if candidates are more interested in the coding portion, then it is not mandatory at all.
Question: Can a candidate study bioinformatics while still working?
Answer:
Yes, degree courses on bioinformatics are available through distance learning. Some of the open universities that provide distance learning in the field of bioinformatics are Yashwantrao Chavan Open University, Annamalai University, Manipal University, Osmania University, and Bharathiar University. There are also online courses that are made available through several universities.
Question: What is the bioinformatics course fee in India?
Answer:
The course fee for bioinformatics in India ranges from Rs. 1 lakh to 30 lakhs depending on the type of course. The higher study level fees are comparatively more.
Question: What bachelor's degree bioinformatics courses and duration of the courses are offered in India?
Answer:
The bioinformatics bachelor's degree courses include B.Tech in bioinformatics, B.Sc. (Hons.) in bioinformatics, B.Sc. in bioinformatics, BE in bioinformatics, advanced Diploma in bioinformatics, and certificate courses in bioinformatics. The duration of the bachelor's degree course is 3 years. Barring that, there are also Master's level Bioinformatics courses offered & available in India. They too are pursued by many.
Question: What is the eligibility criteria to pursue a career in bioinformatics?
Answer:
To pursue a career in bioinformatics, candidates have to complete 10+2 with science as their main subject. A minimum of 50 per cent aggregate marks with the basic knowledge of Physics, Chemistry, and Biology is required. Candidates who want to get admission in the master course need to have a bachelor's degree in any of the following disciplines: biological, physical, pharmacy, engineering, technology, agricultural, horticulture, veterinary or fishery sciences or medicine (MBBS/ BAMS / BHMS). Also, candidates can take admission to Bachelor's or Master's degree courses through entrance exams conducted at state and national levels such as GATE, ICMR-JRF, DBT-JRF, and CSIR/UGC NET -JRF examinations.
Question: Is bioinformatics a viable career?
Answer:
It mainly depends on the perspective of an individual. However, due to its interdisciplinary nature, individuals from related disciplines can give a new dimension to their careers through bioinformatics. It is a new field with a tendency to germinate new concepts and research outcomes from the huge amount of data which is still not in the condition of any further analysis. It can be a viable career for those who are ready to take up challenges and work to make a difference.
Question: What is the pay scale?
Answer:
The pay scale in the bioinformatics field depends on the position that an individual takes up. Initially, a bioinformatician is expected to get Rs. 2 to 2.5 lakhs p.a. (approx.). As experience increases, the salary increases accordingly. A bioinformatician with experience of 1 to 2 years can get up to Rs. 4 lakhs p.a. (approx.). A bioinformatics programmer is capable of earning 5 to 6 Lakhs per annum. On average, a bioinformatics scientist can earn Rs. 8 to 9 lakhs p.a. (approx.).
Question: What is Bioinformatics?
Answer:
Bioinformatics is an interdisciplinary field of study which is a combination of subjects like biology, mathematics, computer science, and statistics. It is mainly the utilization of information technology to study and interpret information related to biological systems. It is responsible for the data management of biological concepts through computational methods.
Skill Development Updates and Articles