When you look for a job or an internship, what are the emotions that come with it? When you are envisaging that you are going to join a particular company, how do you feel? Generally, the feeling would be of whether you are doing the right thing or not. Job aspirants and youngsters are full of enthusiasm. However, there are also a lot of questions that come along with it. Will I be getting the internship or not? ;How do I reach out to the employer?
What are the ways that aspirants nowadays use to seek job opportunities and internships? As a fresher, what modes do you use to look for a job or an internship and how would you apply for them?
Having the skill set compatible with the field of work you want to get into is important. But how you would go about presenting and marketing your skill set is more important. Chances of getting a job are 1/250. To give you a perspective, corporates receive 250 resumes, out of which hardly 4-6 candidates are called for an interview, and only one gets selected. Hence, this is a challenge of job search.
Also Read: Nailing Your Internship Interview: FAQs And Tips To Answer
Skills You Should Work On
Hard Skills | These include teachable skills or job-specific abilities that can be quantified and measured. These are related to your job and are learnable, like marketing, finance, accounting, sales, business development, and software development.
Soft Skills | These include one's social ability and how one relates to and interacts with other people. Soft skills are used in your everyday experiences. Some of these are your presentation skills, ability to communicate digitally, adaptability, meeting timelines, listening, learning, flexibility, and the likes of these.
Also Read: What Is Cold Emailing? How Should You Write A Cold Email?
How To Look For A Job
What are some of the effective ways that freshers can use to get into their target company for an internship or a job? Let us take a look.
Use Your Soft Skills | Using your soft skills is a must. Many people are not able to use or present their own soft skills in a way that will really impress the employer. All of us have some soft skills, although maybe not as developed since we are still freshers. But, if you are 20 years old, you already have 20 years of life experience where you have learnt and used some soft skills in your day-to-day dealing with people. As a fresher, use your soft skills to market your candidature.
Structured Approach | Make your job search structured. This is an important but often missed out factor.
Network | Start networking as early as possible. It is helpful to initiate conversations with your target companies through different platforms.
Success Stories | Write down your success stories, whether big or small. This will be your raw data to build up your candidature in interviews, while writing your resume, or talking to employers. Develop your success stories in the given structure (C-A-R):
C- Challenge - What challenge were you handling?
A- Action - What action did you take?
R- Results - What result did you get?
An example of putting a success story in the C-A-R structure would be - "I had to handle the promotion of an event within a short time span, which was a new task for me (C). So to plan the event, I broke it into multiple chunks, prioritised, and then took them up accordingly. I delegated some of the tasks and kept the critical ones for myself (A). We successfully held the event with 300 participants and generated a revenue of Rs X (R)."
Also Read: Facing Job Interview Questions: 5 Professionals Share Experiences, Tips For Freshers
List Your Target Employers | Curate a list of 15-20 employer companies that excite you and you would want to target. This helps you to have clarity in your mind about what exactly you want and why.
Research The Company | Researching your company is important for you to get to know the pain points. Pain points are persistent problems with a product or a service that can be an inconvenience to customers and businesses. To simply put it, these are unmet needs wanting to be fulfilled. Researching the company helps you understand how your skill set is a solution to the pain points of that company. You could research companies through their websites, social media accounts, or by reaching out to its ex-employees.
Developing A Good Resume
Your resume is the first thing the employers see about you, hence, there is no second-guessing the importance of a resume. Check if your resume has the following:-
A clear headline defining your area of specialisation and interest? (3-4 words)
Your educational qualification
A professional summary that defines your unique qualities
A list of your core skills (hard and soft)
Your work experience, with a measurable mention of your achievements
Your hobbies and extracurricular activities. Your passion for a particular field is valued by employers.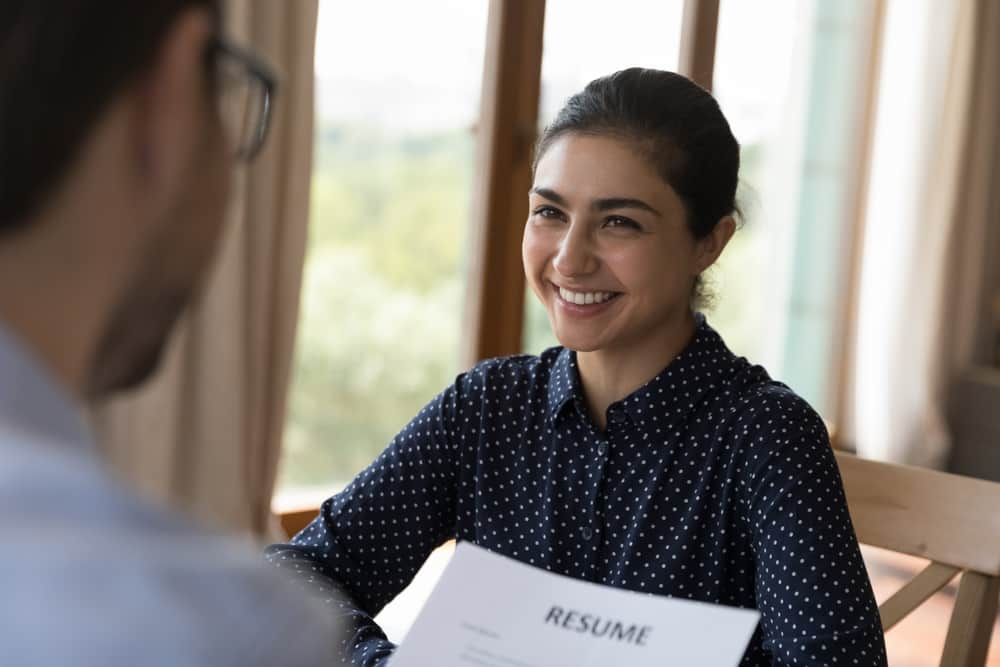 Your Resume Is The First Thing Employers See About You
Creating A Strong LinkedIn Profile
Your LinkedIn profile says a lot about your academic, co-curricular, and professional endeavours. Hence, you should make sure you curate it thoughtfully. Does your LinkedIn profile have the following:-
A clear headline mentioning your specialisation, any outstanding award, or certification?
An 'About' section talking about your uniqueness, achievements, and what people say about you?
Details of internships you have done, with measurable achievements?
Awards and certificates received; presentations and talks given?
Recommendations from your teachers, mentors, and previous managers?
Core skills that are endorsed? This will make your profile more active on LinkedIn
Pitch Letter Vs Cover Letter
We are aware of the common practice of including cover letters in our applications. However, writing a pitch letter instead of a cover letter is more fruitful in creating a desired impact on the recruiters. Here are the key points of difference between a pitch letter and a cover letter:-
A pitch letter addresses the hiring manager by name, is customised, has a congratulatory remark about the company, is engaging, has an impactful tabular format addressing the pain points of the job that you have researched, and presents a match of your achievements with the pain points. A cover letter has a general language, and is not customised to recruiters.
A pitch letter immediately catches the attention of the recruiter as the format and the content is unique. However, a cover letter does not stand out. It is only experience and background oriented.
Pitch letters also save the recruiters' time due to its focused and unique presentation. It is crisp, short, and to-the-point, and thus motivating for a recruiter to open your resume and go through it. In case of a cover letter, a recruiter might not be tempted to open your resume
Also Read | How To Improve Interpersonal Skills: 7 Helpful Tips
Preparing For Interview
"If you are not prepared for an interview, do not sit for it. It is as mandatory as a passport is to go abroad" - Sarabjeet Sachar
Let us discuss how to answer the three most common interview questions.
Tell Me About Yourself
This is a brilliant opportunity to establish a rapport with the recruiter. Use a 3-step approach here:
Tell them what about the job excites you and why it is important
What business pain point can you solve and how are you a solution provider
What is your unique area of expertise and skills that shall help you alleviate their business pain
What Are Your Strengths?
Here you need to talk about how your soft skills are a great match for the job, meaning your skills pertaining to the job. And, how are you a great match to the culture of the company? For example, let's say, for a project manager's job, a company wants to reduce its turnaround time. Here, you can talk about your organisational skills, your ability to prioritise tasks, and how you love challenges. Your strengths need to be customised according to what the job requires.
Also Read: Facing Job Interview Questions: 5 Professionals Share Experiences, Tips For Freshers
What Are Your Weaknesses?
Here, you should not mention any weakness which will directly impact the performance of the job. Rather, mention an area that you have identified and are constantly improving. All the recruiters want to see is if your weakness would disrupt your performance. Everyone has weaknesses, but your attitude towards them is important. Your awareness of your weaknesses and what you are doing about them is important.
Watch Now | Webinar On How To Start Your Job Search And Face Interviews